Henry Herbert, 2nd Earl of Pembroke
Sources yet to be consulted: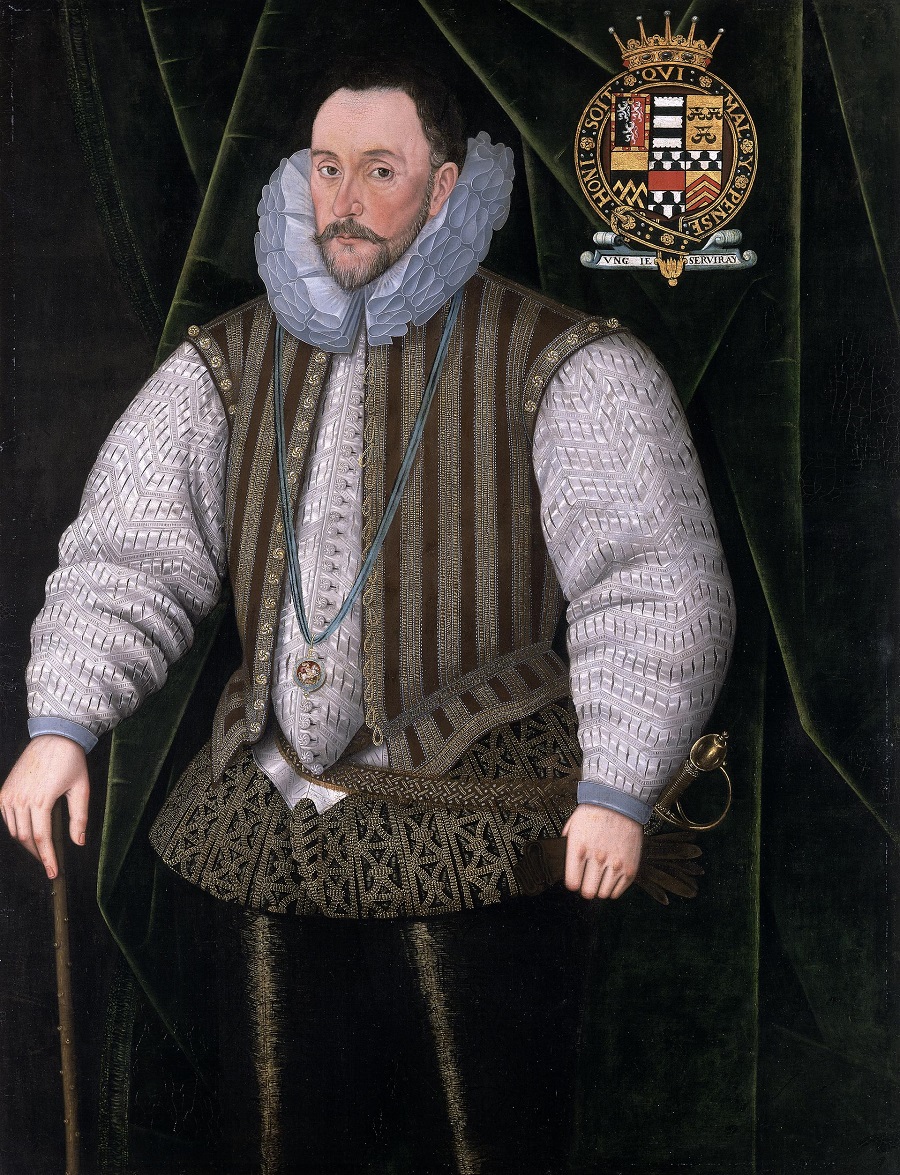 Henry Herbert, 2nd Earl of Pembroke.
Portrait around 1590.
From
National Museum of Wales
.
Also on
Wikipedia
.
Henry Herbert, 2nd Earl of Pembroke
(see
here
), K.G.,
born 1536-41, probably 1538-41.
He mar 1stly, 21 May 1553 [him age probably 12-15, her age 12] to Lady Catherine Grey [sister of Lady Jane Grey].
After the fall of Lady Jane Grey in July 1553, the 1st Earl of Pembroke banished Lady Catherine from Wilton. The marriage was dissolved or declared null 1554 by influence of 1st Earl. Unsurprisingly it had not been consummated, though she was saddened by losing him.

He mar 2ndly, 17th Feb 1563 [him age over 22, her age est c.15] to Catherine Talbot [born est c.1548, dau of George Talbot, 6th Earl of Shrewsbury].
He succ as Earl 1570.
He entertained Elizabeth I at Wilton 1574.
Catherine was bur 15th May 1576, age est c.28 yrs.
He mar 3rdly, 1577 [him age over 36, her age 15] to Lady Mary Sidney [born 27th Oct 1561, descendant of Edward I].
Lady Mary was a poet and translator, and a great patron of learning at Wilton.
[Aubrey's "Brief Lives"] says: "In her time, Wilton House was like a College, there were so many learned and ingeniose persons. She was the greatest Patronesse of witt and learning of any Lady in her time."
Wilton has been called "the nursery of the English Renaissance".
The countess of Pembroke's Arcadia 1579-81 refers to her. Her brother Sir Philip Sidney wrote it at Wilton. After his death 1586 she ensured the publication of his works.
2nd Earl was named as supporting the death warrant of Mary, Queen of Scots 1587.
The Ruines of Time by Edmund Spenser (friend of her brother Sir Philip Sidney) was dedicated to Lady Mary, 1590.
2nd Earl died at Wilton, 19 Jan 1601 (new style year).
He was bur 5 Mar 1601 in Salisbury Cathedral, Wiltshire.
Lady Mary died London, 25 Sept 1621, of smallpox, age 59 yrs.
She was bur Salisbury Cathedral, Wiltshire. See grave.
See her epitaph.
See Connections to Shakespeare.
2nd Earl and Lady Mary had issue:
William Herbert, 3rd Earl of Pembroke,
born 8th Apr 1580.
Gave his name to Pembroke College, Oxford.




Philip Herbert, 4th Earl of Pembroke,
born 16th Oct 1584.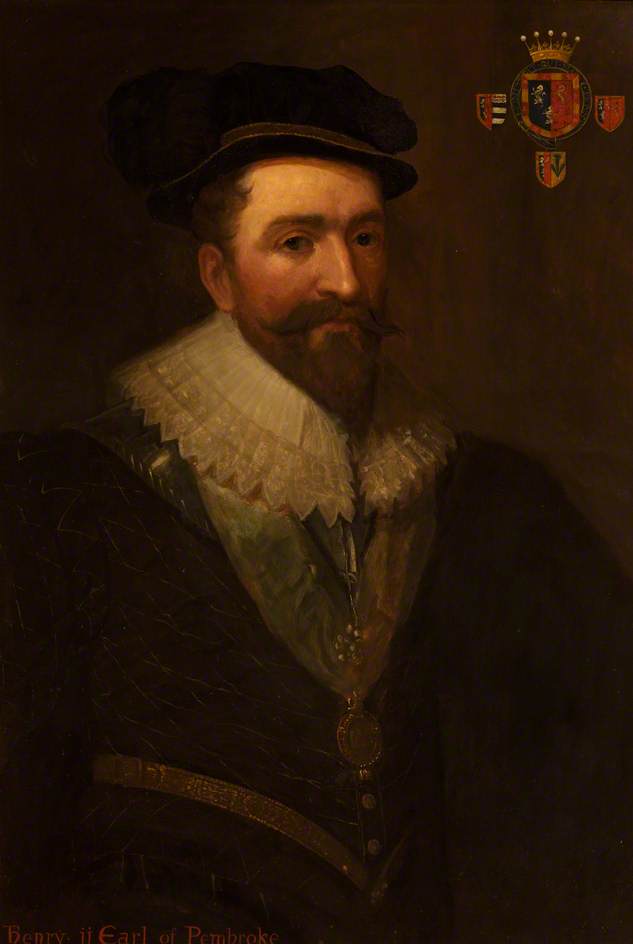 Henry Herbert, 2nd Earl of Pembroke.
A copy made around the late 19th century by Herbert descendants, the
Marquesses of Bute
.
Now at Castell Coch.
From
BBC
.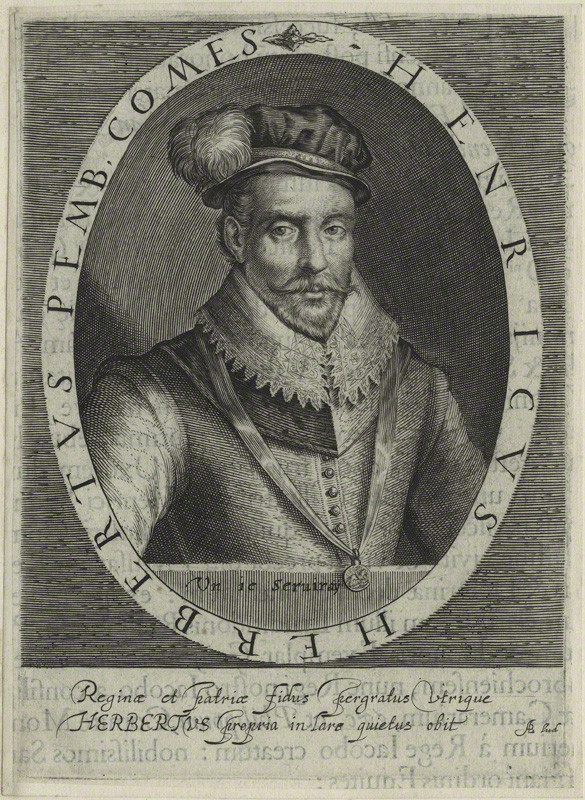 2nd Earl of Pembroke.
From NPG. See terms of use.
See other copies.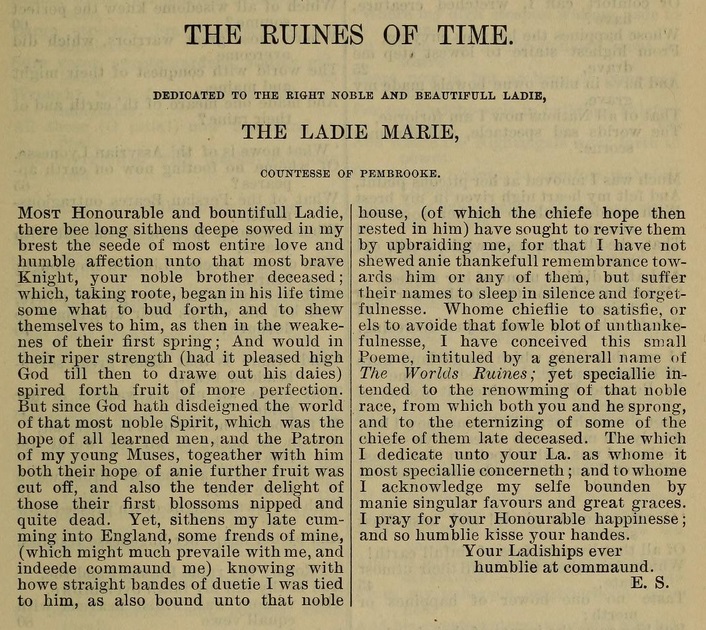 Dedication of The Ruines of Time (1590) by Edmund Spenser to Lady Mary Sidney.
From p.603 of The complete works of Edmund Spenser (1903).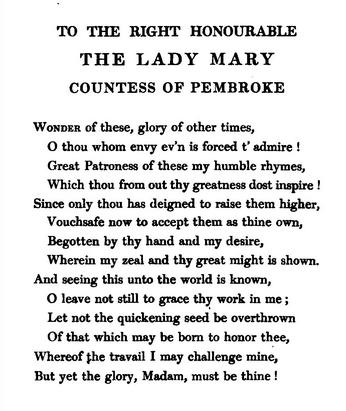 Dedication to Mary Sidney in Delia (1592) by Samuel Daniel.


Anecdote in [Aubrey's "Brief Lives"] about Lady Mary Sidney:
"She was very salacious, and she had a Contrivance that in the Spring of the yeare, when the Stallions were to leape the Mares, they were to be brought before such a part of the house, where she had a vidette (a hole to peepe out at) to looke on them and please herselfe with their Sport; and then she would act the like sport herselfe with her stallions. One of her great Gallants was Crooke-back't Cecill, Earl of Salisbury."
This would be Robert Cecil, 1st Earl of Salisbury. Her son would marry his niece.
---