Nicholas St.Lawrence, 8th Baron Howth
Sources yet to be consulted:
Nicholas St.Lawrence, 8th Baron Howth
(see
here
and
here
),
born c.1550.
Also called the 21st Baron.
He mar 1stly to
Margaret (or Alison) Barnewall
.
8th Baron had issue by 1st wife:
Christopher St.Lawrence, 9th Baron Howth, born c.1568.
Ancestor of the Barons and Earls of Howth.

8th Baron divorced.
He mar 2ndly, c.1575, to Mary Whyte [dau of Sir Nicholas Whyte, of Leixlip, Co.Kildare, by his wife --- Sherlock].
Knighted by Sir William Fitzwilliam in 1588.
He succ 1589.
At the general hosting at Tara, 24 Sept 1593, he brought 6 archers on horseback for Howth, and one for Killester.
He participated in an expedition against the insurgent Fiagh MacHugh O'Byrne in Wicklow in 1595.
Nominated for membership of the ruling Irish Council in 1600.
He was Catholic, though at one time he apparently conformed to the established church.
Stayed loyal to the crown, but protested anti-Catholic laws under James I (after 1603).
He died May 1607, age c.57 yrs.
He was bur 21 May 1607 in St.Mary's "Abbey" Church, Howth.
Mary died 25 July 1607, bur with husband at Howth.
8th Baron had issue by 2nd wife:
Alison St.Lawrence,
Catholic, born est c.1585-90,
mar 1616 to Thomas Luttrell, MP and had issue.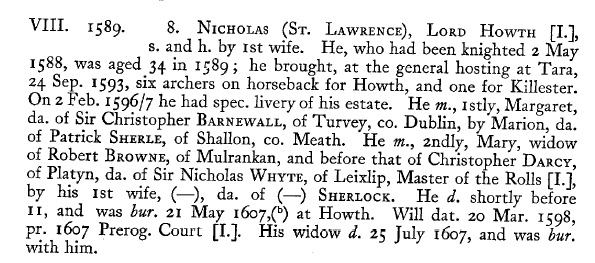 Entry for 8th Baron in
[Complete Peerage]
.