Sir Thomas Fitzwilliam, Kt
Sources yet to be consulted:
Sir Thomas Fitzwilliam, Kt
,
of Merrion, Baggotrath,
Booterstown
and
Simmonscourt
,
born c.1519 (succeeded to father's estate aged c.9 yrs).
His father died 1528, and he succeeded to the family estate.
He mar
Genet Finglas
.
He lived initially at Baggotrath, but later moved the seat of the family to
Merrion Castle
.
He seems to have left
Baggotrath
and rented it out by 1547.
MP for
Co.Dublin
1559.
Vice-Treasurer of Ireland
1559.
Fought in the campaign against
Shane O'Neill
1560.
Sheriff for Co.Dublin as at 1564.
The Lord Deputy
Sir Henry Sidney
visited him at Merrion in 1565 after arriving in Ireland and before entering Dublin.
He fought in a further campaign against Shane O'Neill 1566.
After this, Sir Henry Sidney knighted him, at
Drogheda
, autumn 1566.
The family conformed to Protestantism at the Reformation. But their conversion was only nominal and by 1600 they were Catholic again (although they were always loyal to the crown in Ireland).
Constable of
Wicklow Castle
. This was a frontier castle at the edge of
the Pale
, facing hostile Irish tribes (whose traditional leaders were the
O'Byrnes
).
He fixed the boundaries of
Wicklow county
(as Sir Henry Sidney did with
Clare county
in 1565).
His will dated 1591 (copy of will burnt in 1922).
He died 9th Nov 1592, age c.73 yrs.
Sir Thomas and Genet had issue:
Sir Richard Fitzwilliam, Kt.
of Merrion, Co.Dublin.




Catherine Fitzwilliam,
mar 2ndly, pre-1584, to Christopher Preston, 4th Viscount Gormanston [born 1537] and had issue.




Nicholas Fitzwilliam,
lived at Baldungan, Co.Dublin.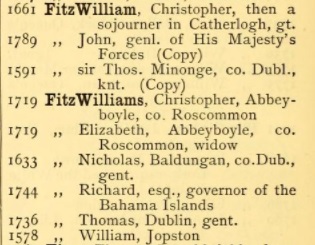 Fitzwilliam wills listed in
[Vicars' index of wills 1536-1810]
.
Includes the will of Sir Thomas Fitzwilliam, dated 1591.
All these wills were burnt in 1922.
---
The Battle of Glenmalure
, Co.Wicklow, in 1580 was a major victory for the native Irish against The Pale.
The forces of the Crown under
Arthur Grey, 14th Baron Grey of Wilton
were defeated by a coalition of native Irish and Pale rebels under
Fiach McHugh O'Byrne
and
James Eustace, 3rd Viscount Baltinglass
.
The song:

The battle spawned a 19th century song "Follow me up to Carlow" celebrating the Irish rebel victory.
The tune is traditional, but the lyrics are by Patrick Joseph McCall in the 19th century.
The lyrics refer to "black Fitzwilliam" who "stormed your place and drove you to the fern", but who is now getting his comeuppance: "Now, Fitzwilliam, have a care: fallen is your star, low! ... White is sick and Lane is fled, now for black Fitzwilliam's head".
It was suggested that "black Fitzwilliam" refers to Sir Thomas Fitzwilliam, which was plausible since he was Constable of Wicklow Castle ("The Black Castle") and long-time enemy of the O'Byrnes.

The song does not refer to Sir Thomas Fitzwilliam:

However [O'Byrne, 1998] shows that "black Fitzwilliam" is Captain Bernard Fitzwilliam, an officer leading the English army into Glenmalure, who was killed by the rebels.
Another theory was that "Fitz William" is Arthur Grey, 14th Baron Grey, since he is son of William Grey, 13th Baron Grey. But this is not true.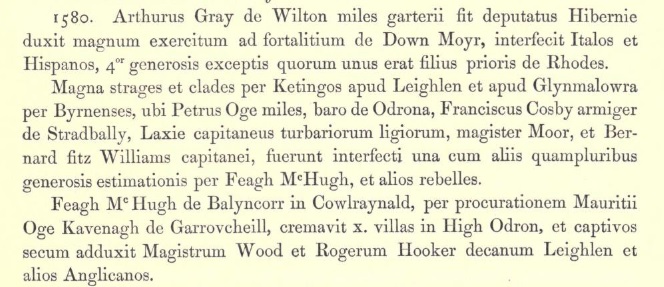 The death of
Captain Bernard Fitzwilliam
("Bernard fitz Williams capitanei") at Glenmalure.
From the Annals of Ireland, by Thady Dowling (died 1628).
From
p.43
of
1849 edn
of Dowling's Annals of Ireland.