Jim O'Mara
Jim O'Mara
,
bapt Nov 1858, Limerick.
He was agent for
O'Mara's Bacon Company
in London.
He mar Mysie McKenna [Maria, dau of Thomas McKenna of Waterford].
This is NOT the marriage of "James O'Meara" and Maria Maher in [St.John's, Limerick] in 1877.
Jim was a great supporter of the Irish Parliamentary Party in London.
[PAT/1, p.9 and p.10] relates jokes that Jim played on his older brother Stephen O'Mara (who was a Parnellite MP in 1886):
Jim once got a box for the opera, said to Stephen that he himself would be late "but here is the number of the box and you can go right up to it". Stephen did as suggested, dressed carefully, went to opera house, and sat in the box with dignity. "After some time Grand-Uncle Jim was ushered in and made a frightful commotion and exclaimed in loud tones "Who is this man? What is he doing here?"" and "continued to expostulate and nearly got Grandfather thrown out of the theatre".
"Another time he pushed Grandfather before him into a magnificent carriage and said to the coachman "Drive home". He stepped back onto the pavement as the carriage drove off with Grandfather left alone in it to face the music".
Douglas Pyne arrest, 1888: Jim's obituary says: "Poor Douglas Pyne was arm in arm with him at the time of Pyne's dramatic arrest on the threshold of the House of Parliament". This is Douglas Pyne (Irish Home Rule MP, member of the Land League) who was charged with incitement in Ireland, fled to England, arrested outside the House of Commons 11 Feb 1888 (or 10 Feb).
Jim's obituary says: "Joe Biggar too was one of his numerous friends". This is Joseph Biggar, Home Rule MP, who initiated the policy of obstruction, died 1890.
As at July 1890 the business "Lalor and O'Mara" was based at 45 Tooley St, London SE (see map). We know this is them because they have a telephone no. 4515 which turns up on O'Mara's letterhead in 1898.
At dau's birth 1891 he is living 7 Lyndhurst Square, Camberwell, London (see map), listed as "Trade Agent".
Jim dies, 1893:
He died unexpectedly in Peckham, London, Thur morning, 6th July 1893 [grave], age 34 yrs, of heart disease, "after a short illness".
See death notice in Limerick Chronicle, Sat 8th July 1893.


Remains brought to Limerick by train on Sat 8th July. Funeral at St.Michael's church, Limerick, Sun 9th July, NOT 16th July. He was bur Mount St. Lawrence cemetery, Limerick.
His nephew James then became O'Mara's agent in London.
Mysie dies, 1898:
Mysie died at her residence, 307 Camberwell New Road, London (see map), June-July 1898.
See Limerick Chronicle, Tue 5th July 1898.


Funeral Wed 6 July, bur Durrow, Co.Offaly.
Left two orphaned children.
Jim and Mysie had issue:
Daisy O'Mara,
think Margaret,
think born pre-1891,
orphaned in 1898,
went to her sister's wedding, Austria, 1914,
mar post-1914 to Dr. William O'Sullivan [William John, Willie, Bill, Billy],
he was born 1882, Limerick, son of Dr. Thomas O'Sullivan, of William St, Limerick,
see his family listed at William St, Limerick, in 1901 census (he is away),
he was doctor, LRCPI, LRCSI,
listed as doctor at Limerick in [Thom's, 1910],
see him listed at family home, William St, Limerick, in 1911 census, he is "physician", unmarried,
Muffie de Courcy remembered him as very good looking, and a real charmer, fond of ladies,
he was a top Irish international amateur golfer, played in Irish Open (started in 1927),
he was not approved of by Strand House,
no issue,
he died pre-1964,
she went into nursing home in old age, died 1964.




Connie O'Mara,
Constance,
born Mary Constance, NOT Constance Mary,
born 8th Sept 1891, 97 Choumert Rd, Camberwell (see map), London [GRO.UK].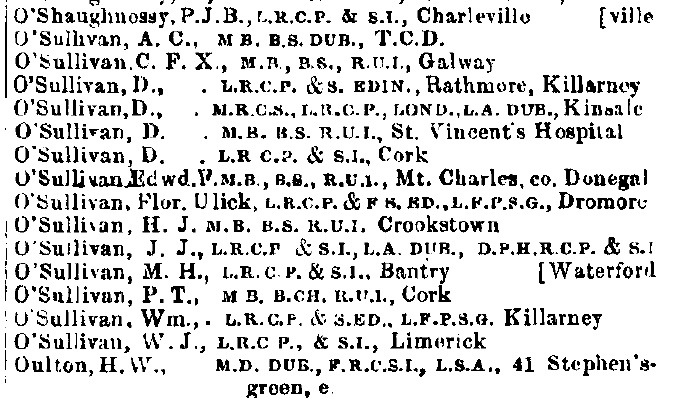 Dr. William O'Sullivan of Limerick listed on p.914 of
[Thom's, 1910]
.
It also shows
Dr. William O'Sullivan of Killarney
, who married Daisy's 1st cousin,
Norrie O'Mara
.