Godfrey
References:

Sources yet to be consulted: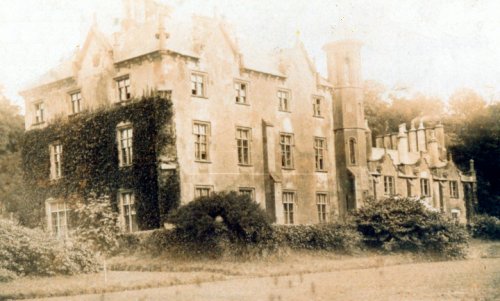 Kilcolman Abbey.
From
here
.
The Godfrey family were granted in 1668 the confiscated
Spring
estate of Kilcolman Abbey, near
Milltown
, Co.Kerry.
They built a new house, Bushfield House, before 1700.
Sir William Godfrey, 1st Baronet
, born 1739,
of
Bushfield
, Kilcolman, Milltown, Co.Kerry.
Bushfield House was destroyed by fire c.1774.
William soon after re-modelled a nearby tower house to live in.
High Sheriff of Co. Kerry
1780-81.
MP for
Tralee
1783-90.
He was cr Baronet 1785.
He died 23 Jan 1817 (or 19 Jan), age 78 yrs.
Sir William and Agnes had issue:
Sir John Godfrey, 2nd Baronet, born 1763.
He built a new house at Kilcolman, called Milltown House, later called Kilcolman Abbey (or Kilcoleman Abbey).
Ancestor of Godfrey, Baronets.




Rev. William Godfrey, born 1765,
Rector of Kenmare, Co.Kerry,
mar 1796 to Lucy Day and had issue.




Arabella Godfrey,
mar 11 August 1798 [Kilcolman CoI par records] to Rev. John Day and had issue.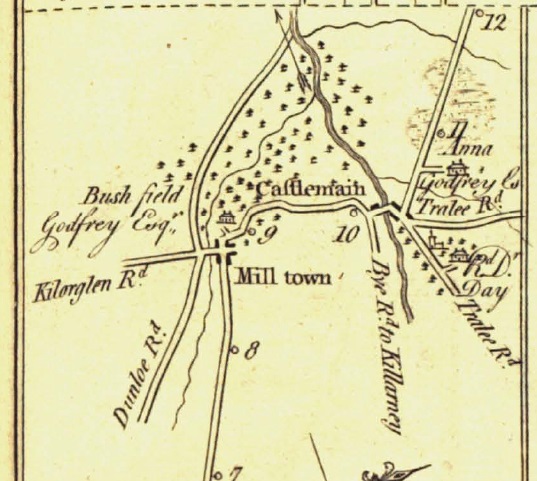 Bushfield on
p.187
of
[Taylor and Skinner, 1777]
.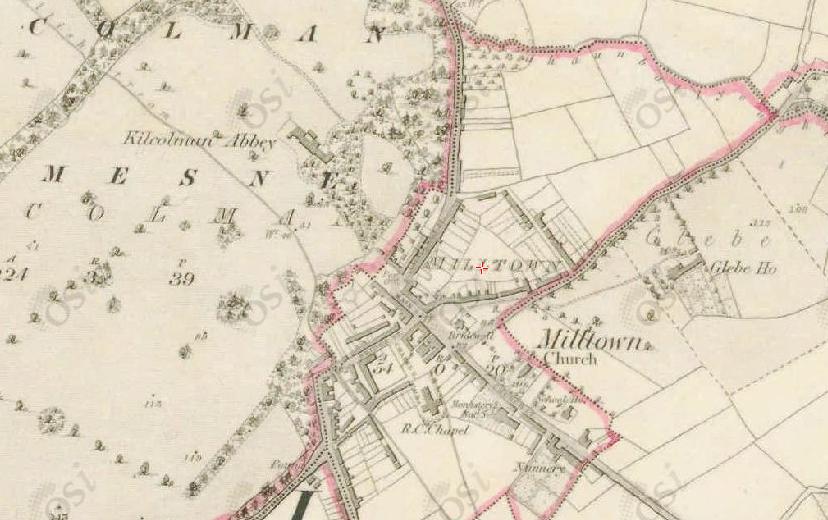 Kilcolman Abbey, Milltown, Co.Kerry, on 1829 to 1842 map.
The house was demolished in 1970s. It is now vanished and a housing estate built on the site.
See modern map and street view of entrance to estate.
---