Thomas Carrique Ponsonby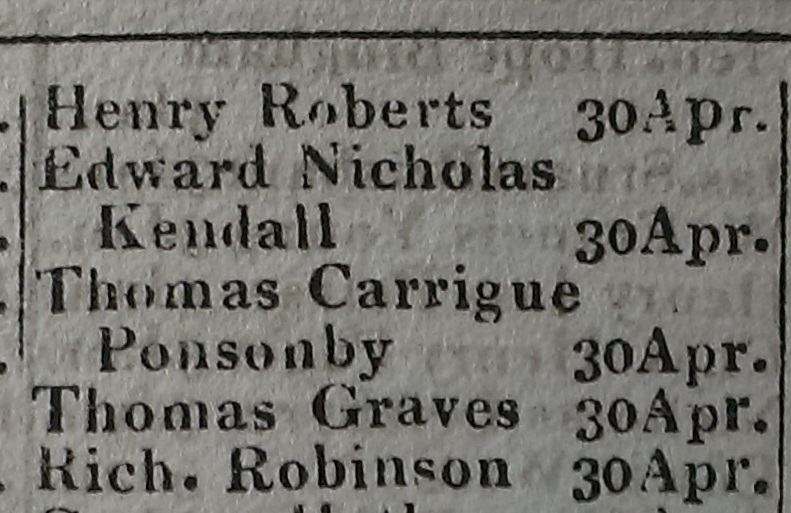 Thomas Carrique Ponsonby listed as Lieutenant in
[Navy List, June 1827]
.
See
full size
.
Thomas Carrique Ponsonby
,
born 12 Dec 1800.
Lieutenant in Royal Navy:
He was a Royal Navy officer.
Midshipman 1815 [Ponsonby, 1929].
Appointed Lieutenant.
ADM 196/13/7 seems to show Lieutenant as at 1822.
Though [Navy List, June 1827] says it was 30 Apr 1827. [Ponsonby, 1929] says 1827.
He mar 10 June 1828 in Kinsale to his 1st cousin Frederica Dunlevie [descendant of Edward III].
In 1831 he was appointed to the Coast Guard Service. See notice in Chutes Western Herald, 3 December, 1831. And notice in Kerry Evening Post, 7 December, 1831. These describe him as Lieutenant, Royal Navy.
Inherits Crotto:
He inherited the family home of Crotto, Co.Kerry, in Dec 1831 when his father died.
There is a letter of 23 Jan 1832 from Thomas C. Ponsonby, Crotto, in Ms. 20,602 in [Rowan Papers]. Black border since father just died.
Thomas was party to Louisa Ponsonby's mar settlement 1833.
See Sir John Benn-Walsh's visit to Crotto, 1834. Benn-Walsh says Thomas "was in the navy but left it & married on coming to this fortune, which is in fact a mere nominal thing, as it is eaten up with debts & charges. He seems a complete specimen of the embarrassed, broken down Irish squire". Benn-Walsh says that the Crotto estate "is shortly to be sold under a decree of the court to pay off numerous charges upon it." Ponsonby tried to interest Benn-Walsh in buying it. He proposed various schemes of purchase but Benn-Walsh was sceptical.

[Pettigrew & Oulton, 1835, p.196] lists Thomas at Crotto, listed as one of the magistrates of Co.Kerry.
Is he "Thomas Ponsonby" (Liberal) who stood unsuccessfully for Co.Kerry in the 1835 election? Kerry election was 24 Jan 1835.
Apparently [CSORP, 1835] shows that Thomas Ponsonby of Crotto, landlord and magistrate, was actively taking the side of the "Mulvihill" faction in faction fighting in the district.
He is listed at Crotto in [Deed, 1836].
He is listed at Crotto in the entry for KILFLYN in [Lewis, 1837]. He is one of the subscribers to the book. He is listed as a JP.
Sold Crotto:
He sold Crotto estate in 1840s. Sold Crotto House 1842.
[Deed, 1842] is about him selling off the massive Ponsonby estate of Kilflyn, and debts.
He is described in [Deed, 1842] as late of Crotto House, now of North Richmond St, Dublin (see map).
Thomas C. Ponsonby, "bar.", is listed at 148 Lower Gloucester St (now Sean McDermott St), Dublin, in [Thom's, 1845]. See photo.
Active again in Navy:
He was appointed 24 Nov 1847 as Lieutenant commanding the Firefly (also here).
Listed with the Firefly at Portsmouth in [Navy List, Dec 1847].
He is listed

as Lieutenant on Firefly in 1848.
He is listed in the Landed Estates Court Rentals as selling off land in Co.Kerry on 7 June 1850 under the Encumbered Estates Act (1849).
Listed as Lieutenant at dau's mar 1853.
He is declared to be "an Insolvent" in Landed Estates Court Rentals notice of Jan-Feb 1857.
Still listed as Lieutenant in [Navy List, Dec 1860].
Lieutenant retired with rank of Commander, 1861:
He was a Lieutenant retired with the rank of Commander on 1 Jan 1861 [Navy List, June 1861].
ADM 196/37/526 seems to show him as Commander as at 1847. (He was a Lieutenant commanding.)
Did NOT become a Captain.
Jan Bridge says he "went bankrupt in England in the 1860's".
Described as "deceased" at son's marriage 1882.
Thomas and Frederica had issue:
Minnie Frederica Ponsonby,
born in Co.Kerry, 1833,
at mar she was living 10 Richmond Hill, Rathmines, Dublin (see map),
mar 28 Sept 1853, St. Peter's Church (Church of Ireland), Aungier St, Dublin, to William Hartshorn and had issue.
See church marriage in [St.Peter's par records].
See civil marriage in [GROI].
Her descendants said she was "a disinherited heiress".




Frederick Ponsonby,
Frederick Guyon Carrick Ponsonby, eldest son,
wonder if his name is in memory of his uncle Daniel Guion,
army officer.

William Ponsonby, died in infancy, then described as "youngest son",
(todo) see Cork Daily Advertiser, 5 Dec 1836.

Thomas Ponsonby, died in infancy,
(todo) see Limerick Chronicle, 22 Apr 1837.

Victor Orkney Blennerhassett Ponsonby, born 2 December 1839,
"Blennerhassett" an interesting choice of middle name, he does descend from Blennerhassett but rather remotely,
educ Greenwich Hospital School,
(todo) see ADM 73/319/56 in Greenwich Hospital School Admission papers at [NA.UK].




Arthur Ponsonby,
Arthur Gore St.George Ponsonby, or Arthur Gore George Ponsonby,
born 14 February 1845.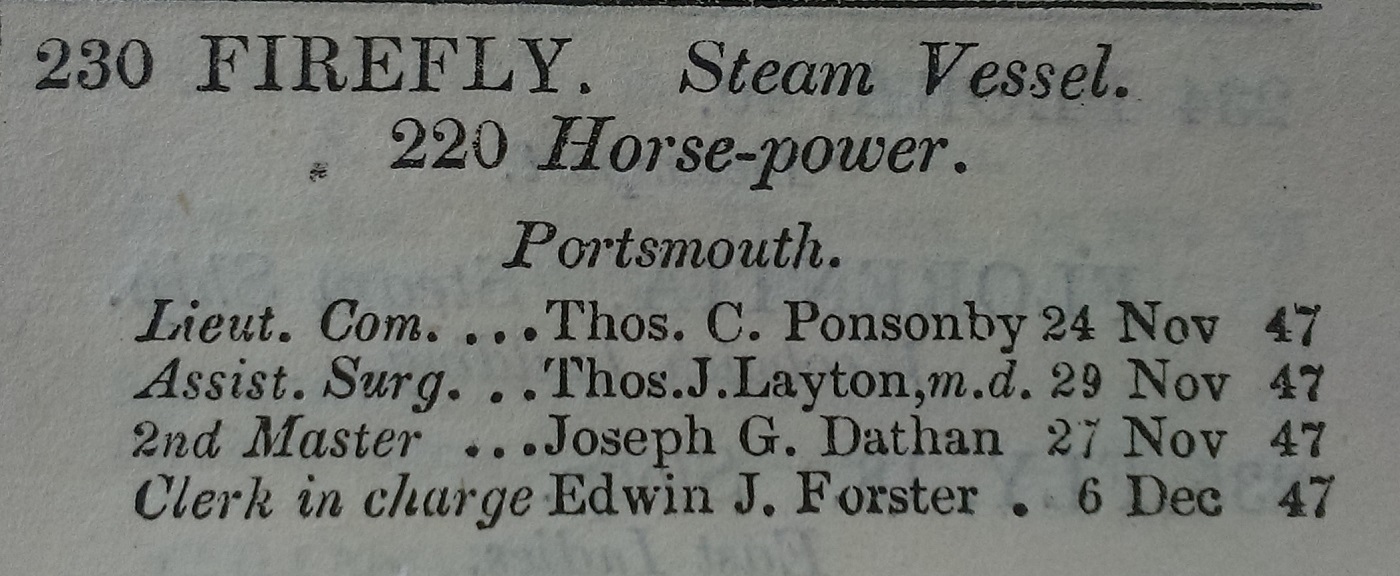 Thomas Carrique Ponsonby listed in
[Navy List, Dec 1847]
.
He is Lieutenant commanding the
Firefly
at Portsmouth.
See
full size
.
---
Sir John Benn-Walsh
visited Crotto on 18 Aug 1834.
There is an account in
[Journal of Sir John Benn-Walsh]
.
See pp.97-98 in
[JCHAS]
publication.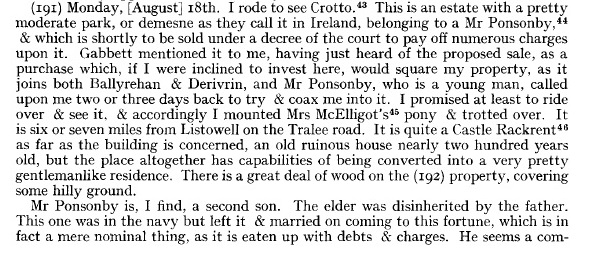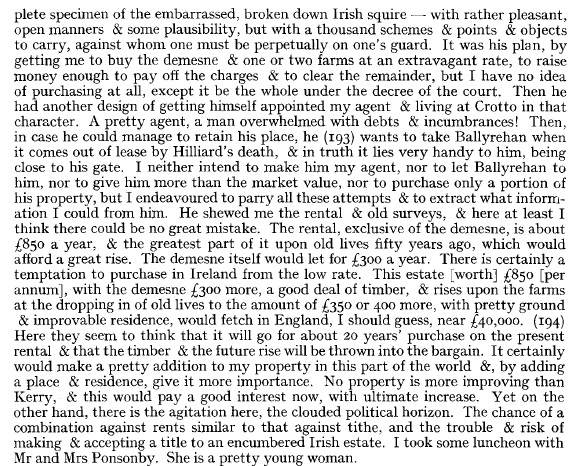 The [JCHAS] notes are wrong in their identification of Mr. Ponsonby.
---
References
---
Sources yet to be consulted
Royal Navy records.
ADM records in [NA.UK]

Record for Thomas Carrique Ponsonby, date 5 June 1822, ADM 196/13/7.
Record for Thomas Carrique Ponsonby, date 26 April 1847, ADM 196/37/526.

The Ballyeagh faction fight of 1834:

[BL Ms]

[NAI]. Encumbered Estates' Court Rentals (O'Brien). See originals.

Ponsonby, 7 June 1850, Vol 1, MRGS 39/001.
Ponsonby, 17 February 1857, Vol 44, MRGS 39/021.
---