William Carrique Ponsonby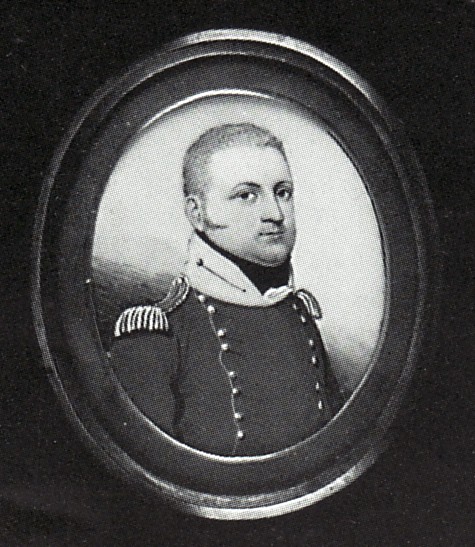 Major (William) Ponsonby of Crotto.
Sold at auction by
Phillips
, London, 7 Nov 2001.
See
bigger
.
(todo) See entry at
artprice.com
.
Military history expert Peter Walton says about this picture:
"The uniform is probably nearer to 1810 but could be right for the Kerry Militia whose uniform was scarlet with yellow collar and silver lace (including the epulettes)."
William Carrique Ponsonby
, born 1770,
William Ponsonby, of
Crotto
, Co.Kerry,
descendant of
Henry VII
.
He was educ
Eton
1783 to 1786.
See
entry
on
p.426
of
[Eton College register, 1753-1790]
.
He was educ
TCD
. Entered 1787, age 17. See
entry
in
[TCD Alumni]
.
He mar 1stly, Jan-May 1794, to Elizabeth Gun [born post-1765, descendant of Edward III].
Elizabeth was widow of James Fuller Harnett. Her children by him came to live at Crotto.
William's father died 1796. He inherited Crotto.
He must be "William Ponsonby" who was High Sheriff of Co. Kerry (like his father) in 1797-98.
Major in the Kerry Militia:
He was appointed Captain in the Clanmaurice Corps of infantry (volunteer militia) in Co.Kerry in 1803.
[1805 Army List] apparently shows him as Captain of the Clanmaurice Company.
The Clanmaurice Company was probably absorbed in 1807 into the Kerry Militia (or Kerry Regiment, HQ at Tralee).
He was appointed 15 May 1807 directly as Major to the Kerry Militia. (He does not appear in the Kerry Militia before then.)
[1807 Army List] apparently shows him in the Kerry Militia.
Arthur Wellesley (later Duke of Wellington), Chief Secretary for Ireland, wrote to him in Dec 1807, authorising Ponsonby to reward informers.
Wellesley wrote to him in Jan 1808 about the possibility of a position for Ponsonby.
In Aug 1808 he was appointed to the office of "Collector of Excise duties in Kerry". See item in Freeman's Journal, 23 August 1808.
He is listed as "Major" at 1809 reception.
His step-dau Sara Harnett married against his wishes c.1809.
His brother Richard died 1811, and then Richard's children seem to have come to live with him at Crotto rather than with their mother, who remarried.
Elizabeth dies, 1812:
She died Cork, Fri 19 June 1812, age less than 47.
See death notice in Freemans Journal, Tuesday, June 30, 1812.
William had issue by 1st wife:
William mar 2ndly, 1814, to
Honoria Wren
[born 1786 or 1788, descendant of
Edward III
].
He is listed as "Major in the Kerry Militia" at mar.
He made alterations to
Crotto House
1819.
[Pielou, 1935]
says he was still an officer in the Kerry Militia as at 1820.
His step-son by his 1st wife,
Thomas Fuller Harnett
, was hanged for forgery in 1820.
William is listed at Crotto in [Pigot's directory, 1824].



He is listed

at Crotto in [Tithe Survey] 1825, lands of 142 acres.
His nieces Louisa and Mary Ponsonby were living with him at Crotto as at 1825, when Louisa became pregnant outside marriage. She left to go to her mother some time after this.
His niece Mary Ponsonby was still living with him at Crotto in 1828.
William was living Crotto as at [Deeds, 1829], at which time Louisa has left Crotto and is now with her mother.
William Ponsonby, senior, JP, of Crotto, and William junior are listed in a petition in Chutes Western Herald, 17 February, 1831 and 21 February, 1831.
Two of his sons, George and William junior, died in June-Aug 1831. William died a few months later.
"William Carrigue Ponsonby" is listed in House of Commons Parliamentary papers, Volume 35, 1832, as one of the Magistrates in the Commission of the Peace in Co.Kerry.
William dies, 1831:
He died at Crotto, 16 Dec 1831, age 61 yrs, or possibly 23 Dec.
See obituary in Kerry Evening Post, Saturday, 24 December, 1831. It says he died "on Friday last", but it is unclear if this means Fri 23 Dec or (perhaps more likely) Fri 16 Dec.
See lament for him and his two sons in Tralee Mercury, 4 January, 1832. "In six short months, the happy group dispersed, and three are clasped in the cold arms of Death."
He is bur at Aghavallen church, near Ballylongford, Co.Kerry.
[Letter, 1898] says that the Ponsonby tomb there is the tomb of "Major Ponsonby".
His wife Honoria was later buried there. Note that she is from the Ballylongford area.
Will proved 1 Sept 1832.
His son Thomas Carrique Ponsonby inherited Crotto.
Honoria is party to [Deed, 1842], in which Thomas is selling off Crotto and the Ponsonby estate.
She is listed in 1842 as of Tralee (has left Crotto).
[Slater's directory, 1846]

lists her at 7 Day Place, Tralee.
She was next door to Rowland Blennerhassett of 6 Day Place. (In 1849 her dau married his son.)
Honoria dies, 1864:
She died Wed 16 Nov 1864 [death notice], [grave], [NAI], or possibly 14 Nov 1864 [GROI],
age 76 yrs [GROI], or 78 yrs [grave], NOT age 72 yrs.
She died at her daughter's house Oakvilla, Tralee (NOT Kilflynn).
See death cert from [GROI].
See death notice, Cork Examiner, Sat 19 Nov 1864, [NLI] microfilm.
Have searched Limerick Chronicle, [LCL] microfilm, 15 to 26 Nov, for death notice, not found.
She was bur in the Ponsonby tomb at Aghavallen church, near Ballylongford.
See admin granted 1865 [NAI].
William had issue by 2nd wife: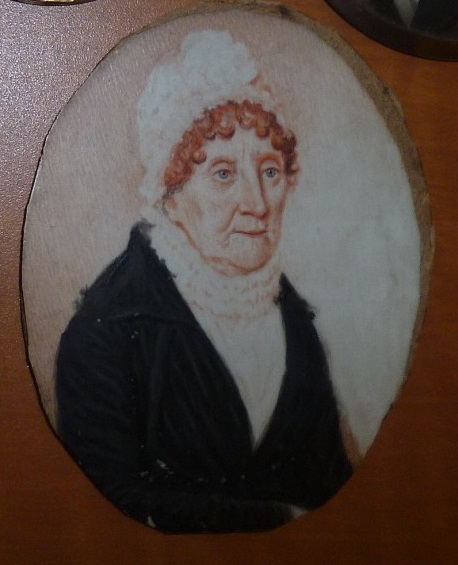 Meant to be Elizabeth Gun ("mother of Mrs. Guion - Mrs Harnett") except seems far too old for her.
She was born born post-1765 and died 1812, age less than 47.
Courtesy of Sylvia Goiran and Adair Hobson.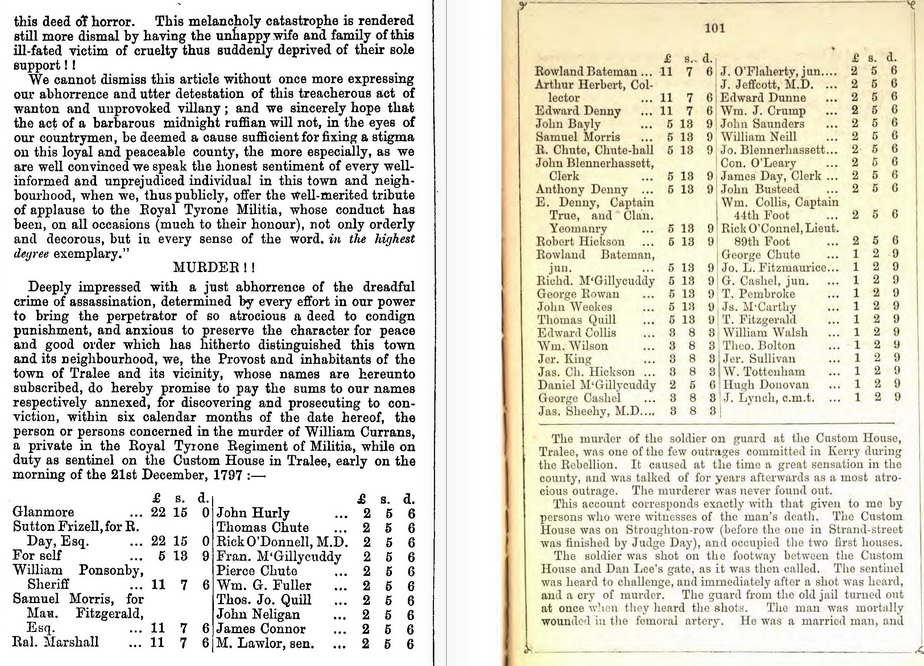 William Ponsonby, High Sheriff of Co. Kerry, and others offer a reward for the conviction of the murderer of a soldier at Tralee on 21 Dec 1797. Also offering rewards are John Blennerhassett, Clerk, and George Cashel and John Blennerhassett and George Cashel junior.
From Chute's Western Herald, 22 Dec 1797.
Printed on p.100 of Historical Record of the 2nd (now 80th) or Royal Tyrone Fusilier Regiment of Militia (1872).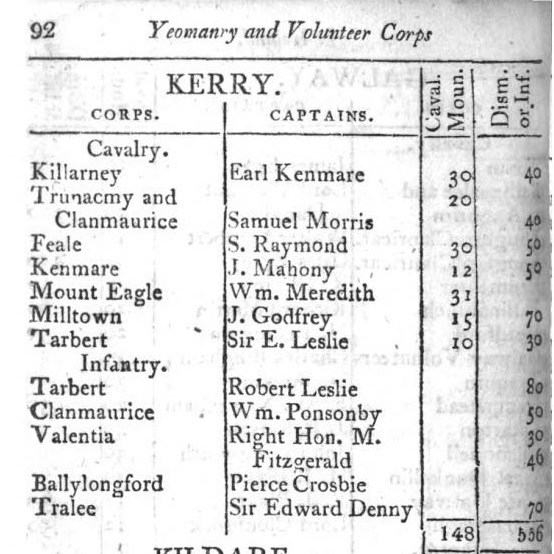 William Ponsonby listed as Captain of the Clanmaurice Corps of infantry in Co.Kerry.
From p.92 of List of the Volunteer and Yeomanry Corps of the United Kingdom, 1804.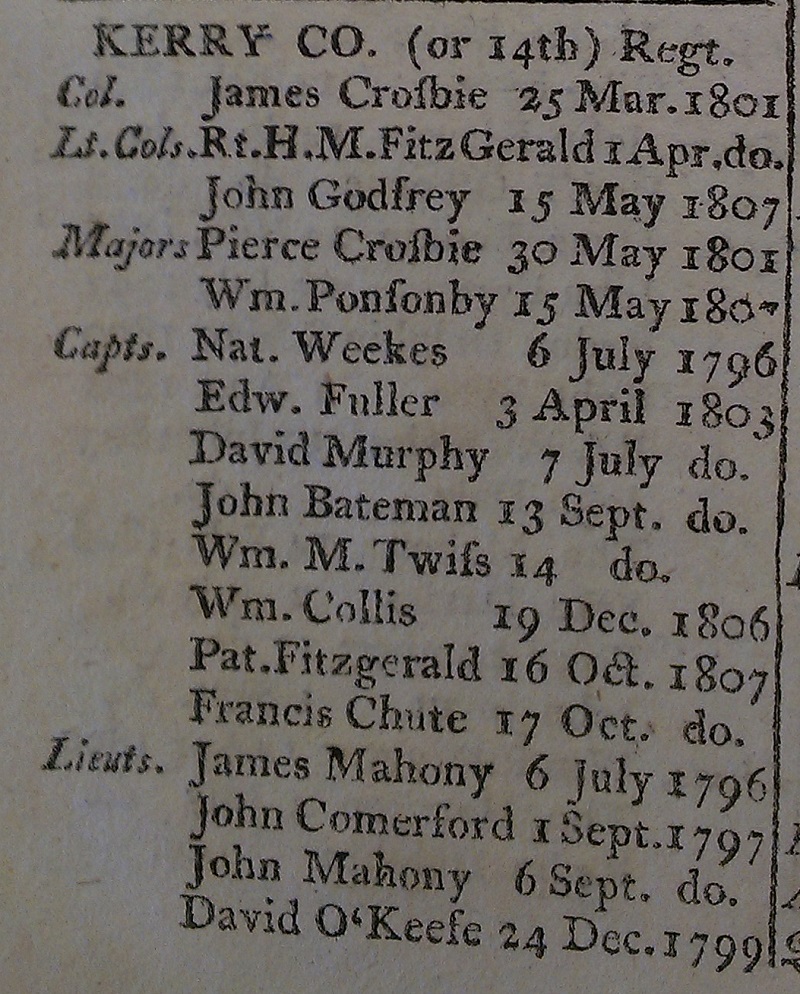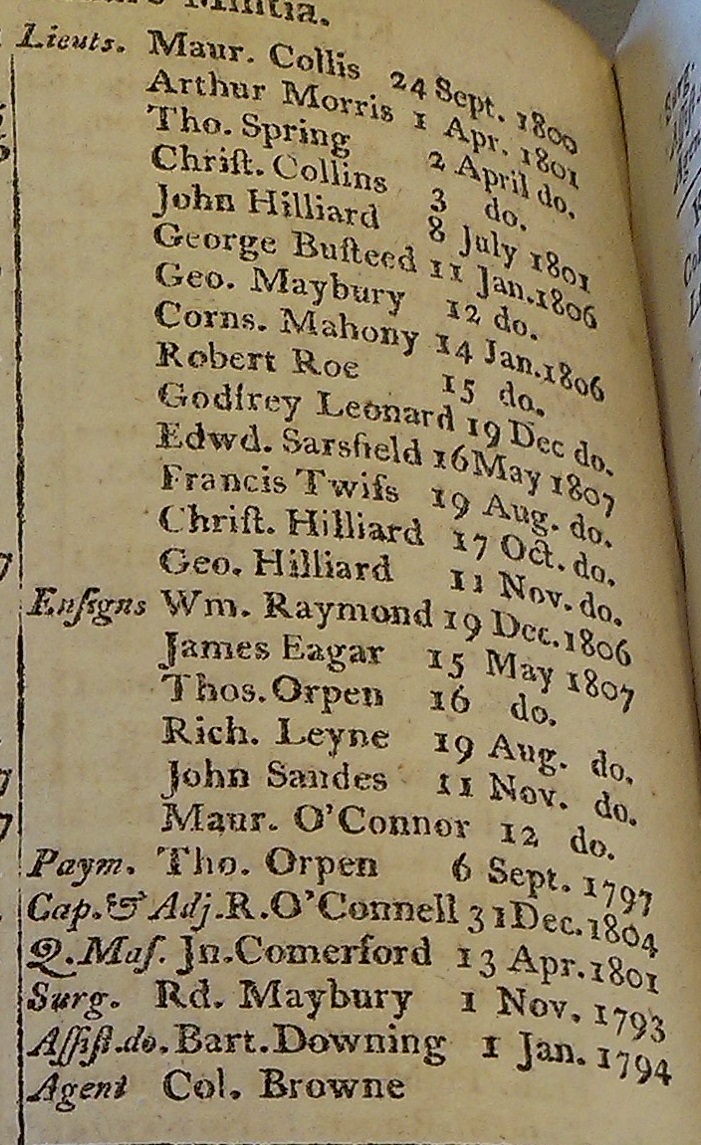 William Ponsonby listed as Major in the Kerry county Militia in [1808 Almanac].
Note his in-law Capt. Edward Fuller.
See full size LHS and RHS.



Diary of Judge Robert Day for April 1811 notes his dispute with his political rival William Ponsonby.
From [O'Carroll, 2004, pp.196-197].


CROTTO in [Leet's Directory, 1814] gets the alignment of the 4th column wrong.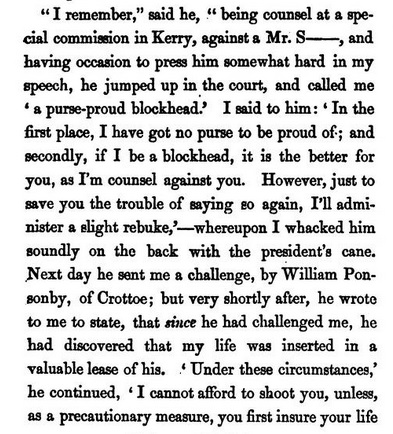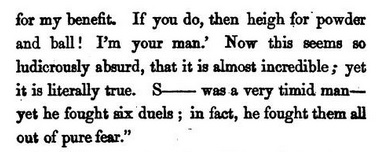 Daniel O'Connell tells a story of a Mr. S., who challenged him to a duel, sending the challenge via William Ponsonby of Crotto.
From pp.113-114 of vol.2 of Personal recollections of the late Daniel O'Connell, M.P. by William J. O'Neill Daunt (1848). [NLI] Ir 92 o 138.
This section was quoted in a review of the book in The Patrician, vol.6 (1848), pp.298-305, [NLI] 92905 p 1 (offsite, order in advance).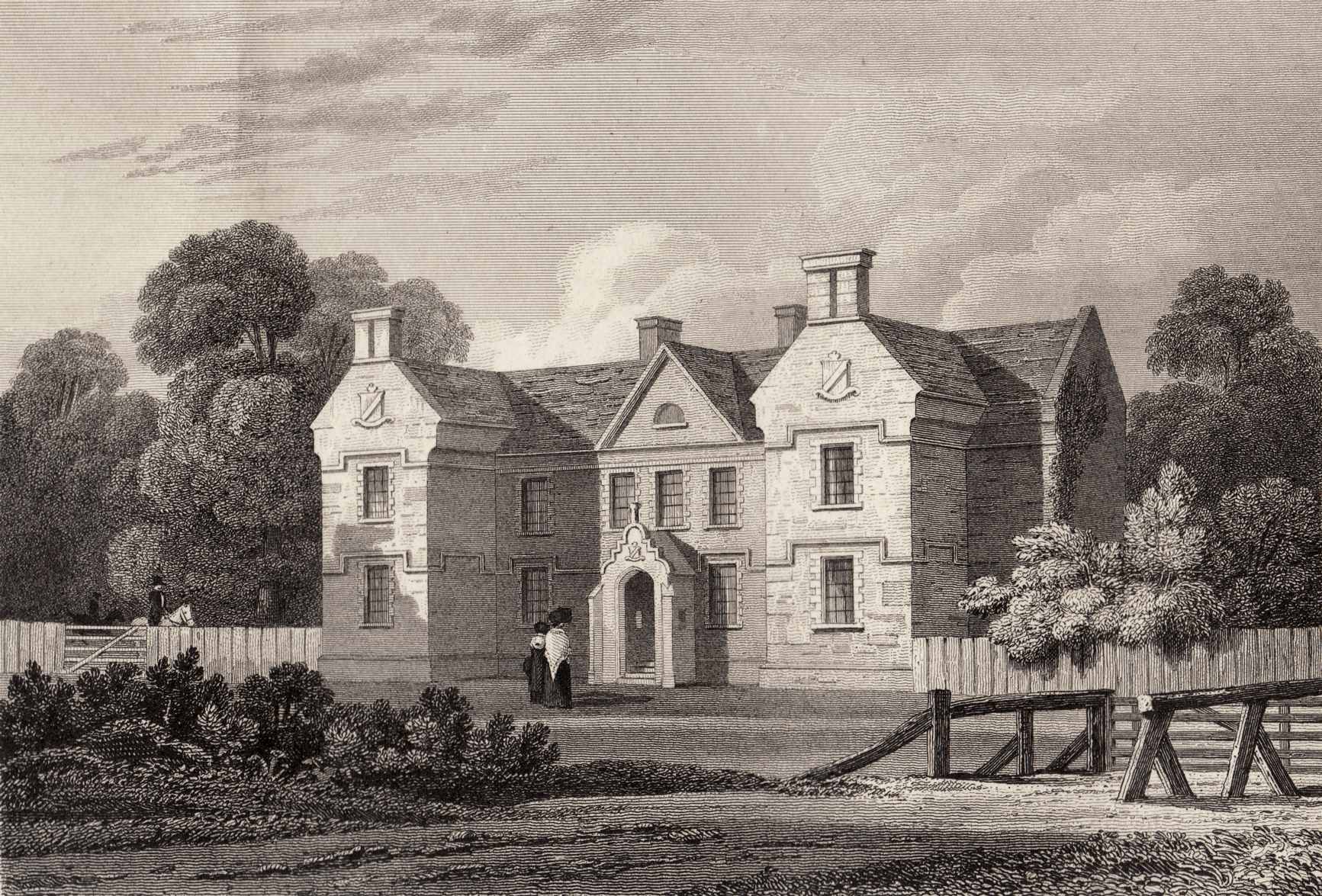 Engraving of Crotto House published 1821.
---
Ponsonby tomb, Aghavallen church, near Ballylongford, Co.Kerry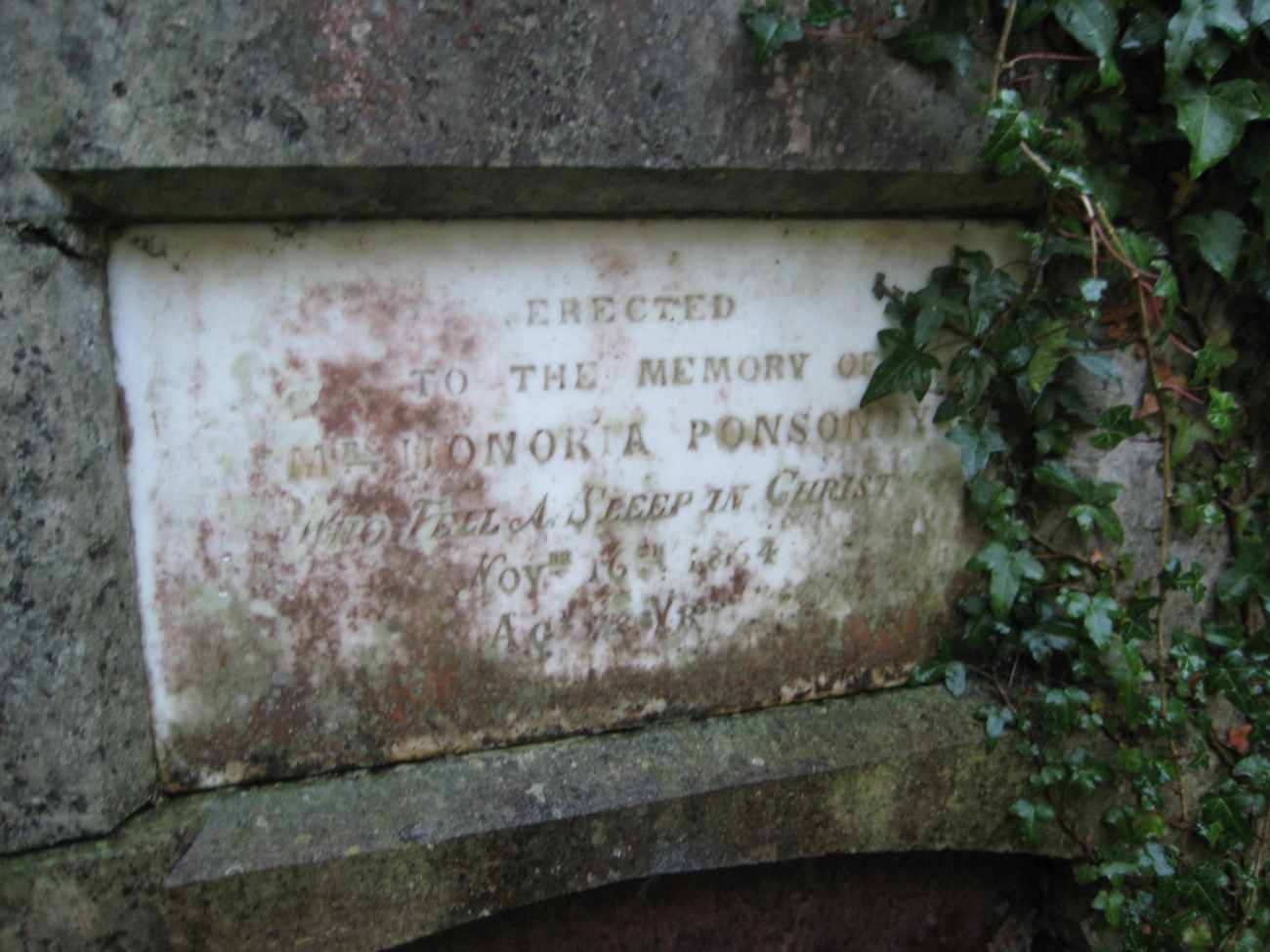 Tomb of Major William Ponsonby and his 2nd wife Honoria Wren.
Aghavallen church
, near Ballylongford, Co.Kerry. Inside the ruined church.
Photo 2010. See
larger
and
full size
.
See
other shot
.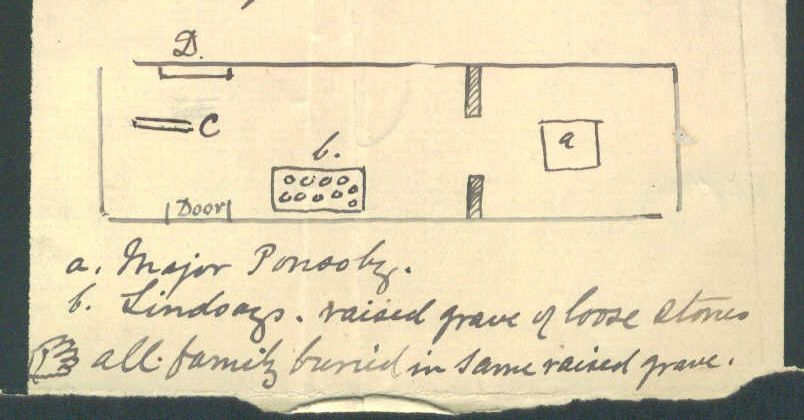 Map of Ponsonby and Lindsay graves inside Aghavallen church.
From [Letter, 1898].
The above Ponsonby tomb is "a".
---
References
---
Sources yet to be consulted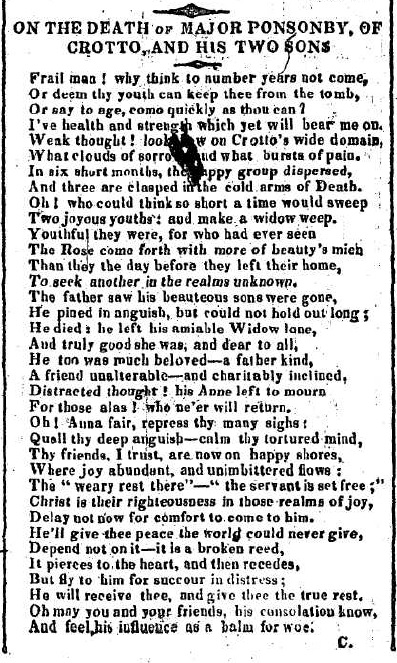 Lament for William Ponsonby and his sons.
Tralee Mercury,
4 January, 1832
.