James Butler, of Waterville House

James Butler listed at Waterville in
[Leet's Directory, 1814]
.
James Butler
, born 1780.
Lived
Waterville House
, Co.Kerry.
He is
listed
at Waterville in
[Leet's Directory, 1814]
.
[O'Connell letters in 1816]
about his forthcoming marriage make it clear that he is a bachelor and had no previous marriage. So if he had any older children they would have to be natural children.
He mar 1817 to Agnes Day [must be born 1798-1801, descendant of Edward III].
He owned the Skellig Islands and he preserved the early Christian site there. He sold them to the government in 1820.
"James Butler, of Waterville" is in a list of Kerry jurors in Tralee Mercury, July 27, 1831.
Agnes died May 1839 [Burkes Peerage] or 1829 [Burkes Irish, 1912].
James died 19 June 1863, Waterville House.
See admin 4 Mar 1865. From here.
James and Agnes had issue:
James Butler,
born 1820,
of Waterville House, Co.Kerry.
---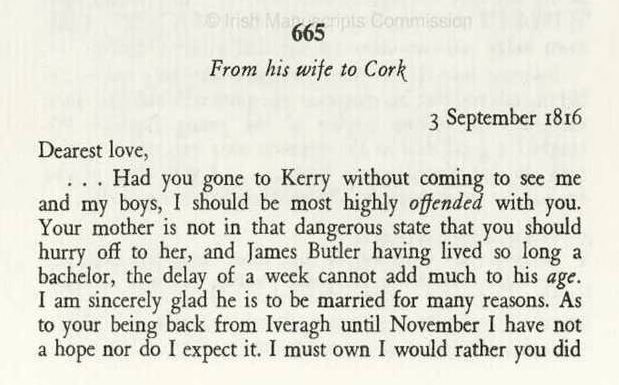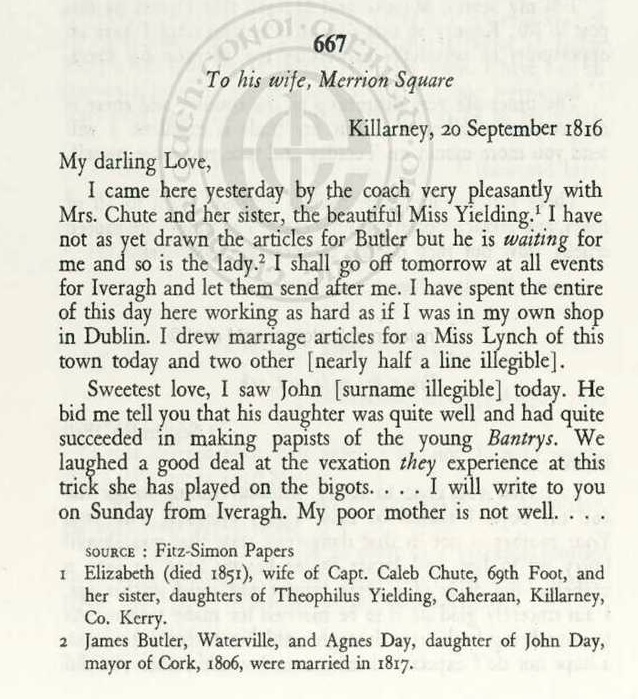 Letters of 3 Sept 1816 and 20 Sept 1816 between Daniel O'Connell and his wife, referencing the forthcoming marriage of James Butler and Agnes Day. It seems O'Connell was working on the marriage settlement and James Butler wanted no more delays.
From pp.117-118 (letters 664 and 665 and 667) of [Correspondence of Daniel O'Connell, vol 2].
James Butler and Agnes Day married in 1817.
The Yielding sisters mentioned here are Butler's 2nd cousins, the daus of Theophilus Yielding.