Cussen
References:

Sources yet to be consulted:

Supposed to be Cussen graves at Knockpatrick, Co.Limerick, but cannot see them.
---
Cussen of Glenquin Castle
Joseph Cussen,
of Glenquin Castle, near Killeedy, some way SW of Newcastle West, Co.Limerick.
He is described as of Killeedy at mar.
He mar 1845 to Margaret Nolan [born 1816 or possibly 1809].
He died pre-1901.

Margaret lived to a great age, as a wealthy widow, with apparently no issue.
She is listed in 1901 census on Church St, Newcastle West. She is widow, "retired farmer". She has one servant. Age given as only 68 but this cannot be true.
Her will dated 1902.
She is described as of Newcastle West at death.
She died 1903, age 87 yrs, or possibly 94 yrs.
She was bur Cussen family vault, Knockpatrick, Co.Limerick.
See funeral report in Limerick Chronicle, 12 Feb 1903.
She was very wealthy (estate of £2600) and there was a dispute about her will. The will was disputed by her nephew Richard McCoy, who said she was not of sound mind, and gave evidence of her eccentricity, such as wanting to bless the cows. Others gave evidence of eccentricity. But the jury decided that she was of sound mind.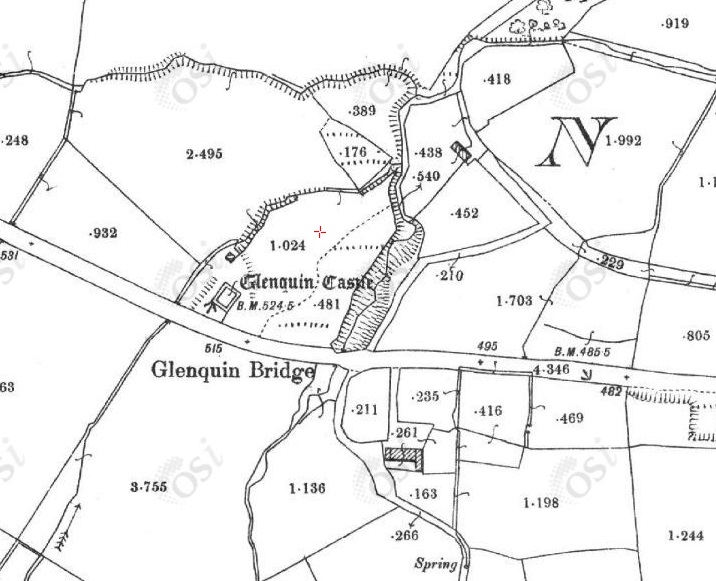 Glenquin Castle on
1887 to 1913 map
.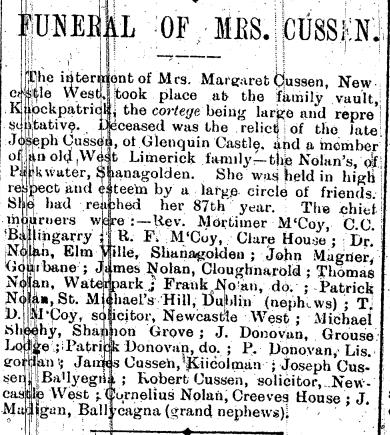 Funeral list of Margaret Nolan, 1903, shows many relationships in the Nolan and Donovan families.
---
Cussen of Ballyegny
John Cussen (below) married
Kate Donovan
, niece of Margaret Nolan (above).
John and Kate's sons,
Robert Cussen, solicitor, and his brothers
are described as "grand nephews" of Margaret Nolan (above) at her death in 1903, which they were through Nolan.
Whether the Cussens above and below are connected is not known.
"James Cussen" and "Robert Cussen" are listed

at
Ballyegny
in
[Tithe Survey, 1823-37]
.
John Cussen,
born 1818 or 1819, Co.Limerick,
of Ballyegny, Co.Limerick,
and later of Kilcolman House, Co.Limerick.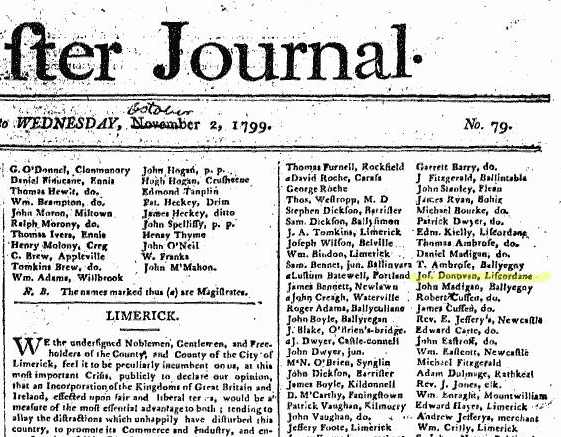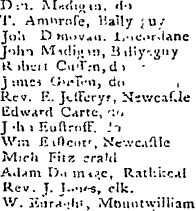 "Robert Cussen, Ballyegny" and "James Cussen, Ballyegny" signed a
1799 petition
in favour of the proposed
Act of Union
.
(Left) Petition in
Finns Leinster Journal
,
28 Sept to 2 Oct, 1799
.
(Right) Petition in
Belfast Newsletter
,
1 Oct 1799
.