John Cussen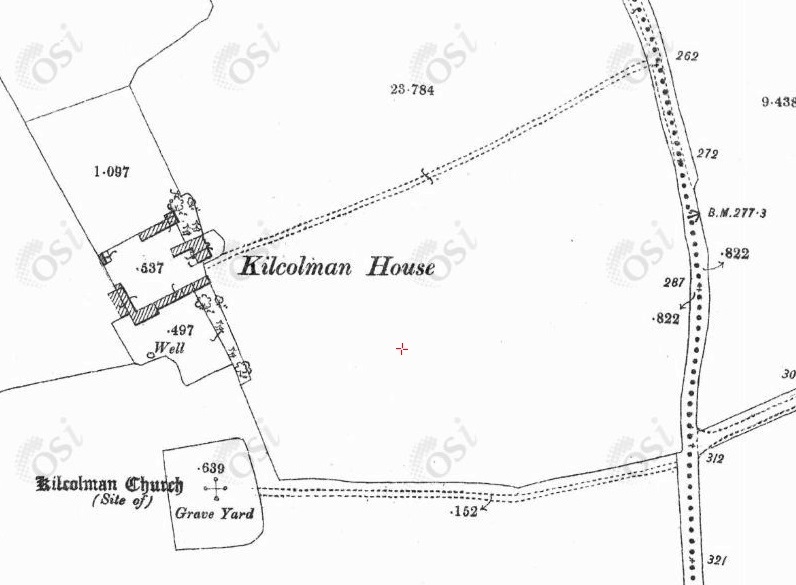 Kilcolman House, Kilcolman East, on
1887 to 1913 map
.
John Cussen
, born 1818 or 1819,
of
Ballyegny
, to NE side of
Lisgordan
, Co.Limerick (see
map
).
Wealthy farmer and butter dealer.
He mar 1850 [her age 16, him age 31 or 32] to
Kate Donovan
[Catherine, born 1834].
Children baptised at Kilcolman 1851 to 1861.
Listed as living "Ballyquirke" (perhaps just mis-reading) at son's bapt 1856.
He left Ballyegny and moved to Kilcolman East (not to be confused with Kilcolman near Ballyegny and Lisgordan, Kilcolman East is some distance away, some way due S of Rathkeale, see map).
Must have moved to Kilcolman East in 1862 when location of children's baptisms changes to Rathkeale.
Confusingly, when he was at Ballyegny his children were bapt at Kilcolman, and when he was at Kilcolman East his children were bapt at Rathkeale.
Children baptised at Rathkeale 1862 to 1877.
Lived at Kilcolman House, the main house in Kilcolman East.
Living "Kilcolman" at son's birth 1865.
Living "Kilcolman" at dau's bapt 1868.
Listed as farmer, of Kilcolman, in mar settlement of Michael Donovan 1870.
Listed as farmer, Kilcolman, at dau's mar 1871.
"John Cussen" is listed as farmer, Kilcolman middle, under Kilcolman in [Postal Directory of Munster, 1886].
Established an office in Cork.
They are listed at Kilcolman East in [Census, 1901], both described as farmers. He is listed as age 82 (born 1819). They have 5 servants / farm staff living with them.
John died Kilcolman East, 3 Jan 1902, age 83 or 84 yrs, listed as farmer.
See entry in [GROI], says age 84 (born 1818).
Funeral Sun 5 Jan 1902. See funeral report in Limerick Chronicle, Thur 9 Jan 1902.
Kate is listed at Kilcolman East in [Census, 1911]. She has 2 servants.
She died Kilcolman East, 5 July 1912, age 78 yrs.
See notice in Limerick Chronicle, 6 July 1912.
John and Kate had issue: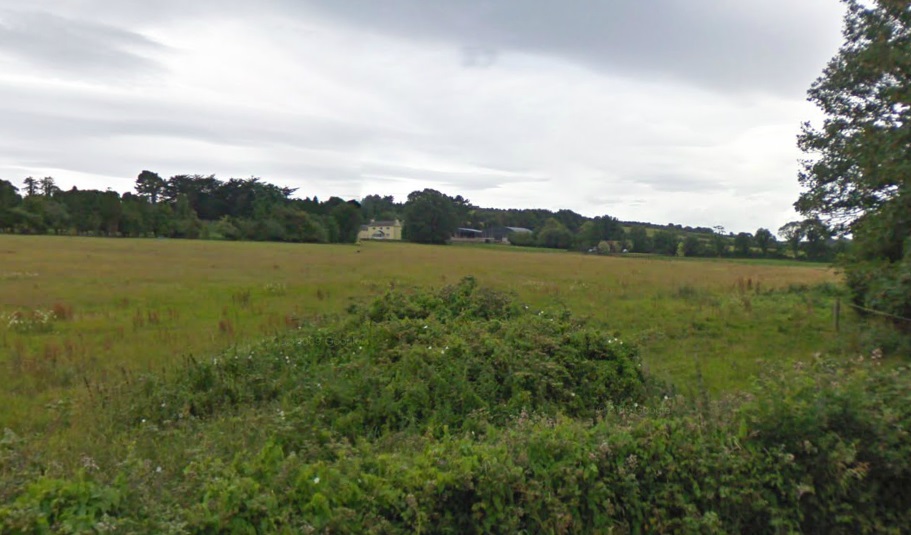 Kilcolman House in the distance.
View from NE crossroads.
From
street view
.