James Nolan, of Waterpark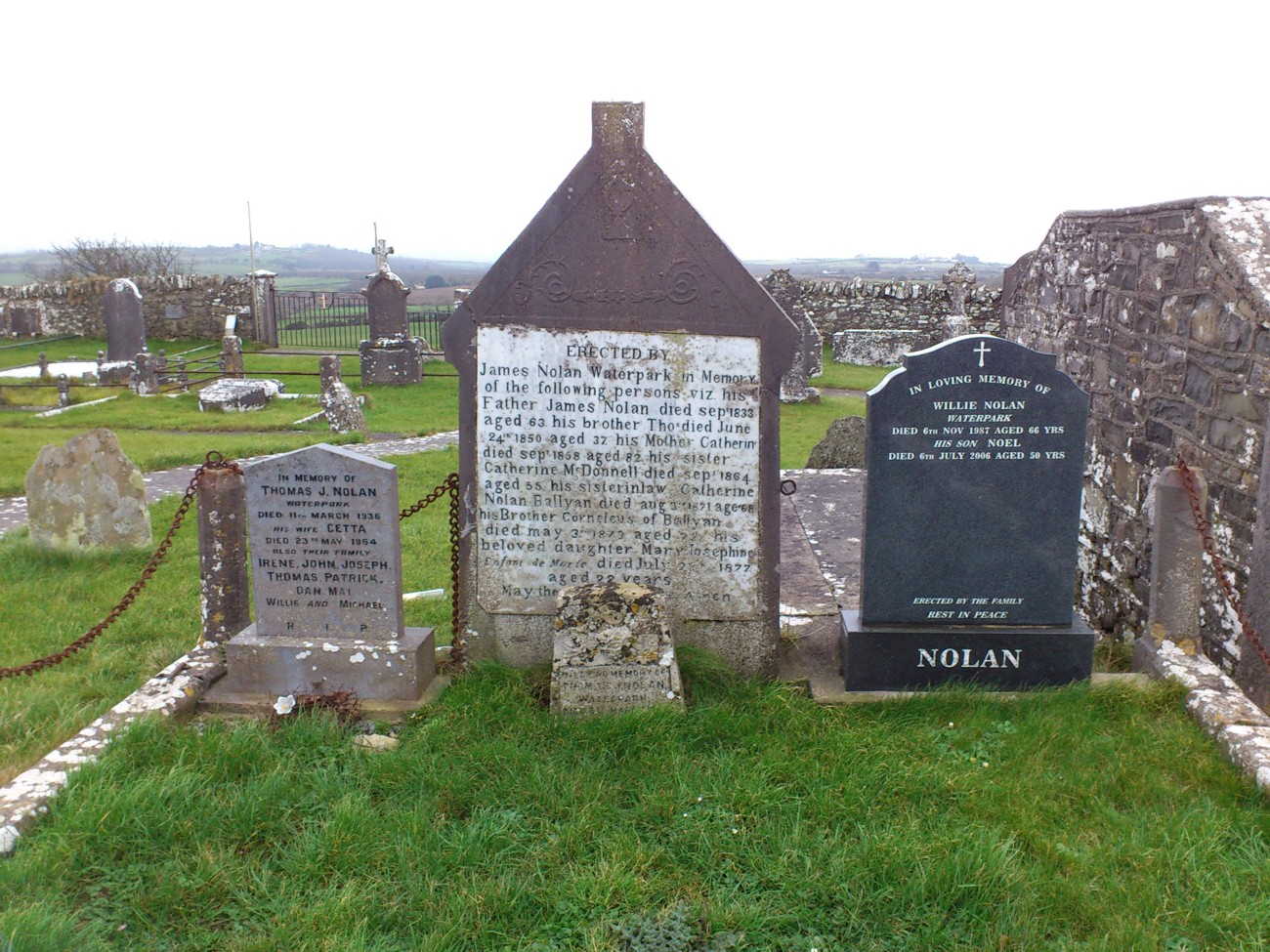 Nolan grave, Knockpatrick, Co.Limerick.
Photo 2013. See
full size
.
See close-up of
LHS
and
centre
and
small centre
and
RHS
.
Centre
is grave of James Nolan and Catherine Donovan.
James Nolan
,
born 1770,
of
Waterpark House
, Shanid Lower, Kilmoylan par, SW of
Shanagolden
, Co.Limerick.
See
entry
in tree by
Paddy Waldron
.
He mar pre-1801 to Catherine Donovan [born 1776].
The elopement and the faction fight of 1825:
The story is that Kennedy O'Brien of Dunmoylan eloped with one of his daughters and possibly had children with her.
This Kennedy O'Brien was a leader of faction fighting at Shanagolden and he was killed in a faction fight on 2 June 1825.
It is almost certain that this was his dau Ellen (i.e. Kennedy O'Brien was her 1st husband).
"James Nolan" is listed in [Tithe Survey, 1833] as occupying a large titheable holding of 304 acres (Waterpark) and a further untitheable holding of 3 acres, in Shanid, Kilmoylan par, leasing from Thomas Spring Rice (later created 1st Baron Monteagle).
James died Sept 1833, age 63 yrs.
He was bur Knockpatrick.
"Catherine Nolan" of "Shanid Castle" wrote a letter to the Limerick Chronicle, 26 Mar 1845, praising her landlord Thomas Spring Rice, 1st Baron Monteagle.
"Catherine Nolan" is listed at Waterpark in [Griffiths Valuation, 1852]. She also held the land containing the ruin of Shanid Castle.
She died Sept 1858, age 82 yrs.
She was bur Knockpatrick.
James and Catherine had issue:
Perhaps another son, a younger brother of Cornelius of Ballyane:
Frank Nolan.
He is listed in [Tithe Survey, 1833] at Ballyane, Kilmoylan par, as holding a plot less than 1 acre.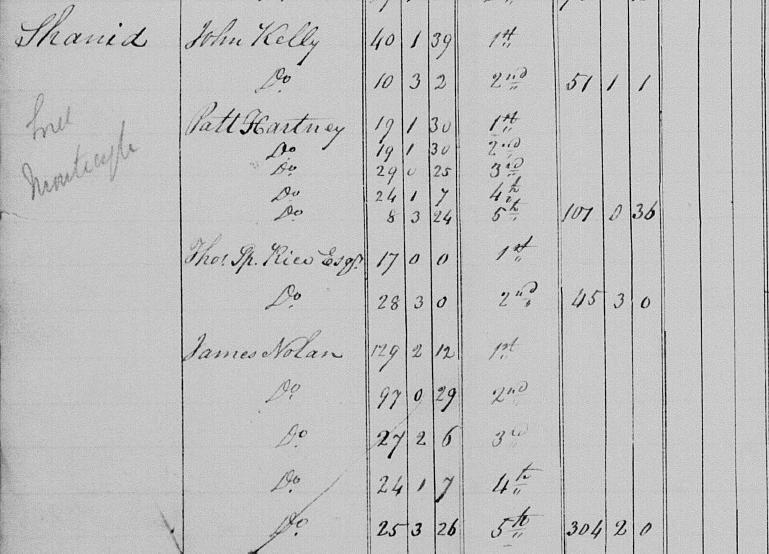 James Nolan with a large holding at
Waterpark
, Shanid, in
[Tithe Survey, 1833]
.