McKern
Thomas McKern,
bapt 1819.
Spelled "McKern" in death notice, "M'Kern" on death cert.
See
entry
in tree by
Paddy Waldron
.
He mar 1856 to Bridget Ranalow.
He died 1882.
They had issue:
Tom McKern,
Thomas Henry McKern, or Mackern,
born 4 Feb 1864, Limerick [LDS IGI].
Church of Ireland.
The family seem to have used the spelling "McKern" earlier and "Mackern" in later years, though they are not consistent.
Tom is "McKern" in 1901 census. Eileen signs herself "McKern" in Deed of 1921. But she signs herself "Mackern" in 1957 letter in Ebrill papers. Hugh's 1954 letter is "Mackern".
Tom is listed in Limerick in 1901 census. He is "stockbroker". Think written in error by his lodgings as "Thomas Francis".

He mar late 1901, London, to Eileen Ebrill [bapt 1 May 1874, Ellen Mary].
(todo) See mar of Eileen Ebrill and Thomas Henry MacKern, [GRO.UK], 4th qr 1901, Poplar, vol 1c p 1141.
"Ellen Mary MacKern" is listed at Summerville Cottage in Deed of 1905.

They went to Argentina.
As at deed of 22 Sept 1921 they are living Buenos Aires. Though at time of deed she is home at Summerville Cottage.
She is listed as of Buenos Aires in Deed of 1932.
Tom fl 1932.
Eileen lived 1881 Coronel Diaz Ave, central Buenos Aires (see map). There from at least 1954 to death 1960.
Ebrill papers has 1954 telegram sent to her at 1881 Coronel Diaz. And also 1956 letter from her from 1881 Coronel Diaz.
Tom died pre-1959.
Eileen is party to Deed of 1959. Living 1881 Coronel Diaz. She is widow.
She died 11 Apr 1960, age 85 yrs.
Tom and Eileen had issue:




Hugh Mackern,
or McKern,
only son, born post-1901.
He was possibly born 1910, since 1954 letter says he "came of age" in 1931.
In 1954 letter he gives name on his business as "Hugo E. Mackern".
Listed as a "minor" in deed of 22 Sept 1921.
He was a solicitor.
He lived Argentina.
A document of 1953-54 in Ebrill papers refers to "Dr. McKern". Maybe this is an error.
He didn't marry.
Living with his mother at 1881 Coronel Diaz, Buenos Aires, from at least 1954.
See letter of 30 Jan 1954 from him in Buenos Aires. He says his solicitor's business is at Calle Sarmiento 412, Buenos Aires.
Unmarried as at 1955.
He is party to Deed of 1959. Living 1881 Coronel Diaz.
He is party to Deeds of 29 Mar 1961. Living 1881 Coronel Diaz.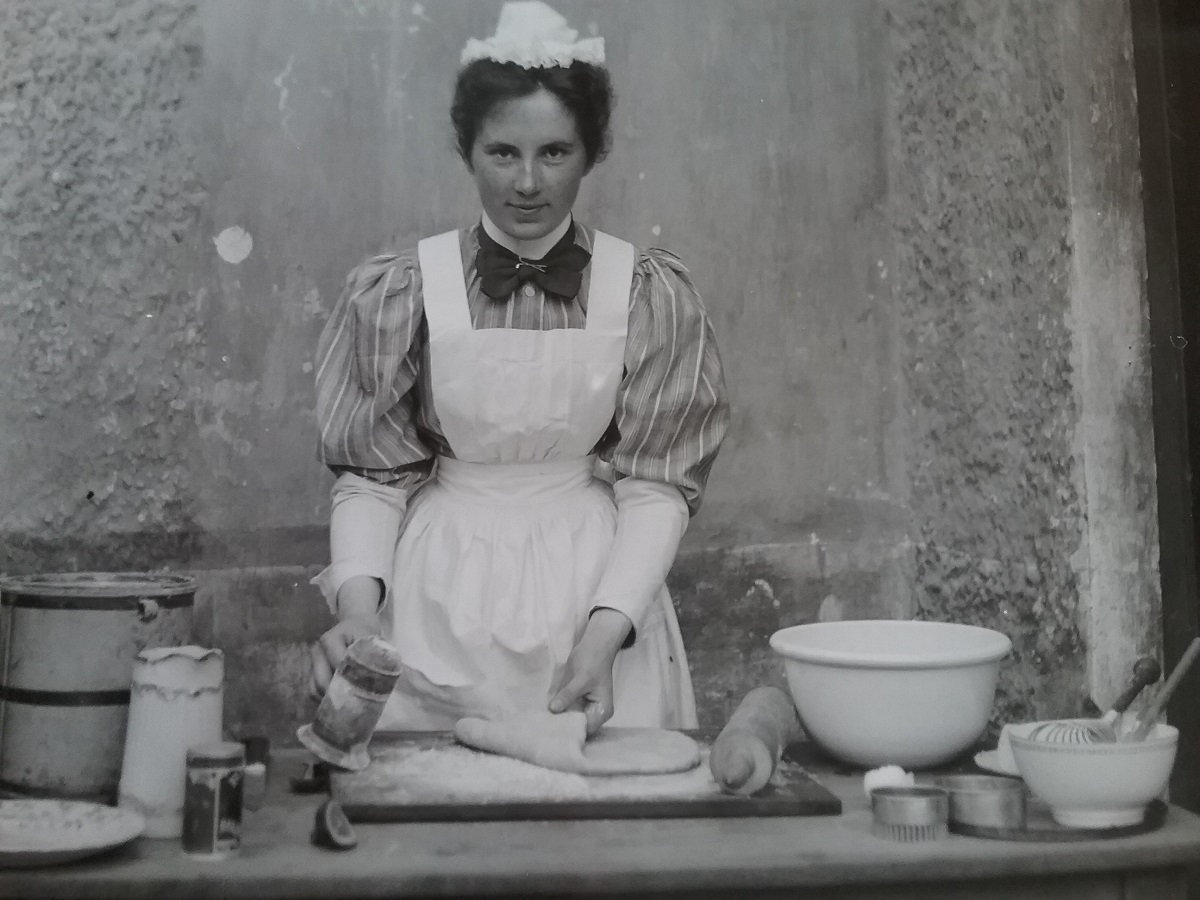 Eileen Ebrill.
She must have done some sort of cookery/catering course. A handwritten book of her recipes exists.
See
larger
and
full size
.
Courtesy of
John de Courcy
.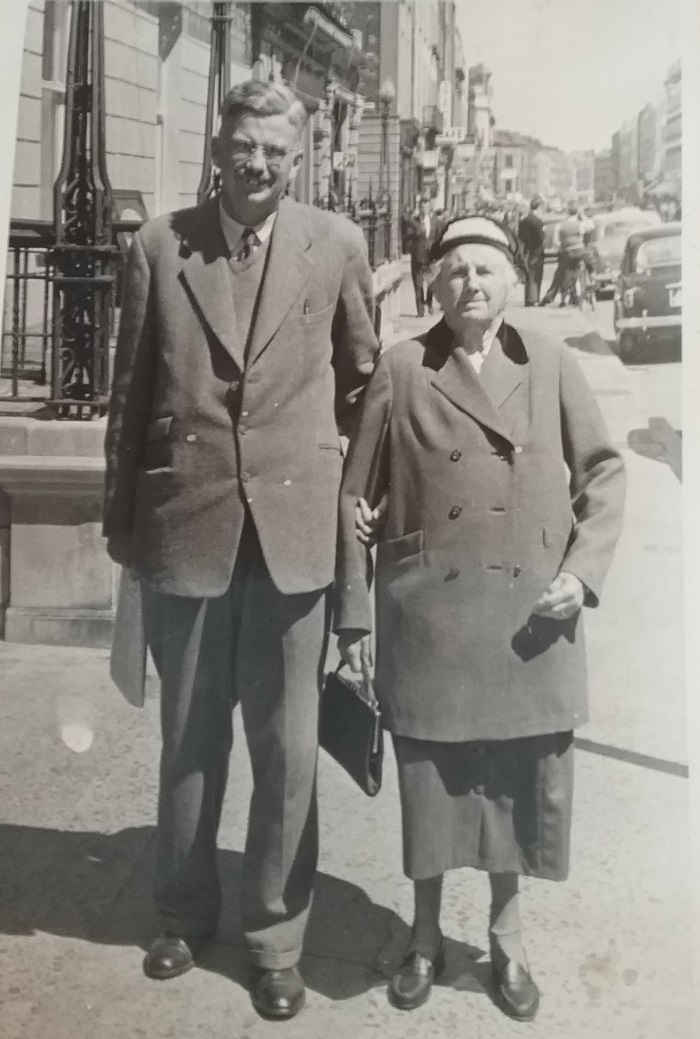 Eileen Ebrill and her son Hugh McKern, when they visited Ireland in late 1950s.
See larger and full size.
Courtesy of John de Courcy.