Sir Edward FitzEustace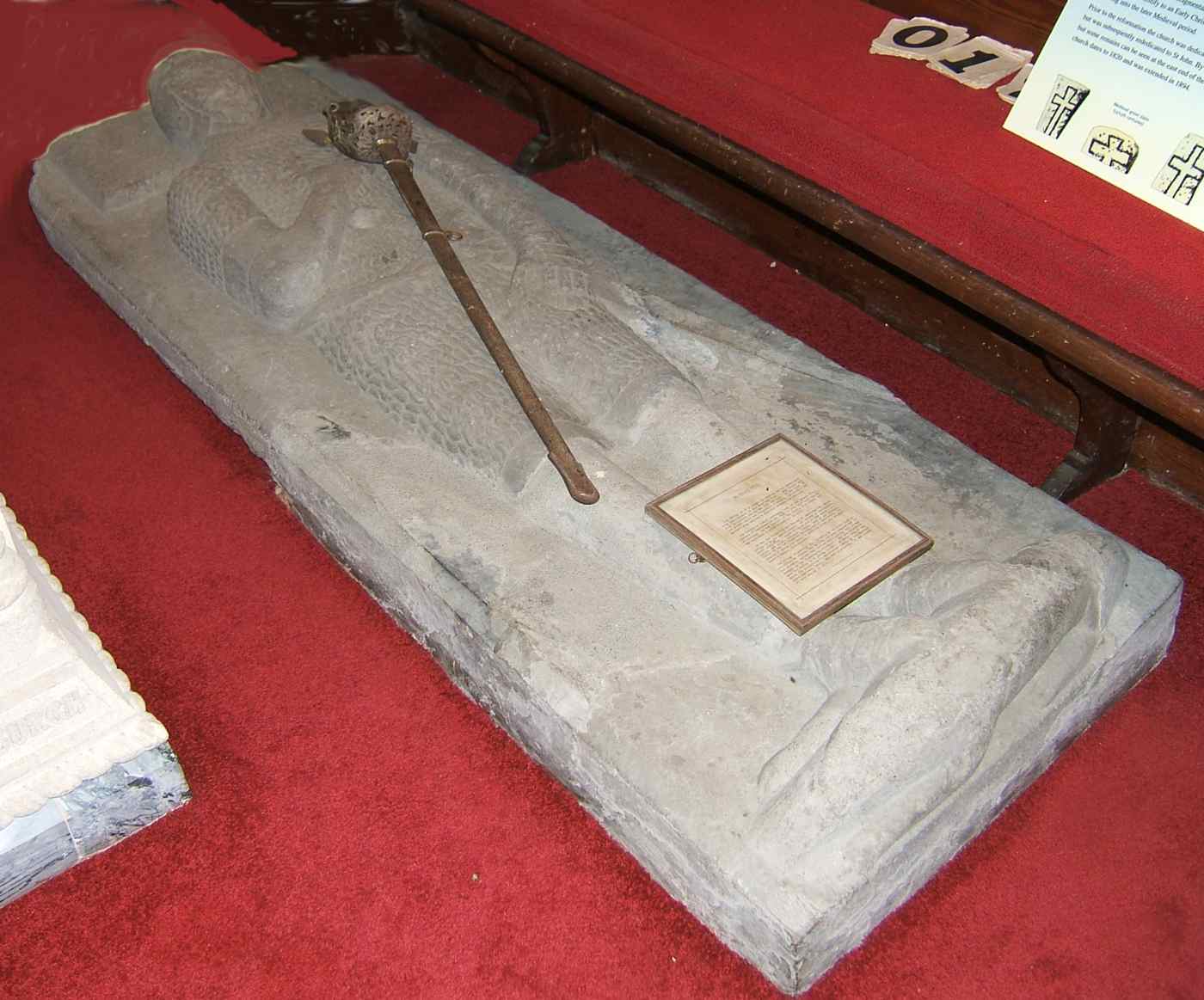 Effigy of a FitzEustace knight, St.John's CoI church,
Ballymore Eustace
, Co.Kildare.
[Tickell, 1955]
says there is some evidence that this is Sir Edward FitzEustace (died 1454) but some authorities date it to a later period.
e.g. The
OPW sign
at the site (see
full size
) says it is early 1500s.
This effigy was formerly at
Old Kilcullen
and was later moved to Ballymore Eustace.
See
larger
and
full size
.
Photo from
Eustace Families Association
. Used with permission.
Sir Edward FitzEustace
,
of Castlemartin,
Kilcullen
, Co.Kildare,
and of
Harristown
, some distance E of Kilcullen, Co.Kildare,
mar Alicia ----,
High Sheriff of County Kildare
in 1421, 1423, 1425, 1426 and 1430,
appointed a
Privy Counsellor
in 1431 when he went to report to the child
Henry VI
,
in 1446 Castlemartin was unsuccessfully attacked by Irish tribesmen under
O'Connor Faly
,
Lord Deputy of Ireland
1452-53 and 1454,
died 25 Oct 1454,
had issue:
Sir Thomas FitzEustace,
of Castlemartin,
bur at St. Mary's Church, Castlemartin (built by his brother around 1490),
[Tickell, 1955] says the effigy there today is of him,
apparently ancestor of:

Sir Maurice Eustace,
of Castlemartin, Co.Kildare,
recovered the forfeited estates of his Baltinglass cousins,
lived Harristown, Co.Kildare,
Speaker of the Irish House of Commons 1640-47,
Lord Chancellor of Ireland 1660-65,
died 1665, bur St. Patrick's Cathedral, Dublin.
Eustace St, Dublin (off Dame St) is after him (his Dublin town house and gardens stood on the site).




Rowland FitzEustace, Baron Portlester,
born c.1430,
of Castlemartin,
lived at Harristown, Co.Kildare.




Richard Eustace, had issue:

Thomas Eustace, 1st Viscount Baltinglass, born 1480,
succ to the Co.Kildare estates of his uncle 1496,
lived Harristown, Co.Kildare,
created Viscount Baltinglass 1541,
died 1549, bur New Abbey, Kilcullen, Co.Kildare,
had issue:

Roland Eustace, 2nd Viscount Baltinglass, born 1505,
had issue:

James Eustace, 3rd Viscount Baltinglass, born 1530, Catholic rebel.
In the Desmond Rebellions he allied with the native Irish in rebellion against the crown.
The rebels defeated the English forces at the Battle of Glenmalure, Co.Wicklow, 1580.
He went to Spain to seek an invasion of Ireland in support of the Catholic cause.
He died in Spain, 1585.
In 1585 the Eustace title and arms were attainted, and all the Baltinglass lands were forfeited.
Title re-created 1627 for Roper.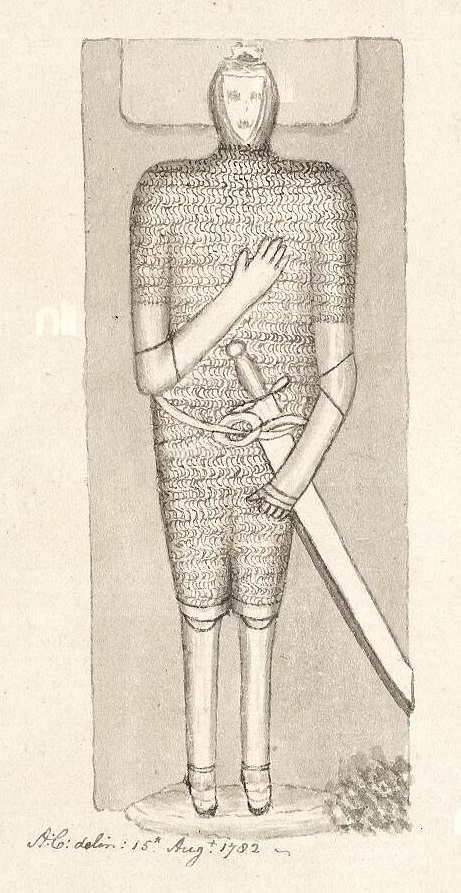 1782 sketch by
Austin Cooper
of the above effigy.
At which time it was in
Old Kilcullen
.
Note, probably by Albert Damer Cooper, says that the effigy is
"supposed to be Sir Rowland Eustace or Gerald Earl of Kildare"
.
From
here
in NLI.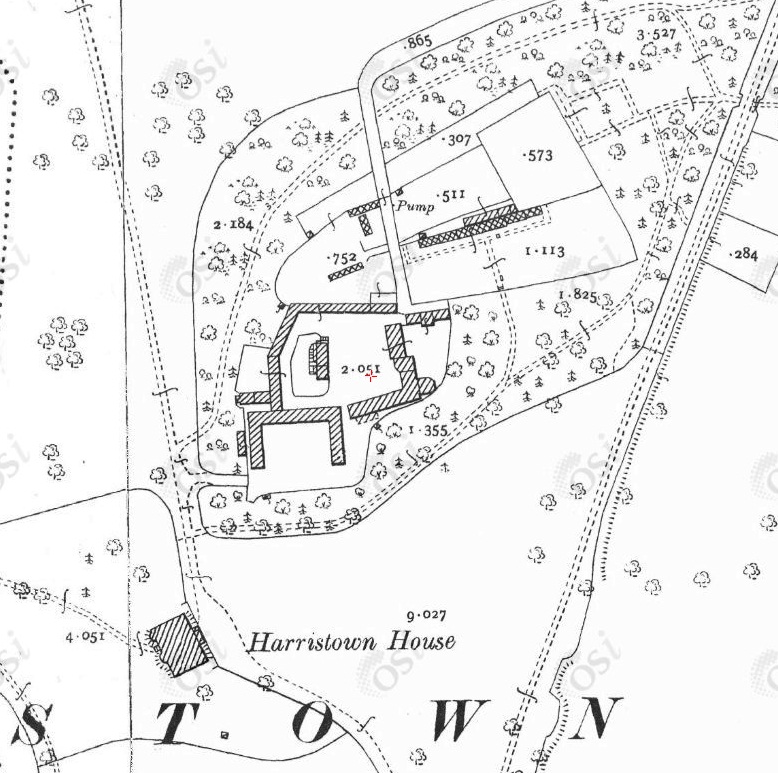 Harristown, Co.Kildare, on 1887 to 1913 map.
See modern satellite view.
---
Castlemartin is now the home of billionaire Tony O'Reilly.
The 15th century St. Mary's Church, Castlemartin:

This church fell into ruins for many years.
It was restored in 1979-80 by Tony O'Reilly and re-opened as a Catholic church in 1981. It is the first medieval church in Ireland to have been restored to full working order.