John Fitzedmund Fitzgerald, Seneschal of Imokilly
Sources yet to be consulted:
John Fitzedmund Fitzgerald
(see
here
),
of the
Castle of Imokilly, at Castlemartyr
, Co.Cork.
Not to be confused with his cousin
John Fitzedmund Fitzgerald, Dean of Cloyne
.
He was the last
Seneschal of Imokilly
.
He was
a leading rebel
in the
Desmond Rebellions
.
In 1569 he joined
James FitzMaurice Fitzgerald
in the first Desmond Rebellion.
The Lord Deputy
Sir Henry Sidney
sacked
Castlemartyr
and installed an English garrison there.
John and James FitzMaurice surrendered in Feb 1573.
He regained Castlemartyr in Nov 1573.
He went with James FitzMaurice to France in 1575. John soon returned home. But James FitzMaurice gathered an invasion force on the continent for a new rebellion.
James FitzMaurice returned to Ireland in June 1579, starting the
Second Desmond Rebellion
. John joined him again in rebellion.
John ambushed
Sir Walter Raleigh
at Ballinacurra, Co.Cork. But Raleigh escaped.
He became leader of the rebellion after James FitzMaurice's death in battle in Aug 1579.
He finally surrendered 1583.
He was eventually pardoned and returned to Castlemartyr.
He mar Honora FitzMaurice Fitzgerald [dau of his leader James FitzMaurice Fitzgerald].
[Hayter-Hames, 2016] implies he married her after the war and after James FitzMaurice's death.
In 1587 he was suspected of plotting rebellion again and was arrested.
He died a prisoner in Dublin Castle in Feb 1589.
Honora re-married, and by her 2nd marriage was ancestor of Elizabeth II.
(If the rebel John had not died a prisoner, Elizabeth II could not exist.)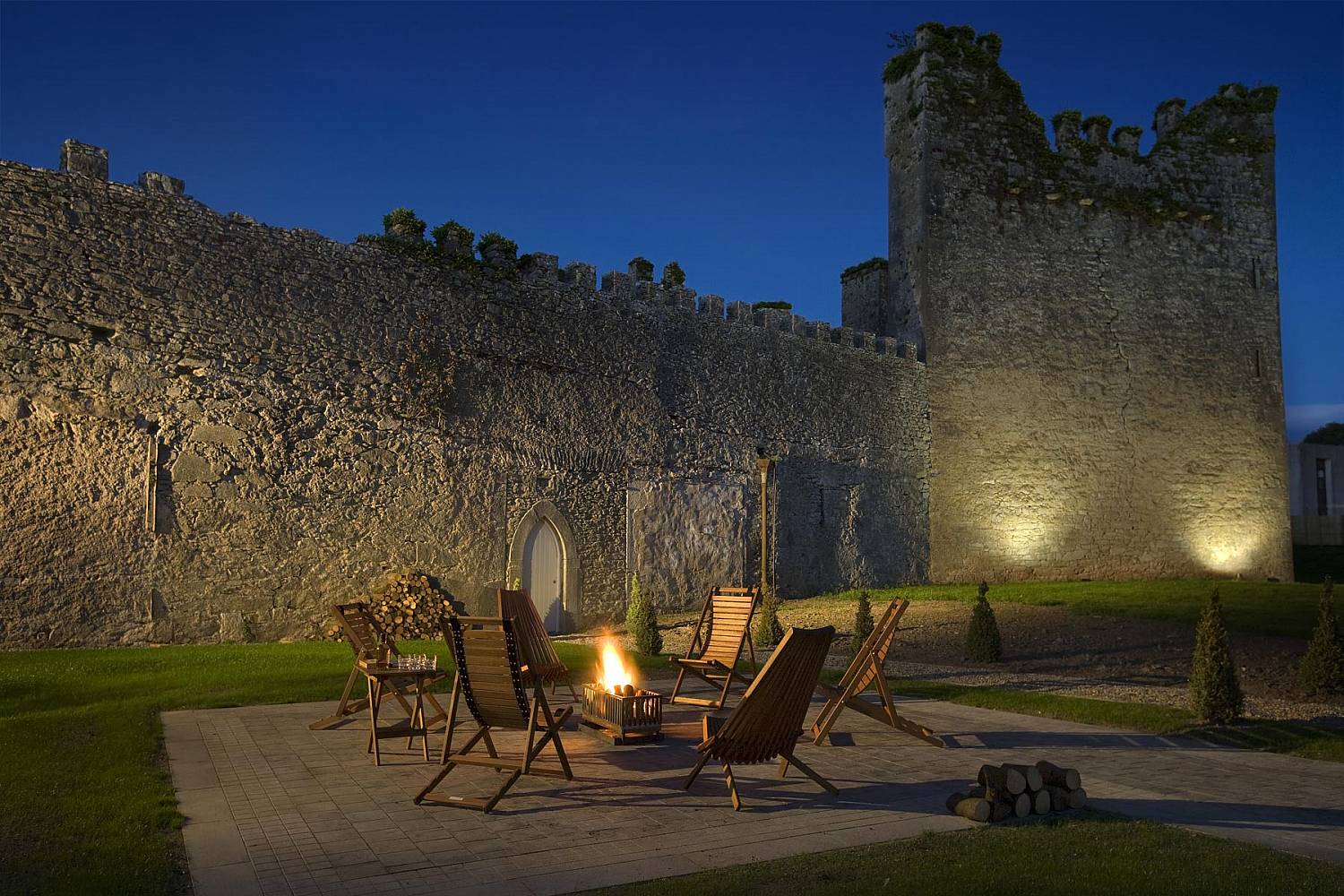 The old castle at Castlemartyr, beside Castlemartyr House.
See
full size
.
From
Castlemartyr Resort
.