Baggotrath Castle, Dublin
References:

Sources yet to be consulted: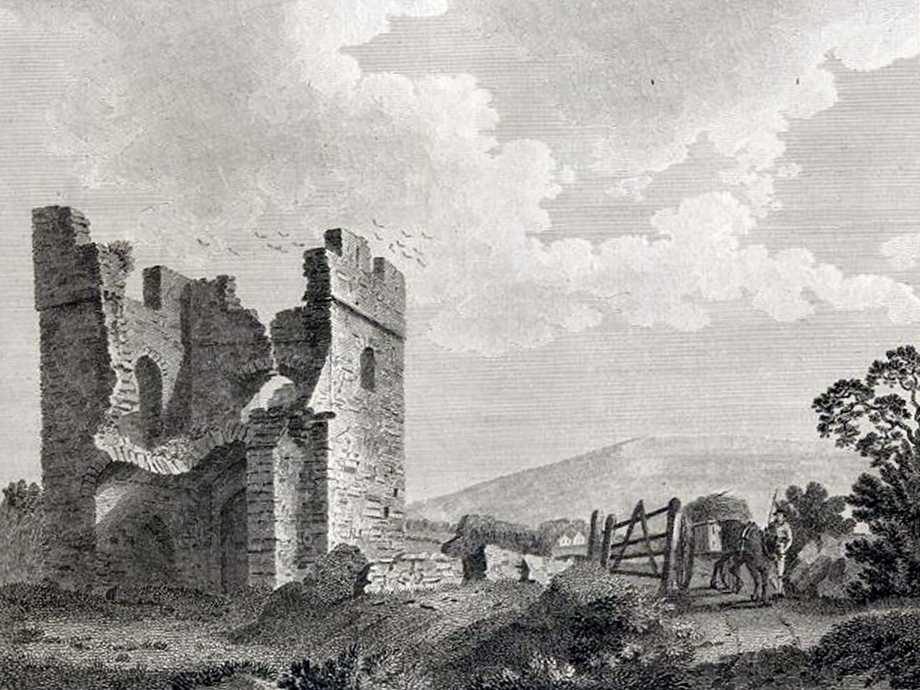 Baggotrath Castle, 1792.
Printed in
[Grose, 1794]
.
See
original
. Scan from
here
.
Baggotrath Castle
stood on what is now Upper Baggot St, Dublin.
[Harbison, 1998]
says it stood on what is now the part of Upper Baggot St facing Waterloo Rd (see
map
).
The Baggotrath Castle lands would eventually become the nucleus of the great
Fitzwilliam/Pembroke estate
of Dublin city.
A stream, "Baggotrath Brook", ran past it
[Sweeney, 1991]
.
Baggotrath Castle was built early 1300s by the Bagod family, after whom the castle and now surrounding streets are named.
It was occupied 1379 by William Fitzwilliam.
Then by Sir Edward Perrers 1403. His widow died 1441. The castle was taken by an executor of her will.
It was seized back for the Fitzwilliam and Perrers families by their daughter's husband William Fitzwilliam 1441.
Seat of the Fitzwilliam family until Sir Thomas Fitzwilliam, Kt moved to Merrion Castle around 1550.
Baggotrath Castle was destroyed 1649, in the time of the Royalist 1st Viscount Fitzwilliam, as part of the fighting leading to the Battle of Rathmines.
The castle was abandoned, and fell into total ruin in the early 1700s.
Baggotrath Castle was visited by Austin Cooper in 1778 and described by him think 1780.
The ruins were entirely demolished and cleared sometime in 1821 to 1842, as the area around the Grand Canal was developed.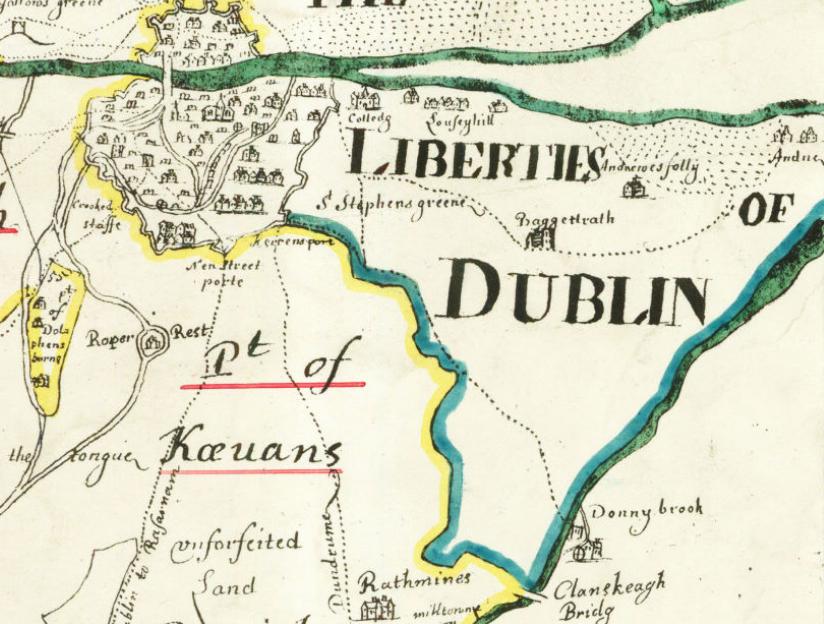 Baggotrath Castle shown to SE of Dublin city in
[Down Survey, 1655 to 1658]
.
From
TCD
.
See also
map
printed in
[Ball, vol.2, 1903]
.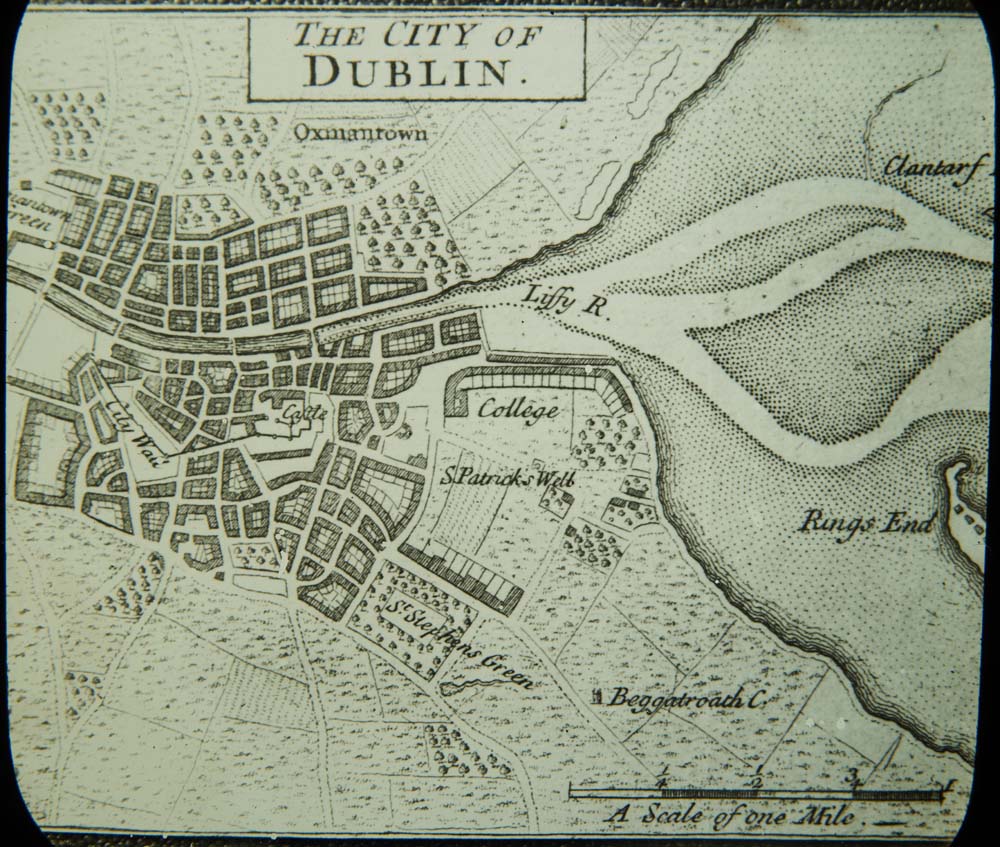 Location of Baggotrath Castle.
Herman Moll's map of Dublin, 1714.
NAI is wrong to say this is John Speed, 1610.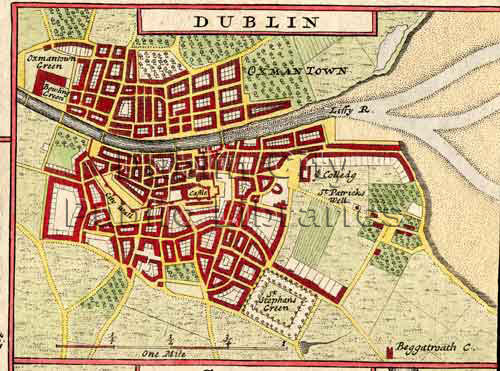 Herman Moll's map of Dublin, 1714.
Other version from Dublin City Public Libraries.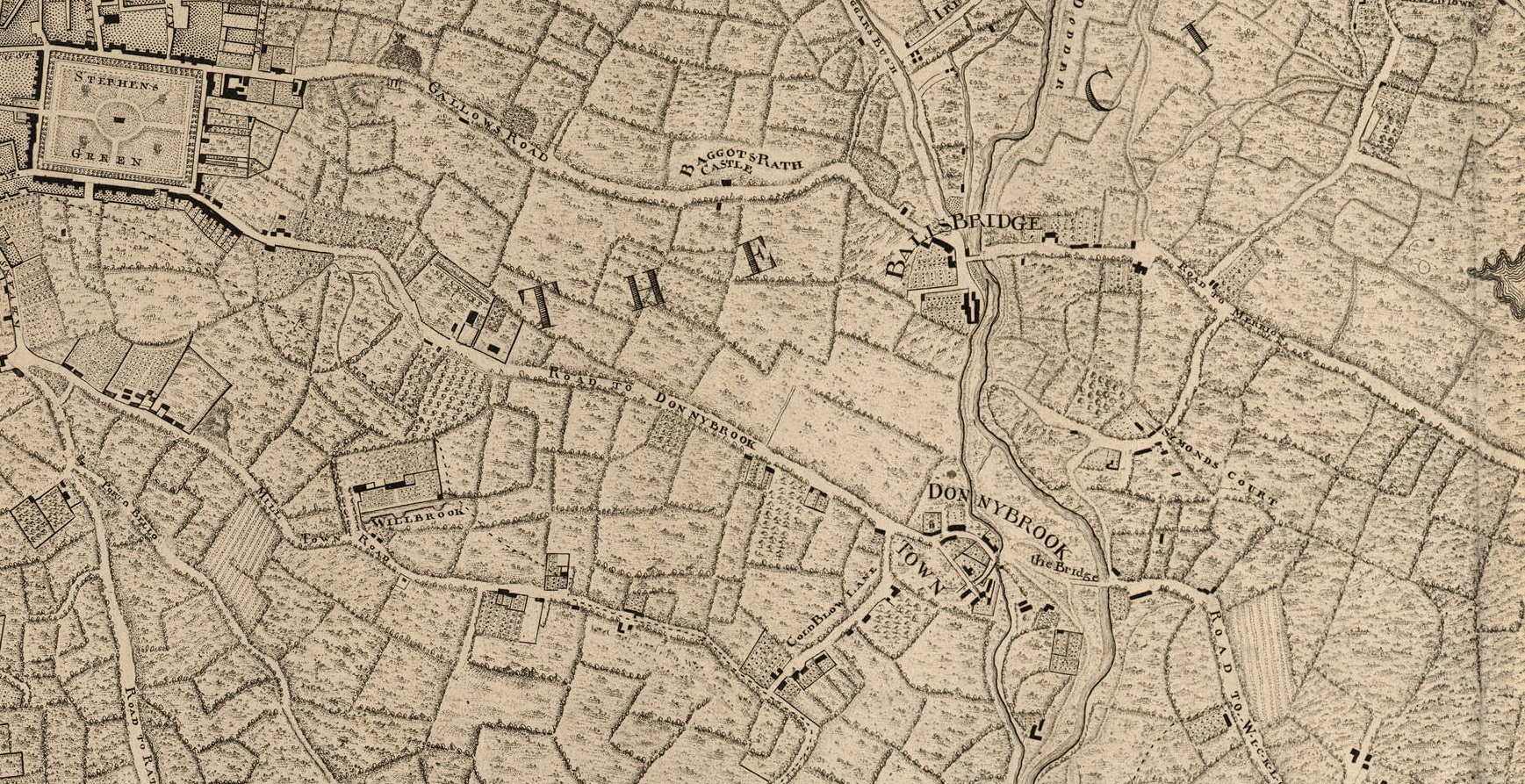 Detail of John Rocque's map of Dublin, 1757, showing Baggotrath, Simmonscourt and Donnybrook.
See larger.
Baggotrath Castle is on the "Gallows Road", from Stephen's Green to Ballsbridge (this became Baggot St and Pembroke Rd).
This map has Baggotrath Castle in the Pembroke Rd area, further E than Baggot St Upper. But this may not be totally accurate.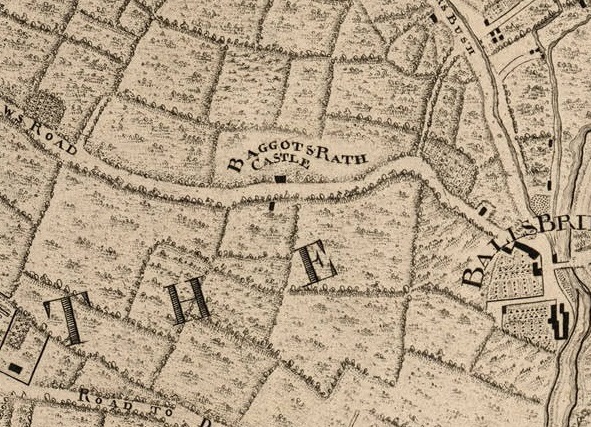 Detail of 1757 map above.
Baggotrath Castle was in open country, between Stephen's Green and Ballsbridge.
The castle was a ruin by this time.

William Duncan's map of 1821 shows Baggotrath Castle further W than Rocque, near the canal, confirming the placing near Waterloo Road.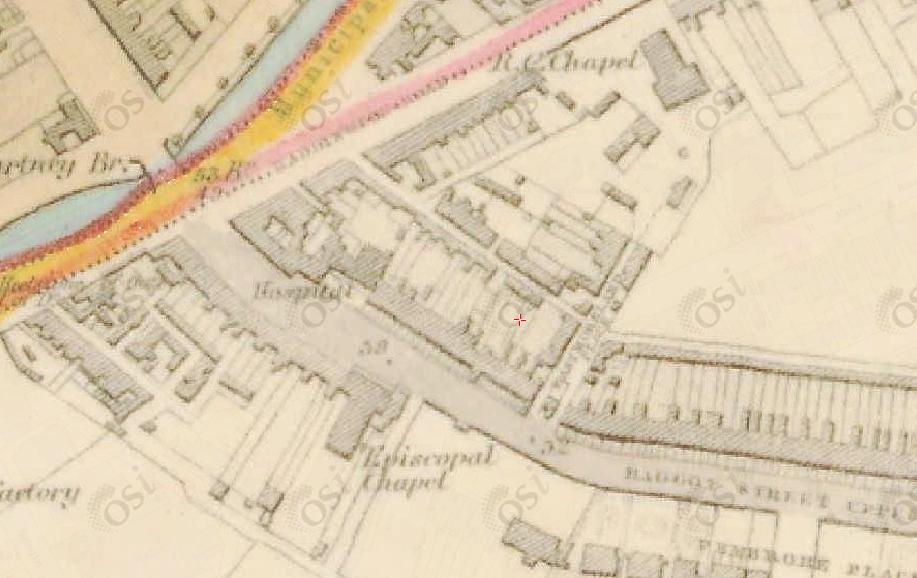 By
1829 to 1842 map
the castle is entirely vanished.
The site is about where the red cross is.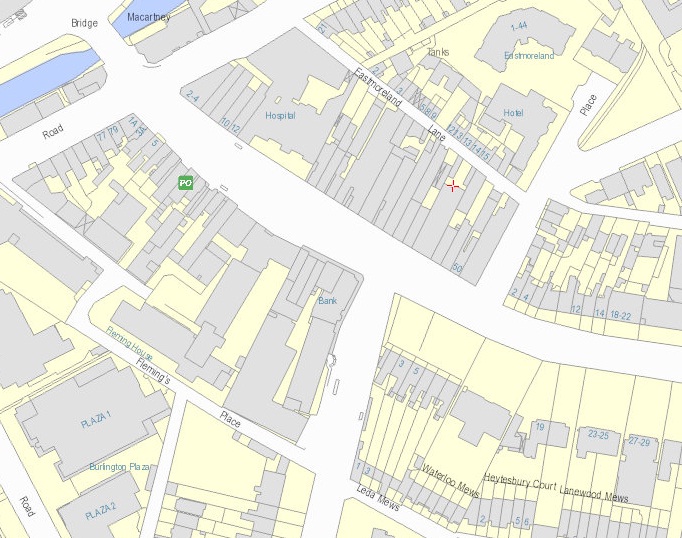 The site above is now opposite Waterloo Rd.
From modern map.
Wikipedia says the site would be "at the present 44-46 Upper Baggot Street, facing Waterloo Road" (see street view) but it is unclear what the source is.
---
Baggotrath Place (or Baggot Rath Place) is off Baggot St Lower. See map.
Baggot Rath (or Baggot Rath House) apartments are on Newbridge Avenue, Ballsbridge, Dublin 4. See map.