Howe
Sources yet to be consulted: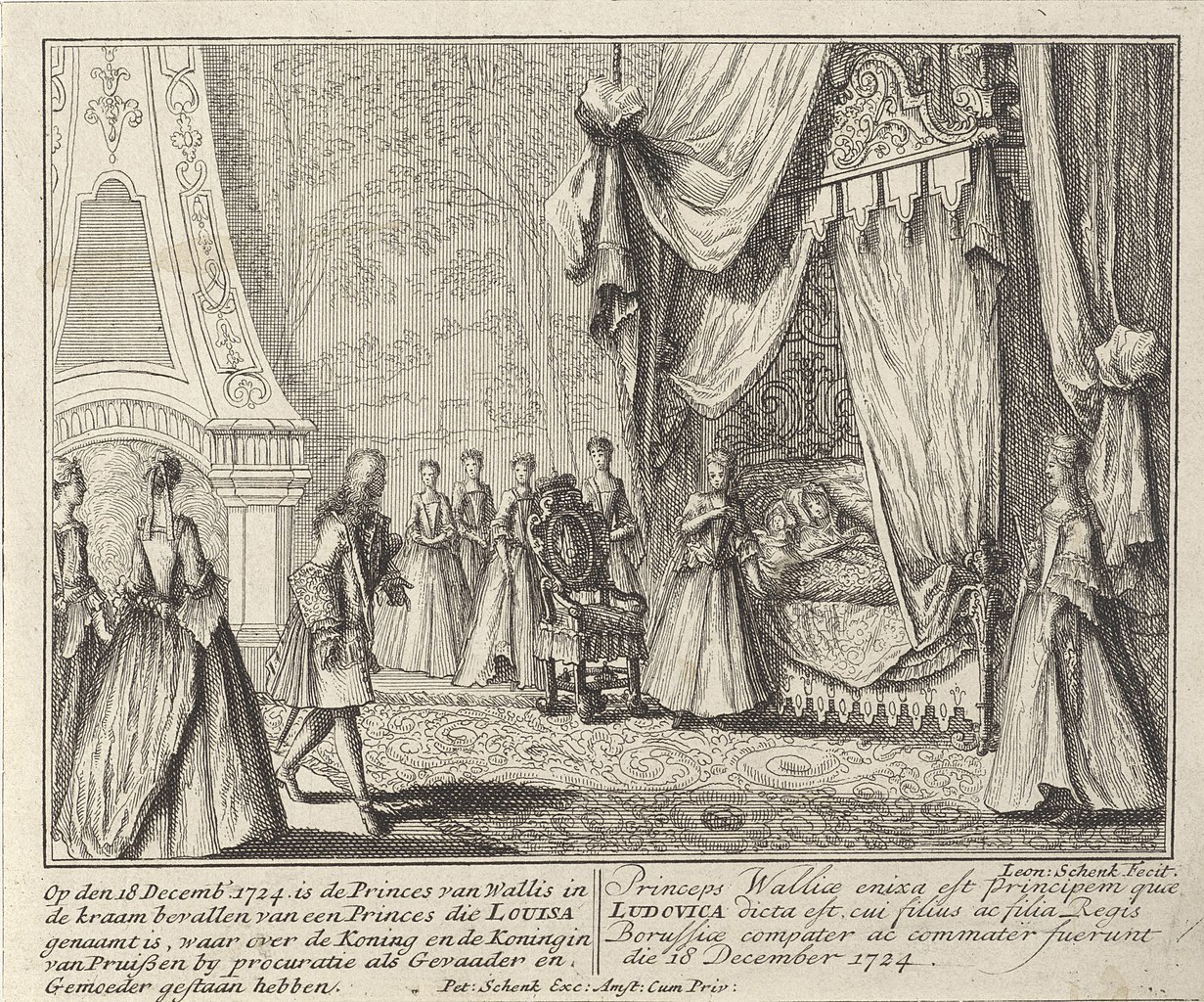 Mary Howe may be one of the ladies-in-waiting in this scene.
Caroline, Princess of Wales
is pictured after giving birth to
Louise
on 18 December 1724.
Caroline is in bed. Next to her is newborn Louise. Several ladies-in-waiting are standing at her bedside. Front left is her husband, later George II.
Printed in a book of 1727. See
larger
. From
Rijksmuseum
. And
here
.
Scrope Howe, 1st Viscount Howe
,
born 1648,
cr 1701,
died 1713,
had issue by 2nd wife:
Mary Howe,
born post-1698.
[Complete Peerage] says she was in 1720-1725 one of the Maids of Honour to Caroline, Princess of Wales (later Queen Caroline, wife of George II).

She mar 1stly, 14 June 1725, to Thomas Herbert, 8th Earl of Pembroke [born 1656, his 3rd marriage].
He was age 69. She was under 27.
They had no issue.

This list says Mary was Lady of the Bedchamber to Caroline, Princess of Wales (later Queen Caroline) from 1725 to the Queen's death in 1737.
Caroline became Queen in 1727. Mary continued to be one of the Ladies of the Bedchamber to her.
The 8th Earl died Jan 1733.

In Aug 1733, Mary's stepson the 9th Earl of Pembroke married Mary Fitzwilliam, maid of honour to Queen Caroline.
Now there were two Lady Pembrokes who attended Queen Caroline, both called Mary.
Mary Howe definitely continued to attend the Queen after 1733. It looks like Mary Fitzwilliam did not. But this needs more clarity.

Mary Howe mar 2ndly, 9 Oct 1735 (or possibly Nov) to John Mordaunt [born c.1709].
Settlement about this marriage dated 17 Sept 1735.
There is a private act related to this settlement, and the inheritance of the 9th Earl, in Private Acts of Great Britain, London, 1735, Ch.7.
They lived at Parsons Green, London.
Mary would be "Lady Pembroke, the Queen's lady then in waiting" at the time of the Queen's final illness in November 1737.
Mary is living Parsons Green at death.
Her will dated 17 Apr 1748.
She died Parsons Green, 12 Sept 1749.
Her will pr 19 September 1749, Prerogative Court of Canterbury.
---
1736 poem and play
Mary Howe, 3rd wife and widow of the 8th Earl of Pembroke, appears in a ribald poem and play, both of 1736, in
Memoirs of Lord John Hervey
.
At this point the 8th Earl has died and Mary has re-married to John Mordaunt. But she is still referred to as "Pembroke" and "Lady Pembroke". And the details of the poem and play show this is clearly Mary Howe and not the 9th Earl's wife
Mary Fitzwilliam
.
The poem and play were censored in the 1848 edn of the Memoirs, but published uncensored in the 1931 edn.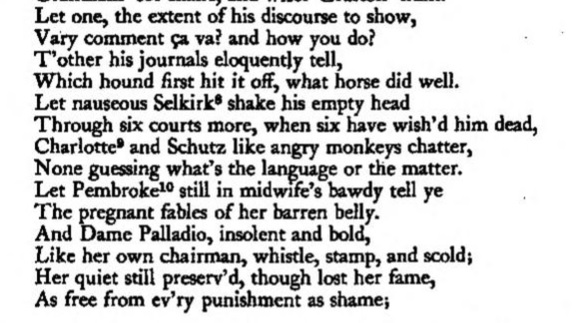 Extract from the poem "To the Queen".
From
p.583
of vol.2 of 1931 edn.


A note on p.157 of vol.2 of 1848 edn explains the reference to "The pregnant fables of" Mary Howe's "barren belly".
She had several miscarriages or alleged miscarriages, and never had a child.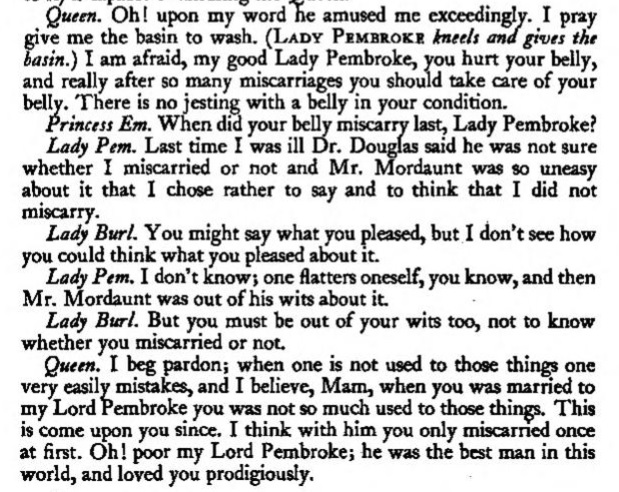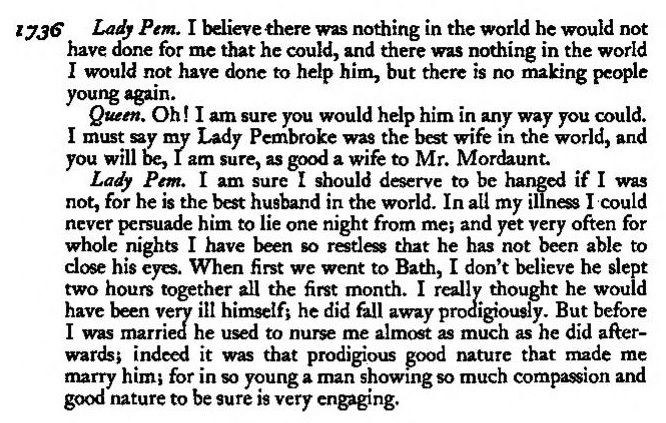 Extract from the play "The Death of Lord Hervey".
From pp.589-590 of vol.2 of 1931 edn.
Mary Howe's character refers fondly to the 8th Earl and says: "but there is no making people young again."
She refers to her new husband John Mordaunt "nursing" her before they married "almost as much" as after they married.
Note she is called "Lady Pembroke" even though this is definitely Mary Howe, who is now Mary Mordaunt.
---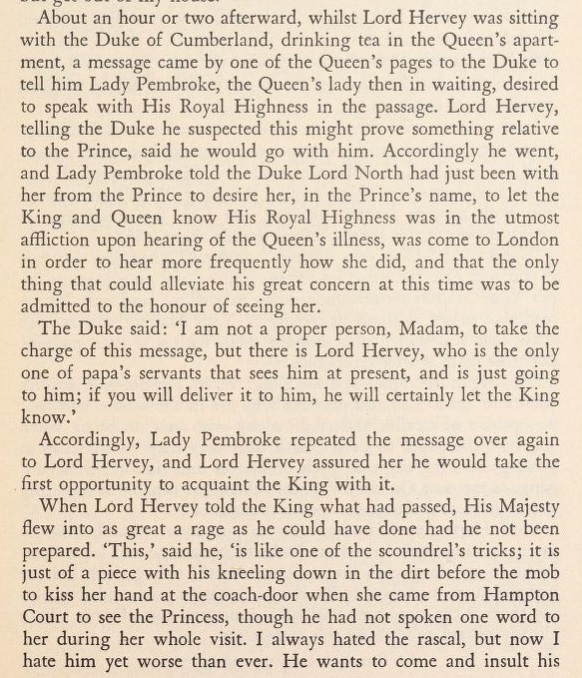 "Lady Pembroke" is Queen Caroline's lady in waiting at the time of
Queen Caroline's final illness
in November 1737.
As shown above, "Lady Pembroke" means Mary Howe rather than the 9th Earl's wife
Mary Fitzwilliam
.
Above is from
p.237
of
[Lord John Hervey's memoirs, 1984 edn]
.
Queen Caroline has fallen seriously ill, November 1737. The King refuses to let their estranged son
Frederick
come and see her. "Lady Pembroke" passes on a message from Frederick, hoping to see his mother. The King refuses.
The
9th Earl
also got involved. See
pp.238-239
.
---