Miscellaneous Humphrys (other)
Miscellaneous Humphrys (and Humphreys and Humphrey and variant spellings):
In Ireland, other than in Co.Limerick and Co.Tipperary (which are likely to be related to us).
Outside of Ireland.
Normally I do not bother looking at people of a surname unless there is reason to believe they are actually related to us. But I make an exception here, since this is the surname I inherited.
This is a broad survey of Humphrys and variants in Ireland in the past, with a few notes on the name outside of Ireland. We have no idea if any of these are related to our family, who were of Co.Limerick and Co.Tipperary. It is just interesting to see how old the name is and how long the surname has been in Ireland.
---
St. Humphrey (Carolingian Empire, 869)
The name Humphrey (and variant spellings) as a first name pre-dates this 9th century saint.
But it was this saint that made the name popular, in particular with the Normans, who brought the name to England.
---
Humphrey de Bohun (England, 1066)
"Humphrey" was used as a first name for generations in the powerful medieval English family of
de Bohun
.
The name goes back to their ancestor
Humphrey de Bohun
(or Humfredus de Bohun), of Bohun, Normandy, who took part in the Norman conquest of England in 1066.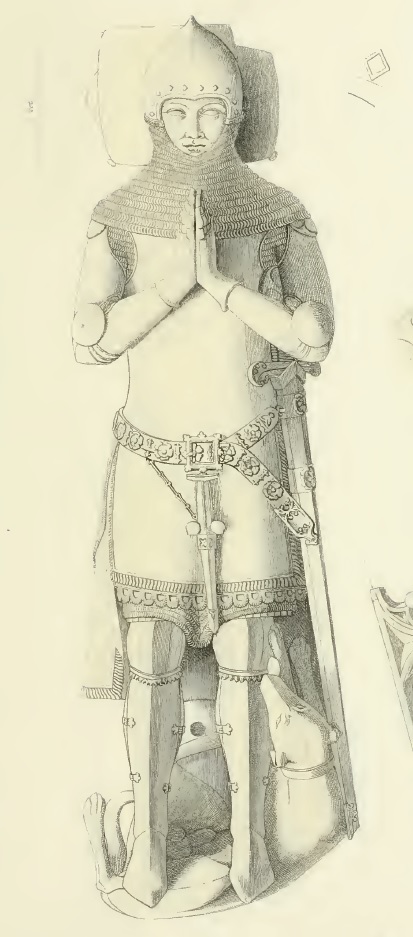 Effigy of
Humphrey de Bohun, 4th Earl of Hereford
(died 1322).
My wife descends from him.
So do I, through
Blennerhassett
.
---
Earliest record of Humphreys (and variant spellings) in Ireland.
I did a few searches to see how early I could find the surname. I have not remotely done a thorough search.
So far the earliest record I have found is the following.
Again, we have no idea if this or any of the following are related to our family. It is just interesting to see how early we can find the surname in Ireland.


Richard Humphrey is listed at
Swords
, Co.Dublin, in a document of 7 Dec 1277.
In the time of
Robert Burnell, Bishop of Bath and Wells
.
In the reign of
Edward I
.
From
p.264
of
vol.2
(1877) of
Calendar of documents relating to Ireland
, H.S. Sweetman.
---
Some sample records of Humphreys (and variant spellings) in Ireland in the 14th and 15th centuries.


Thomas Umphree is party to a deed about property in Dublin, 22 Dec 1382.
In the reign of
Richard II
.
From
History of the Religious Gild of S. Anne, in S. Audoen's Church, Dublin, 1430-1740
, Proceedings of the Royal Irish Academy, Vol. 25 (1904/1905), pp. 21-106.
The paper lists other Humphrey (various spellings) in Dublin, all in the 1500s.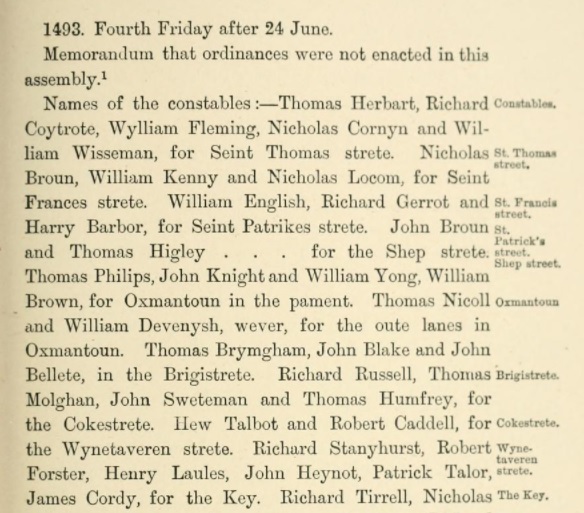 Thomas Humfrey is one of the constables in Dublin city, Fourth Friday after 24 June 1493.
In the reign of Henry VII.
From p.379 of Vol.1 of [Gilbert's Records of Dublin].
---
Some sample records of Humphreys (and variant spellings) in Ireland in the 16th century.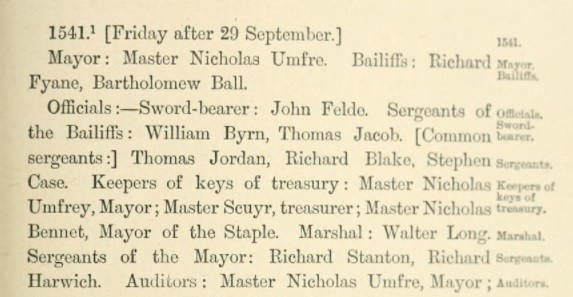 Nicholas Umfre was
Mayor of Dublin
in 1541.
The above is an Assembly Roll dated Friday after 29 Sept 1541.
From
p.409
of Vol.1 of
[Gilbert's Records of Dublin]
.
Nicholas Umfre, Mayor of Dublin 1541, is also written Nicholas Humphrey.
His daughter Alson Humphrey (died 1541) was wife of Christopher Segrave (Mayor of Dublin 1559).
See p.2680 of SEGRAVE in [Burkes LG, 1937, Irish supplement].

Nicholas Umffre, shoe maker, is party to a legal case in Dublin, 20 Mar 1586.
From
p.1
of
Court book of the Liberty of Saint Sepulchre within the juisdiction of the Archbishop of Dublin, 1586-1590
, Herbert Wood, 1930.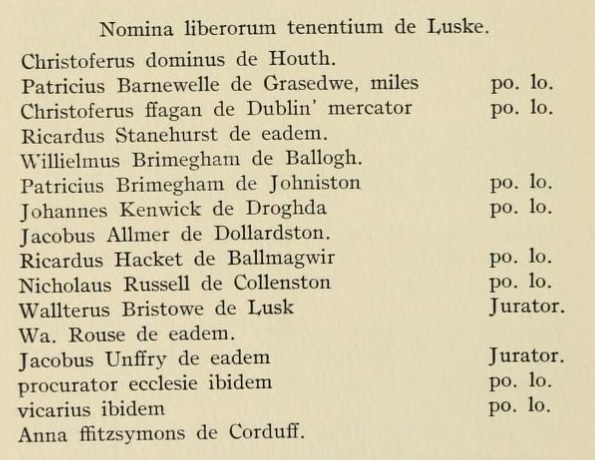 James Unffry is listed on 27 Nov 1586 as an official at Lusk, Co.Dublin.
From p.4 of above book.
He is also mentioned later, spelled "Unfry". See index.
Noted in [Ni Mhurchadha, 2005, p.93], which writes him as "James Humphrey".
---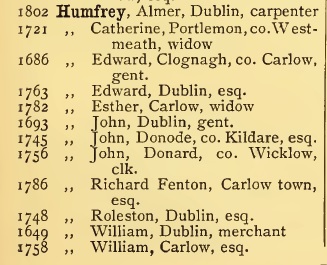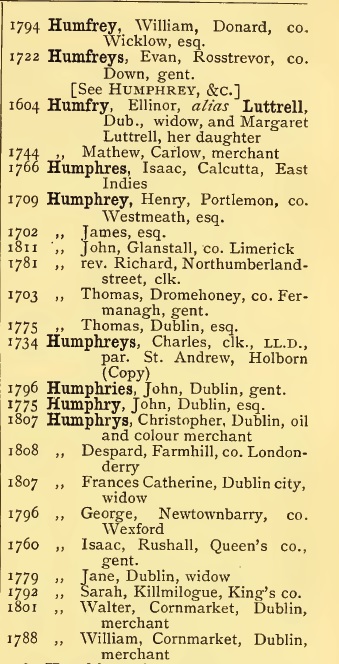 All entries for Humphrys (and variants) in
[Vicars' index of wills 1536-1810]
.
All of these wills were burnt in 1922.
The earliest ones are:
Ellinor Humfry, Dublin, 1604.
William Humfrey, merchant, Dublin, 1649.
---
Humphreys and variants appear in parish records from at least 1640.

Marriage of Mary Humfry, 29 June 1640, St.Michan's CoI church, Dublin.
From
here
.


Baptism of Alice Humphreys, 26 September 1649, St.John's CoI church, Dublin.
From here.
---
The list of
Cromwellian adventurers for land in Ireland
in 1642 to 1646 includes the following.

Nathaniel Humphreys of London, ironmonger.
Listed on
p.418
of
The Cromwellian settlement of Ireland
by John P. Prendergast, 3rd end, 1922.


John Humphreys of London, "imbroyderer".
Listed on p.434 of same.
He is said to be ancestor of the Protestant Humphreys family of Midleton, Co.Cork.
---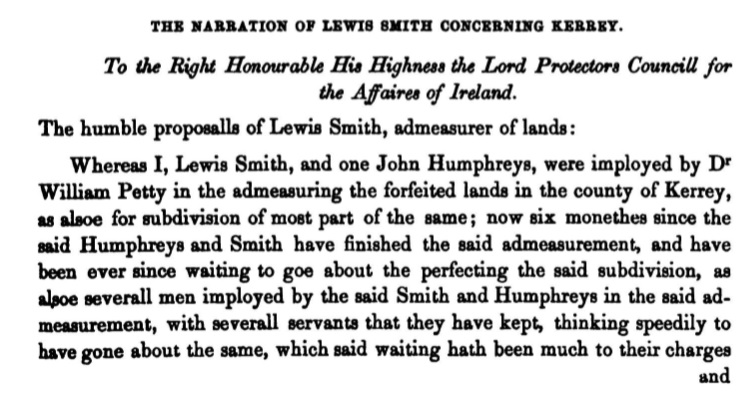 Lewis Smith and his colleague
John Humphreys
were employed by
Sir William Petty
to carry out a Survey of Kerry.
This was part of what became called the
Down Survey
.
Survey finished Dec 1655 - Jan 1656.
The above is a transcript of a report of June 1656.
From
pp.93-101
of
The History of the Survey of Ireland
(1851).
---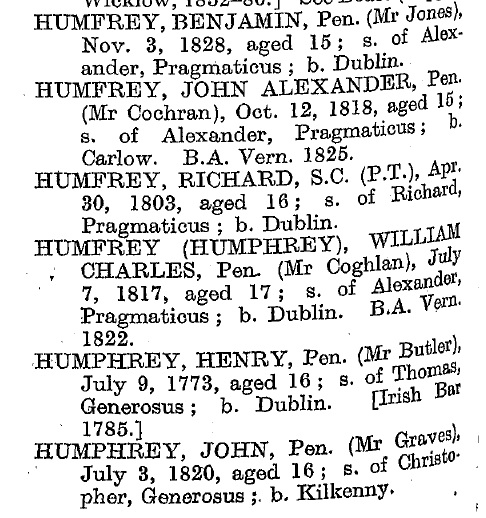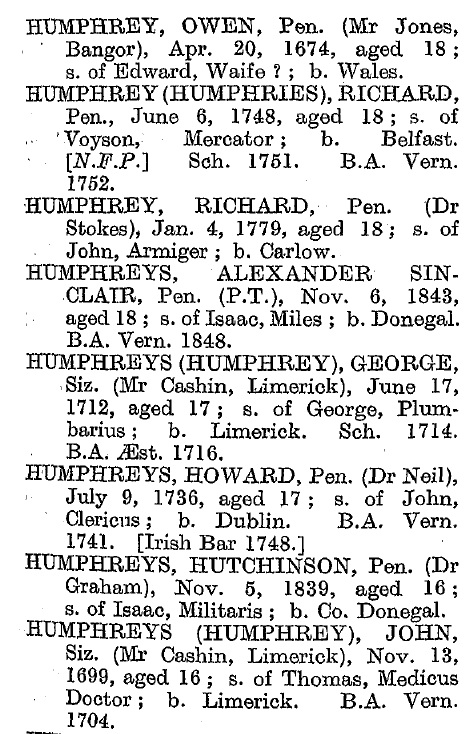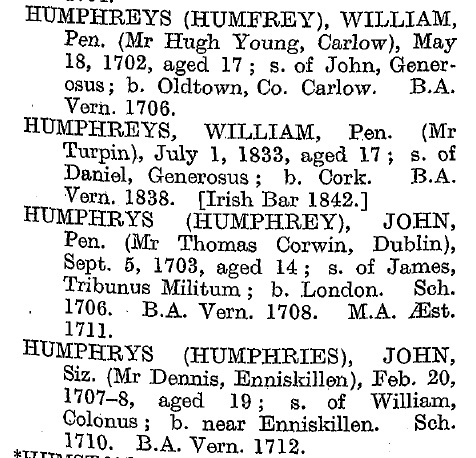 Entries for Humphreys (and related spellings) in
[TCD Alumni]
.
Ones born in 17th century:
Owen Humphrey,
born Wales, 1656.
Entered TCD in 1674, age 18.

John Humphreys (Humphrey),
born Limerick, 1683.
Entered TCD in 1699, age 16.

William Humphreys (Humfrey),
born Oldtown, Co.Carlow, 1685.
Entered TCD in 1702, age 17.

John Humphrys (Humphrey),
born London, 1689.
Entered TCD in 1703, age 14.

John Humphrys (Humphries),
born near Enniskillen, 1689.
Entered TCD in 1708, age 19.

George Humphreys (Humphrey),
born Limerick, 1695.
Entered TCD in 1712, age 17.
Ones born in 18th century who entered TCD before 1750:
Howard Humphreys,
born Dublin, 1719.
Entered TCD in 1736, age 17.

Richard Humphrey (Humphries),
born Belfast, 1730.
Entered TCD in 1748, age 18.
---
Humphrystown (also called "Humphreystown"), Boystown par, Co.Wicklow (S side of
Poulaphouca Reservoir
, opposite
Valleymount
).
If (as one assumes) there once was a Humphrys (or variant spelling) family at this place, they were gone long before 1750 and never returned.
Note in Vicars' index of wills above there is a "Humfrey" family found in the 18th century at Donard, Co.Wicklow, a bit to the S (see modern map and old map).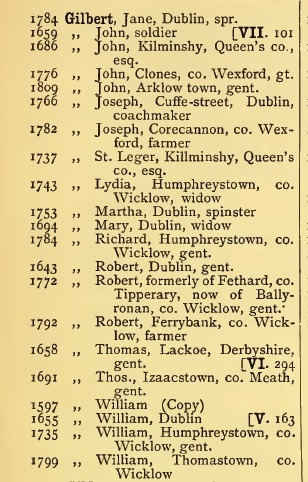 Gilbert, not Humphrys, is found at Humphrystown in
[Vicars' index of wills]
.
William Gilbert is found at "Humphreystown" before 1735.
Humphrystown House
was built c.1750.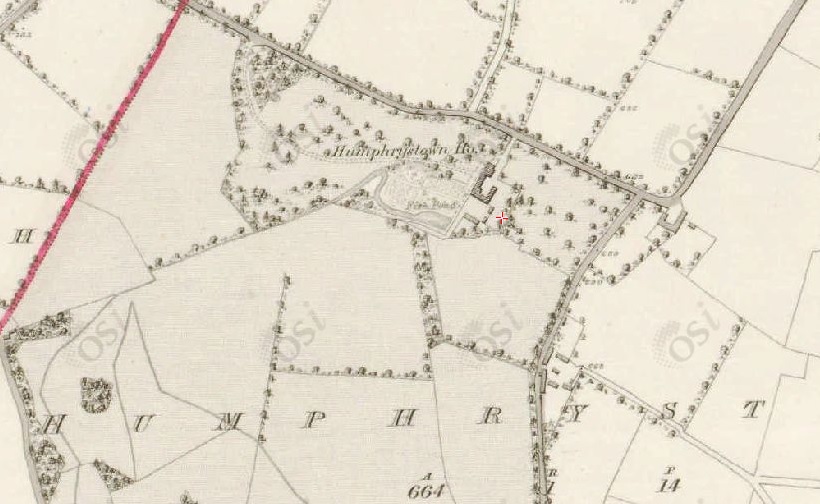 Humphrystown House, Humphrystown, on 1829 to 1842 map.



BOYSTOWN in [Lewis, 1837] shows W. Cotton at "Humphreystown".
Leinster Express, March 13, 1858, shows William Simmons holding auction of his effects at "Humphreystown House" since he is moving to England.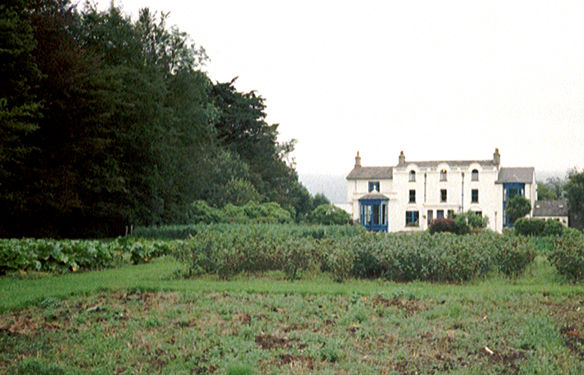 Humphrystown House.
Photo 2002. From Geograph.
Humphrystown House was a youth hostel in 20th century.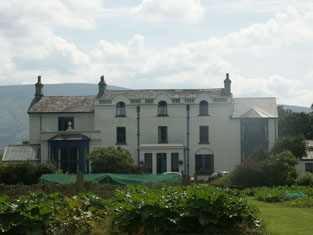 Humphrystown House.
From NIAH.
See more pictures.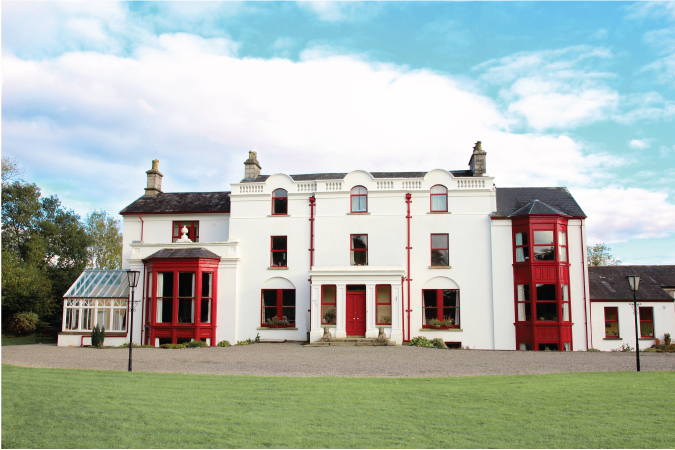 Humphrystown House is now Church at HH, a Christian community.
See modern street view (and gate).
---
Other placenames
Tullyhumphry, Currin par, Co.Monaghan.
Tullyhumphrys, Kilkenny West par, Co.Westmeath.
---
Directories

This is the earliest Humphreys (or related spelling) I can find in any Irish trade directory.
William Humphreys, Cornmarket, Dublin, listed in
[Wilson's Directory of Dublin, 1771, p.42]
.
---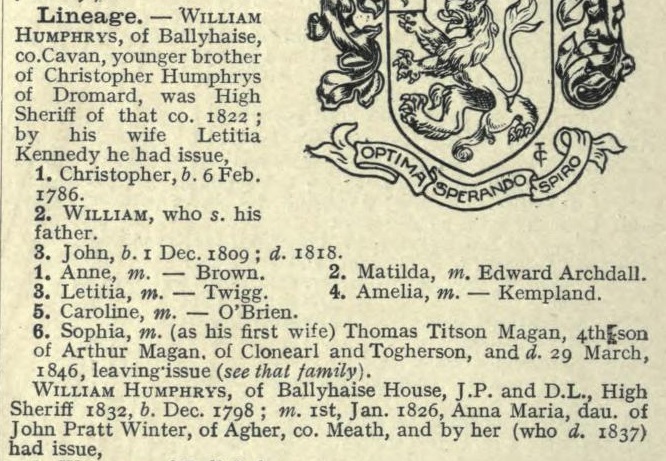 The entry in
[Burkes Irish, 1912]
starts with William Humphrys of Ballyhaise, married before 1786.
---
Pelham Humphries (America, 1834)
In 1901 prospectors struck oil at Spindletop, Texas, starting the Texas oil boom.
Spindletop was on land originally granted in 1834 to "Pelham Humphries".
This started a long series of claims or scams by people alleged to be the heirs of Pelham Humphries.
Wikitree analyses the story at Pelham Humphries, and notes that Pelham Humphries does not exist. It was a typo for William Humphries.
"Striking It Rich: The Pelham Humphries Story" by James W. Petty, 2002, says that William Humphries did exist, the son of Joseph Humphries who came to Texas around 1823. No country of origin is known.
---
Serial killer victim (America, 1990)
Dick Humphreys,
Charles Richard Humphreys, born 1934.
Retired U.S. Air Force Major.
He was murdered by the female serial killer Aileen Wuornos in Florida in 1990.