Robert Blennerhassett, of Annaghgarry, Co.Kerry

Frances Yielding listed as one of the "lives" of
[Deed of Sept 1728]
before her marriage.
Robert Blennerhassett
,
born est c.1705.
Descendant of
Edward III
.
See
Wikitree
.
He was of Annaghgarry, near Killorglin, Co.Kerry.
Some sources (but apparently not in his lifetime) describe him as of "Mount Rivers" or of Annaghgarry House, which were meant to be two separate Blennerhassett houses, both in Annaghgarry townland. But contemporary records just describe him as "of Annaghgarry" or "of Killorglin". We suspect "Mount Rivers" did not exist or at least was not used as a name for a house at Annaghgarry until a later period.
He is party to [Deed of Nov 1728] with his widowed mother. About the family property at Annaghgarry.
He mar 1728-1733 to Frances Yielding.
Robert is listed as "of Killorglin" in [Exchequer Bill of 1736].
Robert Blennerhassett of Annaghgarry is party to his dau's marriage settlement [Deed, June 1758].
Robert Blennerhassett of Annaghgarry is party to his dau's marriage settlement [Deed, Feb 1762].
Robert dies, 1765:
His will dated 17 July 1765. "Robert Blennerhassett of Killorglin". Wife Frances.
He died July-Sept 1765.
His will was proved at Ardfert and Aghadoe, 16 Sept 1765, according to [D950/1/9].
Though index says proved 1766.
Frances is party to [Deed of Mar 1766] about Yielding property. Husband must be dead.
She is NOT Frances Blennerhassett of Dublin whose will was proved 1771. That is a different Frances.
Robert and Frances had issue:
Notes on multiple "DNA proven" lines
Normally, when two cousins are DNA matches, you can take it that
their lines to the common ancestor are now DNA proven
.
This is more complex when the cousins are related in
multiple ways
.
Many of our DNA matches below Robert Blennerhassett and below his brother-in-law
Richard Yielding
actually have multiple lines of descent. Which line is the DNA match proving?
We could in theory say that when there is a choice of lines, neither line is DNA proven since the DNA could have come through the other line.
Far more likely is that the DNA is showing up because both lines are true.
Remember these descents are proved already, from documents. We are just talking about whether they are also proved by DNA.
We mark all of these lines as DNA proven.


Extract from
"Black Jack's Book"
.
Shows Robert and Frances and their two oldest children. Younger children not born yet.
This is
pp.22-23
of MS 7937 (this section written 1735).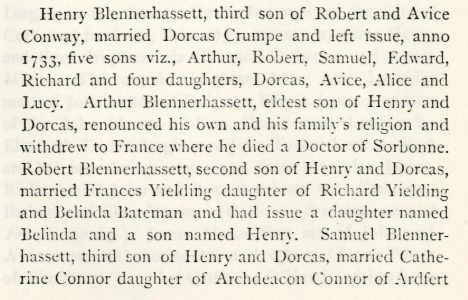 Transcript of the previous. From p.46 of [Hickson, 1872].
---
References
Deed, 9 June 1758. Registered 1761. [LR] 208 334 (NOT 324) 138724. Marriage settlement of Alice Blennerhassett and James Eagar.
Deed, 10 Feb 1762. Registered 1762. [LR] 213 497 142388. Marriage settlement of Millicent Blennerhassett and Tallis Eagar.
---
The will of Robert Blennerhassett was dated 17 July 1765.
The will was burnt in 1922. However notes survive, made before the fire.
See notes in
[D950/1/9, pp.8-9]
.
---
Our family descends from
George Blennerhassett Cashel
(born 1807). His mother was meant to be a Blennerhassett.
The question of how our family descends from Blennerhassett is the "Holy Grail" of my family tree research.
In 2020, a combination of documents and DNA finally proved that
my family must descend from Robert Blennerhassett and Frances Yielding
.
The page:
Proof of our descent from Blennerhassett
explains the following findings.
Following the family story:
"Letitia Blennerhassett".
Named as "Letitia" in my family history, but no such daughter is found in the Blennerhassett family.
The family story is she was a Protestant, who ran away with a Catholic and was disinherited, and had a child George Cashel (born 1807).
[PAT/10, p.3] says she became a Catholic herself.
Her son George Cashel was Catholic (though this may have been through his marriage in 1838).
She mar Edward (or George) Cashel and had issue.