George Lynne
George Lynne
,
born est c.1570,
of
Southwick Hall, Northamptonshire
.
He mar
Isabella Forrest
[bapt 27 July 1575].
He died in lifetime of
his father
.
He died 5 Nov 1606, age est c.36 yrs.
He was bur 6 Nov 1606, Southwick Church.
Inquisition into his death, 26 August, 5th
James I
(26 August 1607).
Isabella fl 1607.
George and Isabella had issue:
George Lynne,
of Southwick Hall,
born 10 May 1594.
Listed as age 13 yrs 3 months 16 days at inquisition into his father's death, 26 August 1607.
He succ his grandfather 1617.
He mar Mary Kirkham [born 1594].
He died c.1672, age c.78 yrs.
George and Mary had issue:

John Lynne,
of Southwick Hall, JP,
born 1614.
He mar Grace Cade.
He detailed his aunt and grandparents in Herald's Visitation 1682 (essentially confirmed the entire structure here).
He died 11 Jan 1694 [new style year, at the time regarded as end of 1693], age 79 yrs.
He was bur Southwick.
John and Grace had issue:

George Lynne, ancestor of Lynne of Southwick Hall.

Mary Lynne, mar Martyn Johnson [bapt 1652] and had issue.




William Lynne, born 1597,
mar Elizabeth Whetenhall and had issue.




Martha Lynne,
NOT Margaret.
She would be named after her grandmother Martha Throckmorton, who died 1600, so perhaps born est c.1601.
There is apparently a Martha Lynne, bapt 17 July 1598, Haddon, Huntingdonshire (now in Cambridgeshire). (todo) See original. This could be her since Haddon is close to her mother's family home of Morborne.
She mar John Blennerhassett [of near Tralee, Co.Kerry, Ireland] and had issue.
Her aunt Elizabeth Forrest was married to Sir Arthur Denny of Tralee, Co.Kerry, which is probably how she met Blennerhassett.
She moved to near Tralee, Co.Kerry.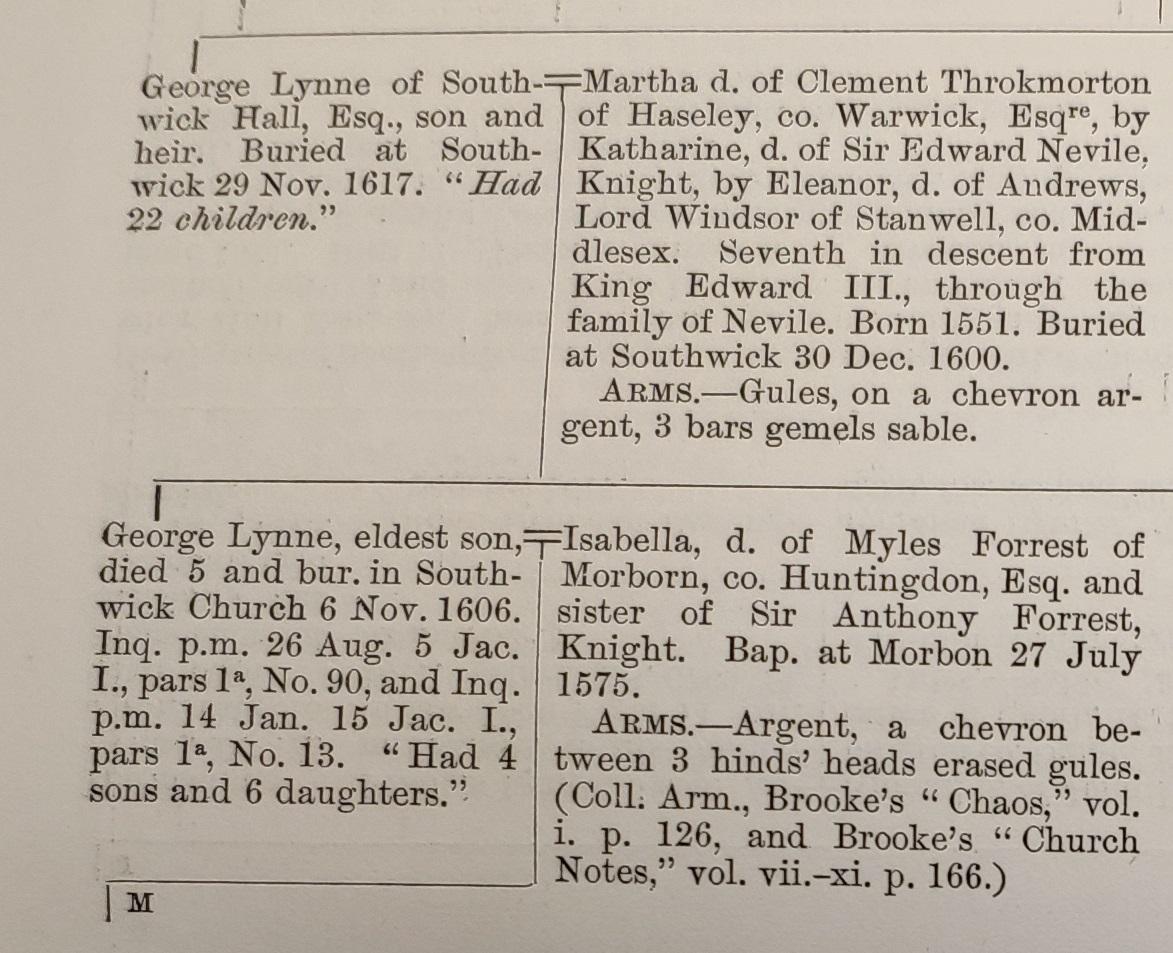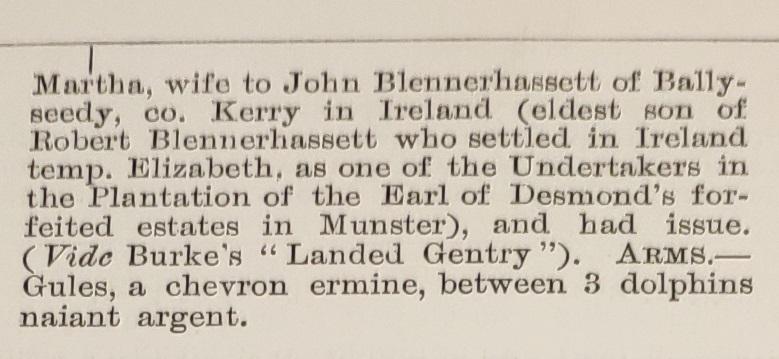 Extract from
[Green, 1877]
, showing line from Lynne to Blennerhassett.
See full size
top
and
bottom
.
---
List of portraits
There is a list of Lynne portraits on
pp.62-63
of
[Green, 1875-77]
.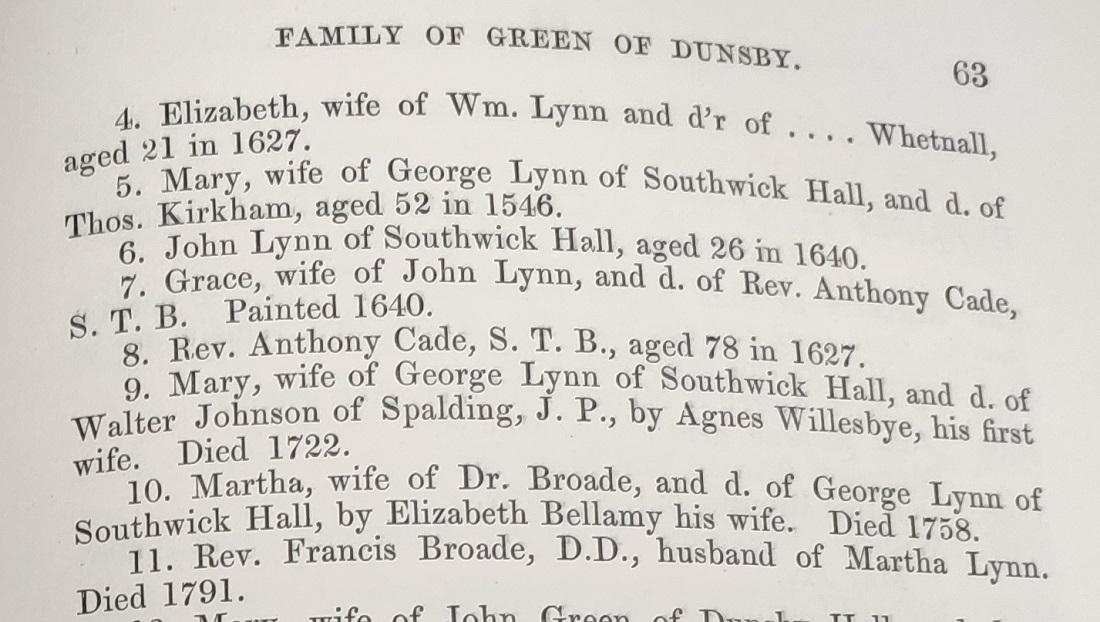 Ones of most interest: The above says the following portraits were in the possession of Everard Green as at 1877:

PORTRAIT of Isabella Forrest.
PORTRAIT of 3 children of George Lynne and Isabella Forrest.
PORTRAIT of William Lynne (born 1597).
PORTRAIT of Elizabeth Whetenhall.
PORTRAIT of Mary Kirkham.
PORTRAIT of John Lynne (born 1614).
PORTRAIT of Grace Cade, painted 1640.
---
---
Leslie Blennerhassett has images relevant to Martha Lynne's English ancestry.

There is a Lynn connection to Cromwell:
William Lynn's widow later became Cromwell's mother.
Similar part of England. Though no particular reason to think this William Lynn is any relation of these Lynnes.

William Lynn,
of Bassingbourn, Cambridgeshire.
He mar Elizabeth Steward.
He died.
She remarried, probably 1591, to Robert Cromwell of Huntingdon, Cambridgeshire.
Elizabeth and Robert were the parents of Oliver Cromwell [born 1599].