John Blennerhassett of Ballycarty
References:

Sources yet to be consulted:

Notes about will of John Blennerhassett, 1676. [NAI] Testamentary index.
Gerald O'Carroll says that brothers John and Robert Blennerhassett appear in the Herbert papers in [Smith, 1968].

John Blennerhassett signs
document of 1654
:
"as witness my hand the 28th day of October 1654"
.
See
full size
.
John Blennerhassett
,
of
Ballycarty
, Co.Kerry (and later of
Ballyseedy
, Co.Kerry).
He is possibly a descendant of
Henry I
.
See
wikitree
.
Ballyseedy was acquired by
his father
c.1620.
He mar Martha Lynne [born est c.1601, descendant of Edward III and Aoife MacMurrough and Brian Boru].
His father built the second Ballyseedy Castle c.1627.
He was High Sheriff of Co.Kerry 1640-1641.
Wars of 1641-1653:
The
1641 Rebellion
broke out in Oct 1641.
In Nov 1641, John and his aged
father
surrendered
Ballycarty Castle
to the rebels.
Tralee was
besieged
by the rebels in Feb-Aug 1642.
John escaped to Cork and became a Captain of
Foot
1643.
Ballyseedy Castle became the main family seat. Though for some time Blennerhassetts lived at both Ballycarty and Ballyseedy.
[Hickson, 28 Apr 1897]
says he served under Cromwell, as did his son
Robert
.
After the wars of 1641-1653 he moved to re-establish his estate.
In 1654 he was granted Littur (or Littor or Letter), Aghavallen par, near Ballylongford, Co.Kerry.
Littur was granted to him by Sir Arthur Denny by deeds dated 30 Sept 1654 [Claim of 28 Oct 1654]. Think he is living Ballyseedy at this time.
Soon after, he made the claim of 28 Oct 1654. This is a claim of Inheritance in Fee Simple, made by John Blennerhassett, of Ballycarty and Ballyseedy, to re-establish his legal ownership of the Ballyseedy Estate after the wars of 1641-1653.
MP for Co.Kerry 1661-1666. (NOT for Tralee, that is his son John.)
He acquired in 1661 the forfeited McElligott lands of E and W Ballymacelligott (E of Tralee, Ballymacelligott par, Co.Kerry), Ballygrelah, and E and W "Gortanleas" (wonder if this is Gortatlea, Ballymacelligott par).
His will dated 18 Oct 1673.
He died 1676. Will proved 14 Sept 1676.
John and Martha had issue:
John Blennerhassett, of Ballyseedy,
born est c.1620.




Capt. Robert Blennerhassett,
of Castle Conway,
born est c.1622.




Thomas Blennerhassett,
of Littur, Co.Kerry,
born est c.1630.
Mary Blennerhassett,
mar 2ndly, pre-1655, to Capt. Thomas Wren and had issue.
The Wren family inherited Littur.




Lucy Blennerhassett,
mar Lieut. John Walker,
had issue:

Martha Walker,
mar Thomas Shiercliffe and had issue.

Extract from elegy to this John's grandson
John Blennerhassett
(died 1709) by the Gaelic poet
Aodhagán Ó Rathaille
.
Ó Rathaille refers to him as
"John, son of John, son of John of Ballyseedy"
.
From
page 207
of
[Dineen and O'Donoghue, 1911]
.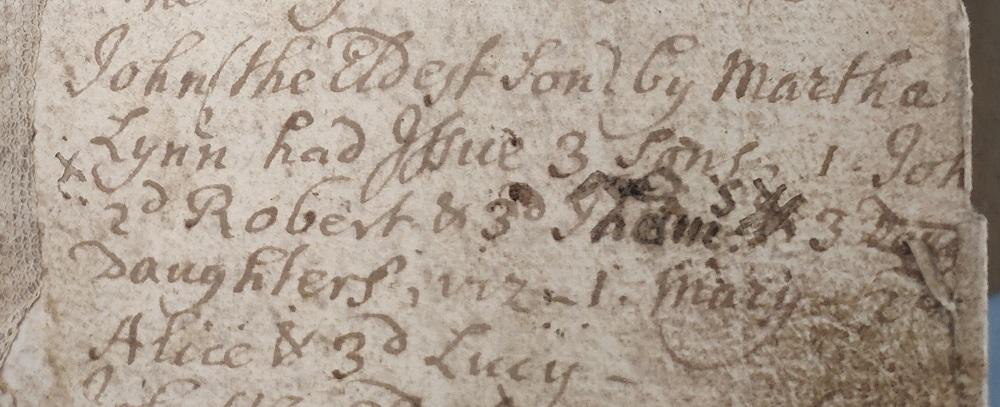 John Blennerhassett in "Black Jack's Book" (c.1737).
This is p.1 of MS 7937.


Transcript of the previous. From p.35 of [Hickson, 1872].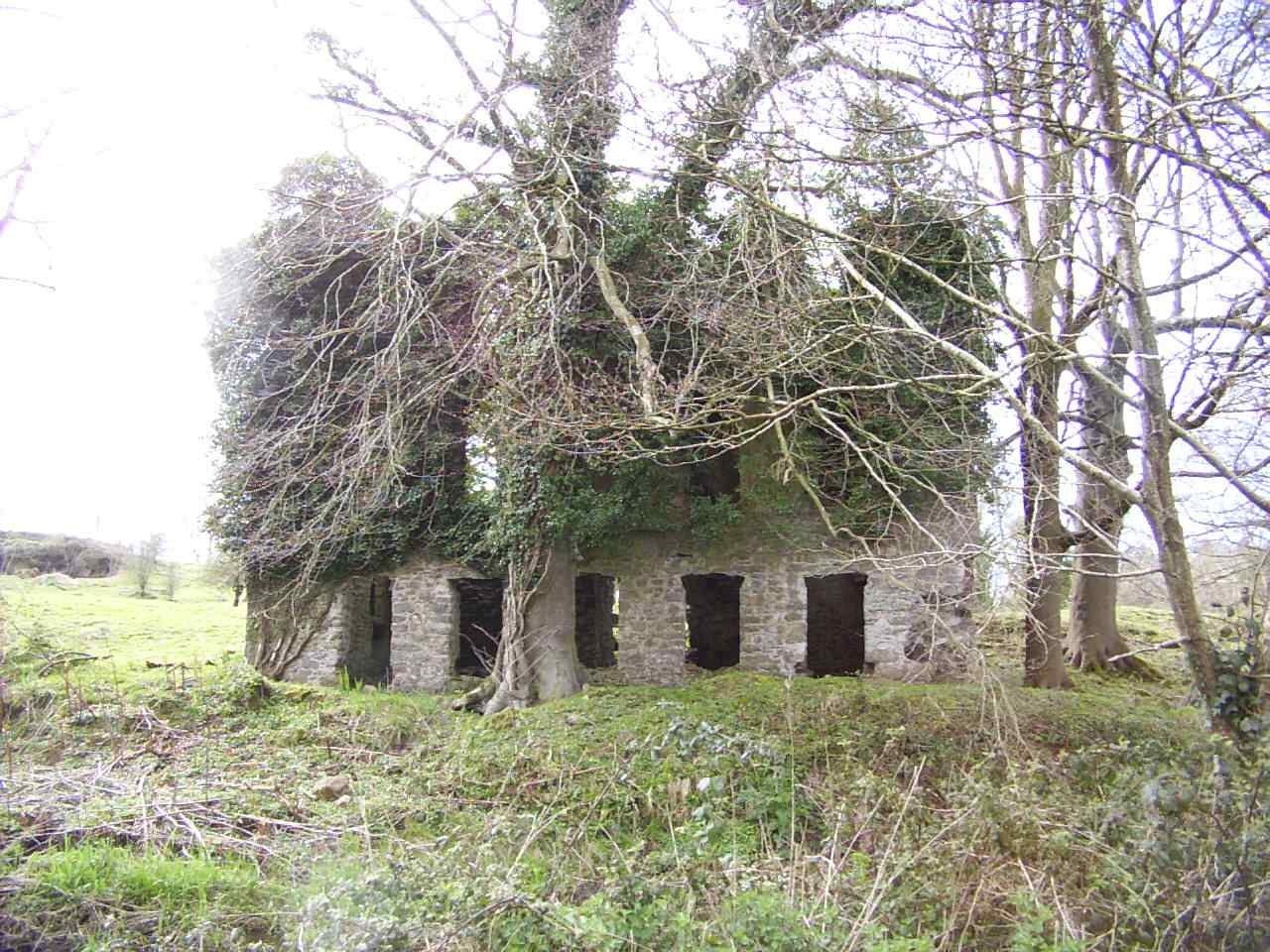 This ruin at Ballycarty may be the old Ballycarty Castle.
---
Will of John Blennerhassett, of Ballycarty, dated 18 Oct 1673.
Will proved 14 Sept 1676.
Will burnt in 1922.
Some notes survive on
p.70
of
[D950/1/9]
.
Abstract in
[MGH, 1883]
.

Abstract of will in
[MGH, 1883]
.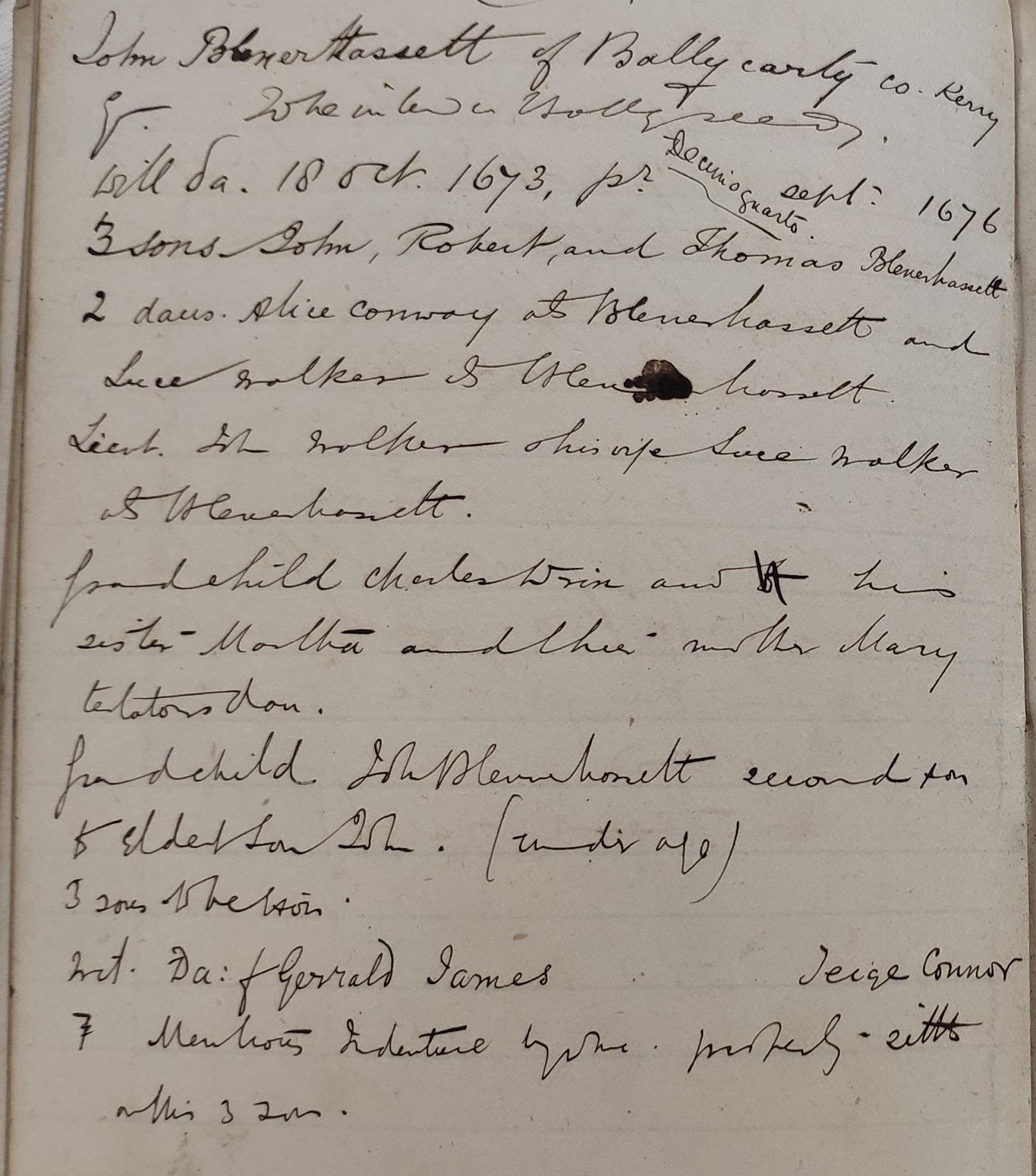 Notes from the will before it was burnt.
From [D950/1/9, p.70].
Used with permission of The Deputy Keeper of the Records, Public Record Office of Northern Ireland.