Edward Whittall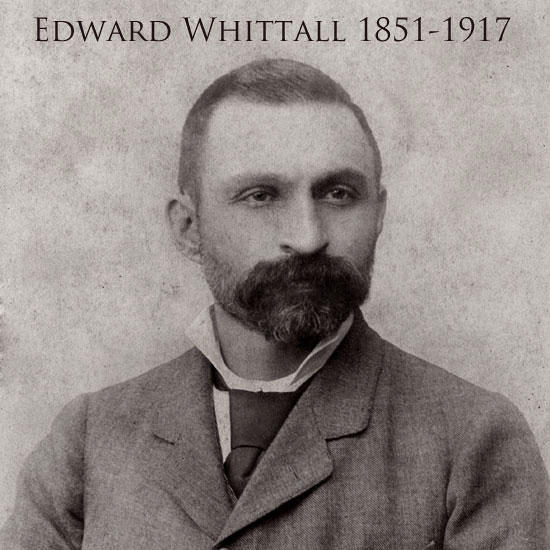 Edward Whittall.
From
Levantine Heritage
. Used with permission.
Edward Whittall
,
born 1851,
of
C. Whittall and Co.
, Smyrna.
See
entry
in
tree
by
Brigitte Louise Theuma
.
He mar 14 Apr 1875, Smyrna, to
Mary Maltass
[Mary Eliza Maltass, born 18 Nov 1851].
He lived Bornova.
He was a keen botanist, collector and cultivator of wild flowers of Asia Minor.
Discoverer of
several new species
which are named after him.
Ran a fig and currant export business from Smyrna.
He bought an old house in Bornova, which became known as
The Edward Whittall House
. He built up its magnificent garden. Lived there until he died.
He is the "Mr. Whittall" who entertained the
Prince of Wales
(later George V) at his house in Bornova in 1886. See
[Kalcas, 1983]
.
He died 1917.
Edward and Mary had issue:
Edgar Arthur Whittall, think Arthur, born 1877, Smyrna,
mar 1899 to Hilda Blanche La Fontaine [born 1880] and had issue.

Albert James Whittall, born 1879, Smyrna.
Elsie Whittall, born 1880, Smyrna.




Rachel Whittall,
"Ray", born 1881, Smyrna,
mar Emile Tissot and had issue.




Godfrey Whittall,
born 1882, Smyrna,
had issue:

Rodney Whittall,
Rodney Howard Whittall, born 1912,
mar his 1st cousin Edna Giraud,
had issue:

Anthony Whittall, had issue:

James Whittall.

Philip Whittall.




Ruth Whittall,
born 14th June 1884, Smyrna, twin,
bought The Edward Whittall House in Bornova from rest of family after her father's death,
mar Edmund Haydn Giraud and had issue.




Jessie Whittall [Jessica Maud], born 14th June 1884, Smyrna, twin,
mar Reginald Turrell [Reginald Edmund, born 19th Mar 1879],
she died 31st -- 1928, age 44 yrs,
he died 10th Apr 1933, age 54 yrs,
had issue:

Ray Frances Turrell [dau, must be Rachel, after her aunt Ray Whittall],
mar Richard Alan Bell [born 18th Oct 1915, uncle of Don Montague, family tree researcher]
and had issue [see BELL family tree by Don Montague at the WorldConnect project].




Edward Sidney Whittall, born 5th May 1888, Smyrna,
mar Dorothy Jane Peacock and had issue:

Dulcie Mary Whittall, born 1st Sept 1915, Smyrna.

Walter Whittall, born 1890, Smyrna.
---
The Edward Whittall House
, Bornova.
Called the "Godfrey Giraud House" in
[Kalcas, 1983]
.
See
edwardwhittallgarden.com
.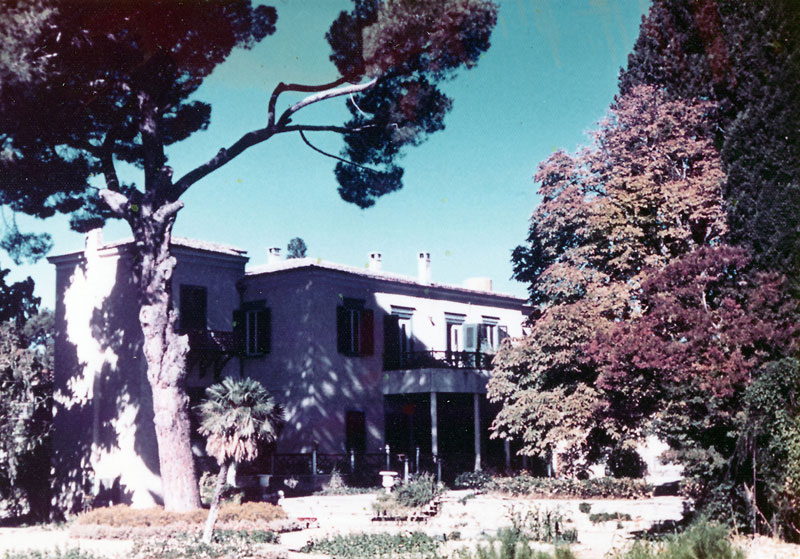 The Edward Whittall House, 1950s.
From
Levantine Heritage
. Used with permission.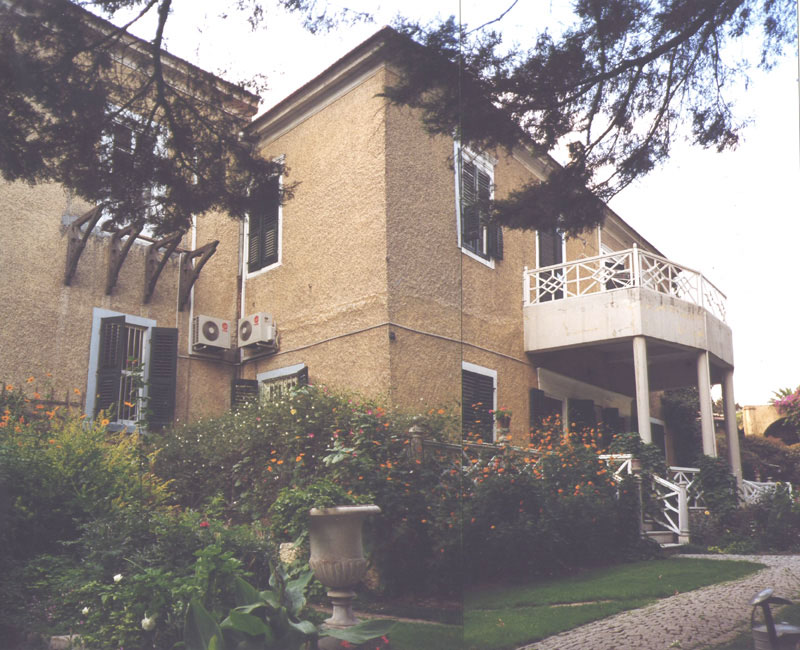 The Edward Whittall House.
From Levantine Heritage. Used with permission.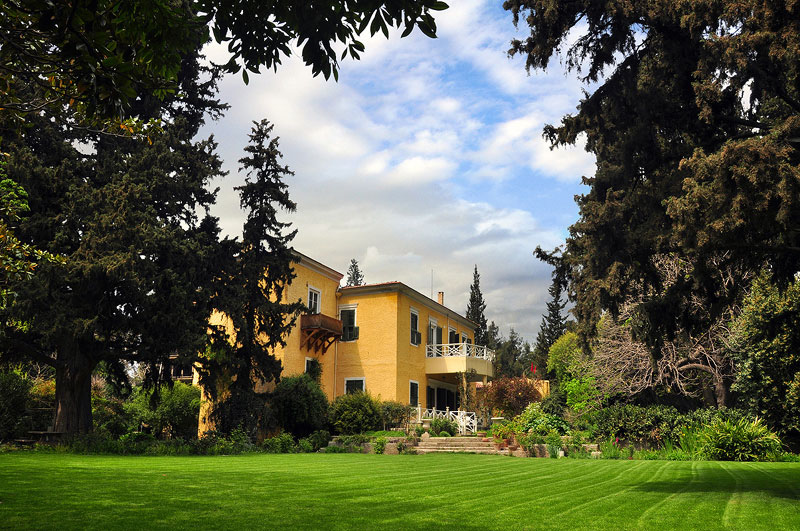 The Edward Whittall House.
From Levantine Heritage. Used with permission.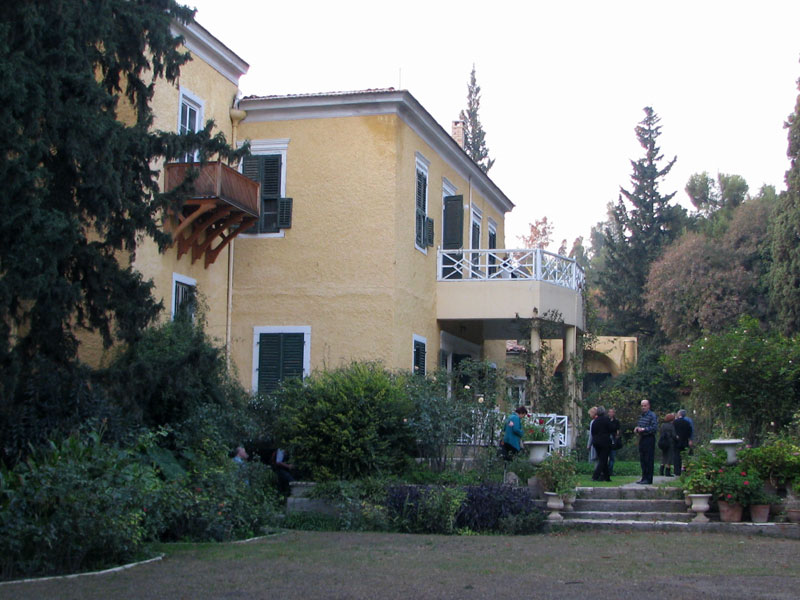 The Edward Whittall House.
From Levantine Heritage. Used with permission.
---
Gertrude Bell
, born 1868, traveller, diplomat and archaeologist, visited the Whittall family in Smyrna.
From The Gertrude Bell archive at the University of Newcastle.
1902 - She arrives Smyrna, Wed 26th Feb 1902, staying initially with the van Lennep family at Malcajik near Smyrna.
See diary from 26th Feb 1902 to 19th Mar 1902.
See letters from 28th Feb 1902 to 19th Mar 1902.

1907 - Arrives Smyrna 2nd Apr 1907.
See diary 2nd Apr 1907 to 8th Apr 1907.
See letters 2nd Apr 1907 to 9th Apr 1907.

On 2nd Apr she arrives and "Mr Whittall, a son of Mr Richard W .. came on board for me." After dinner, they are joined at Bridge by "Elsie Whittall, Mr Edward's daughter" and others. "Most queer world this. French or English they are all without any nationality or any mother tongue."
On 3 Apr she met Elsie and "we went to the Herbert Whittalls whom I was very glad to see again. I found them both aged and looking very sad; their daughter Helen died last September."
She writes on 4th Apr: "I spent yesterday afternoon at Burnabat [Bornova] which is the place where all the English people live, a charming little town of big houses and gardens under the hills. .. and then to call on all my Whittall friends. They all live in big delicious gardens and they have been here for generations. .. they have the bulk of the English trade in their hands, branch offices all down the southern coast, mines and shooting boxes and properties scattered up and down the SW corner of Asia Minor and yachts on the seas. They all have immense quantities of children the sons young men now in the various Whittall businesses, of a funny sort of colonial type, the daughters very charming, very gay, spending all the summer in picnicking and all the winter dancing and playing bridge. The big gardens touch one another and they walk in and out of one another's houses all day long gossiping and laughing. I should think life presents itself no where under such easy and pleasant conditions." Note [Kalcas, 1983] mis-dates this letter as 1897.
On 7th Apr she lunches with Edward Whittall who talks of politics: "Mr E.W. said that Turkey was getting poorer and poorer. .. He thinks the end must be near. Possibly the govt. will provoke a movement against the Christians in which case Europe must intervene."
She left on 8th Apr.

1914 - On 12th May 1914 she is in Smyrna again just for a day.

She meets Edward Whittall: "He said that things were very bad here. They have an infamous Vali, strong Committee man. Policy of intolerable pinpricks against the Greeks, seemingly in the hope that they will be forced to leave and the Turks step into their place as merchants. .. The Vali and authorities are inciting the Mohammadan population against the Christians and Mr Whittall fears a massacre."
The massacre began the following year (against the Armenians, 1915).
Edward Whittall died in 1917. His worst fears happened to his home town Smyrna in 1922.
---
Taxonomy of plants discovered by and named after Edward Whittall
Note the ending whittalli (with one "i") is sometimes used.