McCoy of Curramore House and Clare House, Co.Limerick
Sometimes written
M'Coy
.
They were believed to be related to McCoy of Glin (who were also buried at Kilfergus).
DNA now proves the families are related since there is a DNA match between Patrick McCoy (of Curramore) and his wife Kitty Barrett and others in her family (descendants of McCoy of Glin). However the exact relationship is not known.
References:

Sources yet to be consulted:

"Patrick McCoy" is listed at
"Curraghmore"
in
[Tithe Survey, 1832]
.
He holds 58 acres, the largest holding in the townland.
See
full page
.
Patrick McCoy.
See
entry
in
tree
by
Mary McCoy
.
He was a farmer, of
Curramore House
, Curramore (or Curra More, or Curraghmore), Loghill par, W Co.Limerick (S of Loghill, N of Ballyhahill).
Loghill is also spelt Loughill, and is pronounced "Lo-hill".
Curramore House is a two storey farmhouse dating from the 18th century.
It is thought to be the home of the McCoys since the 18th century.
He mar pre-1806 to Catherine O'Shaughnessy.
"Patrick McCoy" is listed at "Curraghmore" in Loghill par in [Tithe Survey, 1832].
Catherine died 1840.
Patrick died 2 Apr 1853 at Curramore.
See admin of estate granted 7 Nov 1870 to his son Timothy. From here.
The McCoys of both Curramore and Clare House were buried at Kilfergus cemetery, near Glin, Co.Limerick.
Patrick and Catherine had issue:

Admin of Patrick McCoy's estate, showing he is father of Timothy McCoy of Clare House.
From
here
.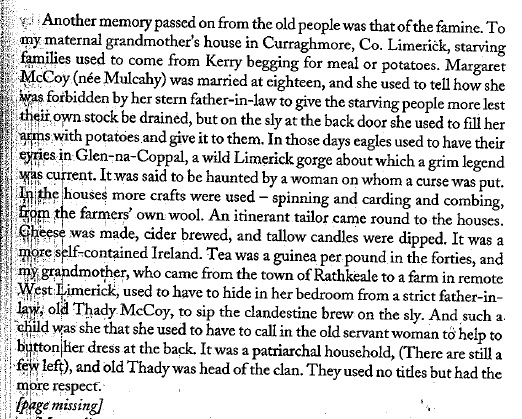 A story in the memoirs of Hanna Sheehy Skeffington (born 1877, died 1946) about her McCoy ancestor during the Famine (1845-50).
Published here in [Ward, 2017, p.5].
Hanna gets the name wrong. Richard McCoy's father was Patrick McCoy, not Thady McCoy.
This may be confusion with Richard's brother Timothy (Thaddeus).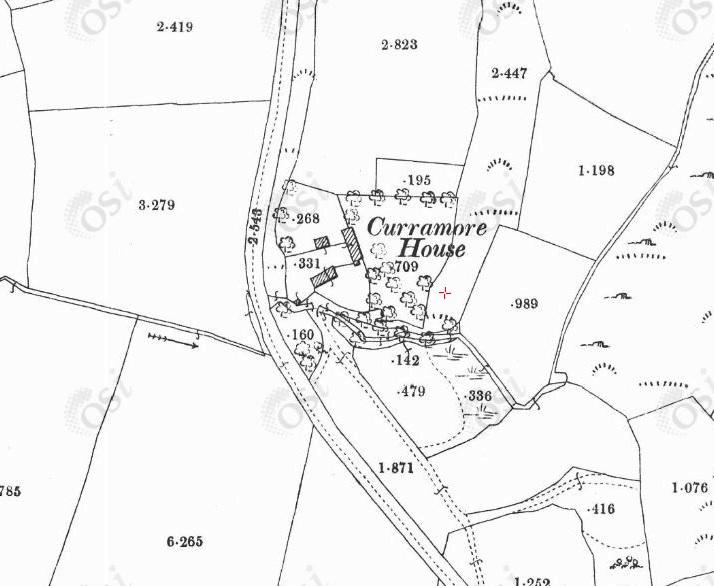 Curramore House, Co.Limerick, on 1887 to 1913 map.
See modern satellite view.
See street view of gate.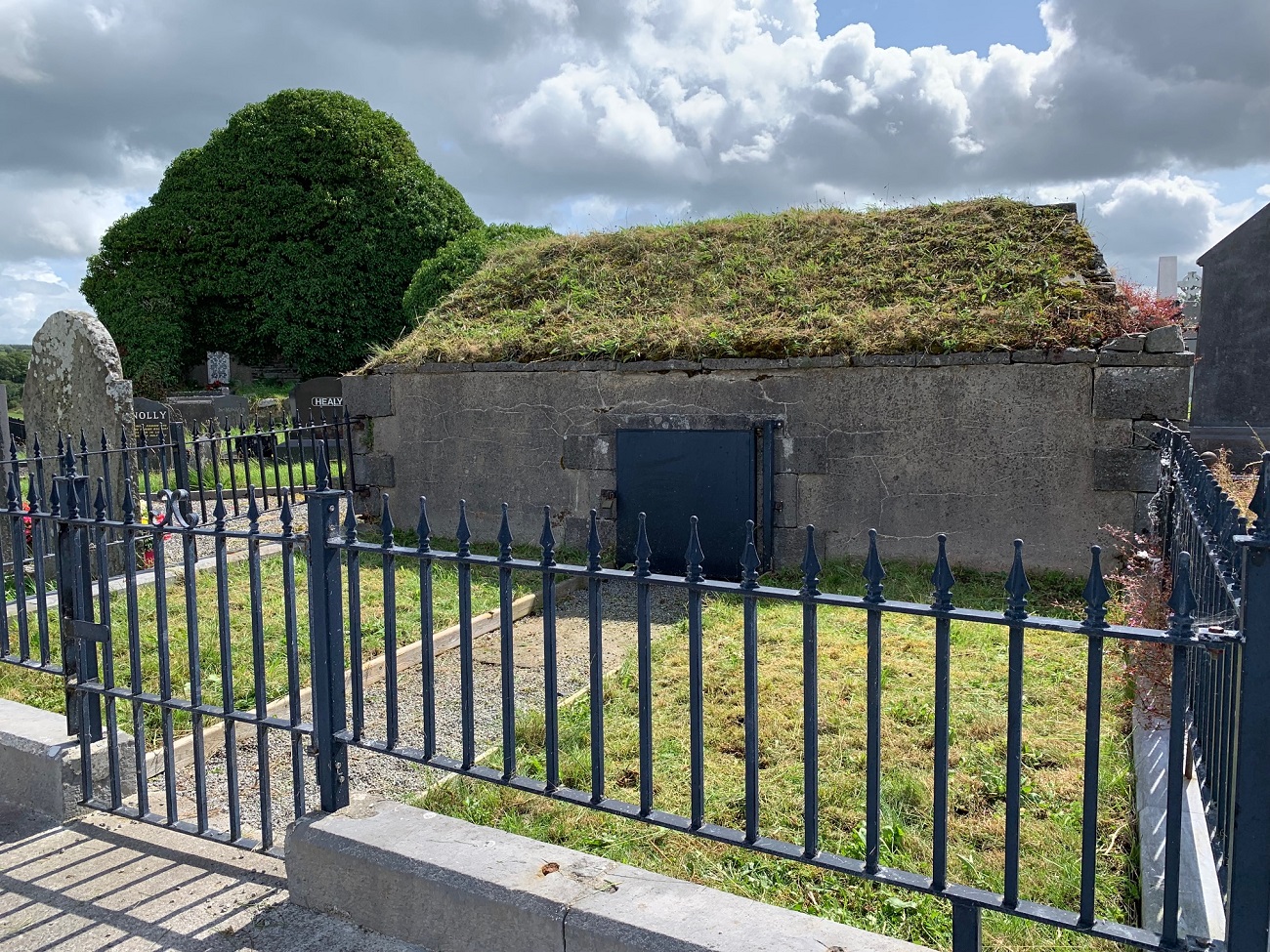 Tomb of McCoy of Curramore, Kilfergus Cemetery.
See full size and other shot.
Courtesy of Mary McCoy.
There is no inscription on the tomb.
See older photo. From historicgraves.com.
---
Mortimer McCoy

Mortimer McCoy entry in
[King's Inns]
.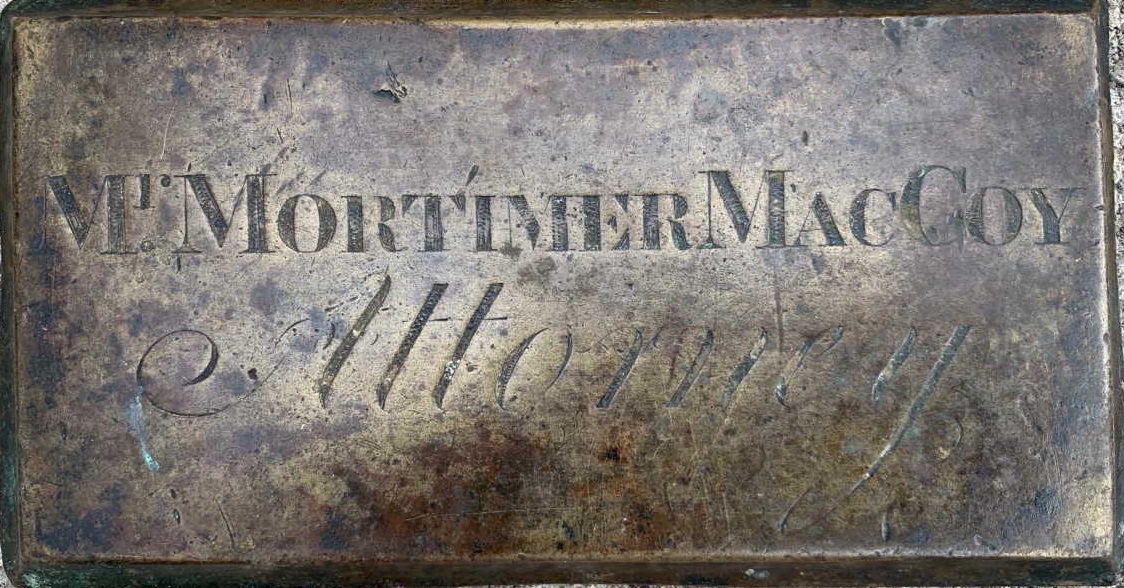 Business plaque of "Mortimer MacCoy", attorney.
From Mary McCoy. Posted here.
See full size.