MacNamara
References:

Sources yet to be consulted:
John MacNamara,
born maybe c.1730,
of
Doolin
, Co.Clare.
Aidan McMahon Glynn
said he was of Doolin.
He was agent for
Robert Nugent
(later Viscount Clare and Earl Nugent).
John was said to be a relation of Earl Nugent.
If he is in any way a close relation, through Nugent, then he is a descendant of Edward I and of Aoife Mac Murrough and of Brian Boru.
Letters survive of 1765 to 1769 from Robert Nugent in England to "John McNamara" in Galway. John is acting as his agent for his Irish estates.
Nugent was cr Viscount Clare in 1767, and cr Earl Nugent in 1776.
John died before 1788.
Nugent left a pension to John's widow in his
will
of 1788.
John and unknown wife had issue:
Hugh MacNamara.
[Letter of 1855] from his grand-nephew Michael Lysaght says that the Nugent family regarded Hugh as a relation.
The letter says that when Earl Nugent's son-in-law the Marquess of Buckingham was Lord Lieutenant of Ireland (1782-1783 and 1787-1789) Hugh "was invited and received at the Castle of Dublin as a near relative".
He died unmarried in 1832.




Nanno MacNamara.
She mar John Bourke.
[D'Alton, 1860] says he was of "Glenaragha-Burren". This place is unidentified. Perhaps some obsolete placename in The Burren, Co.Clare.
They had issue:




Mary Bourke,
mar John Lysaght and had issue.
---
John MacNamara was agent for Earl Nugent
John MacNamara was definitely the agent for
Earl Nugent
.
Letters survive of 1765 to 1769 from Robert Nugent (later Viscount Clare and Earl Nugent) to "John McNamara" in Galway. John is clearly acting as his agent for his Irish estates.
Nugent writes from his house, Gosfield Hall, Essex, and also from his house in Great George St, London.
John MacNamara died before Nugent.
Nugent's will of 1788 leaves a small pension to the widow of John MacNamara.
---
John MacNamara was said to be related to Earl Nugent
The claim that John MacNamara was related to Earl Nugent is an early claim, made in 1830.
The 1760s letters:

These letters say "Dear John" and "My Good John". One says "your most assured friend, Clare".
This may be too familiar for addressing an agent, who would be "Mr. MacNamara".

The will of 1788

Nugent's will in 1788 lists one of the executors as "Daniel Macnamara" of Lincoln's Inn Fields, London. Page 5 of the will leaves £1000 "to my worthy friend Daniel Macnamara". We do not know his relationship to John MacNamara of Ireland. But surely the name is no coincidence. Most likely Nugent is related to both of them.
Page 26 of [Memoir of Earl Nugent] says that "McNamara and Drummond" were the executors of the Earl's will at his death in 1788.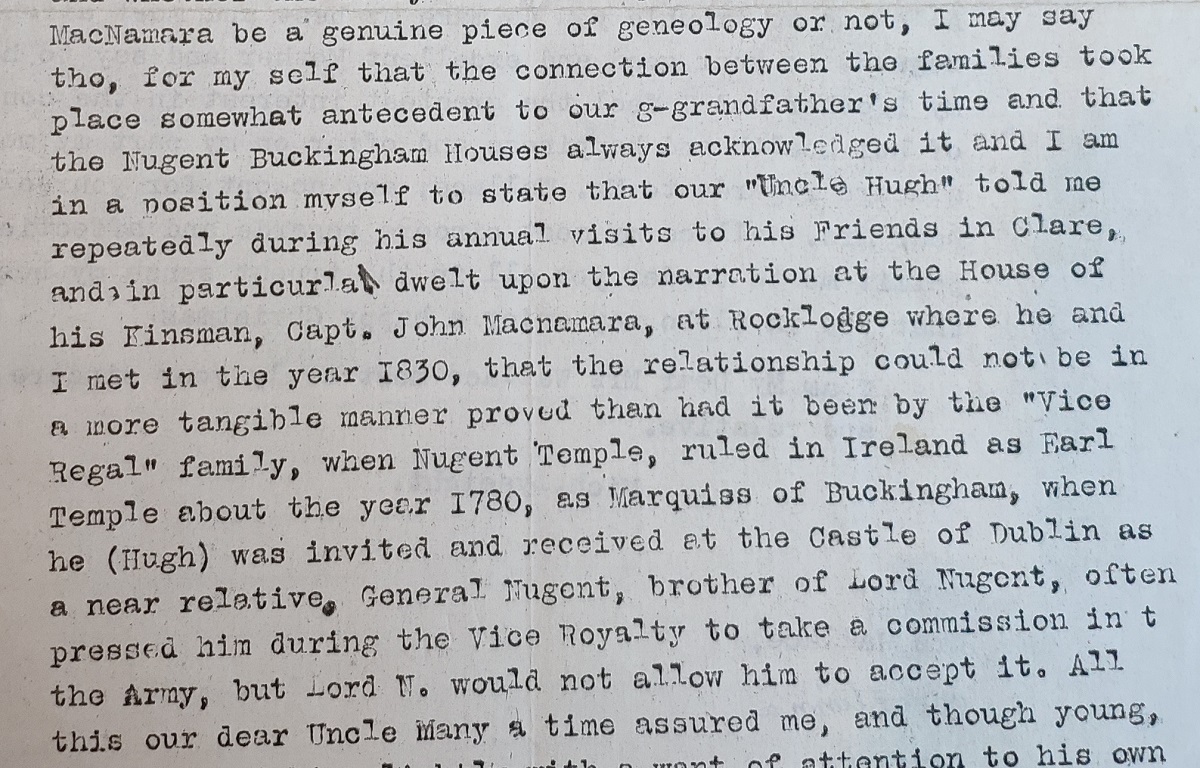 [Letter of 1855]
from
Michael Lysaght
says that the
Nugent
family regarded Hugh MacNamara as a relation in the 1780s.
Michael says he was told this by Hugh in 1830.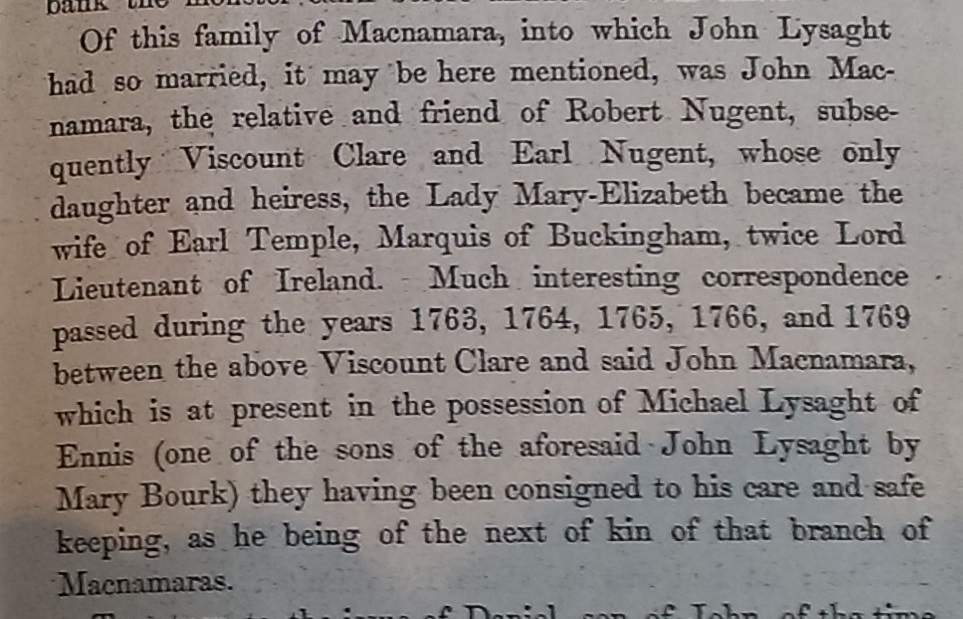 Extract from p.377 of [D'Alton, 1860].
This says that John MacNamara was "relative and friend" of Robert Nugent, 1st Earl Nugent.
See full size.
---
Joan Nugent
The Nugent relationship was thought to come through an ancestor "Joan Nugent".



[Letter of 1855] from Michael Lysaght to Sarah Wallace discusses who their supposed ancestors "Joan Nugent" and "Mary Lynch" are.
Sarah Wallace thinks Joan Nugent is wife of John MacNamara.
Michael Lysaght thinks she might be a previous generation.
They do not know.


This casts doubt on the idea that John MacNamara's wife was the Nugent:
The will of Robert Nugent, 1st Earl Nugent, in 1788 leaves a small pension of 5 pounds per year for life to the widow of John MacNamara.
It does not refer to her as his relation, in a section of the will mentioning various of his relatives.
The 1760s letters do not mention John's wife.
---
Edmond Nugent, brother of Earl Nugent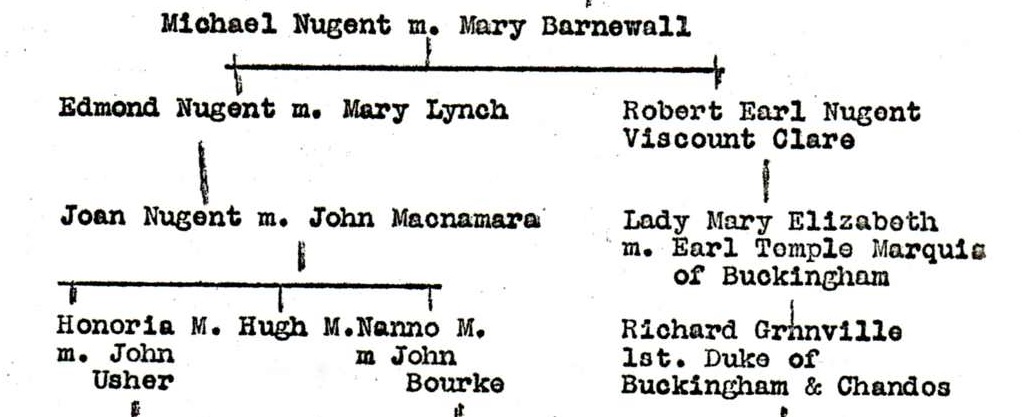 Aidan McMahon Glynn
inserts "Joan Nugent" and "Mary Lynch" into the tree.
He thinks the connection to Nugent is through Edmond Nugent (or Edmund), brother of
1st Earl Nugent
.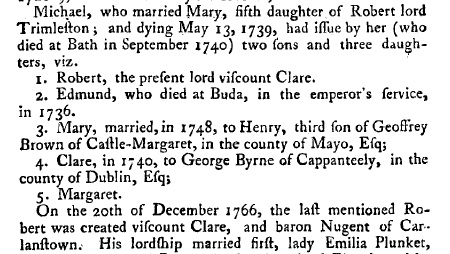 However, this idea does not fit with the peerages.
Above is an extract from Nugent, Viscount Clare, on p.127 of [Peerage of Ireland, 1768, vol.2]. Just after Nugent was created Viscount.
This says that his brother Edmund Nugent died at Buda, Hungary, in 1736. (Other peerages say at age 21.)
This is only 32 years earlier. It would be strange if this was false.
The Nugent entries in other early peerages agree that Edmond Nugent died at Buda in 1736, age 21.
Though p.6 of [Nugent, 1898] thought he died unmarried in 1760.
Aidan McMahon Glynn does in fact note that Edmond Nugent is meant to have died young, but still thinks he might be the father of Joan Nugent who married MacNamara. This would need more proof. It is not clear what led him to Edmond Nugent in the first place.
---
MacNamara of Doolin
This is a promising suggestion, that the main MacNamara family of Doolin, Co.Clare, appears to descend from Edmond Nugent of Carlanstown, grandfather of Earl Nugent.
This could explain the link. But there are some issues.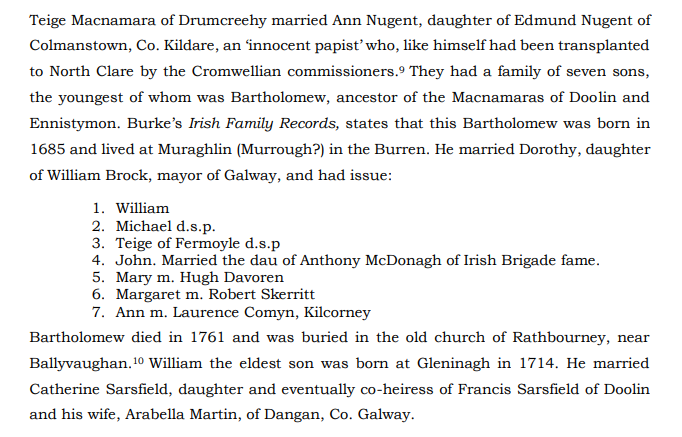 [Mac Mahon, 2017]
says the MacNamaras of Doolin, Co.Clare, descend from Ann Nugent, dau of Edmund Nugent of "Colmanstown, Co.Kildare".
"Colmanstown" seems to be an error. See the following.
The footnotes are as follows: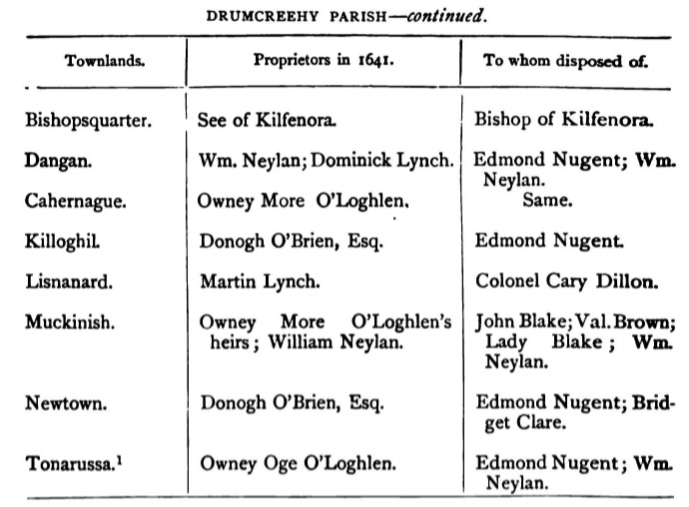 Note 9 above leads to p.440 of The history and topography of the county of Clare, James Frost, 1893.
This shows entries from the Book of Forfeitures and Distributions listing the confiscations after 1652. See pp.390-526.
See facsimile of originals for Drumcreehy parish on pp.476-479 of Books of Survey and Distribution, Vol.IV, Clare.
This looks promising as to how MacNamara would be related to the Earl:
Frost says the transplanted Nugent was Robert Nugent of Carlanstown and his son Edmond, grandfather of the Earl.
Edmond Nugent has son Michael Nugent, and grandson the Earl.
Edmond Nugent has dau Ann Nugent (who marries MacNamara) and grandson Bartholomew MacNamara.
Bartholomew MacNamara (born 1685) would be 1st cousin of the Earl.
Looks like John MacNamara would be 1st cousin once removed of the Earl.
Except there are some questions: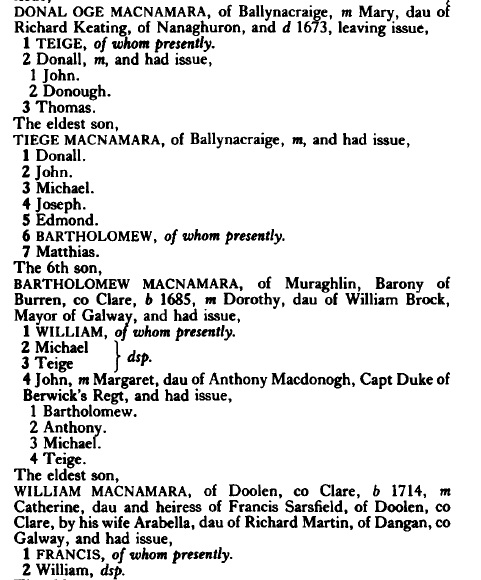 MACNAMARA in
[Burkes Irish, 1976]
shows this MacNamara family.
It does not show a link to Nugent.
It does show a Donall MacNamara, born well before 1685, son of Tiege. He would be born too early to be the "Daniel Macnamara", executor of Earl Nugent's will in 1788.
It shows children for John MacNamara who married the dau of Antony MacDonagh. But they do not match our children.
Conclusion: Unproved. Needs more work.