Donnelly's bacon factory, Dublin
Donnelly's bacon factory, Brickfield Lane, off
Cork St
, The Coombe, Dublin city.
Sources yet to be consulted:

"Tales from a City Farmyard", by Patrick Boland - local history of the Coombe/Cork Street area.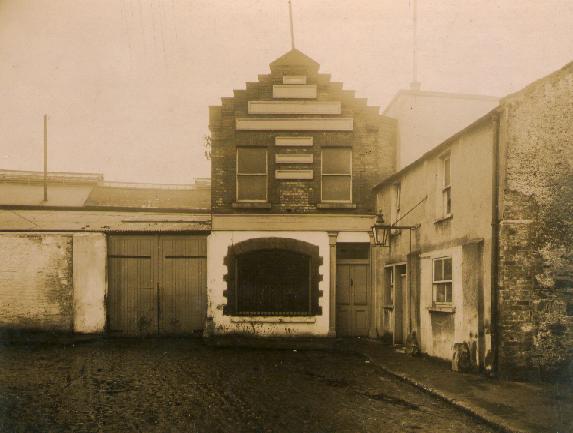 Donnelly's.
This bacon factory was originally Kehoe-Donnelly's (or "Messrs. Kehoe, Donnelly and Co.").
"Keogh Brothers" is found on the photo above, but confusingly, this is the name of the photographers, not the name of the factory.
Date on the building in the photo above seems to be 1905.
Donnelly's was purchased by Stephen O'Mara 1906, described as a "long-established bacon curing business".
Stephen in letter of 19 Sept 1908 says: "Kehoe Donnelly are very short of money - the Bank is getting anxious about their overdraft".
Stephen in letter of 24 July 1912 says: "Kehoe Donnellys are in a bad way". They have lost a lot of money. He is considering whether Donnelly's should be put into liquidation.
Address is given as Brickfield Lane, Dublin, in notice dated 25 Oct 1912.
James O'Mara came back from England to take over running Donnelly's in 1914.
He sold it to his brother Phons O'Mara mid-late 1940s, who ran it.
His son Stephen O'Mara then ran it.
Donnelly (Dublin) Ltd is listed as acquiring some new land from Dublin Corporation as part of a land exchange in 1962. Think this is site of the new building.
New building erected probably between 1962 and 1964.
Donnelly's got into financial difficulty and went into liquidation 1967. See Irish Times, 21 Mar 1967, p.12.
New building is now The Donnelly Centre, Cork Street, Dublin 8 (Self Storage and File Stores). See street view.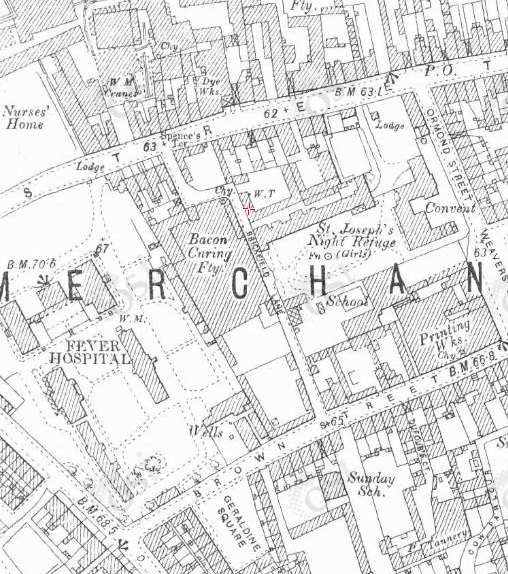 Donnelly's ("Bacon Curing Factory") on
1887 to 1913 map
.
See modern
satellite view
.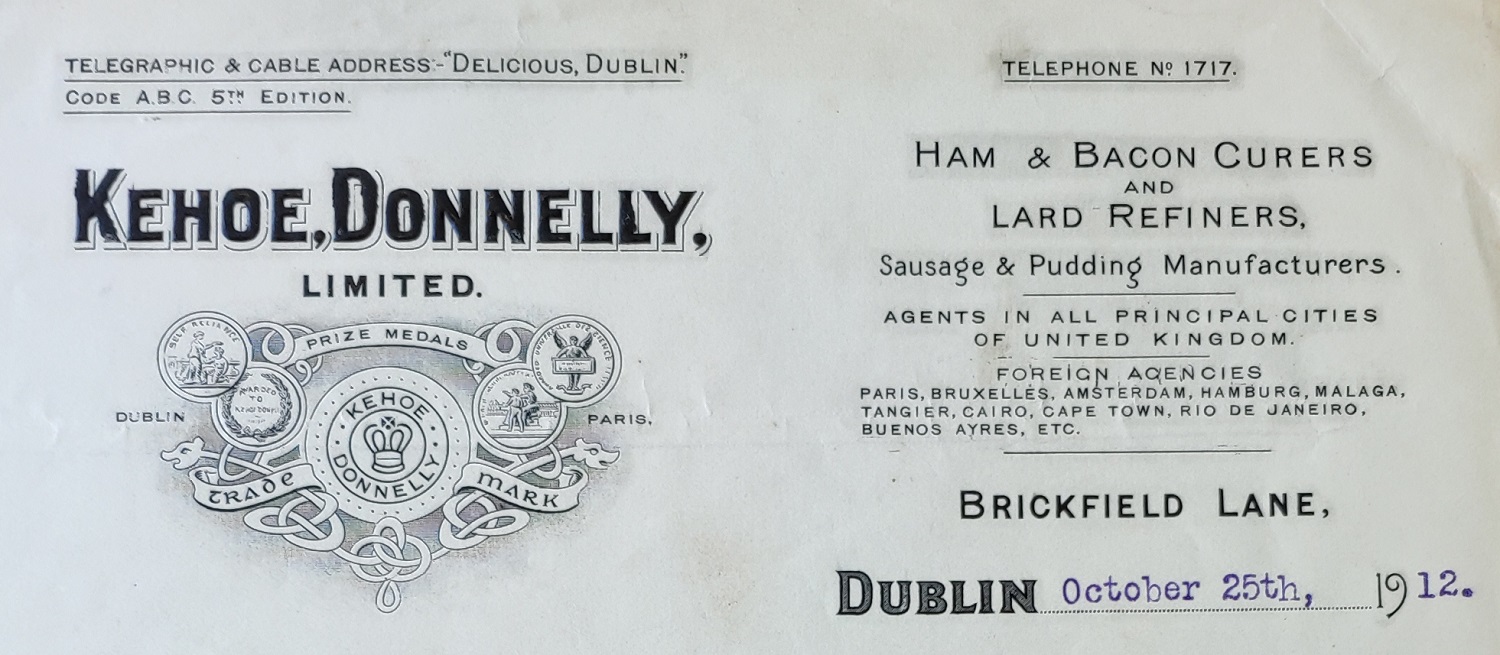 Header of notice dated 25 Oct 1912 of forthcoming meeting of shareholders of Donnelly's.
See full size.
---
Donnelly's ads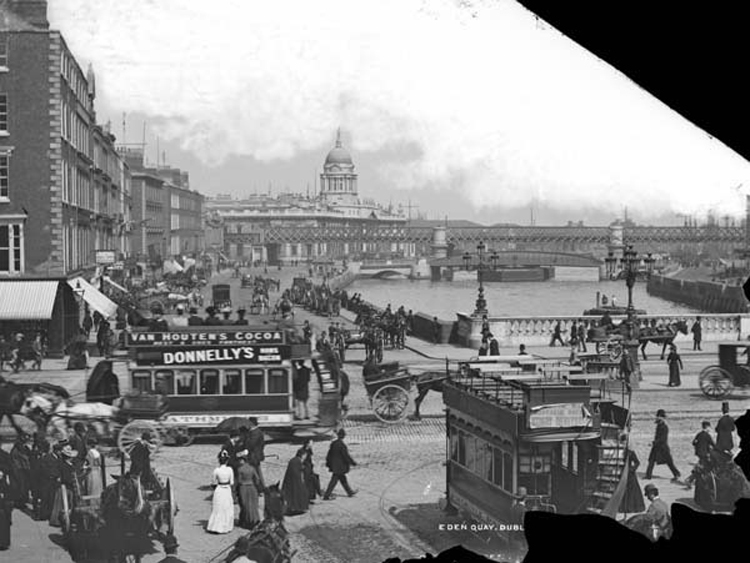 Looks like Donnelly's bacon ad on tram.
O'Connell Bridge, Dublin, looking down Eden Quay towards the Custom House.
[NLI]
Lawrence Collection
L_ROY_03114
.
Scan from
NLI Flickr
, which says photo is c.1897.
See
other version
from
NAI
.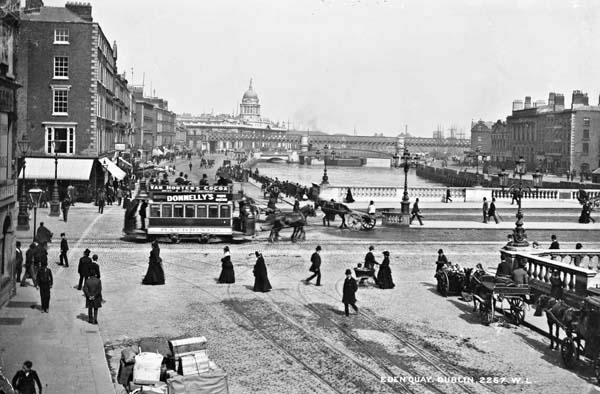 Similar shot. Must be same day as the above.
[NLI] Lawrence Collection L_CAB_02267.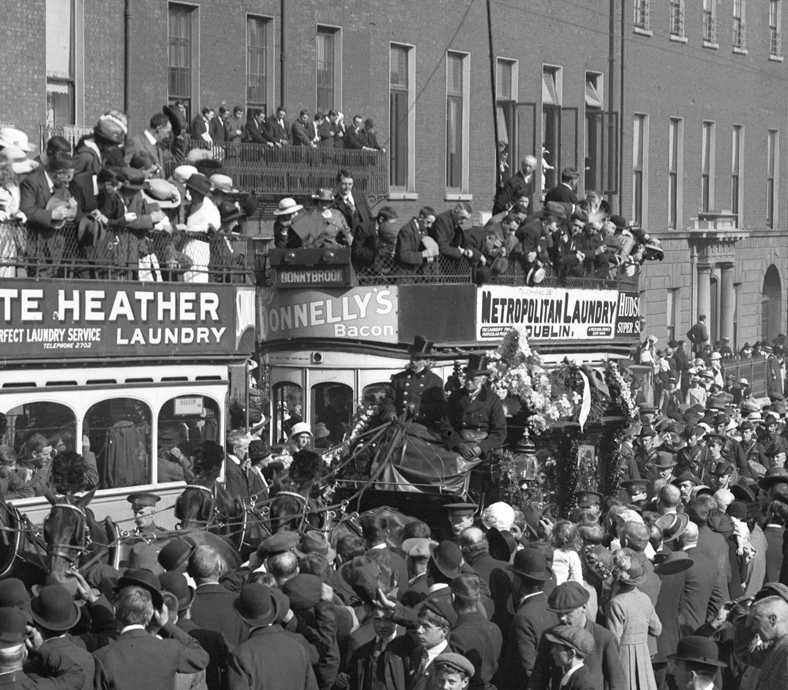 Donnelly's ad on tram at funeral procession of O'Donovan Rossa, at Parnell Square (Rutland Square), Dublin, 1915.
From NLI.
See full size.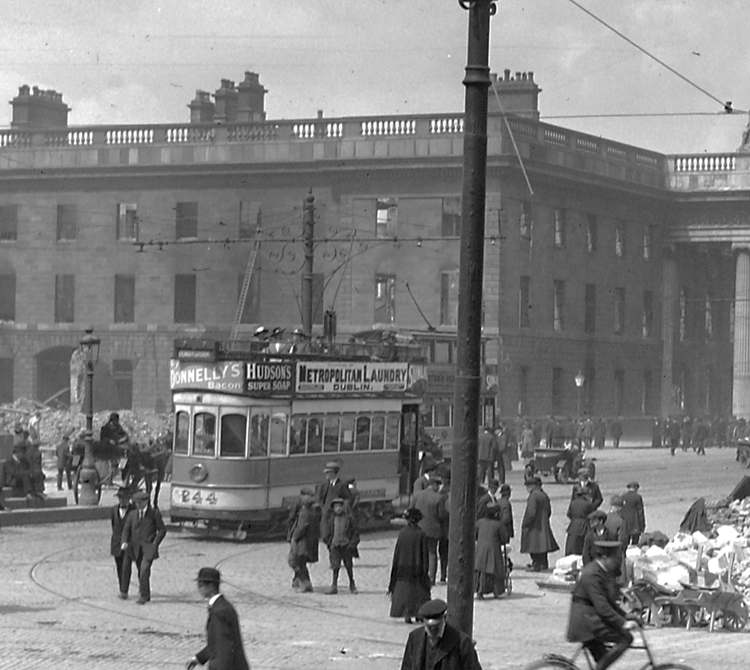 Donnelly's ad on tram on Sackville St in aftermath of 1916 Rising.
From NLI.
See full size.
---
See also O'Mara's bacon company, Limerick.

Donnelly's had one infamous employee:

Patrick Holland,
Dublin criminal, born 1939.
He worked at Donnelly's until his first conviction in June 1965.
Spent his whole life in organised crime.
He and his gang assassinated the crime journalist Veronica Guerin in 1996, an attack widely regarded as an assault by organised crime on the Irish state itself. The attack led to the setting up of the Criminal Assets Bureau to target and confiscate the property of organised crime gangs.
He died in prison 2009.