Aodogán O'Rahilly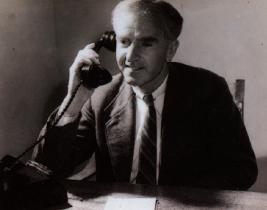 Aodogán O'Rahilly.
From the dust jacket of
[O'Rahilly, 1991]
.
Aodogán O'Rahilly
,
Egan, born 22 Sept 1904, Hove, Brighton.
His family went to USA, came back to Ireland 1909.
His family and
Humphreys family
were increasingly nationalist.
He joined the
Fianna Eireann
with his brothers and Humphreys cousins.
His father
The O'Rahilly
co-founded the
Irish Volunteers
1913.
He was educ C.U.S., Leeson St, Dublin, there as at 1914.
A story he recalled in [O'Rahilly, 1991] was shortly before the Howth gun-running in July 1914 that his father organised. Aodogán age 9, left at Portmarnock, Co.Dublin, with brothers and Humphreys cousins. There was an outing of Baden-Powell boy scouts there, flying a Union Jack. "we watched our chance and, when there was no one around, we rushed in and removed the flag which we either buried or burnt".
A famous family story is when he was offered cakes by Aunt Anno. Children were supposed to take the worst, smallest cake, and leave the big ones for others. Aodogán immediately goes for biggest cake of all. Anno scolds him, "Why did you take the best one?" "Well", says Aodogán, "wouldn't I be a fool if I didn't?" This became a phrase in the Humphreys family (generally approving of Aodogán).
Aodogán's father The O'Rahilly was killed fighting in 1916 Rising.
He was educ Mount St Benedict, Gorey, Co.Wexford, there as at 1918-19.
He fought on Republican side in Civil War 1922.
He was educ UCD, missed a year due to taking part in Civil War. BSc 1925, BE 1926, 1st class hons in Mech and Electrical Eng.
Engineer, businessman. He went into business 1929 making roofing tiles. Established the Weatherwell Tile factory.
He ran for the Dail for Fianna Fail in Dublin South in the 1932 election. Not elected.
He mar 30 Jan 1934 to Marion O'Connor [Irish-American, born 10 Oct 1905, born in US, poss. Philadelphia].
She was dau of Michael Joseph O'Connor, of the area of Drumhierny, near Leitrim village, Co.Leitrim. He emigrated to New York as a boy. The story is he was caught poaching at the local manor, Drumhierny Lodge, said would come back and buy it, and he did.
Drumhierny Lodge is now derelict. See [Irish Country Houses].
In 1936, Aodogán built Mooreen, a large house on grounds in Clondalkin, Co.Dublin. He lived there the rest of his life.
Aodogán was a highly successful businessman, extensive interests in manufacturing and shipping.
He helped develop peat production in Ireland.
He served on Board of Directors of Bord na Móna (formerly the Turf Development Board) from 1936 to 1974. The original state interest in peat had begun in 1933. Turf Development Board established 1936. Aodogán was not a co-founder, rather he was brought in as a Director early on.
He is listed as of Weatherwell Tile Factory in [Thom's, 1939, p.1558]. And in [Thom's, 1945, p.1286].
Peat became very important in WW2, when lack of shipping meant Ireland had to produce its own energy. Bord na Móna established as a statutory body 1946.
He went to Soviet Union in 1950s to advise them on peat production.
He was appointed by De Valera to University Commission c.1957/58.
In the minority report he proposed that UCD (then in the city centre) should merge with TCD to form a single non-sectarian university.
He was personally denounced for this in Lenten Pastoral by Archbishop McQuaid. See Irish Times 18 Dec 1999.
Chairman of Bord na Móna 1959 to 1974.
In 1959 he bought and revived Greenore Port, Co.Louth (on Carlingford Lough, opposite NI).
He formed Greenore Ferry Services (Director, Greenore Ferry Services Ltd). He planted one of the largest modern private forestry plantations in Ireland.
The Taoiseach Sean Lemass sent Marion a telegram of condolence when her father died 1961. See [NAI] s 16768B/61.
Aodogán received Hon D.Litt. from NUI for contribution to industry and business. This was 4 Apr 1974 apparently according to [P106/309], NOT 1972.
He retired from Bord na Móna 1974.
He handed back his honorary Doctorate in 1984 in protest at the awarding of an honorary Doctorate by UCG to U.S. President Ronald Reagan. See item in Irish Times, June 4, 1984.
Aodogán was energetic and positive into old age.
He wrote a biography of his father, 1991, age 86 yrs.
He was wonderfully positive about my family tree work. He said to me when I finally presented him with my first O'Rahilly tree in 1991: "It looks like my father's work hasn't been lost after all".
He presented O'Rahilly papers to [UCD] 1991, indexed 1993.
Aodogán and Marion celebrated 60th wedding anniversary Jan 1994.
Marion died at home in Mooreen, Wed 14 Sept 1994, age 88 yrs,
funeral Sat 17 Sept 1994, bur Esker cemetery, Lucan.
Aodogán lived Mooreen to death.
He died Wed 31 May 2000, age 95 yrs, Mater Private Hospital, Dublin,
funeral Sat 3 June 2000, bur Esker cemetery, Lucan.
See obituary, Irish Times, 3 June 2000.
Aodogán and Marion had issue:
Nuala O'Rahilly, mar Brian Price and had issue:

Shane Price, mar Orla Bracken and had issue:

Rory Price.
Conor Price.
Caoimhe Price.

Mark Price.
Tracy Price.
Vanessa Price, mar Breffni Martin and had issue:

Greta Martin.
Ruth Martin.

Eoin O'Rahilly, mar Margaret King and had issue:

Lorna O'Rahilly,
had issue:

Danny O'Rahilly.

mar Raymund Egan and had issue:

Mia O'Rahilly-Egan.




Ronan O'Rahilly.
Founder of the most famous and influential pirate radio station, Radio Caroline 1964.
Co-producer of the cult film Girl on a Motorcycle (1968) starring Marianne Faithfull.
He mar Catherine Hamilton-Davies.
He was partner of Ines Rocha.




Roisín O'Rahilly, mar Adrian de Pasquale and had issue:

Maria de Pasquale, mar Frank McBrayer and had issue:

Eamonn McBrayer.
Ciara McBrayer.

Gina de Pasquale.
Lucia de Pasquale, mar Ryan Odom and had issue:

Connor Odom.
Owen Odom.

Iseult O'Rahilly, mar Lee Broglio and had issue:

Frank Broglio, mar Jennifer ---- and had issue:

Emily Broglio.
Lilly Broglio.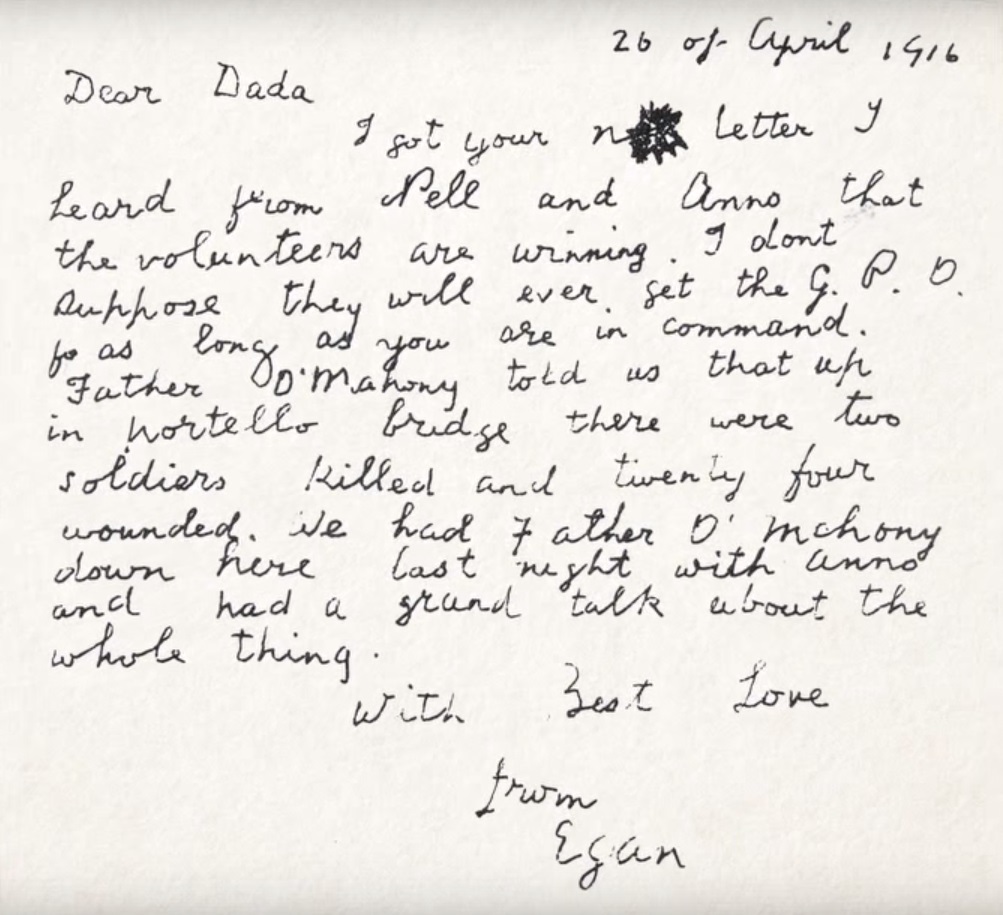 Letter from Aodogán ("Egan") to his father
The O'Rahilly
at the GPO during the 1916 Rising.
This is the note that was found on The O'Rahilly after he was killed, with a bullet hole in it, and the
famous note
written by The O'Rahilly on the reverse.
Printed in
[O'Rahilly, 1991]
.


The candidates in Dublin South in the 1932 election.
Aodogán is "Eoghan O'Rahilly".
From Irish Press, 12 February, 1932.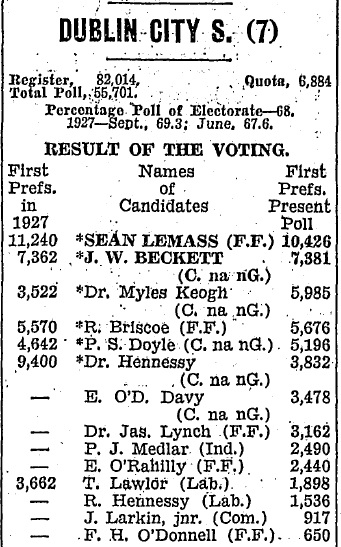 First count in Dublin South in 1932 election.
Aodogán ("E. O'Rahilly") did not get elected.
From Irish Press, 19 February, 1932.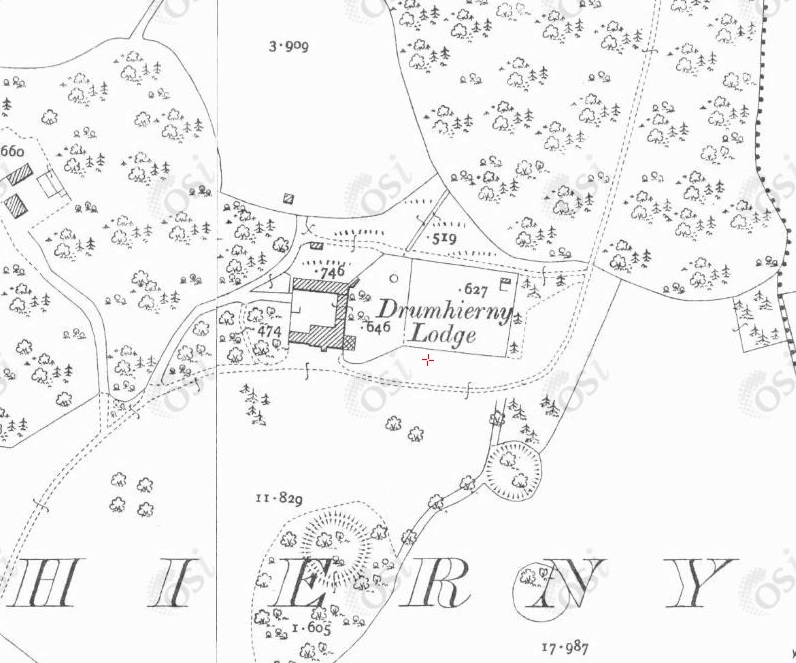 Drumhierny Lodge, Co.Leitrim, on 1887 to 1913 map.
---
References
---
Sources yet to be consulted
The Civil War: A Teenager's Recollections 70 years on, Aodogán O'Rahilly, Tipperary Historical Journal, 1992.
"The Madness from within", RTE TV documentary on Civil War, Jan 1998 - interview with Aodogán recalling atrocity by his own (Republican) side.
What If? Alternative Views of Twentieth Century Ireland, Diarmaid Ferriter, 2006. Quotes old interview with Aodogán on 1916 rising.
"Ireland's Gypsum and Brick Field - A study of the Social and Industrial Development of a Community, 1800-2016", forthcoming book by Micheal MacDiarmada.

Todd Andrews memoirs:
---
Aodogán wrote many letters to the Irish Times. For example:

Family history:
Political comment: