Anno O'Rahilly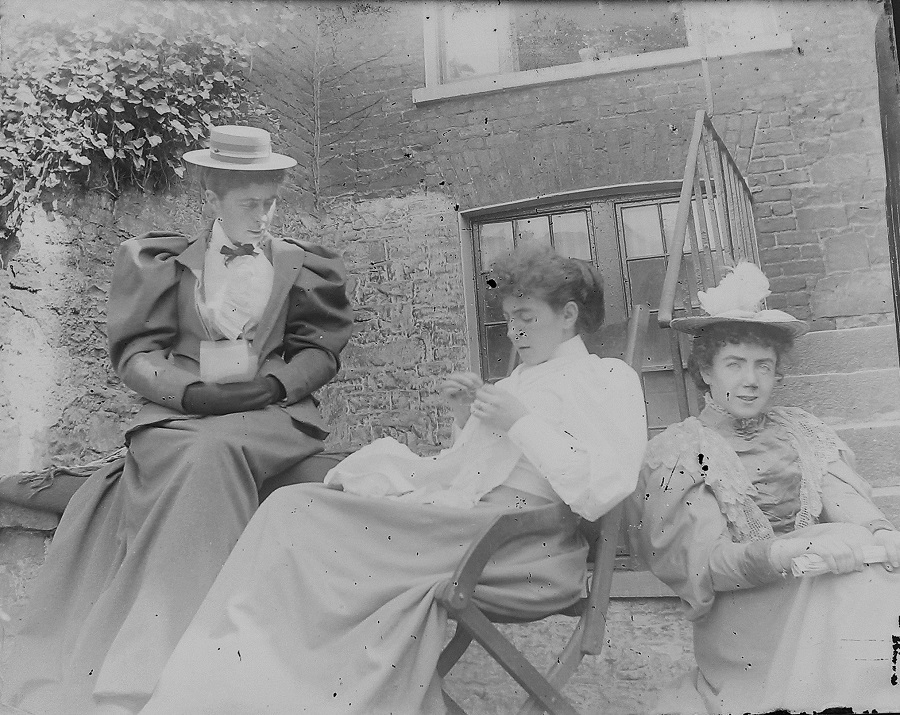 Left to Right: (a friend),
Nell
, Anno.
This was labelled as
Northumberland Rd
, Dublin (i.e. after 1909) but looks older (c.1900). Also think negative is older.
This might be the back of
18 The Crescent
, Limerick.
It is the same place as
here
.
Image 5744 in
Humphrys glass negatives
. See
larger
and
full size
. Light-adjusted. See
original
.
See
other scan
and
other scan
.
Anno O'Rahilly
(see
here
), revolutionary,
known as
"Anna Rahilly"
when young, "Anno" when older, when changed to "O'Rahilly",
born 17th Feb 1873, Ballylongford, Co.Kerry,
educ local national school,
educ
Ursuline Convent
, Waterford,
educ
Mount Anville
, Dublin.
The elopement story: There is a story in Ballylongford that, while her father Richard Rahilly was alive (before 1896), Anna eloped with Paddy Brandon, the son of a local harness-maker, a match her father would have considered to be beneath her. The story is that she took money with her (perhaps from the till) and they left town with the aim of going to America. They set out on the journey to the port at Queenstown, Co.Cork. Her father Richard went after them and caught them. (They would have been on foot.) He caught them in Rockchapel, Co.Cork (which is on the road from Ballylongford to Queenstown, see map). Anna was brought back.
Brandon went on to Cork and joined the army. In later years he came back to live in Ballylongford. He never married. Neither did Anna. Anna lived in luxury on Ailesbury Road in Dublin and died in 1958. Brandon died in poverty in Ballylongford in 1961.
"Anna Rahilly of Ballylongford" wit her sister Nell's marriage 1895.
After her father's death 1896, she moved 1898 to Quinsborough House, Co.Clare with her mother.
The purchase of Quinsborough was made by "Anna Rahilly of Ballylongford, spinster", Nov 1898 [Deed, Nov 1898].
She claimed to be the first woman motorist in Limerick.
She was an early nationalist. Sighle in [Mac Eoin, 1980] says Anno was a reader from 1899 on of Arthur Griffith's United Irishman. She says Anno was a big influence in her becoming nationalist and radical: "I got all of my ideas from her."
Her sister Nell and husband and children had joined them at Quinsborough by Sept 1902.
Nell's husband died 1903. Nell and Anno's mother died 1903. Anno never married, always lived with her sister Nell and family.
Anno had great interest in sport - golf, tennis, hunting, had them playing tennis on lawn at Quinsborough.
See Quinsborough photos.
She moved to Dublin with Nell and family 1909.
She joined Gaelic League.
Sighle in [Mac Eoin, 1980] recalls that Anno read all the radical nationalist press: "all of which came into our house."
[McCoole, 2003] says she was involved in Sinn Fein from 1914.
Along with her brother The O'Rahilly she reverted to the old spelling "O'Rahilly".
Her brother The O'Rahilly was a leader of the 1916 Rising, and he died in action.
Revolutionary in 1916-23 period:
Both Nell and Anno were revolutionaries in 1916-23 period.
Anno was treasurer of the Prisoners' Dependency Fund after the 1916 Rising.
[P106/183] (see p.1 and p.2) is an undated letter to her, possibly 1916/17, about the distribution of republican funds, from S.M. O'Mara of Limerick. This may be Stephen Mary O'Mara.
[P106/215] (see photo) is a receipt showing Anno paying the deposit for a candidate in the 1918 general election. She and Nancy Brown and other family worked hard on the campaign of Desmond Fitzgerald in that election. Anno is paying the deposit for Fitzgerald, not for herself.
She had revolutionary, "almost Communist" views.
The first money to be handled on behalf of Dail Eireann 1919 was a loan of £2000 from "Miss Anna O'Rahilly".
Nell and Anno moved to 36 Ailesbury Rd 1920. The house was safe house in War of Independence.

In Civil War (started June 1922), Anno and family took republican side.
She was still treasurer of "Prisoners' Aid" (or "Prisoners' Dependence Fund") in Civil War [Ward, 1983]. She kept the money hidden in Ailesbury Rd.
The house on Ailesbury Rd was hiding republican leader Ernie O'Malley when it was raided by the Free State in the Civil War, Nov 1922. Anno was accidentally shot in the face by Ernie O'Malley as he tried to escape. She was badly injured, nose deformed for rest of her life. The whole family was arrested. Ernie O'Malley captured.

In prison, 1922-23:
Anno was in hospital for a time. When she recovered from being shot, she was imprisoned by the Free State and held until after the Civil War ended. She was at some of those times in jail with Sighle and Nell. Prison letters seem to show that she was home first, in winter 1922-23, before being arrested and imprisoned in 1923.
Mountjoy: Anno was imprisoned in Mountjoy prison in Apr 1923 [Ward, 1983].
Kilmainham: At end Apr 1923 she was in Kilmainham Gaol with her sister Nell [McCoole, 1997]. Republicans surrendered May 1923, Civil War over.
NDU: Anno was moved sometime before June 1923 [P106/397] to the North Dublin Union (NDU). Nell was released from prison July 1923. Anno and Sighle remained in prison. Bishops Pastoral Oct 1923 excommunicated the IRA. Anno was passed over for Communion in prison. It never bothered her. Anno went on hunger strike with Sighle in NDU in Oct-Nov 1923. Anno was in a bad way when the hunger strike was called off on 23 Nov. She was released with Sighle on 29 Nov 1923 [McCoole, 2003].
Anno lived Ailesbury Rd with Nell's family.
She never married.
Despite her almost communist politics, she made a lot of money investing on the stock market in the mid 1920s.
She was a friend of Margaret Pearse, helped her keep St.Enda's going.
She played golf at Elm Park Golf Club.
After Nell died 1939, Anno lived on her own in Ailesbury Rd for many years.
First will dated 19 June 1947.
At her death she had shares in Ireland in Cement Ltd and Guinness and Permanent Building Society.
She also had shares in England in Imperial Chemical Industries and John Brown shipbuilders and Shell and Woolworths and United Drapery Stores and Distillers Company and Automatic Telephone and Electric Co.
[P106/208] shows she had shares in Lever Brothers and then Unilever.
Later will dated 24 Jan 1957.
She left money to the Good Shepherd convent, Sunday's Well, Cork, where her aunt Bridget Mangan (died 1915) and cousin Annie Mangan (died 1949) had been nuns. See also her cousin Alice Mangan.
She died 36 Ailesbury Rd, Mon 6th Oct 1958, age 85 yrs,
bur with her parents at Lislaughtin Abbey near Ballylongford.
She insisted on having Corrigan's of Dublin as the undertakers, as back in 1916 they were the only ones that would agree to bury her brother.
Funeral list in [P106/715]. Funeral mass celebrated by Alfred O'Rahilly.
The President and Taoiseach sent representatives to the funeral. Thomas McEllistrim, TD represented the Taoiseach.
Probate granted at Dublin, 5 Mar 1959. See probate and will p.1 and p.2 and p.3. (todo) See papers in [P106/296].
Emmet moved in to Ailesbury Rd.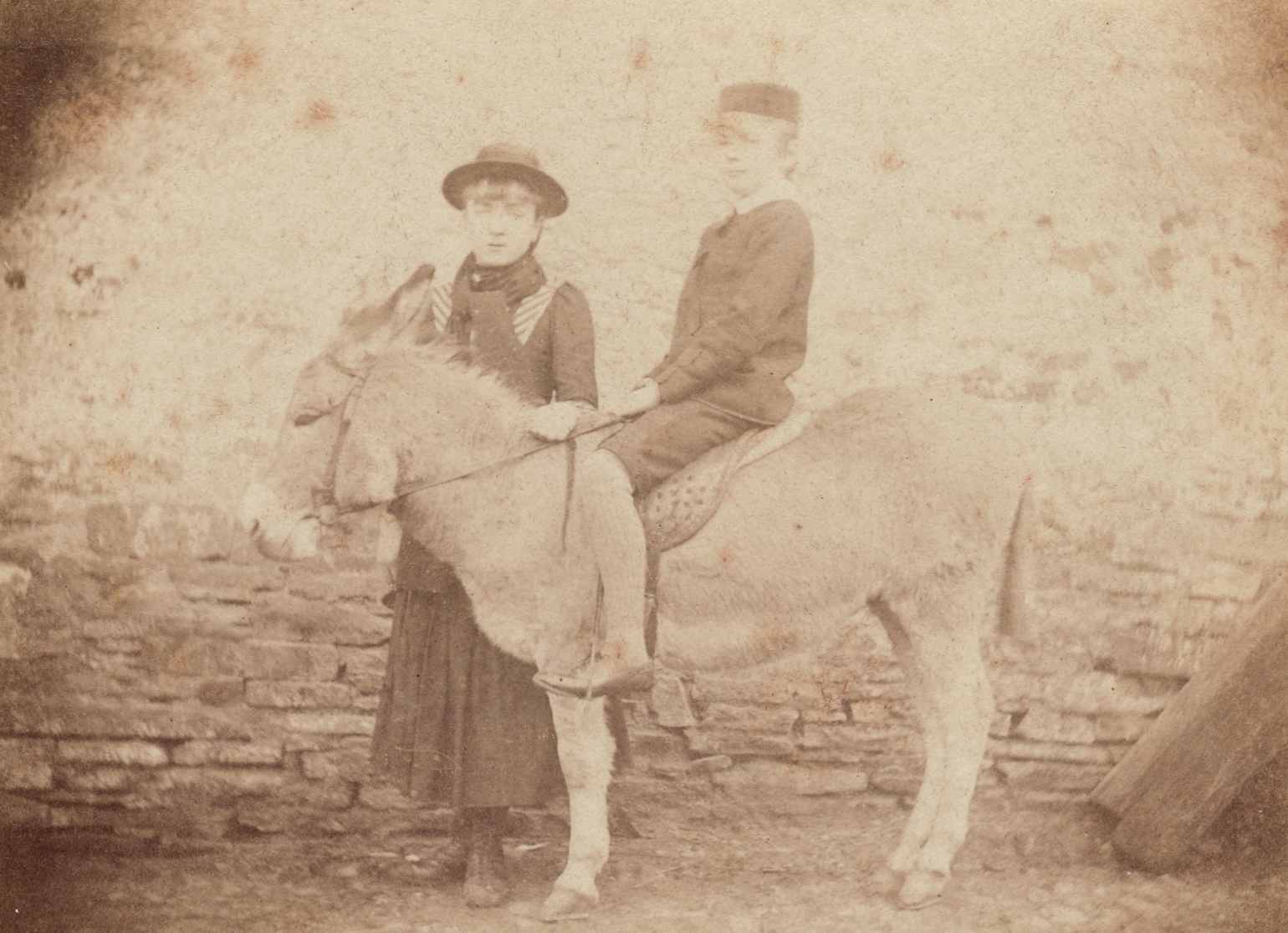 Anna (born 1873) and The O'Rahilly (born 1875).
Ballybunion
, Co.Kerry.
Photo est c.1886.
See
larger
and
full size
.
See
copy
(and
back
) in
[P106/297]
.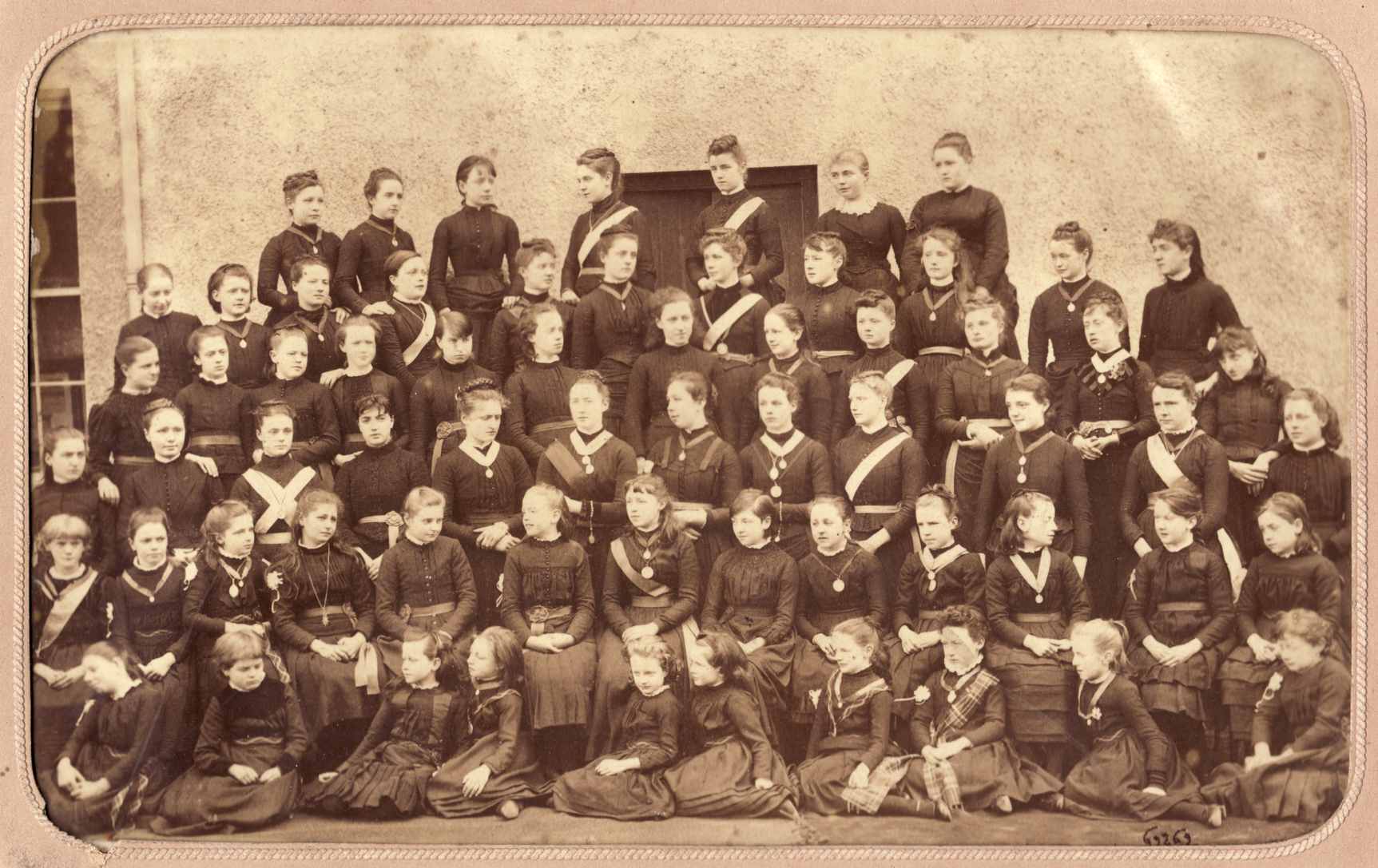 Ursuline Convent, Waterford, 1888.
Anno (age 15) is somewhere here. Think she might be 2nd row RHS, end of row.
See larger and full size.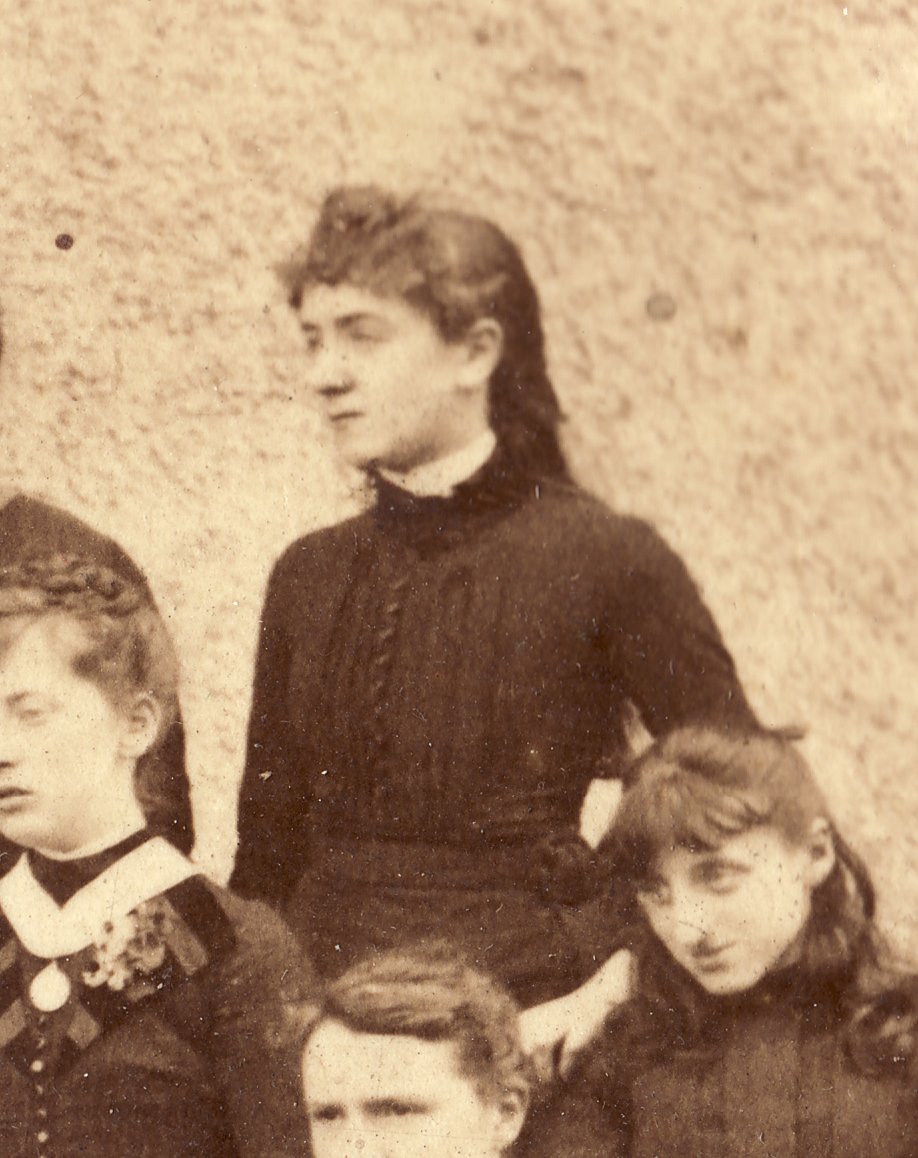 Think this might be Anno.
From above.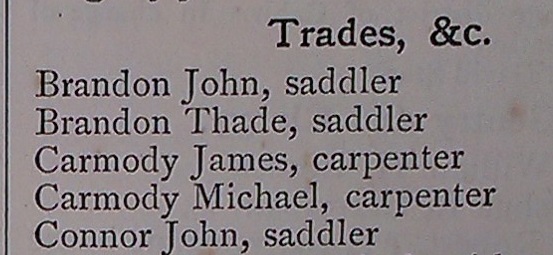 There are two Brandons listed as saddlers in BALLYLONGFORD in [Guy's, 1886].
The story is that when she was young, Anna eloped with Paddy Brandon, the son of a local harness-maker.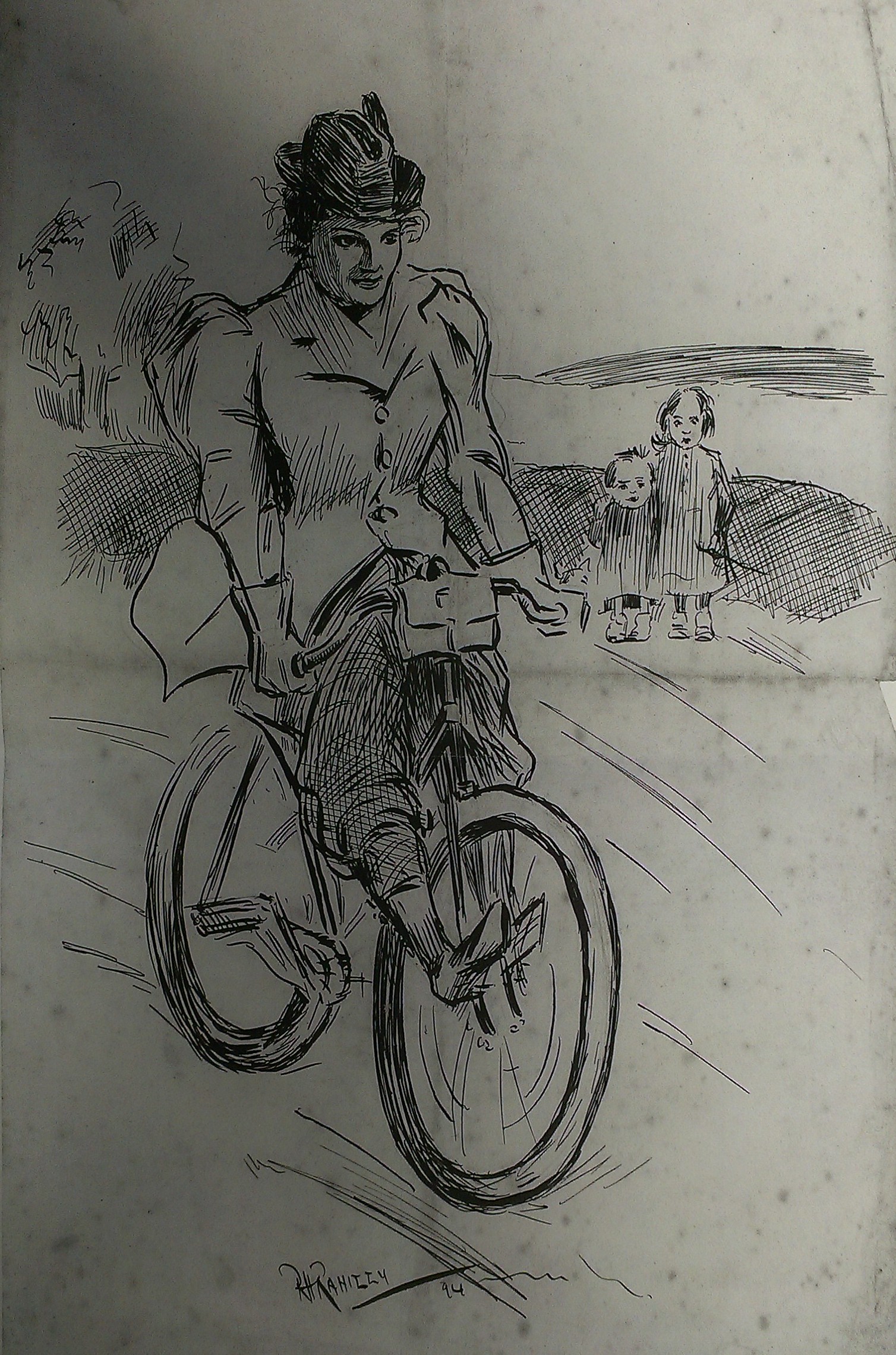 Sketch of Anna on her bicycle in 1894 by Richard Henry Rahilly.
See larger. From [P106/289].
See other scan of top and bottom.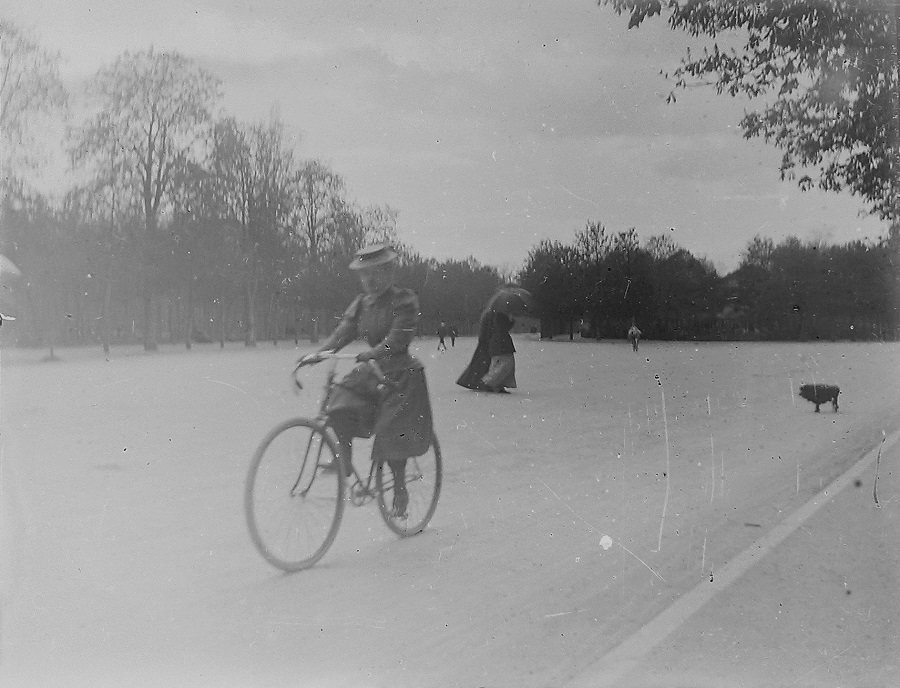 The P106 listing says this is Anna on her bicycle in Phoenix Park, Dublin.
It says c.1880 but that is impossible. Probably c.1895.
See larger and full size. Image 5866 in Humphrys glass negatives. Light-adjusted. See original.
See copy in [P106/326].
See other scan.
See other scan.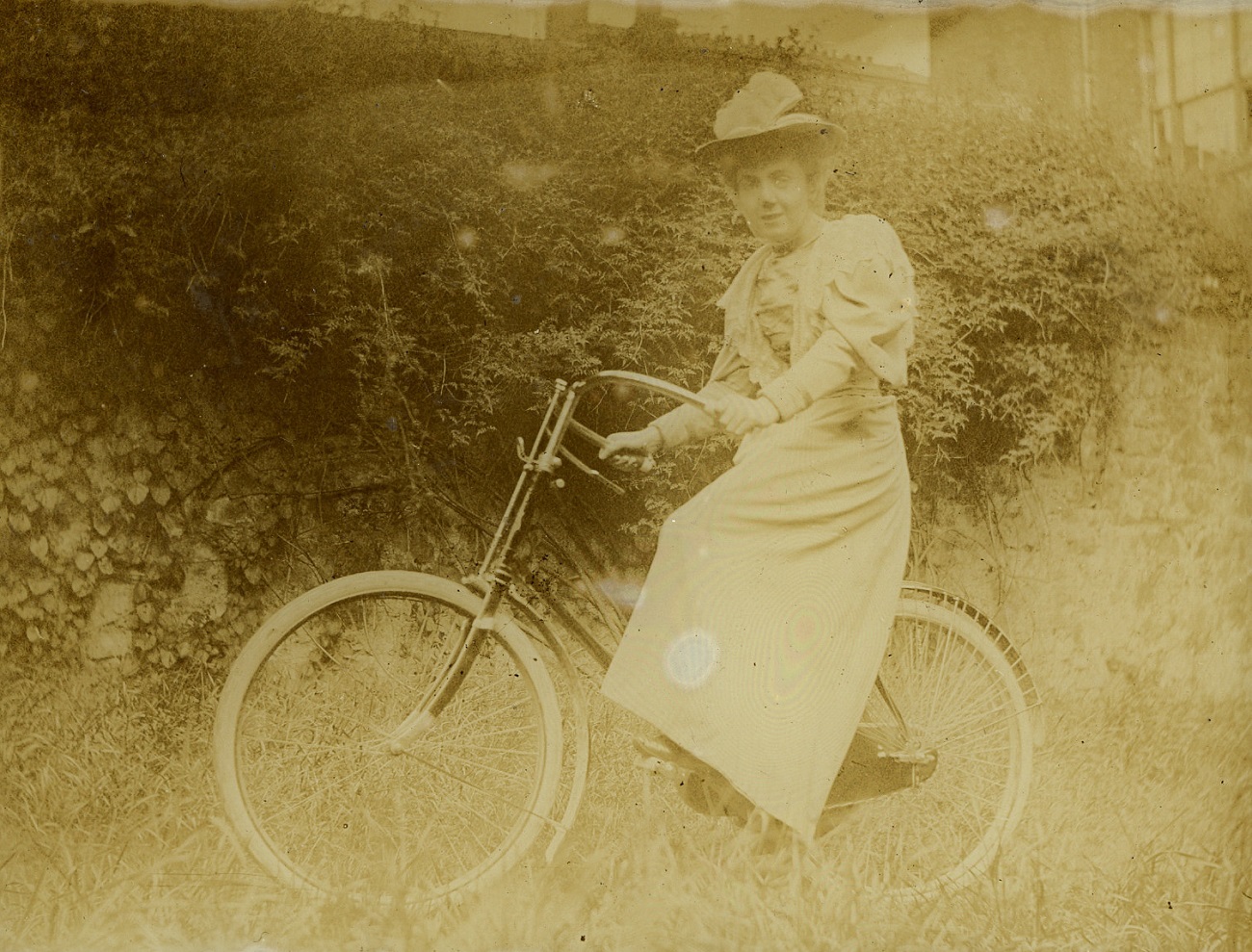 Anna, on bicycle, 1895.
This is [P106/301]. See larger and full size.
The back dates this as 1895.
The P106 listing (see photo) says Quinsborough, but too early for Quinsborough. And doesn't look like it.
See other scan.
See other copy. Image 5794 in Humphrys glass negatives. Light-adjusted. See original.
See other scan.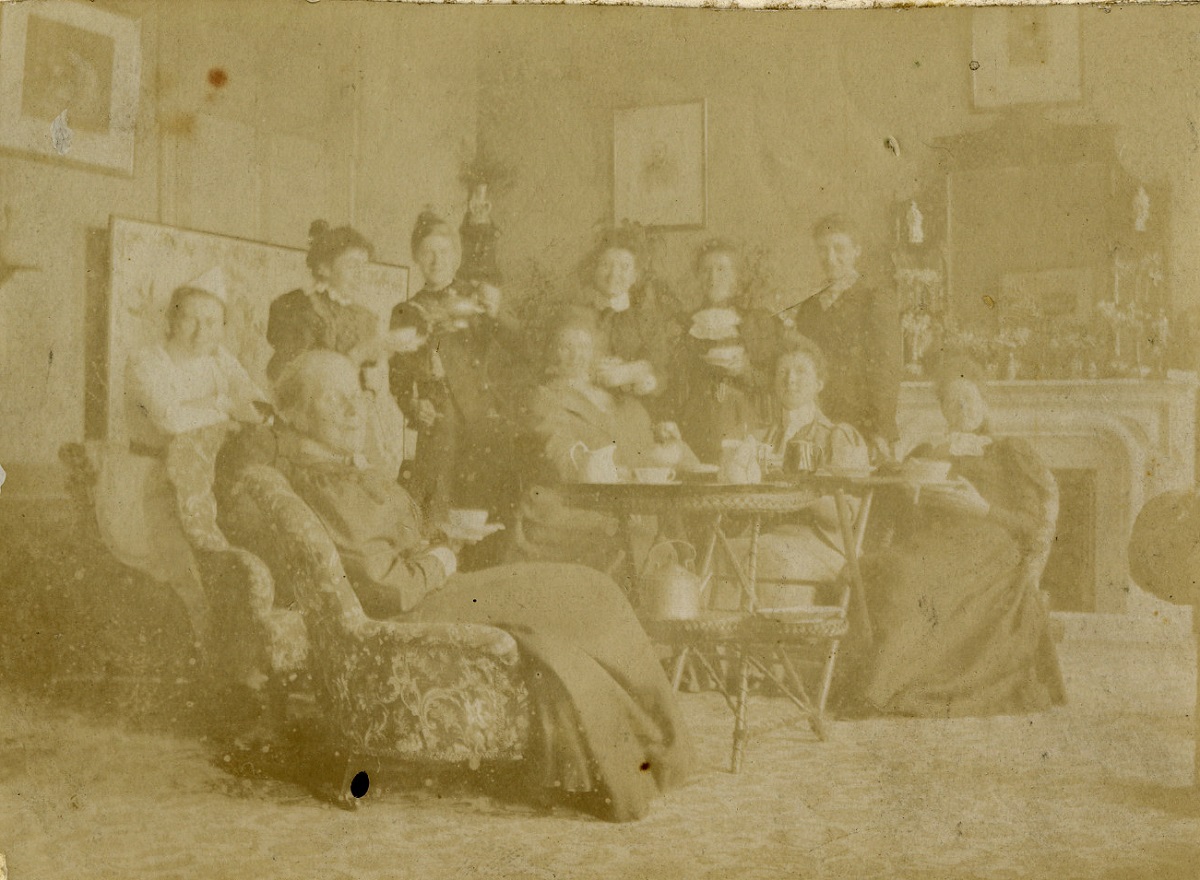 This is [P106/299].
Caption says Anna Rahilly (perhaps back, 2nd from left) and others.
Could front left be Ellen Mangan?
Caption says Quinsborough. Can this room be identified?
Photo would be c.1900.
See larger and full size.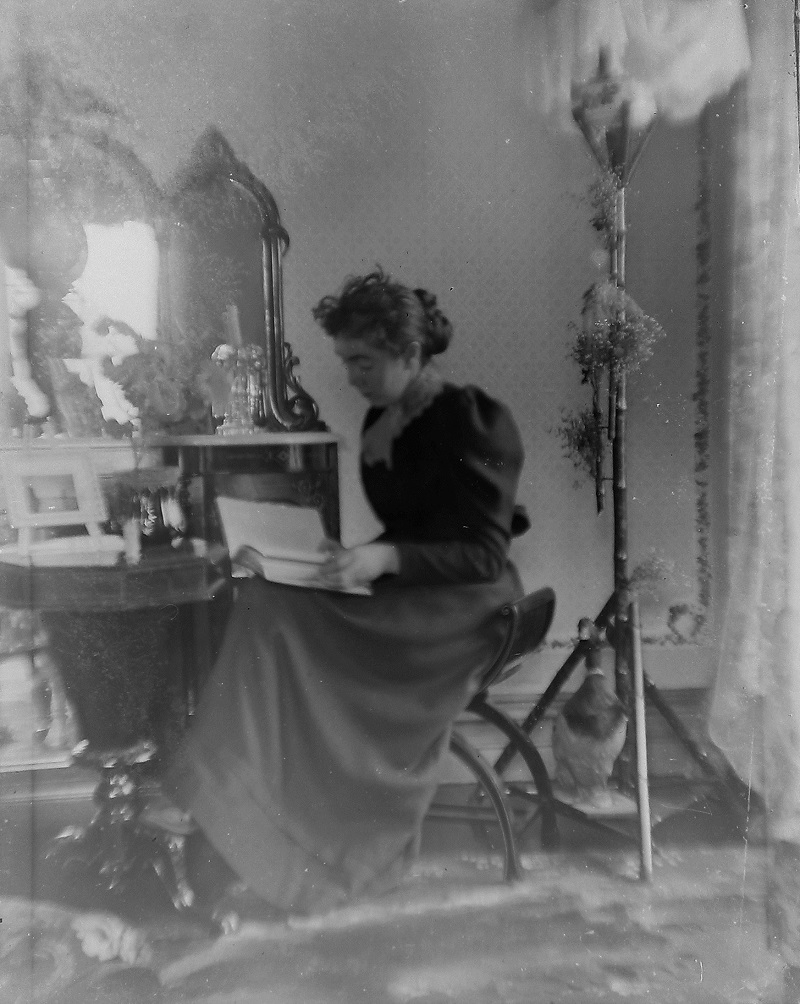 I had thought this is Nell.
But Cróine thinks it is Anno.
Photo c.1900.
Image 5754 in Humphrys glass negatives. See larger and full size.
Light-adjusted. See original.
See other copy.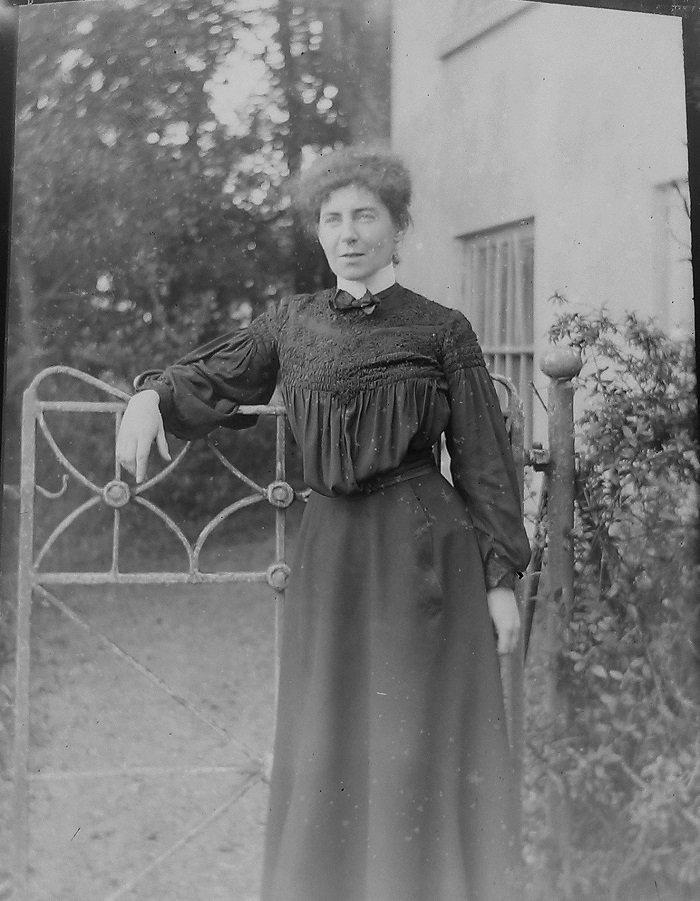 Think this is Anno, NOT Nell, c.1900.
Think this gate may be at the back of Quinsborough.
See larger and full size. Image 5819 in Humphrys glass negatives. Light-adjusted. See original.
See other copy.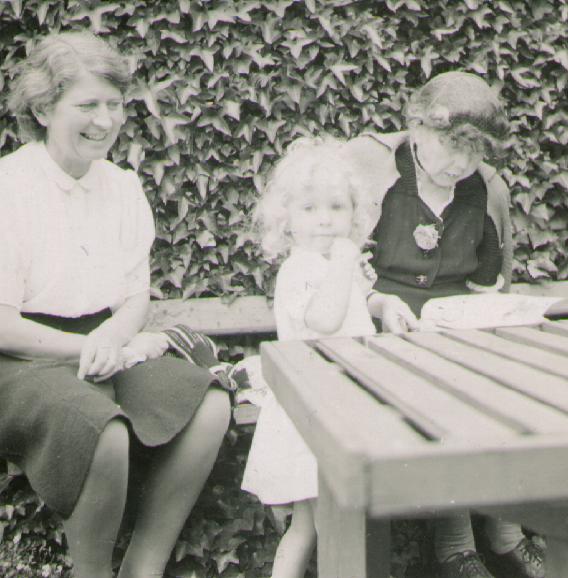 (Left to Right): Sighle, Cróine, Anno, c.1945.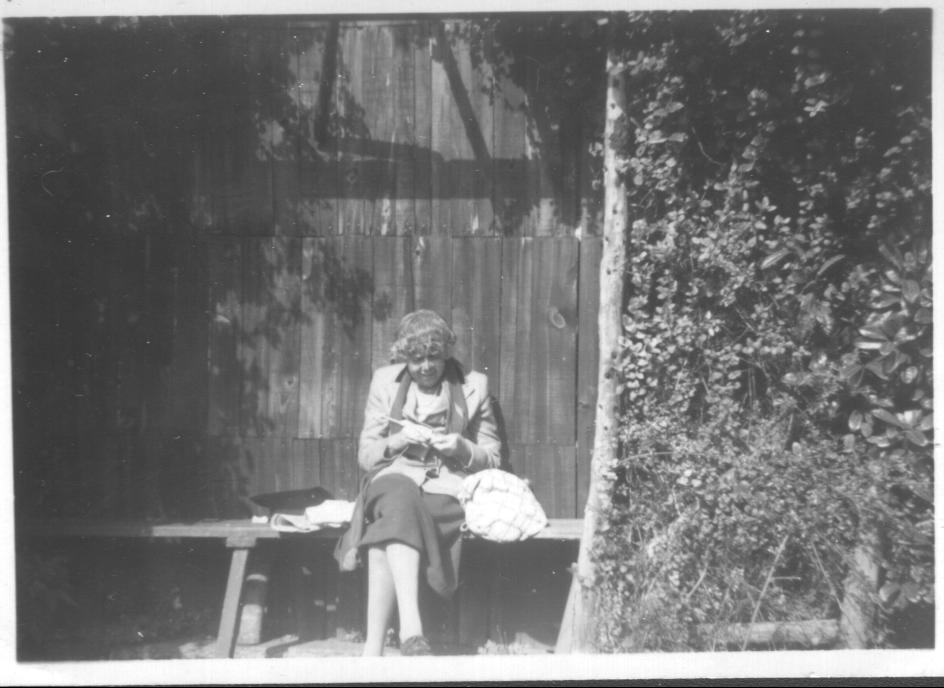 Anno in Ailesbury Rd in 1950s.
See full size.
---
Sources yet to be consulted
---