Lane
Patrick Lane,
"Pat" on grave, "Patt" in 1901 census,
born Co.Clare,
grave says born 1810 and died age 95,
though 1901 census (probably more accurate) says he was then age 85 (born 1816).
He mar Ellen Madden [born 1818].
Ellen died 1878, age 60 years.
She was bur Teampall Mochulla, Co.Clare.
In 1901 census Patrick is living with son Patrick and family at Quinpool House. He is farmer, widower.
He died 1905, age 89 yrs, or poss. 95 yrs.
He was bur Teampall Mochulla, Co.Clare ("the family burial ground at Thoumple Maughal").
See funeral report in Limerick Chronicle, 25 Mar 1905.
Patrick and Ellen had issue:
Thomas Lane, born 1846,
D.C. (District Commissioner),
member of Limerick Board of Guardians,
"T. Lane, D.C." was at Dr.David's funeral 1903,
died 1914, age 68 yrs.
(todo) Go through 1914 notices.




Patrick Lane,
Patrick M. Lane, "Patt" in 1901 census,
born Co.Clare,
bapt 1 Dec 1855 [Parteen RC par records], see image,
inherited Quinpool House.




Bridget Lane,
census 1901 says born Co.Clare,
census 1911 says born Co.Limerick,
bapt 19 Nov 1858 [Parteen RC par records], see image,
mar 28 Nov 1891 [RC parish church of Parteen and Meelick, Co.Clare] to Tim Humphrys [bapt 17 Mar 1854] and had issue.
---
Teampall Mochulla (or Templemochulla), Garraun townland, Kiltenanlea par, Co.Clare.
Ruined church in a field. Graveyard in use.
Garraun townland is just W of Srawickeen (Shravokee) townland.
References:

Sources yet to be consulted:

"Leachta Teampall Mochulla: Memorials of the dead in Teampall Mochulla, parish of Clonlara, Co. Clare", by Michael MacConmara, Sliabh Aughty: East Clare Heritage, Vol.4 (1993) 45-48.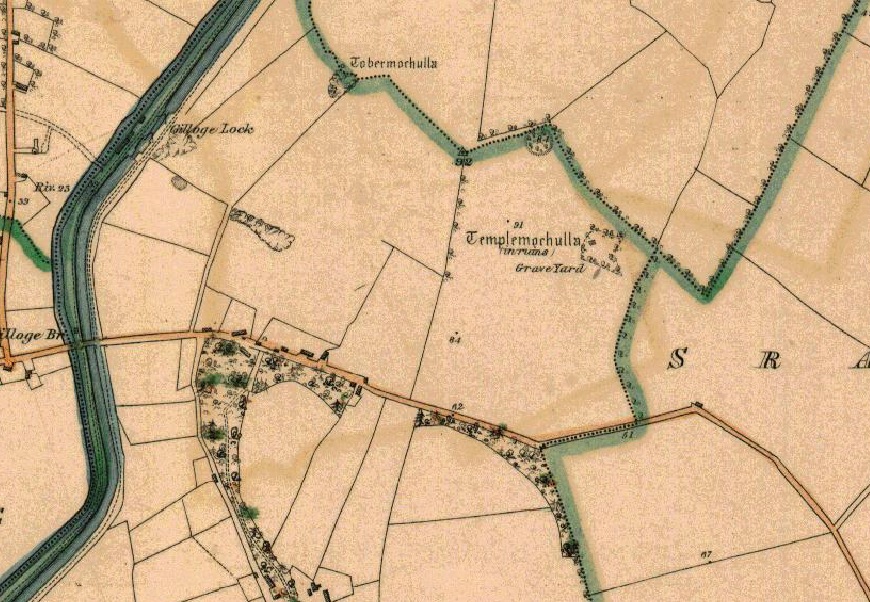 Teampall Mochulla on OSI 1829 to 1842 map. From
[CCL]
.
See
1887 to 1913 map
.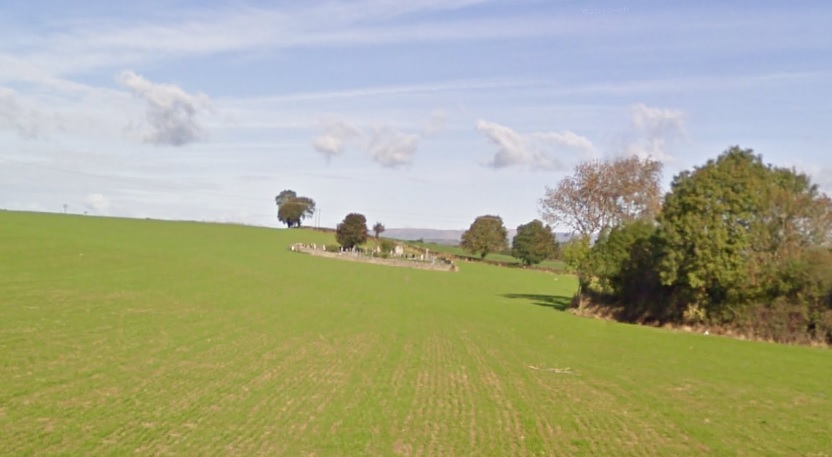 Teampall Mochulla.
2010 screenshot from street view.
See map.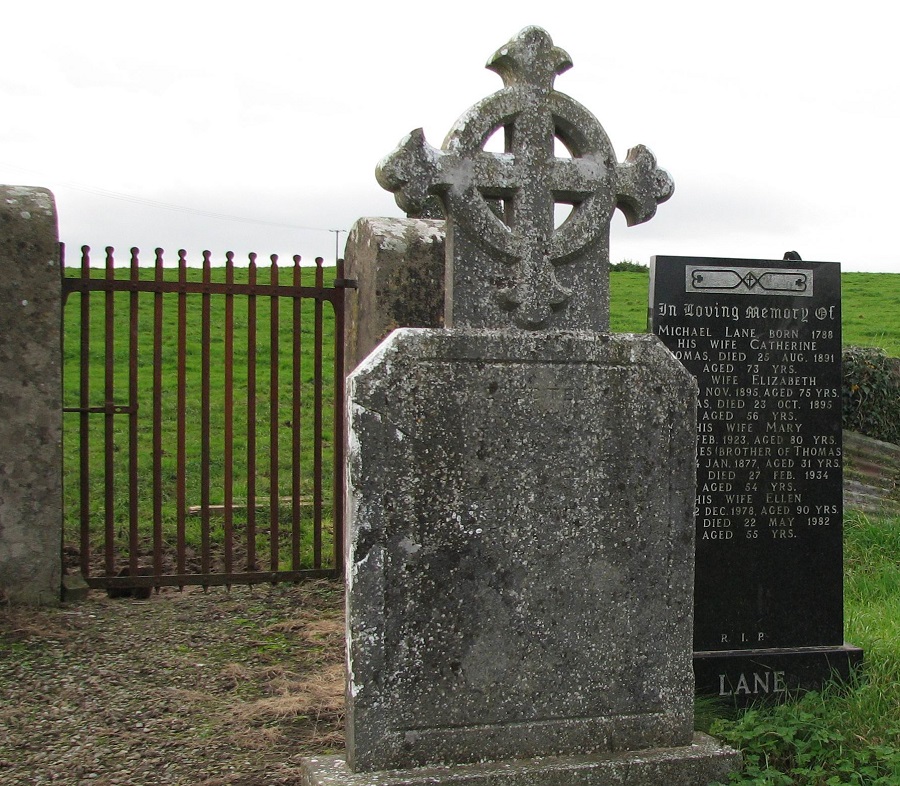 Lane grave at Teampall Mochulla.
This (grey stone in foreground) is apparently the grave of Ellen Madden.
It is apparently the grave with the inscription: "Erected by Patrick Lane in memory of his beloved wife Ellen Lane who died on 10/?/1878 aged 60 years."
See full size. Picture courtesy of Ray Lane.
---