Francis Sharp (died 1795)

Marriage of Francis Sharp and Mary Sharp (see their signatures), 6 Jan 1771, Stamford.
Says he is a musician.
From
here
.
Francis Sharp
,
bapt 8 July 1749.
He was a
musician
. He played the
pianoforte
.
He studied music under
J.C. Bach
(who lived in London from 1762 to death 1782). Maybe this is how Francis married in London in 1770.
Surname is signed "Sharp" at marriage 1771.
At mar 1771 he is listed as a musician.
He mar
Mary Sharp
[NOT Margaret].
They mar 18 Aug 1770 in
Saint Martin In The Fields
, Westminster, London.
Due to some irregularity they had another marriage ceremony on 6 Jan 1771 at
St.George's church
, Stamford.
She is signed "Mary Sharp" at marriage 1771. It is possible that she has already adopted his name (since 1770) so this is not her maiden name.
They are both listed as of parish of St.George's, Stamford. (But for her this might be only since 1770.)
Children baptised in Stamford 1771 to 1788.
[Fleming, 2017] says that he acquired his freedom (from apprenticeship) on 25 Aug 1773.
See Francis Sharp's musical career and interests (items from 1775 to 1794).
He became a "wait" (town musician) for Stamford on 29 Sept 1776, after his father before him.
He is listed as "musician" at son's bapt 1777.
His father died 1783.
He took over running concerts at Stamford, with help of his mother.
See ad for a forthcoming concert organised by "Francis Sharp and his Mother", Stamford Mercury, 14 January 1785.
He is listed in 1785 ad as of St. George's St, Stamford. (The street that runs past St.George's church. See map.)
At concerts in 1786 he is listed as of St. George's St.
He taught piano.
He was churchwarden of St.George's church, Stamford.
Mary dies, 1793:
She died 3 Dec 1793.
Mary, wife of Francis Sharp, was bur 6 Dec 1793, St.George's church, Stamford. See entry from here.
See notice on p.1153 of Gentleman's Magazine, Dec 1793. Confirms she is wife of the musician.
He must be Francis Sharp, gentleman, widower, of St.George's parish, Stamford, who enters into a marriage bond, 30 June 1794, with Martha Sharp, spinster. See bond from here.
Francis dies, 1795:
He died 1795, age 46 yrs.
He was bur 12 Nov 1795, St.George's church, Stamford. See entry from here.
See transcript of notice in Stamford Mercury, 13 Nov 1795. From [Fleming, 2017]. See poor quality image from here.
The children were orphaned in 1795.
See Francis Sharp's published music.
Francis and Mary had issue: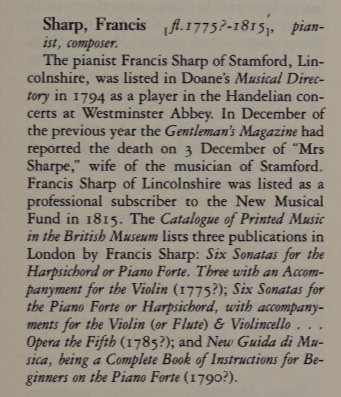 Entry for Francis Sharp on p.279 of
Vol.13
(1991) of
[Bio. Actors etc.]
.
Not sure who Francis Sharp of Lincolnshire in 1815 is. Could be
Francis Sharpe of Knutsford
. Or could be the
Grantham family
.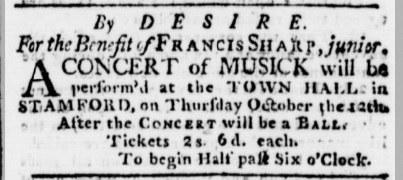 "Francis Sharp, junior" promoting his own concerts while his father was alive.
From Stamford Mercury, 28 Sept 1775.
After his father died, Francis Sharp continued organising concerts at Stamford for many years.
---
---
---
Sources yet to be consulted
GB 2235 Stamford Manor. Manorial records of Stamford, deposited in the Town Hall, Stamford.

Hall papers 1773, Session 5 (26 Aug 1773), has "Birth Certificate of Francis Sharp."

Payments to musicians at Burghley House near Stamford (seat of Earl of Exeter and later Marquess of Exeter).

A Descriptive Catalogue of the Music Collection at Burghley House, Stamford, Gerald Gifford, 2002.

Francis Sharp on pp. 8, 11, 22, 41. About Sharp performing music at Burghley House.