Skene of Skene, Aberdeenshire, Scotland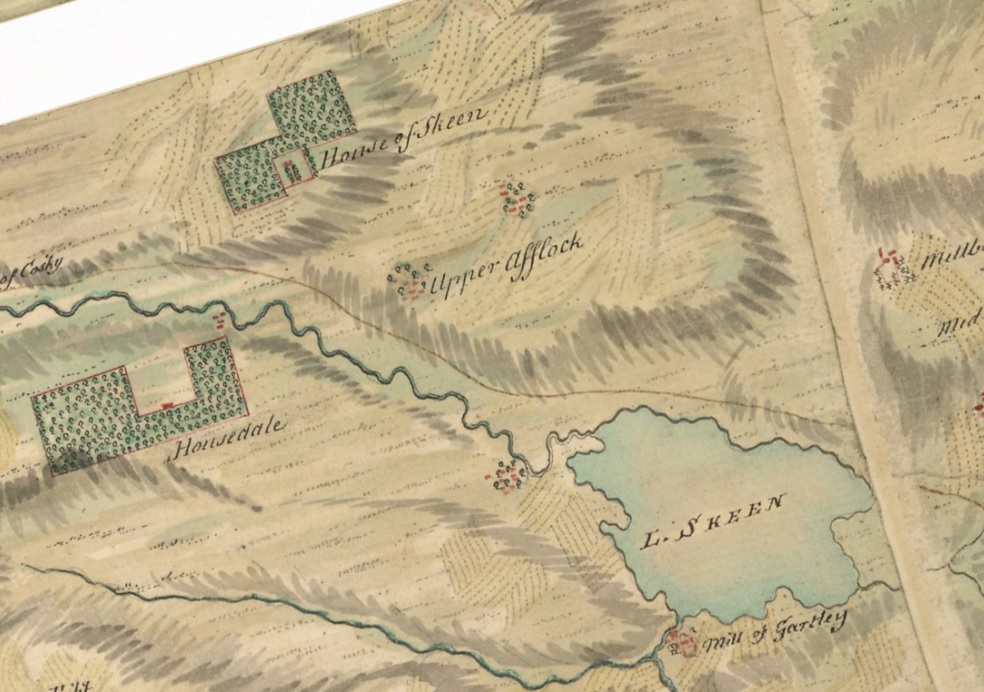 Skene on
Roy Military Survey of Scotland, 1747-1755
.
Skene were a prominent family in Aberdeenshire since medieval times.
Their seat was
Skene Castle
(later called Skene House, central tower built 1217), near Lyne of Skene,
Skene
, W of Aberdeen, Aberdeenshire.
Following the numbering adopted in
[Skene, 1887]
, the first Laird is:
Robert Skene, 1st Laird of Skene.
He was granted the Barony of Skene by Robert the Bruce in 1317.
The 1st Laird is ancestor of:
Adam Skene, 5th Laird of Skene.
He mar
Janet Keith
[possibly descendant of
David I, King of Scotland
and of
Henry I
].
He was killed in
Battle of Harlaw
1411.
They had issue:

James Skene, 6th Laird of Skene.
He succ 1411.
He mar [widow of Fraser of Corntoun].
He died 1461.
They had issue:

Alexander Skene, 7th Laird of Skene.
He mar [settlement 1438] to Mariot of Kinarde.
He succ 1461.
He died 1470.
They had issue:

Gilbert Skene, 8th Laird of Skene.
He succ 1470.
He mar 1481 to Cristina Mercer.
He died 1485.
Cristina remarried.
8th Laird and Cristina had issue:
Alexander Skene, 9th Laird of Skene,
born est c.1481.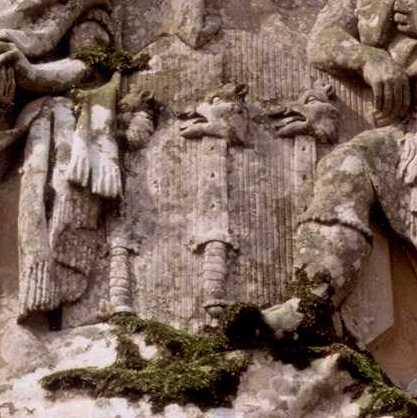 The Skene arms (3 daggers with wolves' heads) on the front of
Skene House
.
Photo 1994. Picture courtesy of Judith Campbell.
See
full size
, where one can see the motto, "Virtutis regia merces" ("A palace the reward of bravery").
See also
photo 1998
.
See also the
joint Skene and Ædie arms
inside the house.
---
References
---
Sources yet to be consulted
---