Spring Rice, Baron Monteagle
Sources yet to be consulted:
Rice apparently came to Mount Trenchard, Co.Limerick, in 1767.
Stephen Edward Rice,
of
Mount Trenchard House
, between Loghill and
Foynes
, Co.Limerick.
He mar 1785 to
Katherine Spring
[descendant of
Edward III
].
He died 1831.
They had issue:

Thomas Spring Rice, 1st Baron Monteagle of Brandon, born 1790.
Chancellor of the Exchequer 1835-1839.
He was cr Baron Monteagle 1839.
He died 1866.
He had issue:

Stephen Spring Rice,
born 1814, eldest son.
He became a friend at Cambridge of Arthur Helps.
Helps became private secretary to his father.
Stephen died 1865, just before his father.
He had issue:
Thomas Spring Rice, 2nd Baron Monteagle of Brandon, born 1849.
He succ 1866.
He mar 1875 to Elizabeth Butcher.
He was a Gaelic revival enthusiast.
Elizabeth was friendly with Bessie O'Brien.
She delivered a tribute to Thomas T. Madigan when he died in 1904.
She died 1908.
2nd Baron arranged for a defence for Willie Madigan at his trial in 1921.
He died 1926.
2nd Baron and Elizabeth had issue:

Mary Spring Rice, born 1880.
Irish nationalist.
She was involved in the Howth gun-running 1914.
See biography.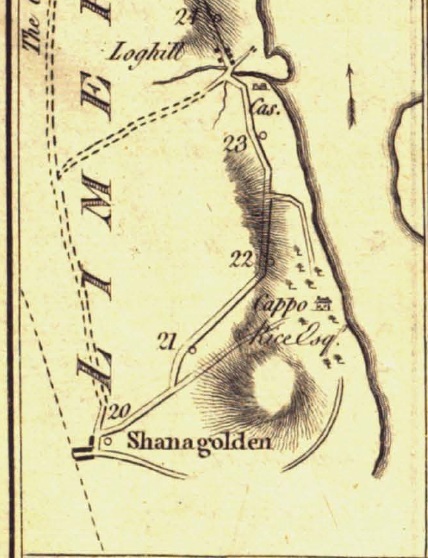 Cappa
(Mount Trenchard) on
p.106
of
[Taylor and Skinner, 1777]
.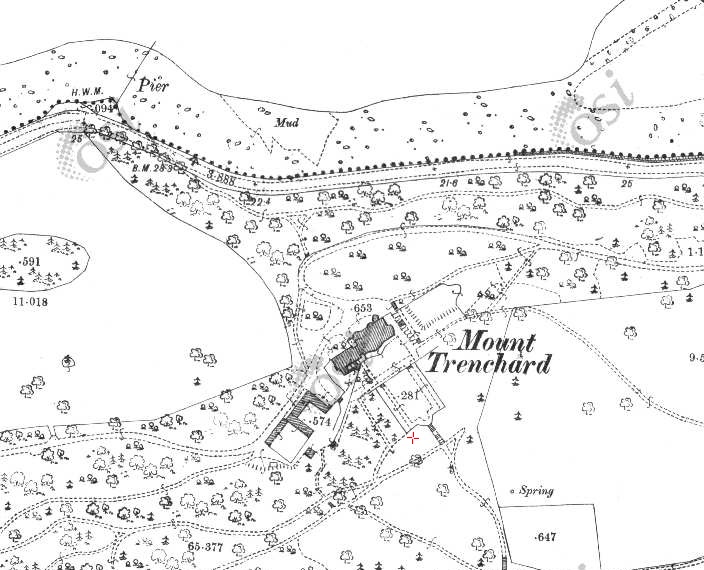 Mount Trenchard on 1887 to 1913 map.
See modern satellite view and street view of W entrance and E entrance.
---