Cashel of Co.Kerry
Our Cashel family is apparently of Co.Kerry.
They descend from the
Blennerhassett
family of Ireland, though from what branch is not clear.
References:

Our family:

Miscellaneous

Francis Ledwidge:

Sources yet to be consulted:

Madden genealogies, pre-1703 (described as "the principal families in Ireland at the close of the 17th century"), [TCD] Ms 1217 (formerly called Ms vol. F.4.18), may only be consulted on microfilm at [TCD] Ms

[O'Hart, 1884] says this has genealogy of CASHELL, but can't find in index. Anyway the genealogies (in the microfilm version at least) are illegible. They need to be decoded by an expert and published.

Genealogies, early 1600s, [TCD] Ms 1212 (formerly called Ms vol. E.3.2)
---
Cashel of Co.Kerry (married Blennerhassett) (our family)
Spelling:
The proper spelling of our family seems to be "Cashel" not "Cashell".
George Cashel is spelled "George Cashell" in many places, but none apparently written by him. (Disciplinary action in 1829, land records in 1850s, Petty Sessions in 1850s-60s, land records in 1860s.)
William Henry Cashel is spelled "William Henry Cashell" in a newspaper of 1869.
After 1870 the spelling in the family is always "Cashel".
Our family starts with:
Edward Cashel,
or Edward George Cashel [PAT/13, no.2-3],
or George Edward Cashel [PAT/13, no.6],
Catholic,
said to be a runaway marriage,
mar Letitia Blennerhassett [born est c.1785, Protestant, poss. descendant of Edward III],
see our tradition of descent from Blennerhassett,
see our tradition of descent from a Letitia Blennerhassett,
had issue:




George Cashel,
George Blennerhassett Cashel,
born 1807, Co.Kerry.
Since he retired 1 Feb 1867, maybe this was at age 60 and maybe he was born around 1 Feb 1807.
Catholic (though this may only have been through his marriage in 1838).
[PAT/13, no.6] lists him as "George Edward Cashel", but the only contemporary record of his middle name is his son's wedding 1869 which lists him as "George Blennerhassett Cashel".

George Blennerhassett Cashel's
middle name displayed on mar cert of his son
Blennerhassett Cashel
in 1869.
See
larger
and
full size
.
See
our tradition of descent from Blennerhassett
.


Detail from grave of George's son Blennerhassett Cashel.



George Cashel's RIC record.
Showing that he was recommended by "A. Blennerhasset, J.P." when he joined the County Constabulary in 1828.



The notes of Pat Lavelle show the mother of George Cashel as a Letitia Blennerhassett.
See our tradition of descent from a Letitia Blennerhassett.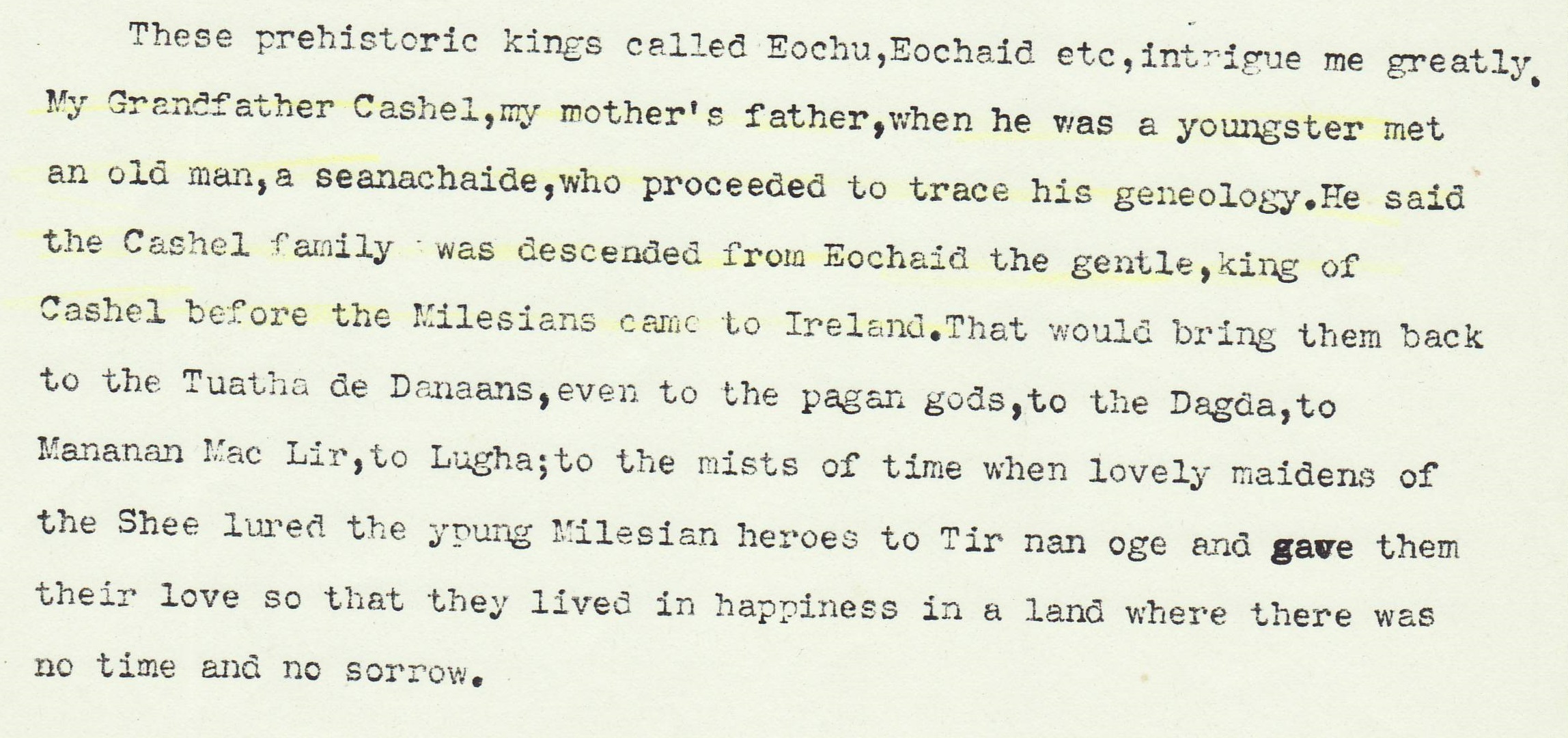 Some fictional Gaelic genealogy about Cashel from Pat Lavelle in [PAT/4].
She refers to her grandfather Blennerhassett Cashel.
Pat was fascinated by old Gaelic Ireland, but ironically, she could not see that Blennerhassett, not Cashel, or any other family, was the only line that could actually give her a real descent from old Gaelic Ireland. A bit more work on the real Cashel tree would probably have yielded all the ancient Gaelic ancestry anyone could want.
The claimed connection of Blennerhassett Cashel to the Kings of Cashel is imaginary.
However, his grandmother may well be Letitia Blennerhassett of Tarbert, who is a proven descendant of the Kings of Thomond and Kings of Munster. Every step in her descent is proven.
So if Pat's grandfather had only written down who his own grandmother was, the family today might have a real, proven descent from the ancient Gaelic Kings of Munster.
---
The following are a Cashell (or sometimes Cashel) family of Co.Kerry (and Co.Tipperary) who descend from Blennerhassett through a marriage in the 1720s. This could be our family, or it may be just a coincidence.
This could be our family:
This could be our family, but they wouldn't suddenly start adopting Blennerhassett as a name in 1807 unless there was another, later connection to the Blennerhassetts. Perhaps this is our family, and the reason that the 1807 Cashel and Blennerhassett got together was because they were already connected.
This Cashell family are connected to Blennerhassett since the 1720s, and stayed in touch with their Blennerhassett relations through the 18th century, notably with the Ballyseedy branch. This would have provided lots of opportunity for a Cashel to get together with a Blennerhassett:

This Cashell family lived in and near Tralee, Co.Kerry, and also had an estate at Shallee, N Co.Tipperary. Our George Blennerhassett Cashel was born in Co.Kerry and settled in Co.Tipperary (though only because he was sent there by his job in the police, and he was sent nowhere near Shallee).
Cashel / Cashell of Listowel, Co.Kerry are also linked through Bevan to Cashell / Cashel of Bushfield, Co.Tipperary.
How did our Cashel become Catholic? Interestingly, Jacobie O'Leary Cashel thought her great-grandfather Rowan Cashel was Catholic. Rowan was defended by the Catholic Daniel O'Connell. Could Ellen Alton have been Catholic, and this is where the Catholic line came in, and then Rowan's brother be the Catholic who married the Blennerhassett? Not very likely. See below.
This could be just a coincidence:
This could be just a coincidence. There could be two Cashel families connected to Blennerhassett.
The biggest problem is that this family are Protestant. If Cashel were Protestant, and Blennerhassett were Protestant, then how did my Cashels become Catholic?
Apart from Jacobie O'Leary Cashel, there is no sign that any of these Cashels are Catholic. Rowan Cashel's marriage licence 1816 would surely have mentioned it.
His sons by different marriages Rowan Francis Cashel and Frederick Knipe Cashel do not look Catholic either. Their marriages seem to be normal C of I.
Also Rowan's brother George seems to inherit Shallee, and have a son George of Shallee, so this cannot be our line. Unless there is another brother Edward.
We start this family with the following. The Ballynevan area of Co.Clare seems to be the ancestral home:
Patrick Cashell,
or Cashel, gentleman,
of "Ballynavin", Co.Clare, NOT Co.Kerry,
think this is Ballynevan, Kilfinaghta par, SE Co.Clare (N of Sixmilebridge, not far from Co.Limerick border, Limerick city and Co.Tipperary border, see map), since this is prob. the same family as that of Sixmilebridge below,
so think this is NOT Ballyknavin, O'Briensbridge par, SE Co.Clare (NW of O'Briensbridge, closer to Co.Tipperary border, across the far side of the River Shannon from Shallee area, Co.Tipperary),
also, it may be coincidence, but Ballynevan is in the "Mountcashel" area,
Patrick's will dated 24th Jan 1734,
died 1734-35,
will proved 17th Mar 1735 [Index to Irish Wills, vol.3], think burnt in Four Courts 1922,
this also noted in [Betham abstracts] vol.8 p.73, [NLI] GO Ms 230, [NLI] microfilm POS 1220 (illegible),
had issue:
Francis Cashell.

Henry Cashell.
Must be the same as:
Patrick Cashell,
"colonus" (farmer),
had issue:
Francis Cashell,
born 1697, Sixmilebridge, Kilfinaghta par, Co.Clare,
educ at Mr.Cashin's school, Limerick,
educ TCD,
went up 13th May 1715, age 18, "Pensioner" (i.e. paid normal fees, from family of middling means),
BA Spring 1719 [TCD Alumni].
And this is probably the same Francis Cashell that married Rowan, for three reasons, (a) the date of birth is about right, (b) then Patrick is the great-grandfather of Rowan Patrick Cashell and must be the origin of his middle name, and (c) later, as of 1760, Ballynevan seems to be connected with Henry Cashell:
Francis Cashell,
of Shallee, N Co.Tipperary [near E Co.Clare and NE Co.Limerick],
married 1720s to Rowan of Co.Kerry [whose mother was a Blennerhassett],
family lived in both Co.Tipperary and Co.Kerry.
---
---
Links
The Irish novelist, Charles James Lever, wrote a novel, Roland Cashel (this is the name of the hero), 1849.

Connection to Stack:

Eithne O'Mara thought our Cashels were somehow related to Stack of Listowel, Co.Kerry. No evidence for this has been found.

Connection to Ledwidge:

There was a story that the poet Francis Ledwidge (and search) is somehow related to our Cashels. No evidence for this has been found.
Francis Ledwidge was born 1887, Slane, Co.Meath, the son of Patrick Ledwidge [born 1840], a migrant labourer, and his wife Anne Lynch [born 1850, dau of Nicholas Lynch, of Slane].