The claim that the 1st Baronet had a daughter Catherine
Evidence
suggests our family may descend from a previously-unknown daughter of
Sir Rowland Blennerhassett, 1st Baronet
.
So I am keen to establish if he had a daughter.
In the past, there were claims that he had a daughter Catherine.
This seems to be false.
---
The printed histories
The printed family histories such as Debrett's and Burke's at one point showed a Catherine. But this seems to be an error.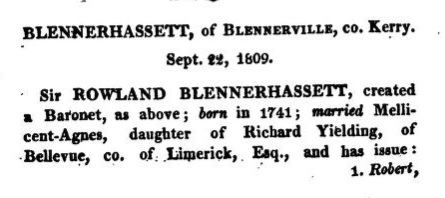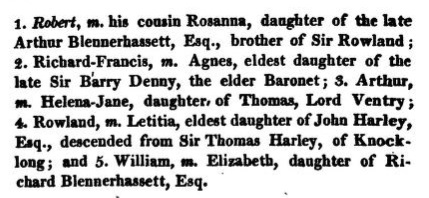 The 1st Baronet has no daughter in the entry for Blennerhassett in [Debrett's Baronetage, 1815].
This is on p.1247 of vol.2.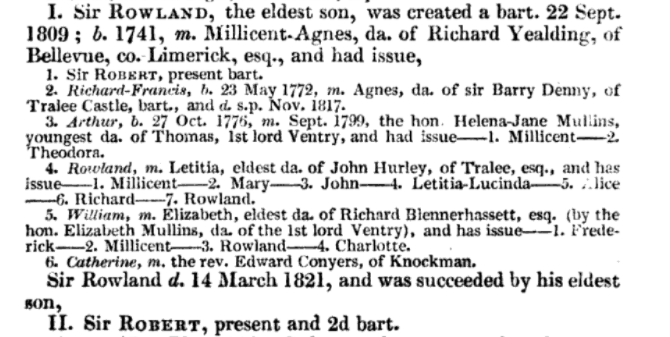 The 1st Baronet is listed with a daughter Catherine on p.628 of [Debrett's Baronetage, 1828].
This is in the time of the 2nd Baronet. He cannot be paying much attention to Debrett's if he allowed it to list him with the wrong sister.
In the entry, the 1st Baronet's daughter Catherine marries Rev. Edward Conyers, of "Knockman".
Knockman however is not a CoI parish.
This must be confusion with Catherine, dau of the 2nd Baronet, who married Rev. Edward Fitzgerald Conyers, Rector of Knockane, Co.Kerry. He was from the family of Conyers of Castletown Conyers, Co.Limerick.
In fact, Debrett's lists that Catherine as well. That is, it lists both the 1st Baronet and the 2nd Baronet with a dau Catherine who marries a Rev. Edward Conyers.
But [Ardfert and Aghadoe Clergy] says there is only one Rev. Conyers in Co.Kerry, the one of Knockane who married the daughter of the 2nd Baronet.
Other 19th century sources duplicate this
Late 19th century sources remove this
In the late 19th century, the printed histories seem to have decided this "Catherine" was an error and removed her:
---
Records of Ballingarry
More confusion was caused by a misleading extract from the book
Records of Ballingarry
.


Catherine Blennerhassett, born 1788, daughter of "Sir R. Blennerhassett".
From Limerick City Library extracts from the book Records of Ballingarry [Hamilton, 1930].
If she really was born 1788, this would be a dau of the 1st Baronet, not the 2nd Baronet (who married 1790).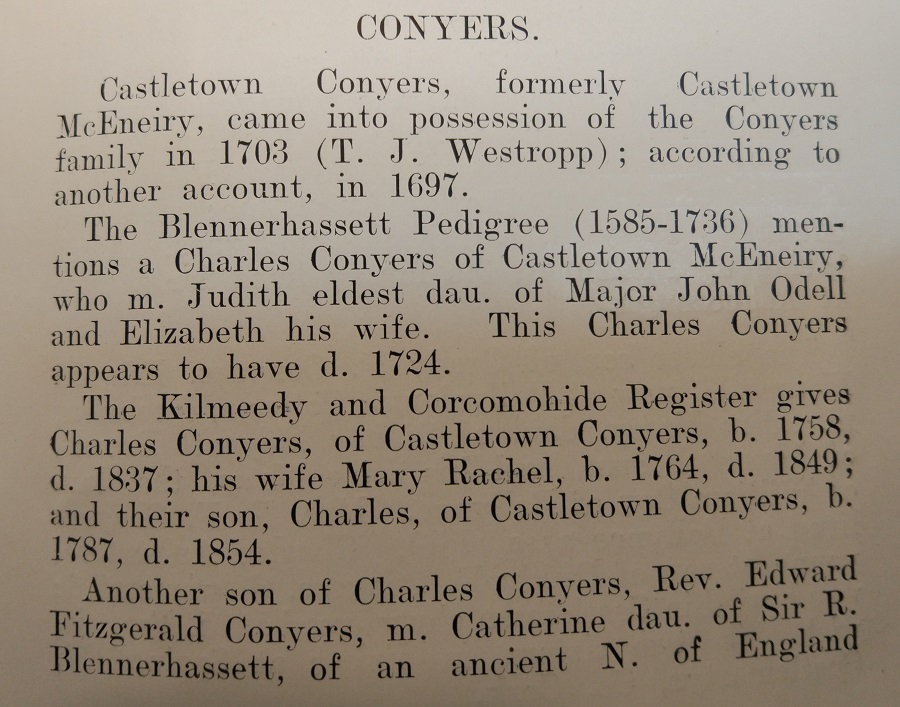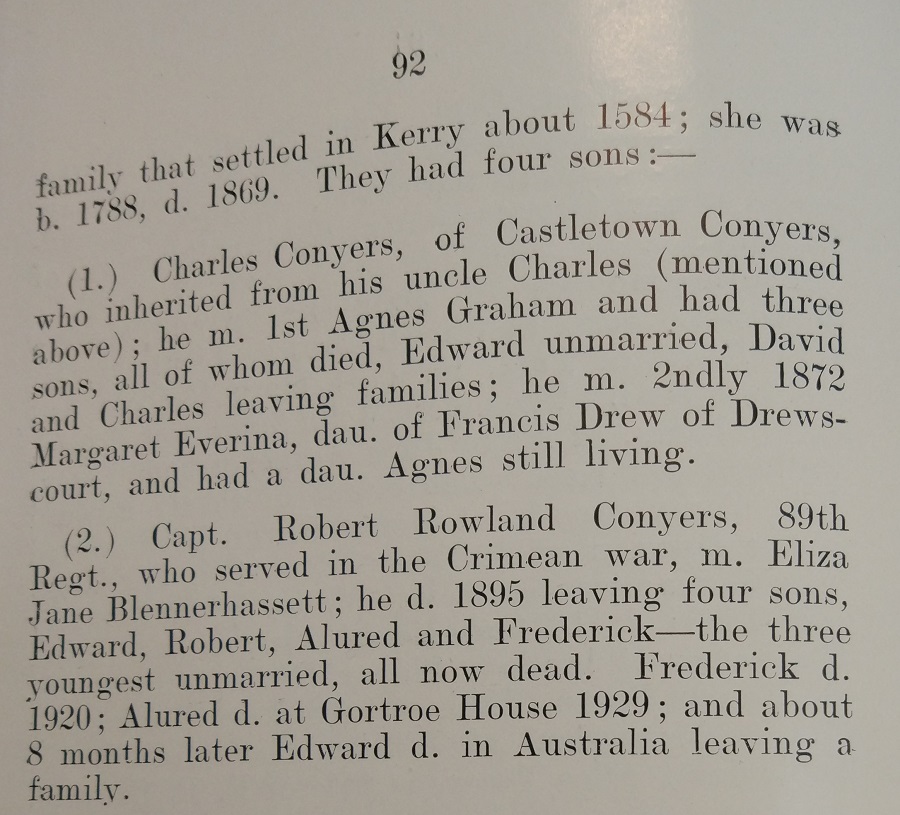 When we look at the original source in [Hamilton, 1930] though, we see the extract is misleading.
The extract makes it look like it is an original baptism entry. But it is not. It is just an extract from a set of family notes in the book. In the original notes, Catherine is discussed as the person who married Rev. Edward Conyers and was born 1788 and died 1869. This context is lost when making the extract of BMD.
So there is no new Catherine. The date 1788 is simply an error.