Judge Robert Day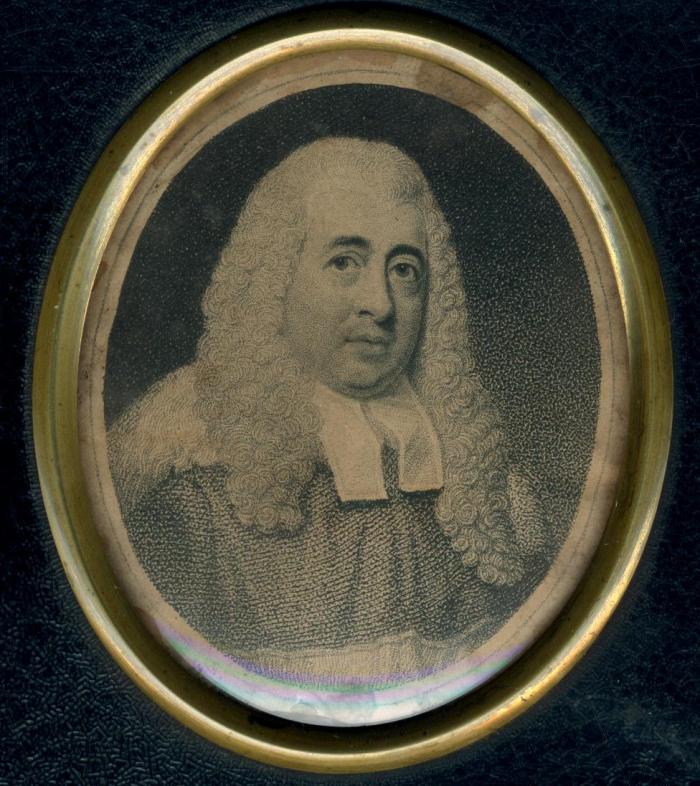 Judge Robert Day.
From
Gerald O'Carroll
.
Judge Robert Day
,
Hon. Justice Robert Day, Bob, judge, MP,
born 1 July 1746.
See
Wikipedia
.
See
entry
in
Day genealogy
by
Linda Eccles
.
He mar 1stly, 1774, to Mary Potts [Polly].
Day's uncle the 17th Knight of Kerry died in 1781. Day's 1st cousin, Maurice FitzGerald, 18th Knight of Kerry (born 1774) was only a boy when his father died. Day acted as his guardian during his childhood.
Day was a friend of Grattan.
He built Day Place in Tralee, 1794 (or poss. 1805).
Day Place is a row of fine Georgian houses on Prince's St, W side of Tralee town (see map and street view).
From 1796 he lived at Loughlinstown House, Loughlinstown, Co.Dublin.
Mary FitzGerald joined the household as a companion for Day's wife and later nurse for her. Beginning before 1797, Day had a long-term affair with Mary FitzGerald and had two sons. He later married her, after his wife died.
He was a friend of O'Connell.
He was the judge in the Rowan Cashel trial 1816.
Retired 1818, age 72 yrs.
His wife Mary Potts died 1823.
He had issue by 1st wife Mary Potts:
Elizabeth Day,
Betsy, born 1779.
She mar 26 May 1795 [her age 16] to Sir Edward Denny, 3rd Baronet and had issue.

He mar 2ndly, 1824, to his long-term mistress Mary FitzGerald (with whom he already had two sons).
He discusses his plan to marry her in letter of 2 Feb 1824. He is concerned with how society will view his marriage.
He died 1841, age 95 yrs.
He had issue by 2nd wife Mary FitzGerald:
Rev. John Day,
born 1797 [from age at death].
Born out of wedlock. Parents later married.

Rev. Edward Day,
born 1804 [from age in 1861 census].
Born out of wedlock. Parents later married.
He had issue:

Col. John Day,
John George Fitzgerald Day, born 1854.
He mar Ella Home [Eliza Blanche Home].
Both of them researched the Day family history.
They deposited Day papers in [RIA].
Col. John died 1931.
Ella is "Ella B. Day", the author of [Day, 1938].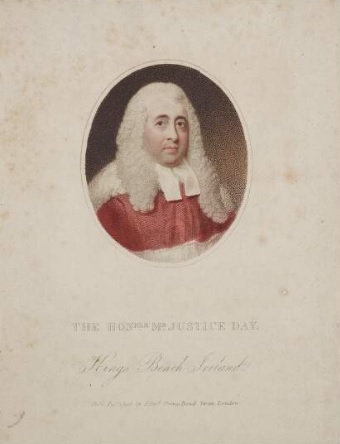 Judge Robert Day.
This is a print of 1807.
NLI Prints & Drawings
EP DAY-RO (1A) I
.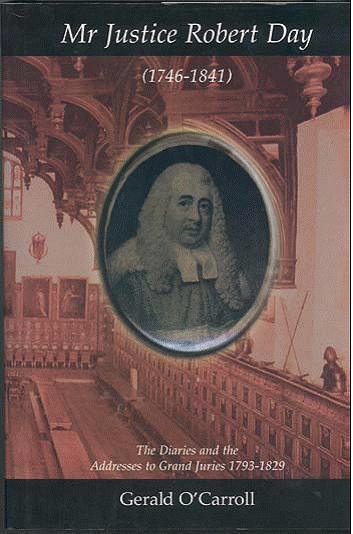 Cover of [O'Carroll, 2004].
From Gerald O'Carroll.
---
References
---
Day papers in [RIA] 12 W 7-17.
Deposited by Col. John Day and his wife Ella Home.
12 W 7. Day family tree research. Photos used in [Day, 1938].

Diary of Judge Robert Day:

12 W 14. Entries 1794 (up to p.58) and 1827-1828 (p.59 on).
12 W 15. Entries 1801.
12 W 16. Entries 1828-1831 (NOT 1827, NOT 1840).
12 W 17. Entries 1832-1840.
---
Sources yet to be consulted
DAY, ROBERT in [DIB]

Diary of Judge Robert Day. 1807-1813 entries.

This is in Osborn Collection, Beinecke Library, Yale University, New Haven, Connecticut. Reference: Osborn d147 1/2.
A photostat copy was given to [RIA] to join the rest of the diary. See catalogue entry. However it has since been removed from view (probably because needs Yale permission).