Rowan Patrick Cashel

The signatures at Rowan's 2nd marriage, 4 Mar 1828
[St.Mary's CoI Church, Dublin]
.
See
full size
.
Rowan Patrick Cashel
[descendant of
Edward III
],
Rowan Cashel, or Cashell,
seems to have signed himself Cashel, but then his descendants are found again using Cashell,
born est c.1789.
He was educ Donnybrook, Co.Dublin.
He was an attorney, admitted to
[King's Inns]
Hilary term 1806, age over 16.
Killed a friend in a duel, 1815: He killed Arthur O'Connor in a duel in 1815 [him age est c.26, O'Connor age est c.17].
They were friends. James O'Connor said: "he [Cashel] dined twice at our house in that week in which the dispute occurred".
The argument started over a bet, Sat 5th Aug 1815, Billiard Room, Tralee. It escalated into blows and notices over next two days.
They met with pistols, about 9am, Mon 7th Aug 1815, in the grounds of the old building at Ballyseedy. The site was described as in a field near the W gate of Ballyseedy. See [Hickson, 1874, p.114] and [Mc Morran, 1996].
It seems to have been a cowardly duel. O'Connor missed, and then Cashel took his time aiming and shooting him. O'Connor was seriously wounded.
[Limerick Gazette, 8 Aug 1815] reports the duel and injury.
O'Connor died 9th Aug 1815.
This was Cashel's 4th duel. [O'Connor, 1816] says: "this man had" [in his time] "personally insulted one half of the young men" [in Co.Kerry].

Tried for murder, acquitted, 1816:
Cashel is described as an "Attorney" of Tralee at trial in 1816.
The judge for the trial was Judge Robert Day.
See a letter of 27 Jan 1816 from Judge Day to his cousin the Knight of Kerry. It does not mention Cashel by name, but it is clearly about the upcoming case.
[Freemans Journal, Saturday, February 10, 1816] notes that Cashel has agreed to surrender himself for trial.
Cashel was tried for murder at the Assizes of Tralee, which opened Tue 26 Mar 1816.
Daniel O'Connell, the Liberator was counsel for defence.
By this time, any homicide in a duel was deemed to be legal murder. Under this definition Cashel was obviously guilty, but the judge, Robert Day, made an extraordinary speech to the jury, attacking the law itself, saying that it conflicts with the law of society where a man must defend his honour or be shamed, after which the jury returned a verdict of "not guilty", and Cashel was acquitted.
See notice in Limerick Evening Post, Wed 3rd Apr 1816, [LCL] microfilm, announcing his acquittal.
See item in The Times, Mon 15 Apr 1816.

Allegation of corruption: There were various allegations of bias levelled at Judge Robert Day:
The prosecution had tried to get another judge, but to no avail.
Judge Day's retirement in 1818 was said to be caused by public indignation at the verdict.
Day's grandson Edward Denny failed to become an MP for Kerry in the 1818 election. He instead became MP for Tralee at same election.
Rowan never duelled again.
Rowan was living Dublin city at mar 1816.
He mar just 4 months after acquittal.
He mar 1stly, Tue 13th Aug 1816, at Silvermines church [Freeman's Journal, Mon 19th Aug 1816, p.3], also noted here,
to Alicia Lawrence [or "Elizabeth", or Eliza, only dau of William Lawrence, or poss. Laurence, of Silvermines, Co.Tipperary, the area where Cashel's family were originally from].
Marriage licence, Killaloe Diocese, 12th Aug 1816, security: "William Laurence".
He is listed as attorney, with office at 57 Capel St (near the Four Courts), Dublin, in [Pigot's Directory, 1820].
Alicia must have died between 1824 and 1828.
As at his 2nd mar 1828 Rowan was living Lissenhall, Co.Tipperary.
Rowan had issue by 1st wife:
George William Cashel,
George Cashel, born Co.Tipperary, 1818 or 1819.
Would be after grandfather.
He may be the unnamed son of Rowan who was born 11 Aug 1817 at "Silvermines Castle".
See notice in Freeman's Journal, 20 Aug 1817.
(todo) See Limerick Chronicle, 20 Aug 1817.




Alicia Rowan Cashel,
eldest dau, named after mother and father.
She mar 14 Sept 1841, Silvermines church, Co.Tipperary,
to William Middleton, of Elmhill (or Elm-hill), Ballymackey par, NW of Toomevara, NE of Nenagh, Co.Tipperary.
See mar notice in Freeman's Journal, 17th Sept 1841.
See other notices.




Rowan Francis Cashel, born 1824,
Rowan F. Cashel, NOT Ronan,
middle name must be from his great-grandfather Francis Cashell.
Rowan mar 2ndly, 4 Mar 1828
[St.Mary's CoI Church, Dublin]
to
Henrietta Emilia ----
[or Emelia or Amelia].
She was widow of Capt. Frederick Bennett, of the 3rd (poss. 2nd)
Bengal Native Cavalry
.
[Rhodesia family tree]
thinks she is
--- O'Leary
and is Catholic.
Note that O'Leary is a middle name in the family
later
, and Frederick is a first name.
See marriage in [
Kerry Evening Post
, Wed 12th Mar 1828,
[KCL]
RR microfilm].
See [
Chute's Western Herald or Kerry Advertiser
, Sat 15th (NOT 1st) Mar 1828,
[KCL]
RR microfilm].
(todo) See marriage licence, Diocese of Dublin, in [13th Report of
the Deputy Keeper of Public Records
, Appendix, p.26].
He must be the "Rowan Cashell" who gave evidence on 6th day of the Criminal Assizes in Clonmel, Co.Tipperary, Sat 28th Mar 1829, about a dispute over some of his land at "Glenculloe" [unidentified], Feb 1829.
See report in Clonmel Herald, 28th Mar - 1st Apr 1829. (todo) See original.
A James Ryan was convicted of attacks and transported to Australia. The judge said he had no doubt that the intention of the attacks was to prevent the letting of these lands and the "object of which is to deprive Landlords of all power over their property and to enable the tenants in possession to keep lands on their own terms; but said his Lordship this practice must be put down - the law must be put in force to effect this desirable purpose."
His residence is referred to as "Leeson Hall, county Tipperary" at dau's birth 1829.
Henrietta died 8th Aug 1832, Cove (now Cobh), Co.Cork, "in prime of life", [Limerick Chronicle]. (todo) See original.
Left him again with small children with no mother.
[Tithe Survey] for 1834 apparently lists one Cashel in Kilmore parish. (todo) See.
KILMORE (also here) in [Lewis, 1837] lists one of the principal seats of Kilmore par as "Lissen Hall, the property of R. Otway Cave, Esq., and in the occupation of Rowan P. Cashel, Esq."
Rowan is listed as a subscriber to [Lewis, 1837].
"R.P. Cashell" of "Lessane Hall" was executor of will of "William Laurence" (must be his father-in-law) 1838, Killaloe & Kilfenora Diocese. (todo) See [NAI] IAR/1838/F/80, Volume Name 4/237/36.
Looks like he left Lissenhall pre-1841.
Listed as "of Silvermines Cottage", Kilmore par, Co.Tipperary, at dau's wedding 1841.
[Slater's Directory, 1846] and [Pettigrew and Oulton's Directory, 1846] list him as an "attorney" and "solicitor", with an office at 52 Middle Abbey St, Dublin.
[Slater's Directory, 1846] also lists him as having a seat at Silvermines Castle, Co.Tipperary (this sounds like a different place to Lissenhall).
Listed as "Solicitor", apparently living Silvermines, at dau Henrietta's mar 1849 [GROI].
Living Silvermines 1850 [King's Inns].
[Griffiths Valuation, 1850] lists "Rowan P. Cashel" in possession of:
land at Garryard East, Kilmore par, just N of Silvermines
land at Cooleen, Kilmore par, just NE of Silvermines
"ruins" in the town of Silvermines
but apparently himself in occupation of a house at Ballygown South, Kilmore par, just S of Silvermines.
He is listed as "Attorney" at his son Rowan's mar 1851 [GROI].
[Griffiths Valuation, 1852] lists him in possession of:
a number of houses on Bourn's Lane, Nenagh
a number of houses on Castle St, Nenagh
a number of houses on Silver St, Nenagh
He is listed as "Patrick R. Cashel, Solicitor" at his son Frederick Knipe's mar 1853 [GROI].
[Slater's Directory, 1856] lists him at "Silvermines Castle".
Listed as "Rowan Patrick Cashel of Silvermines Cottage" in [Deeds, 1857].
Rowan dies, 1859:
He died Silvermines, morning of Sat 15 Jan 1859, age est c.70 yrs.
See death notice in Limerick Chronicle, 19 Jan 1859. Says he died in Nenagh, on Saturday. Incorrectly calls him "Rowland Cashel".
See obituary in Munster News and Limerick and Clare Advertiser, 19 January 1859. "Mr. Cashel was a member of one of the oldest and respectable families in Kerry, but was for many years resident in the county Tipperary where he was in extensive practice as solicitor, but lately retired from the profession."
Rowan had issue by 2nd wife:
---
Or "Lissen Hall".
Kilmore par, Co.Tipperary (N of Shallee and Silvermines, nearer to Nenagh).
Lissenhall was built by the Otway family in mid-18th century.
Rowan Cashel was living there as at 1828 to 1837. He rented it from the Otway heirs.
He apparently left by 1841.
Now in ruins. See modern
satellite view
.
See
abandonedireland.com
. (Includes 360 degree views.)
References:

Sources yet to be consulted: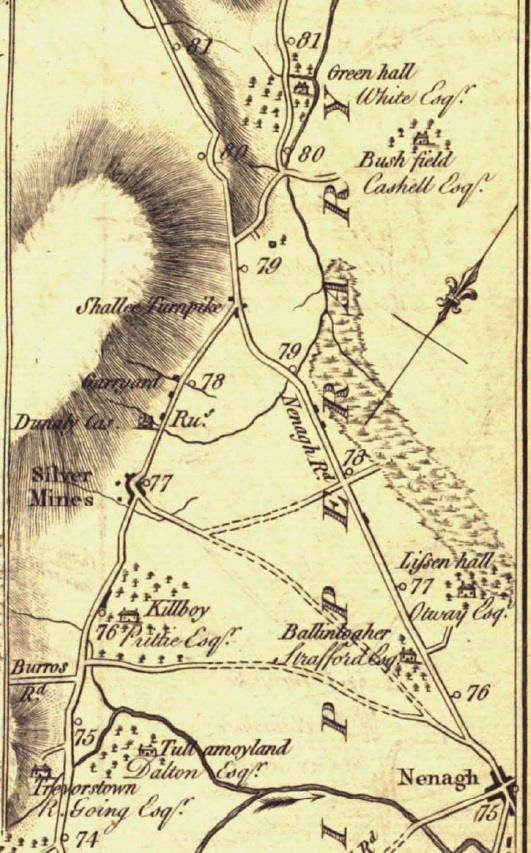 Greenhall and Bushfield and Shallee and Garryard and Silvermines and Lissenhall.
From
p.98
of
[Taylor and Skinner, 1777]
.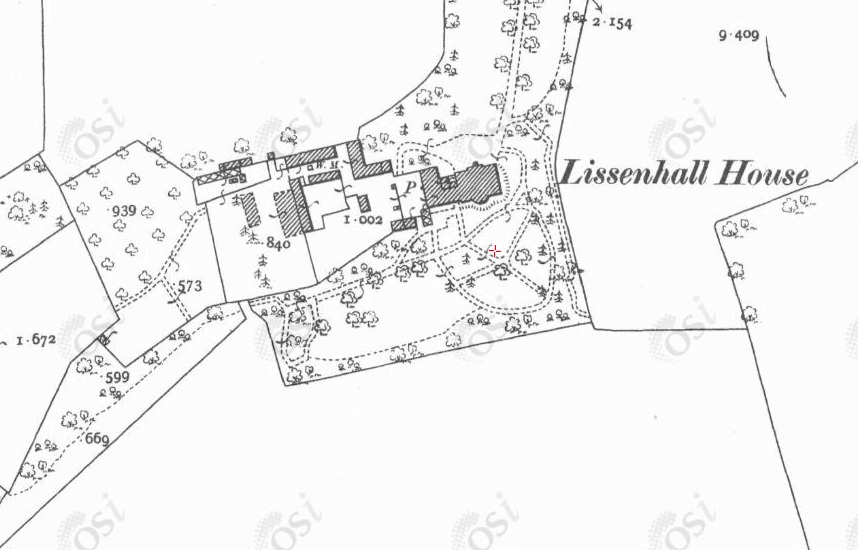 Lissenhall House, Co.Tipperary, in 1887 to 1913 map.
See also 1829 to 1842 map.
---
References
---
Sources yet to be consulted
Limerick General Advertiser, 8, 10, 11 Aug 1815.
Story about another duel involving Rowan Cashel. Kerry Evening Star, March 28, 1904.

Deed, Rowan P. Cashell to Ryan, 1826, [LR] 813 186 547921.
Deed, Rowan P. Cashel and others, 1828, [LR] 832 507 559642.
Deeds, [LR] 1857, vol.31, lands in Co.Tipperary.

No.69, Rowan Patrick Cashel to Nolan, dated 28 Sept 1857.
No.71, Rowan Patrick Cashel to Rock, dated 28 Sept 1857.
No.72, Rowan Patrick Cashel to Fitzgerald, dated 28 Sept 1857.
No.73, Rowan Patrick Cashel to Hayes, dated 28 Sept 1857.
No.74, Rowan Patrick Cashel to Burr, dated 28 Sept 1857.
No.75, Rowan Patrick Cashel, George William Cashel of Liverpool and Rowan Francis Cashel of Toomevara to Burr, dated 28 Oct 1857.
---
"I must deprecate, that this law should countervail the laws of the land, and that we unfortunately cannot oppose this despotic law."
- Judge Robert Day, in his outrageous summing-up to the jury, which led to Rowan Cashel's acquittal, 1816.
---