William Fitzwilliam, 3rd Viscount Fitzwilliam
William Fitzwilliam, 3rd Viscount Fitzwilliam
(see
here
and
here
),
born est c.1610.
He was living in
Dundrum Castle
at the time of the outbreak of the
Rebellion in Oct 1641
. He was loyal to the crown. He was driven out of Dundrum Castle by the rebels.
The rebels in turn were driven out of Dundrum Castle in Jan 1642.
He served with his
brother
in France 1642. He was
Lieutenant colonel
.
Lieutenant-General of
Shropshire
during
English Civil War
.
Living in Dundrum Castle again as at 1646.
He mar Mary Luttrell [born est c.1620, descendant of Edward I].
The Fitzwilliams had left Dundrum Castle by 1653, and did not live there again.
After the Restoration 1660 he lived at Simmonscourt Castle.
He succ his brother as 3rd Viscount 1667.
Mary died pre-1673 [Complete Peerage].
[Complete Peerage] says 3rd Viscount died pre-1673.
Though [Ball, vol.2, 1903] says he died 1675, attended by a Catholic priest, in the parish of St.Nicholas Within, Dublin (the area just in front of Christ Church, on the S side of it).
He was bur Donnybrook church.
3rd Viscount and Mary had issue:
Thomas Fitzwilliam, 4th Viscount Fitzwilliam,
born est c.1645.




Mary Fitzwilliam.
She mar May 1685 to John Browne [born 1651] and had issue.
The Browne seat was at Clongowes, Co.Kildare.

3rd Viscount in
[Complete Peerage]
.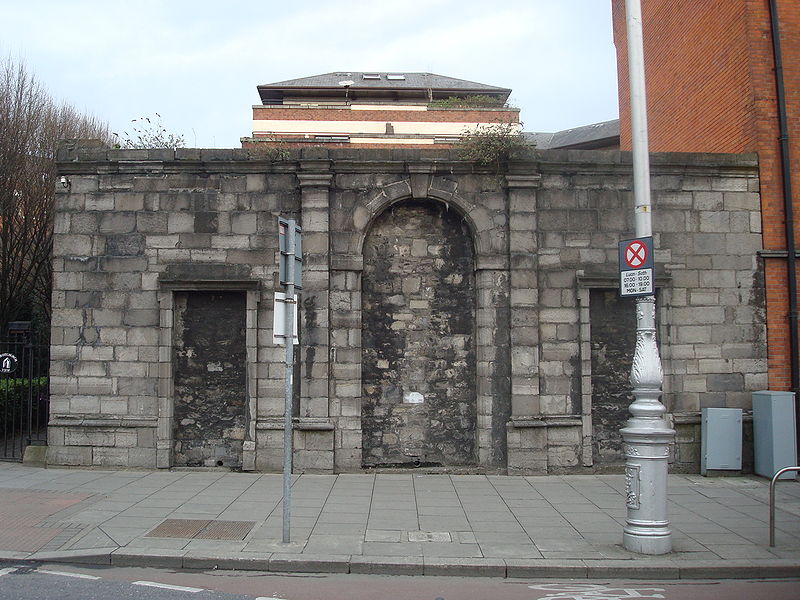 Remains of Church of St.Nicholas Within, Dublin.
Photo 2010. From here.
See similar 2012 shot (and side shot).
See street view.