Dundrum Castle, Co.Dublin
The original castle at Dundrum was 13th century.
Dundrum was granted to
William Fitzwilliam
1365.
The castle was the Fitzwilliam family seat for a time, then they moved to
Baggotrath
.
Dundrum Castle was rebuilt 1590s by
Sir Richard Fitzwilliam, Kt
.
The last Fitzwilliam living in Dundrum was
William Fitzwilliam, 3rd Viscount Fitzwilliam
. He was living there in 1646.
The Fitzwilliams had left Dundrum Castle by 1653, and did not live there again. Though the family continued to own the castle and lands.
A new "Dundrum Castle" house was built beside the old castle in the 18th century.
Austin Cooper visited in 1780 and said "The Castle of Dundrum ... is inhabited, and in excellent repair". But he must be referring to the new house, since he says: "at the N.E. end of it are the remains of a much older building than the present castle, which is visibly a modern addition ... There is but very little of this ancient part remaining". See [Ball and Hamilton, 1895].
The 18th century "Dundrum Castle" house was demolished c.1996. Think this is now the site of the "Dundrum Castle House" apartments.
The ruin of the medieval castle survives today.
SW of old Dundrum village.
This was on the W bank of the river. A field went down from the castle to the river.
The ruin is now on the W side of the bypass which follows the old river.
Access is restricted, behind locked gates of the apartment complex.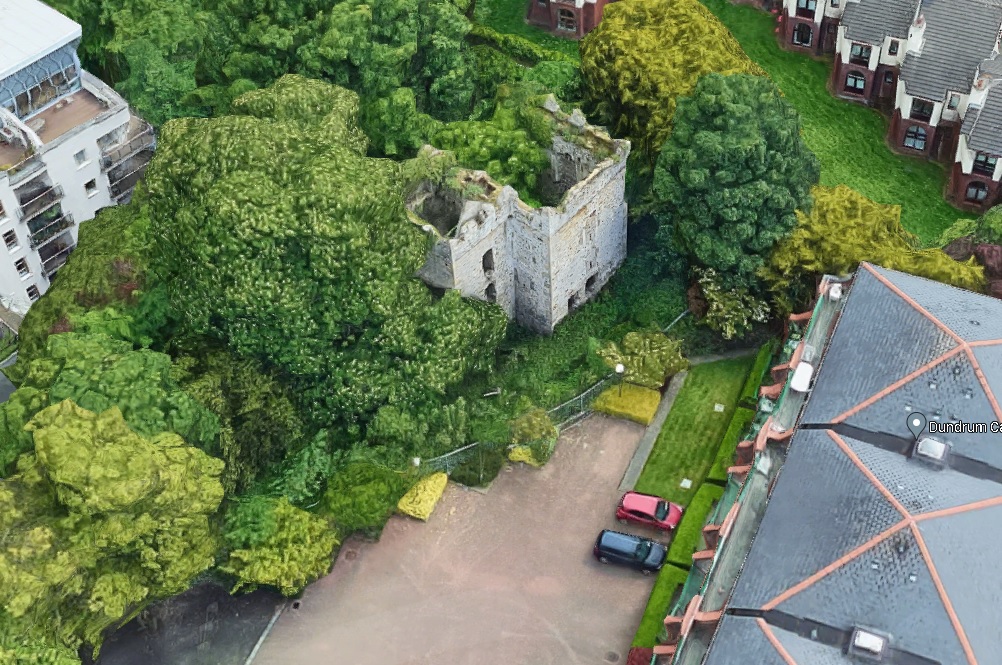 Dundrum Castle.
3D view. From
Google Maps
.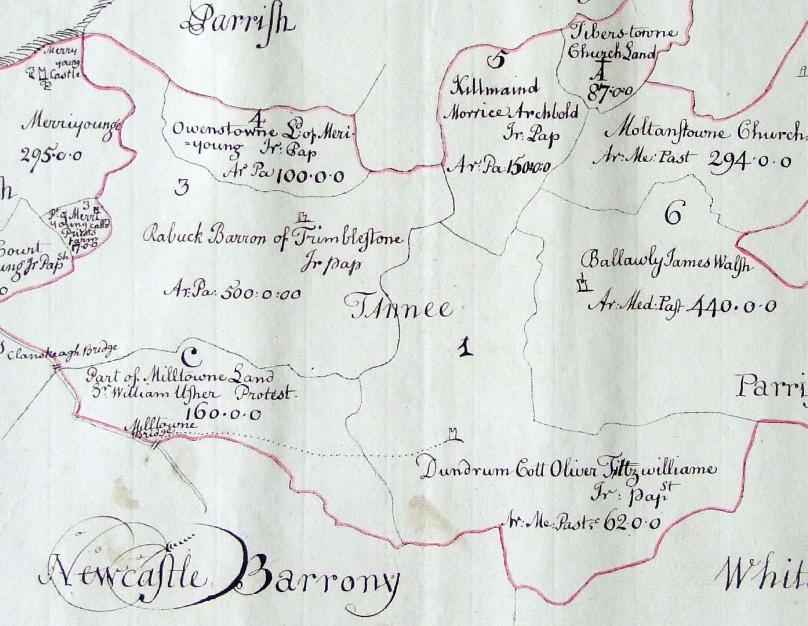 Part of the parish of Taney in the [Down Survey, 1655 to 1658]. E (sea) is up.
1st Viscount Fitzwilliam holds Owenstown (plot 4).
2nd Viscount Fitzwilliam holds Dundrum (plot 1) and Ballinteer (plot 2, not marked, but would be the lower-right (SW) part of the Dundrum plot).
Dundrum Castle is shown. Merrion Castle and the sea are visible in top left.
This is part of the larger map of Donnybrook and Taney. From TCD.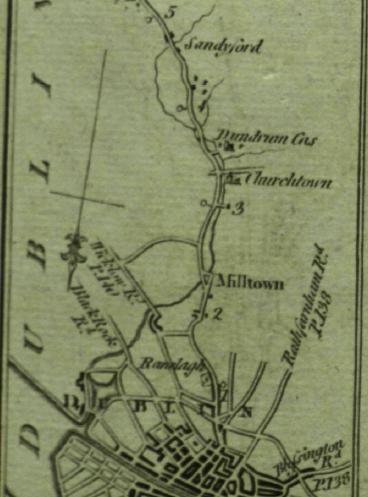 Dundrum in [Taylor and Skinner, 1777].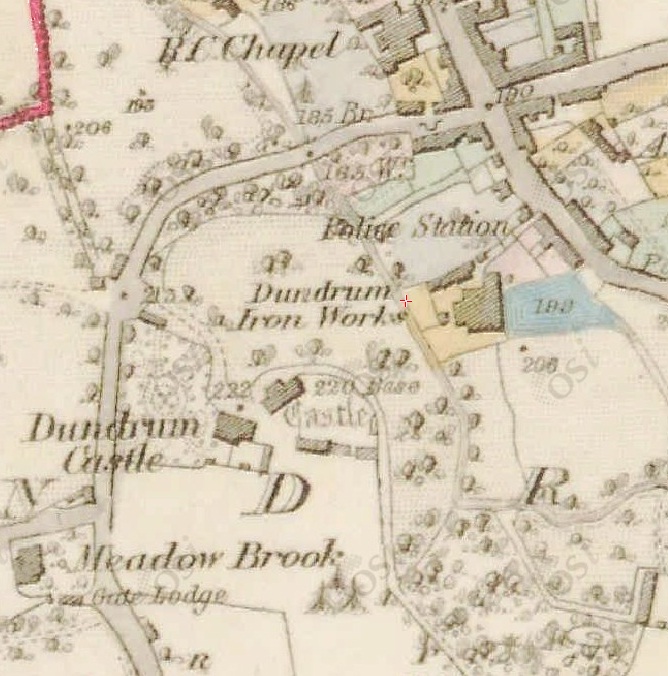 Dundrum Castle.
From 1829 to 1842 map.
The medieval castle is the building to the N centre.
To the SW is the 18th century "Dundrum Castle" house.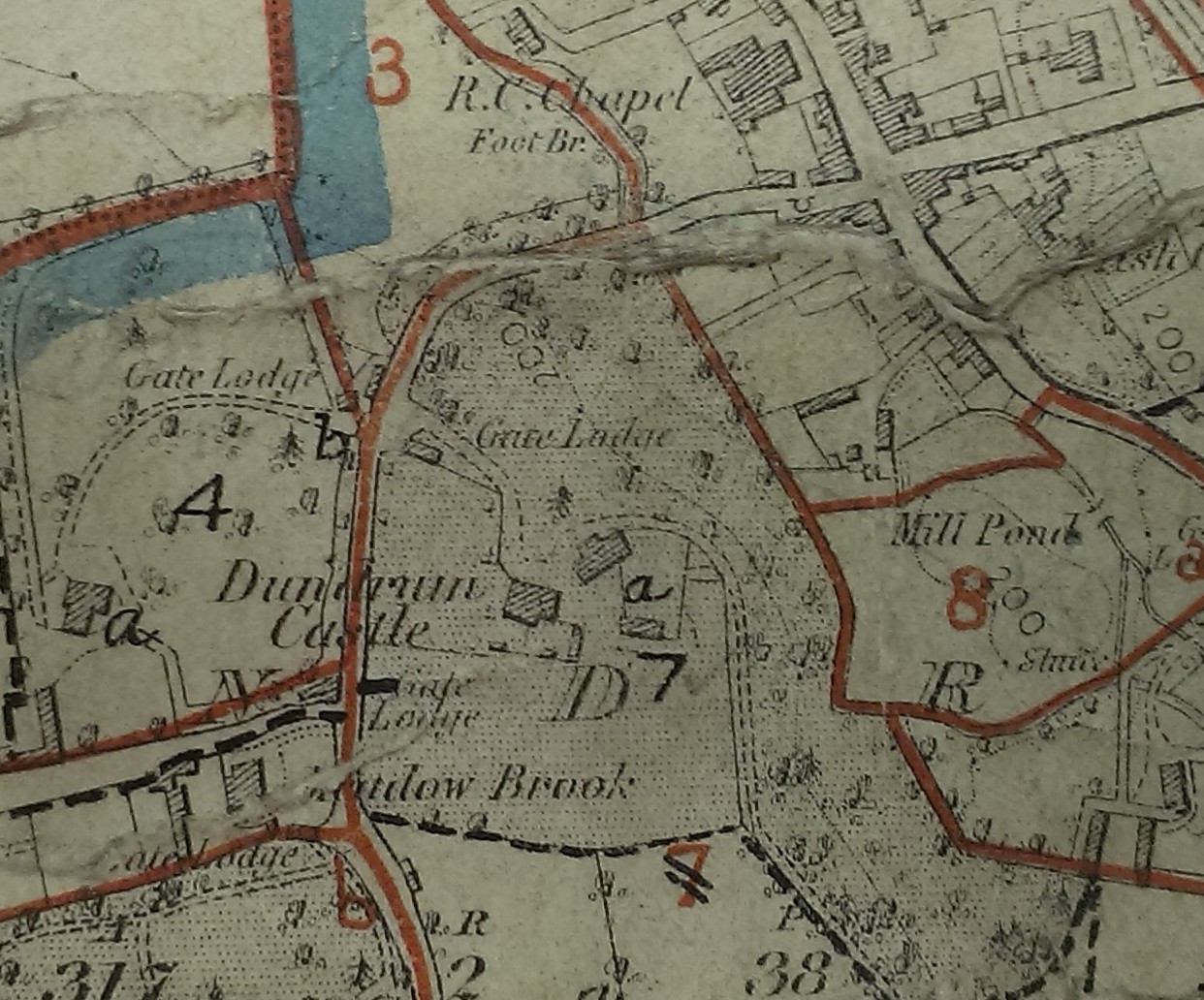 Dundrum Castle on map in [VO] of unclear date.
See full size.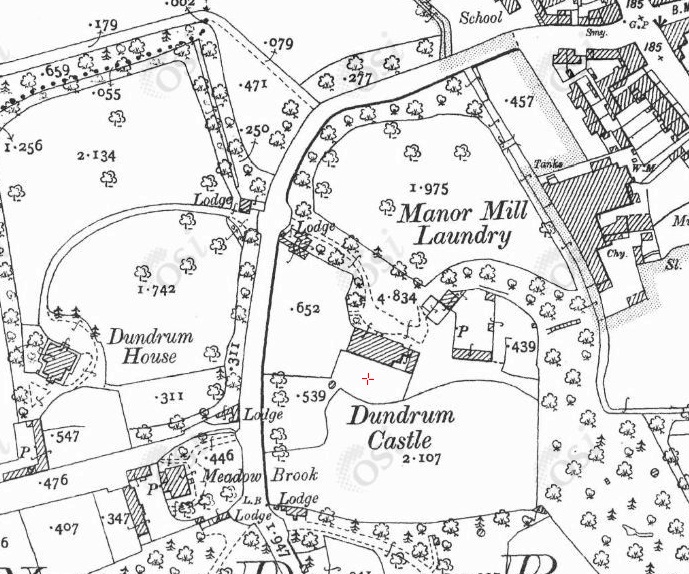 Dundrum Castle.
From 1887 to 1913 map.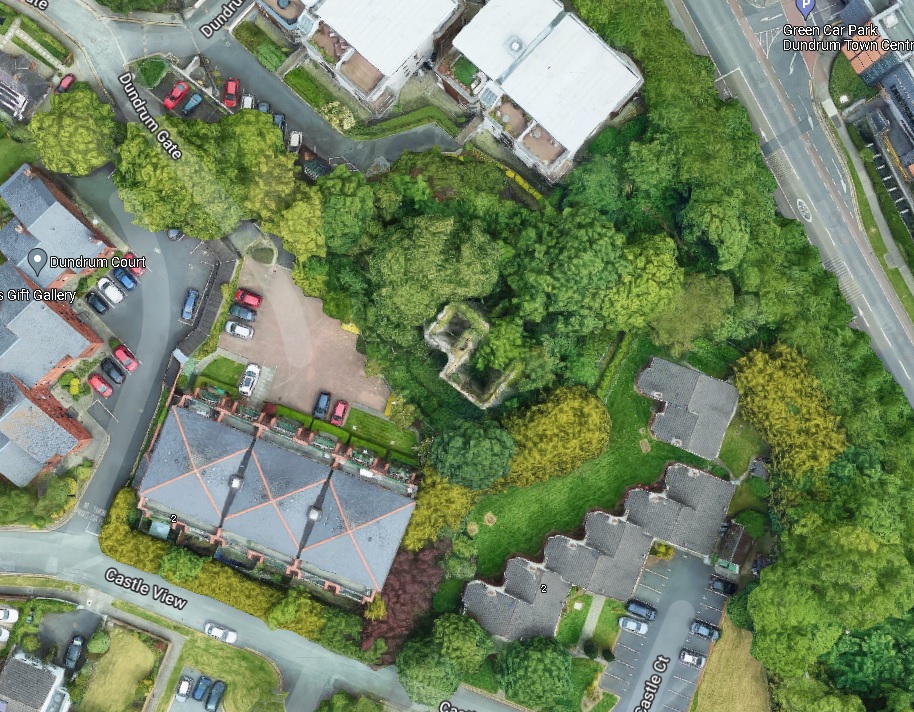 Dundrum Castle.
Modern satellite view.
From Google Maps.
---
Historical views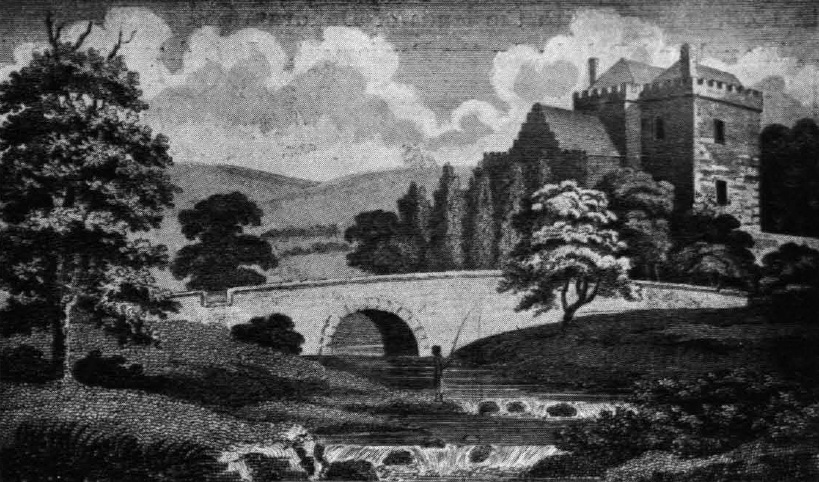 Dundrum Castle, 1802.
From The Literary and Masonic Magazine.
Printed in [Ball, vol.2, 1903].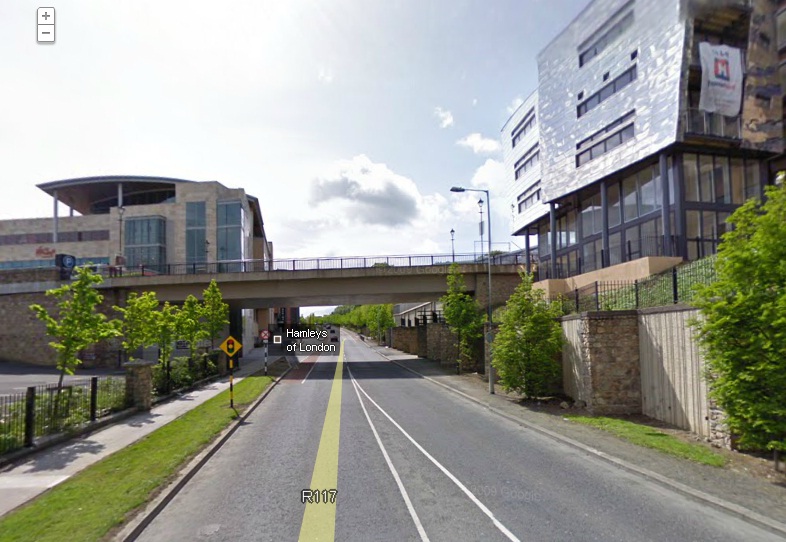 Modern street view of same location as 1802 picture above.
The bypass follows the line of the old river.
The bridge is on the site of the old bridge.
The castle is ahead to the RHS on the bank higher up.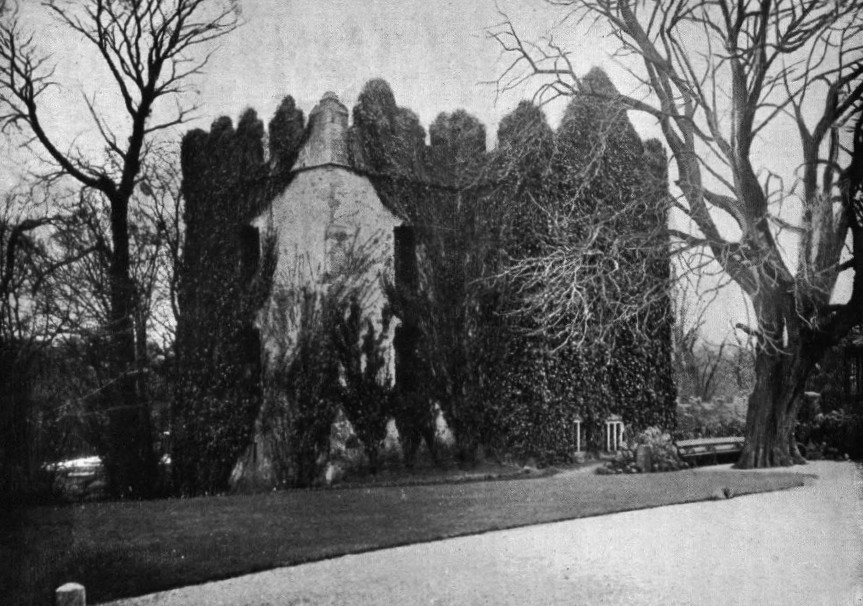 Dundrum Castle, 1903.
From [Ball, vol.2, 1903]. See full size.
---
---
References
---
Sources yet to be consulted