Oliver Fitzwilliam, 2nd Viscount Fitzwilliam, and 1st Earl of Tyrconnel
Sources yet to be consulted: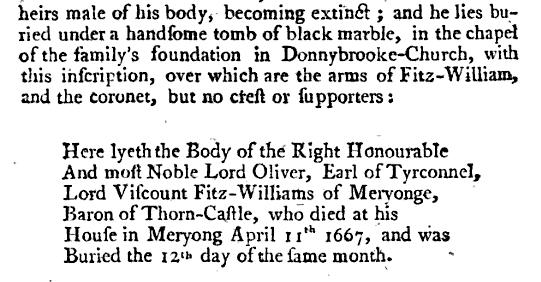 Inscription on grave of 2nd Viscount at Donnybrook church.
From
[Lodge's Peerage, 1789]
.
Oliver Fitzwilliam, 2nd Viscount Fitzwilliam, and 1st Earl of Tyrconnel
(see
here
).
He entered
Gray's Inn
in London as a law student 1628.
He became a
Colonel
in the French Army c.1638 (this would be to fight in the
Franco-Spanish War
or some other part of the larger
Thirty Years' War
).
He mar 1stly to Dorothy Brereton [relative of William Brereton, 1st Baron Brereton].
He mar 2ndly to --- Penruddock.
Irish Confederate Wars, 1641 to 1653:
Like his father, he was both Catholic and Royalist.
Loyal to Charles I during English Civil War (the Irish Confederate Wars 1641 to 1653).
He returned to France with his brother as his Lieutenant 1642.
In 1645 he tried to get the Confederation of Kilkenny to support Charles I in the English Civil War, on the grounds that their Catholic demands would be met.
He fought with the Confederates against the Parliamentarians 1645-46.
He fought for Royalists at Battle of Naseby in Northamptonshire, 14 June 1645.
He was Lieutenant-general in 1643-47 period under the 1st Duke of Ormonde (then the 1st Marquess of Ormonde).
He served under his relative, the Irish Confederate leader Thomas Preston, 1st Viscount Tara, in Connaught 1646.
Carried out successful assault on Roscommon Castle, Co.Roscommon in 1646, which secured Connaught for the King.
The Irish Confederates fell out with the English Royalists as it became clear their Catholic demands would not be met. Fitzwilliam stayed loyal to the King and parted with the Confederates.

He mar 3rdly, pre-1647, to Lady Eleanor Holles [dau of John Holles, 1st Earl of Clare].
The Parliamentarians conquered Ireland, final surrender in 1653.
He succ as 2nd Viscount c.1655.
[Down Survey, 1655-58] shows Col. Oliver Fitzwilliam, Irish Papist, as owner of Dundrum and Ballinteer.
He had mixed fortunes under the Parliamentarians. Arrested by them twice, but in favour at other times.
He was in danger of losing his lands, but recovered them at the Restoration.
Attended the influential Rota Club debates run by James Harrington in London 1659-60.
Restoration of the monarchy 1660 saw him rewarded for his loyalty.
He was created 1st Earl of Tyrconnel by Charles II 20 Apr 1661 [Complete Peerage]. NOT 1663.
He was restored in June 1661 to his father's lands, including Baggotrath and Donnybrook.
Took his seat (by proxy) in the Irish House of Lords 9 July 1662.
Grant re-affirmed 1666 to him of Dundrum, Merrion, Baggotrath, Donnybrook (the mill only), Simmonscourt, Ringsend, Little Bray, Kilmacud, Thorncastle, Booterstown, and other lands.
On the second storey of Merrion Castle the arms of the family were engraved in stone [Ball, vol.2, 1903].
Attended on his deathbed by Fr. Bernard Doyle, Catholic priest of Booterstown. See [Lyng, 2000].
He died at Merrion Castle, 10 Apr 1667.
Earldom extinct. (Later re-created for Richard Talbot 1685.)
He was bur 11 Apr 1667 in black marble tomb [now vanished], Fitzwilliam chapel, Donnybrook church.
Will pr 1667.
Eleanor was buried in St. Mary's Church, Nottingham, 11 April 1681.
Her will pr 1681.


2nd Viscount in
[Complete Peerage]
.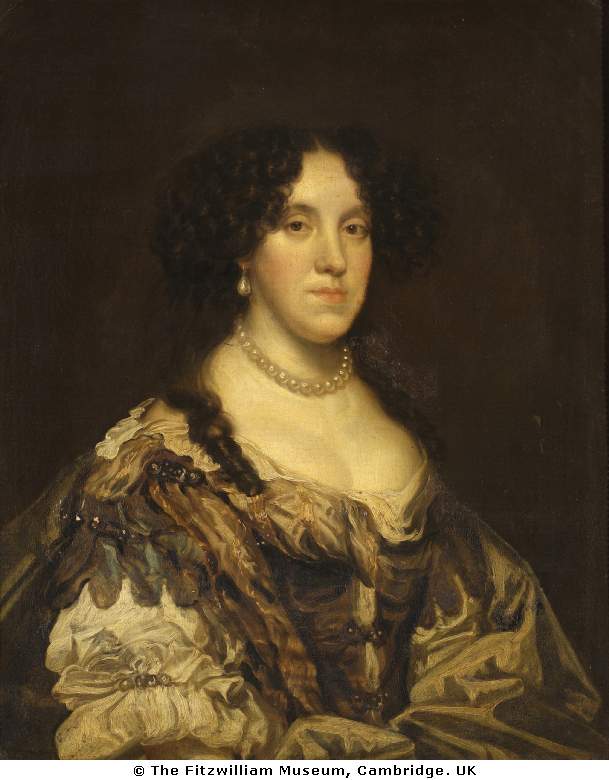 Eleanor Holles, c.1670-80.
By unknown (formerly ascribed to Sir Peter Lely).
Used here with the kind permission of the Fitzwilliam Museum, Cambridge.