Charles Gerard, 1st Earl of Macclesfield
References:

Sources yet to be consulted: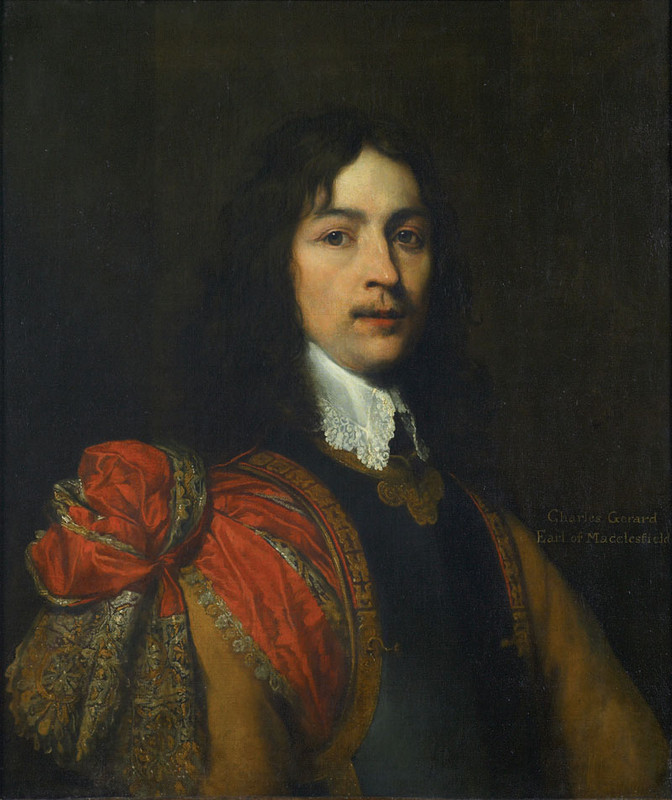 Charles Gerard, 1st Earl of Macclesfield.
Portrait by
William Dobson
, c.1645.
Dunedin Public Art Gallery
, New Zealand. Online at
NZMuseums
.
Also on
Wikimedia Commons
.
Charles Gerard, 1st Earl of Macclesfield
,
born c.1618.
See
wikipedia
and
thepeerage
.
He was educ
Leiden University
, Holland, entered 1633.
He was a senior Royalist commander for
Charles I
in
Civil War
of 1642-51.
Through his mother he inherited the Fitton property
Gawsworth Hall
, Cheshire, in 1643. Though he fought a legal battle with his Fitton cousins for its ownership until 1662.
He was created
1st Baron Gerard
in 1645.
Left England 1646. Stayed on the Continent until 1660
[DNB]
.
He mar Jeanne de Civelle [or Jane, French, dau of Pierre de Civelle, Equerry to the queen Henrietta Maria].
Restoration 1660. Gerard returned to England.
Jeanne in 1662 was made lady-in-waiting to the new queen, Catherine of Braganza.
She lost her post in 1663, for telling the queen details of the king's affair with the countess of Castlemaine.
Jeanne died 28 Sept 1671.
Gerard developed the Gerard estate, Soho, London, after 1677.
He was created 1st Earl of Macclesfield in 1679.
He was a supporter of the
Duke of Monmouth
on his "Cheshire Progress" of 1682.
Monmouth was the eldest illegitimate son of the reigning King,
Charles II
. Protestants were hostile to the looming succession of
James II
. In 1682 Monmouth was touring Cheshire to gather Protestant support for his claim to be the heir to the throne.
Gerard entertained the Duke with great splendour at
Gawsworth Hall
on 15-18 Sept 1682.
(Later, Charles II died in Feb 1685. James II became King. Monmouth
led a rebellion
in May 1685 and made a bid for the throne. He was defeated and executed. James II was himself overthrown in 1688.)
Gerard took a London house, Gerard House, Soho, in 1682.
He died 7 Jan 1694 [at the time regarded as the end of 1693], age c.76 yrs. Though [Westminster Abbey Registers] says died 9 Jan 1694. He presumably died in London.
He was bur 18 Jan 1694 [new style year] in Westminster Abbey, London.
1st Earl and Jeanne had issue:
Charlotte Gerard, born c.1652.
She mar 1stly to Thomas Mainwaring [or James, of Cheshire].
He died.
She had issue by 1st husband:

Charlotte Mainwaring.
She mar 1691 to Charles Mohun, 4th Baron Mohun.
They separated.
He remained a friend and follower of her uncle the 2nd Earl of Macclesfield.
He was a gambler, rake, fighter and dueller.
In 1701 he inherited Gawsworth from the 2nd Earl of Macclesfield.
He died in the Hamilton-Mohun Duel in 1712.

She mar 2ndly, est c.1685, to Sir Thomas Orby, 3rd Baronet and had issue.
3rd Baronet died 1724.
She was party to a legal case of March 1727.
She apparently mar 3rdly (in old age) to Edward Manby.
[Green, 1879] says she died c.1727, age 75, in parish of St.George Hanover Square, London.
She might be Charlotte Orby, died 5 Apr 1727, who is listed in Musgrave's Obituaries Prior to 1800, parts 3 & 4.
Administration of will 7 March 1729 [new style year, at the time this was regarded as the end of 1728].
Probate in Ireland in 1729. See image from index. Lists her as "Charlotte Dame Lady Orby". Which casts doubt on whether she did marry Edward Manby.
Edward Manby fl 1736.




Charles Gerard, 2nd Earl of Macclesfield, born c.1659,
succ 1694, died 1701.

Fitton Gerard, 3rd Earl of Macclesfield, born 1663,
succ 1701, died 1702.
Title extinct.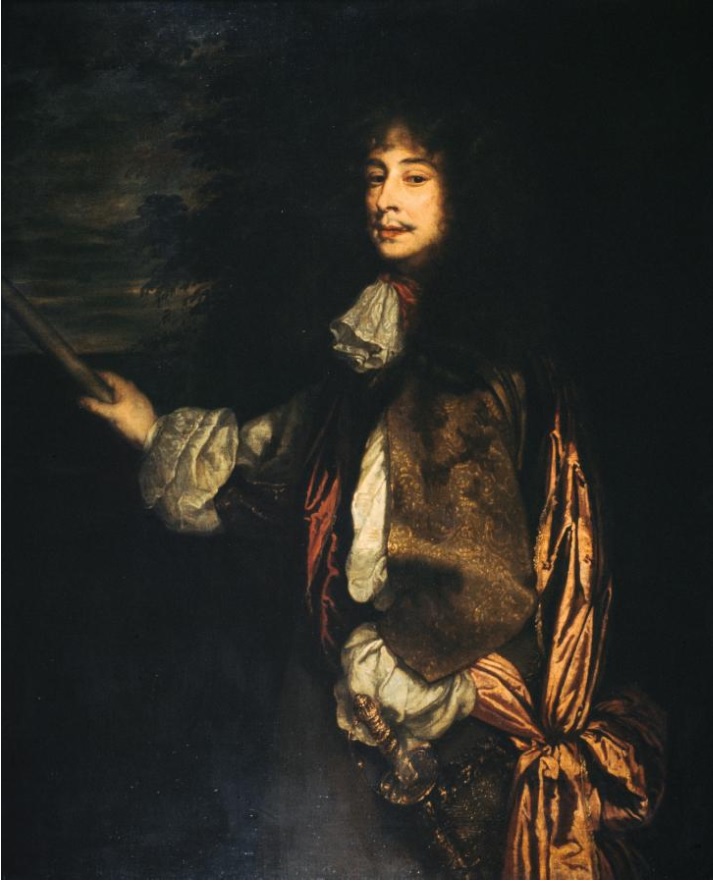 Charles Gerard, 1st Earl of Macclesfield.
From
National Galleries Scotland
.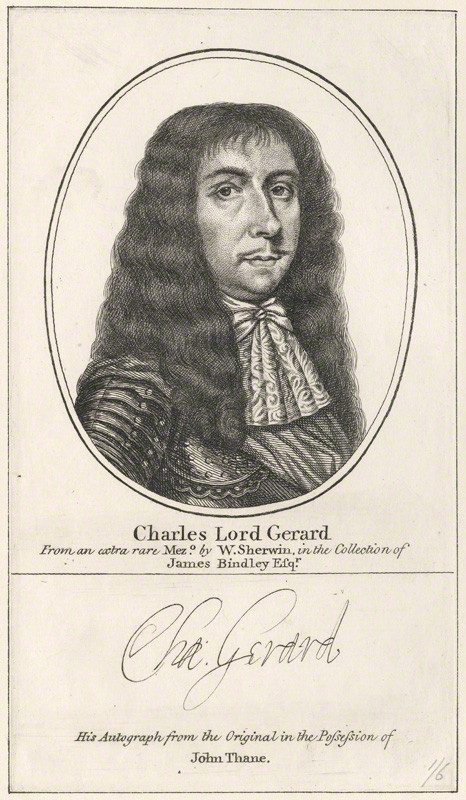 Charles Gerard, 1st Earl of Macclesfield.
From NPG. See terms of use.



Burial entry of Charles Gerard, 1st Earl of Macclesfield, 18 Jan 1694, Westminster Abbey.
From p.233 of [Westminster Abbey Registers].
---