Fr. David Humphrys (or Humphreys)



Oct 1918 letter by Fr. David, using the spelling "Humphrys".
Fr. David Humphrys
,
also spelt
Fr. David Humphreys
,
bapt 18 June 1843,
the famous campaigner for tenants' rights.
His
family name
was "Humphrys". His
1880-83 pamphlets
were published as "Humphrys". Later he is "Humphreys". But his
1918 letters
are "Humphrys".
He was educ at
St.Patrick's College
, Thurles. He entered September 1863.
He was educ at
Maynooth
. "David Humphreys" matric on 27 Aug 1865. Studied theology.
Ordained Thurles, 19 Sept 1869.
Professor of Logic at St.Patrick's College, Thurles, 1869 to 1878.
He was Curate at
Galbally
, Co.Limerick.
Curate at Clonoulty, Co.Tipperary, 1880-83:
He was Curate at Clonoulty, near Cashel, Co.Tipperary, in 1880-83.
In 1880 he started public activism for tenants' rights. He became a prominent supporter of the Land League (founded 1879).
His elderly father was evicted from the estate of Lord Cloncurry in Apr 1882. This would have cemented him as a lifelong opponent of landlordism.
Curate at Newport, Co.Tipperary, 1883-85:
He was Curate at Newport, Co.Tipperary, in 1883-85. (Not to be confused with Fr. James Humphrys, Curate at Newport about 20 years later.)
Listed as Curate at Newport in [Thoms, 1884].
"Rev. D. Humphreys, CC of Newport" attended a dinner to celebrate the granting of the Freedom of Limerick to Michael Davitt in 1884. See Politics in [McMahon and Flynn, 1996].
Curate at Tipperary town, 1885 to 1895:
He was Curate at Tipperary town in 1885 to 1895.
He got involved in the Plan of Campaign for tenants rights that started in Oct 1886. This was collective action by tenants to withhold rents above a certain level, or unless other demands were met.
He spoke at a meeting on the Plan of Campaign in Murroe in Nov 1886. The main speaker was John Dillon.
Fr. David is listed as Curate at Tipperary in [Thoms] in 1887 and 1892 and 1894.
He was supported in his land agitation by his superiors, the Parish Priest of Tipperary town, and also Archbishop Croke.
He was regarded as one of the most radical of the agitators. Very anti-landlord, anti-police.
Complaints about him to Archbishop Croke in 1887 fell on deaf ears.
Starting in 1887, Fr. David was involved in a long dispute over the 17th century Erasmus Smith Protestant school in Tipperary town. He argued that the Erasmus Smith endowment was for all tenants and should apply to Catholics. He accused one of the Catholic commisioners with whom he disagreed of being a "Protestant Catholic".
In 1888 there was a papal rescript condemning the Plan of Campaign and the use of boycotting. Fr. David was one of the most outspoken priests who challenged this, arguing that the document was not infallible.
The Smith-Barry campaign. "New Tipperary" 1889-91:
The landlord of Tipperary town, Arthur Smith-Barry, had taken a leading national role against the Plan of Campaign from 1886. Though he himself was not targeted until 1889.
In June 1889 the Tipperary town tenants began an organised campaign of making demands of their landlord Arthur Smith-Barry. The first rents were withheld in July 1889. Smith-Barry responded immediately by putting the interest in several farms up for sale in Aug 1889. Evictions were clearly coming.
Previously, evicted tenants in these disputes had been housed in small "Land League huts". Now, Fr. David and others planned a new part of Tipperary town, to be called "New Tipperary", to house evicted tenants from "Old" Tipperary town.
In Sept 1889, a boy was killed by police action. Fr. David gave a graveside oration, and became seen as a leader of the Smith-Barry tenants.
Work on "New Tipperary" began in Nov 1889.
Evictions of the Smith-Barry tenants in Tipperary town began in Dec 1889. These urban evicted moved over to the "New Tipperary" part of the town.
The British government tried complaining to Rome about Fr. David in early 1890.
There was an official opening of "New Tipperary" in Apr 1890. Boycotts were put in place against those cooperating with Smith-Barry.
"New Tipperary" was seen nationally (and even internationally) as a symbol of defiance of landlordism.
Fr. David was followed and harassed by the police.
One time, he drove to Limerick Junction, followed by a police wagon. He got out, walked along railway line, followed by police on foot. He reached the road, jumped into a waiting carriage, waved them goodbye.

Trial, 1890: He was brought to trial in Sept 1890 along with other leaders for their part in promoting the witholding of Arthur Smith-Barry's rent. Most of the leaders got jail sentences. But Fr. David was discharged.
There was an incident on the night of 13 Oct 1890. Fr. David was passing the Tipperary court house. He saw a policeman standing there with a woman. He suspected the woman was a prostitute (which did exist at this time in Tipperary town). He told her to go away. She refused. He tried to force her away. He was charged, convicted of assault and fined. He refused to pay the fine, and faced jail, but others paid the fine for him.
Parnell had not supported the Plan of Campaign or the New Tipperary project. After the Parnell divorce scandal broke in Nov 1890, Fr. David took a leading role against Parnell in Tipperary.
New Tipperary was very expensive for the land movement to support. By early 1891, the finances of New Tipperary were in difficulty. The struggle was coming to an end.
Most of the tenants reached a settlement with Arthur Smith-Barry in 1891. New Tipperary was basically over.
Fr. David led some diehards in opposition to the settlement.
Arthur Smith-Barry obtained control of some of the land of New Tipperary, and moved to demolish one of its main properties in 1891.
Jailed for a week in 1892: In the 1892 election there were ugly conflicts in Tipperary between pro and anti Parnell factions. Fr. David was involved and spent a week in jail for contempt of court.
Fr. David was a strong supporter of a ban on fox-hunting, seeing the sport as linked to landlordism and the aristocracy.
The last of the rebellious Tipperary town tenants settled with Smith-Barry in 1895. (Smith-Barry was later created a Baron in 1902.)
P.P. of Killenaule, Co.Tipperary, 1895 to death 1930:
He became parish priest of Killenaule and Moyglass, Co.Tipperary, in 1895.
Listed as P.P. of Killenaule in [Thoms] at least 1901 to 1929.
He was at Dr.David's funeral 1903. Listed as "cousin".
He brought the Erasmus Smith School case to court, possibly in 1909.
He is listed

as P.P. at Killenaule in [Census, April 1911].
He supported the Irish Parliamentary Party.
He strongly opposed the rise of Sinn Fein.
See his Oct 1918 letter against Sinn Fein. He is unimpressed by the 1916 Rising: "Did the authors of the blood and ashes of Dublin make any mistake? Are the leaders of that mad Dublin business fit to be the leaders of the Irish race at home and abroad?" He then suggests that Sinn Fein is a conspiracy by Dublin Castle to destroy Ireland. His Dec 1918 letter promotes a conspiracy theory where Dublin Castle organised the 1916 Rising.
The Erasmus Smith School passed out of the ownership of the Erasmus Smith Trust following legal action in the 1920s and more in the 1930s.
Fr. David stayed at Killenaule until his death.
He died in Killenaule on Sun 22 June 1930, age 87 yrs.
Funeral Tue 24 June 1930. He was bur just outside the church at Killenaule.
Funeral list in Tipperary Star, June 28, 1930.
---
New Tipperary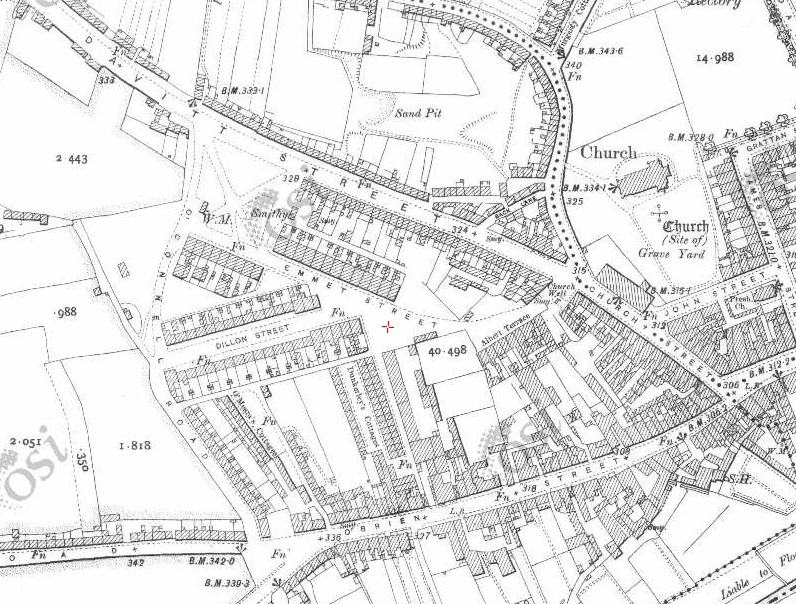 "New Tipperary" was on the NW side of Tipperary town, between the Emly road (at bottom here) and the Limerick road (Davitt St here).
"New Tipperary" created two new streets, Dillon St and Emmet St.
From
1887 to 1913 map
.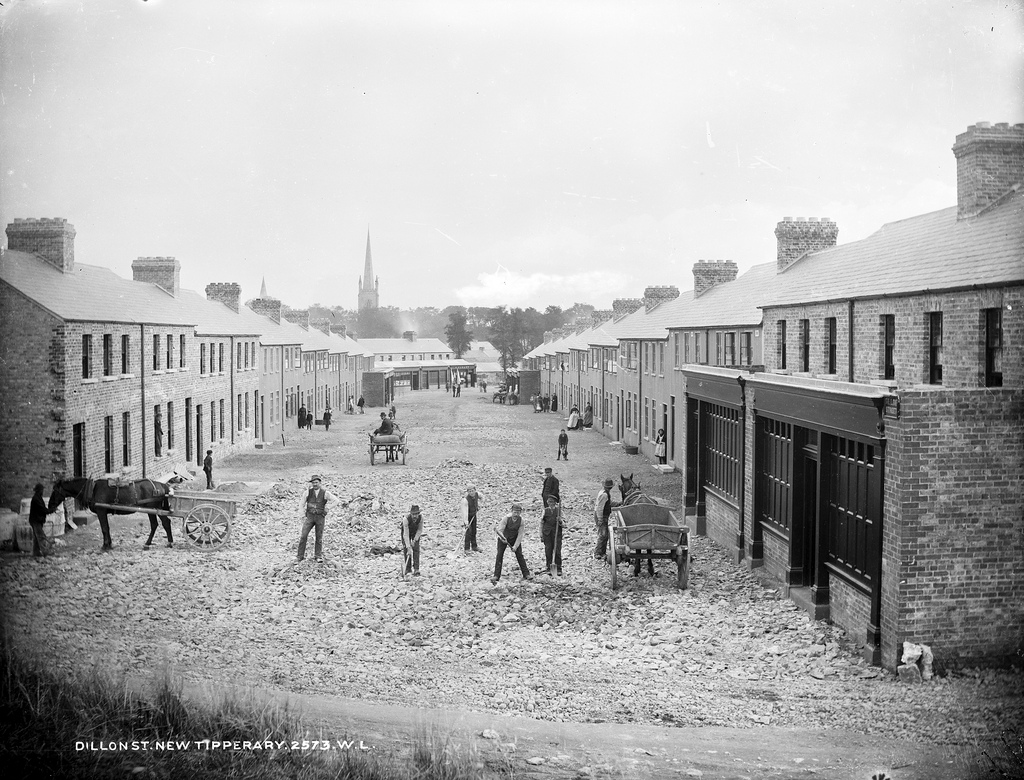 Dillon St, New Tipperary, looking E.
Photo c.1890. See full size.
From NLI. No known copyright restrictions.
See modern street view.
See also NLI photo of The Arcade, New Tipperary.
---
The Erasmus Smith School, Tipperary town
Fr. David (died 1930) left £100 in his will to continue the dispute about the Erasmus Smith Protestant school on the SE side of Tipperary town (also called "The Tipperary Grammar School").
The case was brought to the High Court in Dublin in June 1931. The Governors argued that the purpose of the Erasmus Smith Trust was to propagate the Protestant faith. The plaintiffs argued that the intention was to educate all tenants.
The case continued until 1937, when a compromise was reached to split the fund between Protestant and Catholic schools.
The Erasmus Smith Protestant school in Tipperary town passed out of the ownership of the Erasmus Smith Trust.
The Erasmus Smith School building burnt down in 1939.
A new Catholic school was built on the site in 1955, called "The Father David Humphreys Memorial School".
This is now called The Abbey School, Station Road, Tipperary town, Co.Tipperary.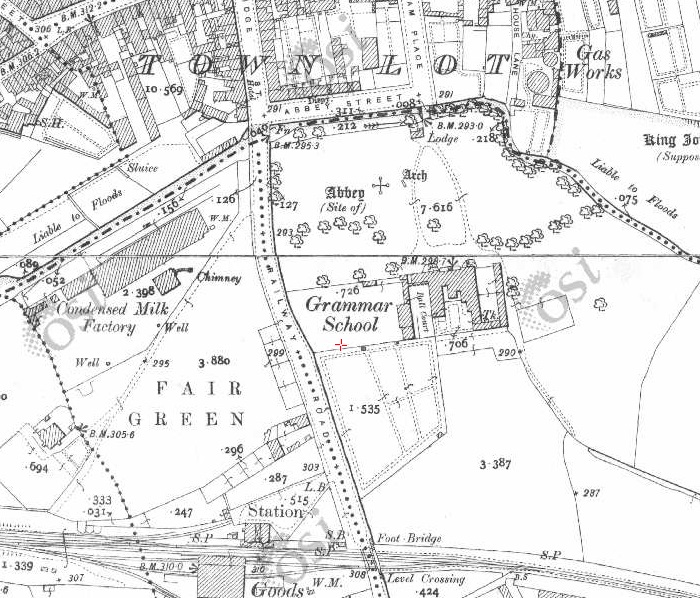 The Erasmus Smith School, Tipperary town (also called "The Tipperary Grammar School").
From
1887 to 1913 map
.
Now called The Abbey School.
See modern
street view
.
---
References
---
---
Other sources to be consulted
Index of the clergy of Cashel and Emly, Walter Skehan.
Biographical Dictionary of Co.Tipperary.

Two photographs of the "Shadowing" of Rev. David Humphreys by policemen in Tipperary. [UCD] special collections, 35.B.5/1 and 35.B.5/2.
Photograph of Fr. David being followed by two police in Tipperary town, published in United Ireland, 12 July 1890. Reprinted in [Marnane, 1985].

Account of meeting in Murroe, Tipperary People, 23 Nov 1886.
Archbishop Croke letter, responding to complaints about Fr. David, 14 Oct 1887, Cashel and Emly Diocesan Archives, Croke papers, MS 1887/28.
Editorial on the death of Fr. David Humphreys, Catholic Bulletin, xx (Aug. 1930), 714-15. [NLI] Ir 05 c 2.
Limerick Leader, 26 Sept. 1953 [includes portrait], 10 Oct. 1953, 12 Oct. 1953

Joseph O'Brien, William O'Brien and the course of Irish politics, 1881-1918 (1976), 77
Emmet Larkin, The Roman Catholic Church in Ireland and the fall of Parnell (1979), 141, 172, 194, 243
James O'Shea, Priest, politics and society in post-famine Ireland (1983)
Land and Violence: A history of West Tipperary from 1660, Denis G. Marnane, 1985. [NLI] Ir 94142 m 4.
Laurence M. Geary, The plan of campaign (1986), 29, 88, 114
Sally Warwick-Haller, William O'Brien and the Irish land war (1990), 123, 143
Golden-Kilfeacle: The Parish and its People, Senator Willie Ryan, 1997.

Thesis on Fr. David, by Fr. Liam Holmes.

Other sources listed in [Marnane, 1985].
---
"Fr. Humphreys is ready to fall out with God Almighty on a question of principle."
- Archbishop Croke on Fr. David's knack of making enemies in local and national affairs.
---