Knockelly Castle
Or Knockkelly Castle.
Knockkelly townland, Peppardstown parish, NE of
Fethard
, Co.Tipperary.
Not to be confused with
Knockkelly House
in the same townland.
Knockelly Castle.
Click to rotate.
From
Google Street View
.
Knockelly Castle was built about 1465 by
Edmond Butler, 8th Baron of Dunboyne
.
In 1502, Piers Butler of Knockelly was "slain" by James Tobin of Kilaghy (near Mullinahone).
The Butlers of Knockelly were attainted in 1592 for participation in the
Desmond rebellion
.
Knockelly Castle had various owners.
It was sold to the Lowe family in the early 18th century.
Robert Lowe died at Knockelly Castle in 1742.
Knockelly was purchased think around 1752 by the Barton family.
Barton purchased Grove, Fethard par, Co.Tipperary, in 1752, and think Knockelly around the same time.
Barton let Knockelly Castle to James Kickham. He was the first Kickham there. He was living there around 1798.
"The Kickhams never became large-scale territorial landlords, though in time some of them acquired the tenancy of gentlemen's holdings such as Knockelly Castle" [Comerford, 1979].
James Kickham (possibly a younger James) is listed as of Knockelly Castle at his death in 1823.
Knockelly Castle was occupied by Thomas Kickham as at 1833-1839.
It was inherited by Kickham descendants the Heffernans.
Occupied by Edmond Heffernan as at 1889-1901.
Inherited by his nephew John Heffernan 1903.
John Heffernan died 1960.
Knockelly Castle was inherited by Christy Heffernan.
There survives a ruined late-Elizabethan or early-Jacobean towerhouse, surrounded by a well-preserved bawn (walled enclosure).

No occupant listed at Knockelly (either Knockkelly Castle or Knockkelly House) in
[Leet's Directory, 1814]
.


James Kickham is listed as of Knockelly Castle at his death in 1823.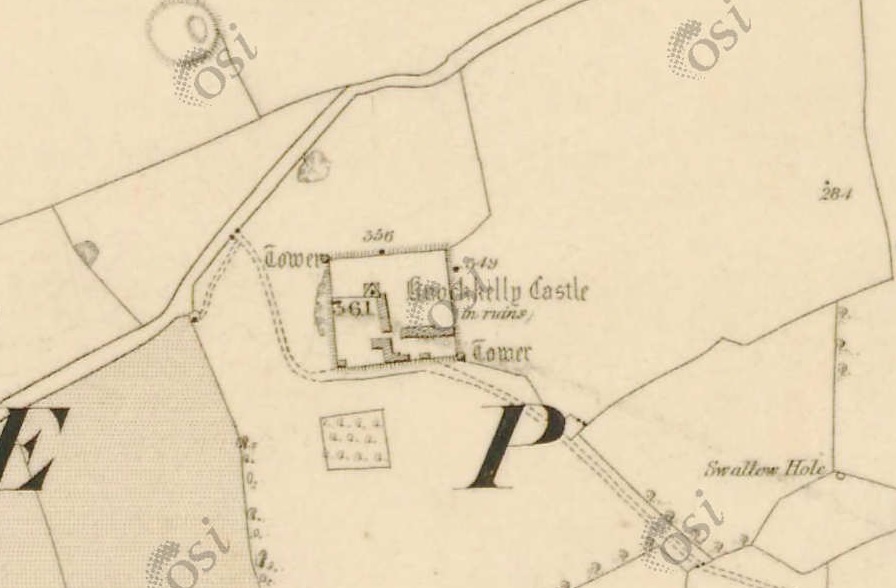 Knockelly Castle on 1829 to 1842 map.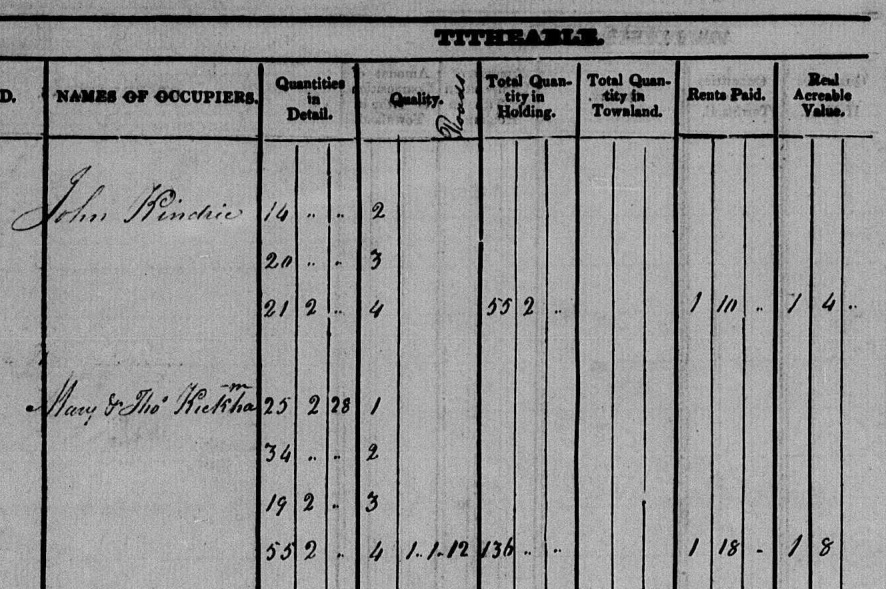 Thomas Kickham at Knockelly Castle in [Tithe Survey, 1833].
From here.


Entries for Knockkelly townland in [Griffiths Valuation, 1850].
There are two big houses. These are apparently:
Plot 12, Knockkelly House, occupied by "Richard Crane" (Richard Crean).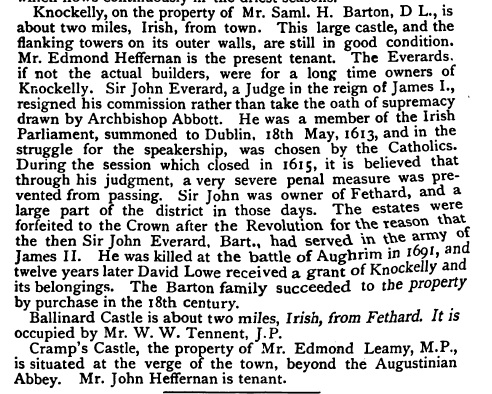 Edmond Heffernan at Knockelly Castle in [Bassett's Directory, 1889, p.125].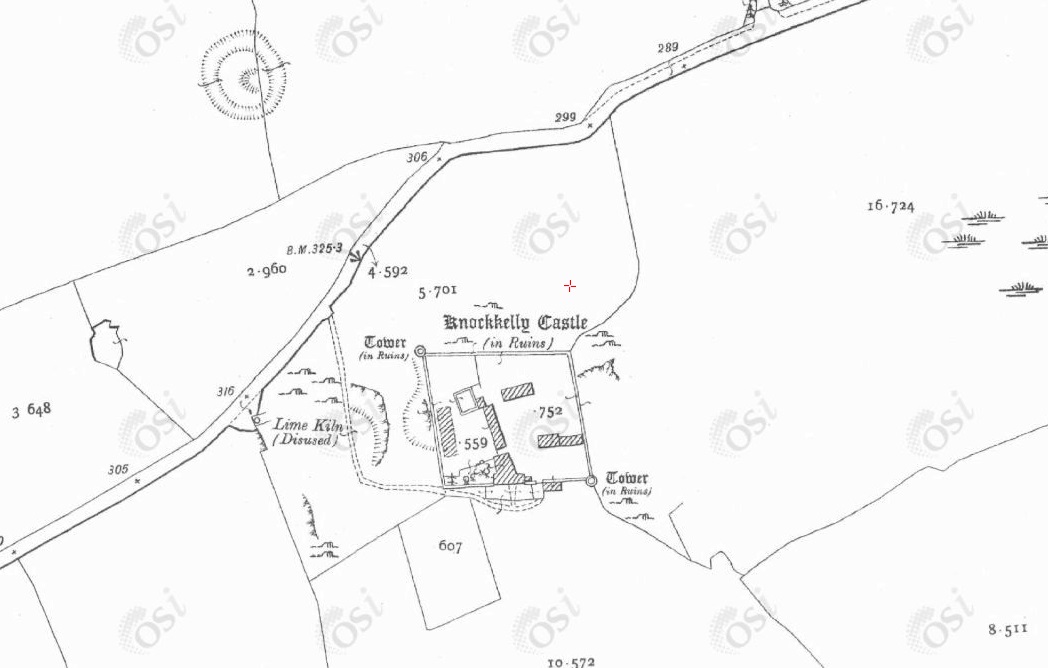 Knockelly Castle on 1887 to 1913 map.
See modern satellite view.

Video of fox hunt at Fethard, Co.Tipperary, Jan 2017.
Includes drone footage above Knockelly Castle. (Jump to 3:00.)
Courtesy of David Moloney.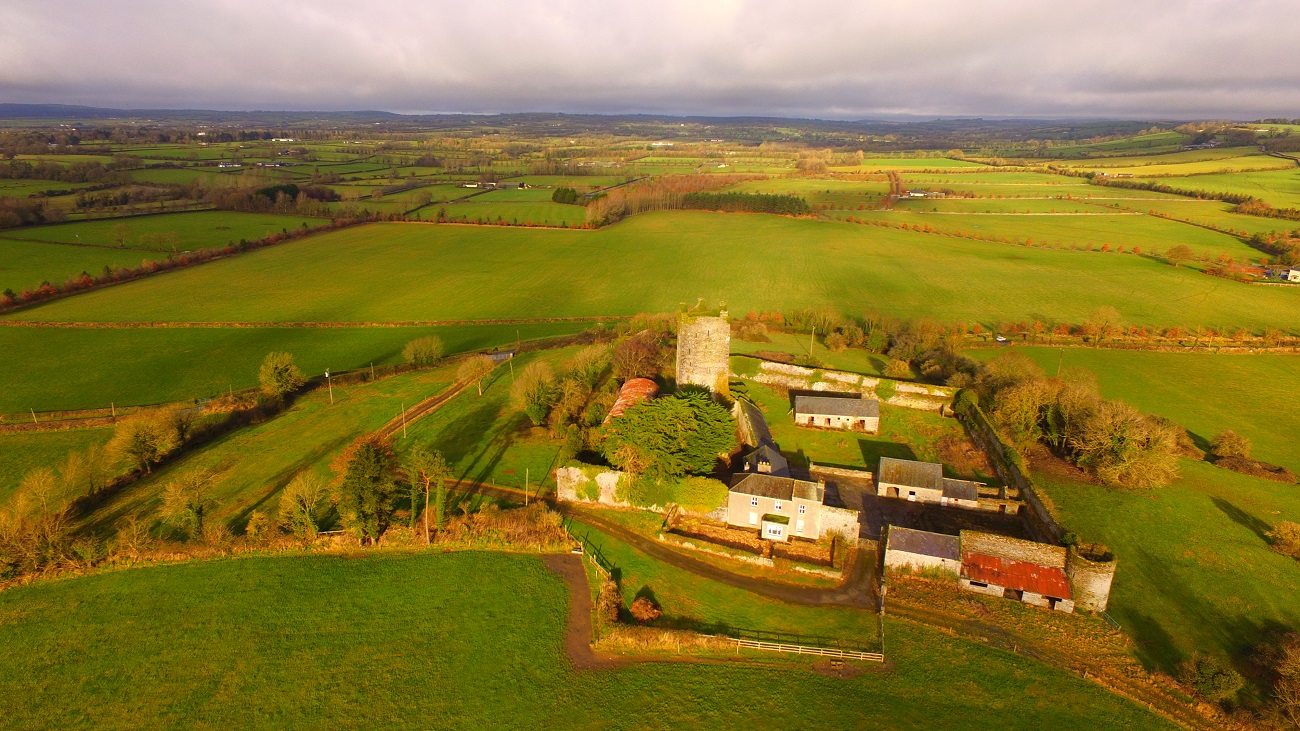 Knockelly Castle.
View from the S.
See full size.
From above drone footage. Courtesy of David Moloney.
---