Thomas Kickham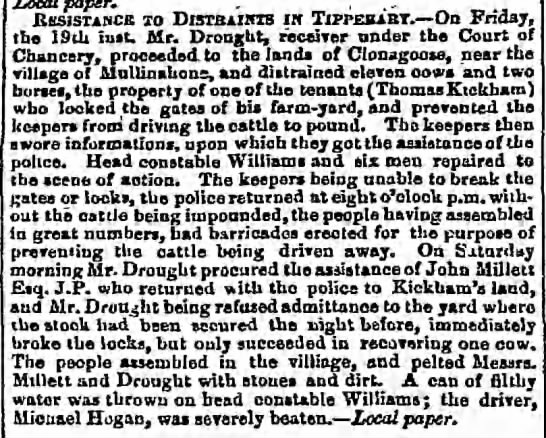 Report of the 1850 incident.
From The Guardian,
Sat 27 July 1850
.
Thomas Kickham
,
Tom, born 1800.
His
father
died 1815.
He inherited the farm at
Clonagoose
, E side of Mullinahone (see
modern map
).
He mar pre-1827 to
Mary Mahony
[born 1796].
Listed at Clonagoose at children's bapts 1827-1838.
"Thomas Kickham" is listed

in
[Tithe Survey, 1834]
as holding 53 acres at Clonagoose.
1850 incident: On Fri 19 July 1850 there was an attempt by land agents to seize some of Thomas' livestock at Clonagoose for payment of debts. He locked the gates to prevent the livestock being removed. The police arrived, but so did a crowd to support Thomas.
On the Saturday the police and agents broke the locks, but the crowd attacked them and they only managed to remove one cow.
See report in The Guardian, Sat 27 July 1850.
Some sources say he was the model for "Maurice Kearney" in Knocknagow (1873) and his wife was the model for Maurice Kearney's wife.
However [Cusack] says the model was Richard Crean and his wife Ellen Kickham.
"Thomas Kickham" of Clonagoose, Mullinahone, is listed as owning 92 acres in [Owners of Land, 1876].
Thomas died 23 Mar 1876, Clonagoose, age 76 [GROI], listed as "farmer". "Mrs. P. Kickham" of Mullinahone reported his death.
Mary died 12 Nov 1882, Clonagoose, age 86.
Her death was accidentally registered twice. See entry and entry from here. So one of them was cancelled. See entry from here.
Funeral 14 Nov.
See notice in Freemans Journal, November 14, 1882.
Thomas and Mary had issue:
John Kickham, died in childhood.
James Kickham, died in childhood.

Mary Anne Kickham,
Mary, bapt 16 Jan 1827 [Mullinahone RC par records], sp John Kickham and Catherine Kickham (could be Catherine Mullally),
see entry from here,
died in Clonagoose.

Anne Kickham,
bapt 1828 [Mullinahone RC par records], (todo) see full entry,
died in childhood.

Ellen Kickham, born 1831,
listed at death as farmer, unmarried,
died 7 Sept 1887, Mullinahone, age 56 yrs, see entry in [GROI], from here,
death registered by her brother-in-law Joseph Kenrick.




Rody Kickham.
He must be Roger, bapt 1835 [Mullinahone RC par records]. (todo) See full entry.
He organised a welcome on return to Mullinahone of the Irish Papal Brigade in Nov 1860. See account in [Maher, 1955, p.159].
He became a supporter of the Fenians in Mullinahone. His 1st cousin Charles Joseph Kickham became a leading figure in the Fenians nationally.


Arrested in 1864:

In March 1864, the authorities were concerned about Fenian activity in Mullinahone and the possibility of disturbances. Extra police were brought into the town. Before dawn on 17 Mar 1864, a police patrol in Mullinahone heard the sound of voices inside

"a public house belonging to one of the Kickhams"

. It is unclear which pub this is.

The police raided the pub. Rody Kickham of Clonagoose was arrested trying to escape. He had copies of the

IRB

oath in his pocket. He was jailed in Clonmel jail. A large crowd tried to prevent the police taking him out of Mullinahone.

See

report

in Liverpool Mercury,

26 Mar 1864

.

[Comerford, 1979]

says he had

"a few inconclusive court appearances"

.


He went to America. He died in Brooklyn, New York.




Charles Kickham,
bapt 6 May 1838 [Mullinahone RC par records], see image from here,
bapt sp by Edmund Flyn and Betty Clancy.




Anne Kickham, born 1843,
second Anne, Anna on grave,
listed as of Clonagoose at mar,
mar 4 March 1878 [Mullinahone RC church] to Joseph Kenrick [son of John Kenrick, farmer, NOT Kendrick],
see mar cert from here, mar wit by "Kate Kickham" (unidentified),
Joseph was farmer, of Knockelly,
he registered his mother-in-law's death 1882, living Clonagoose,
Anne died 1887, age 44 yrs, at birth of child,
listed on grave of the Fenian, Mullinahone,
Joseph registered his sister-in-law Ellen's death 1887, living Mullinahone,
had issue:

Josephine Kenrick, born 1887 [mother age 44],
"Baby", Johanna on grave,
children's births list her as "Johanna" or "Josie",
mar Patrick Bradshaw [Patrick F., born 1891],
he was farmer, of Parkmore, Mullinoly, S of Mullinahone (see old map),
later of Brenormore (or Breanormore), Ninemilehouse, some distance S of Mullinahone (see map),
she died 1964, age 77 yrs,
listed on grave of the Fenian, Mullinahone,
he died 25 Sept 1978, age 87 yrs [grave],
bur Kilvemnon, location is right at back on LHS,
he must be Pat Bradshaw, pensioner, of Newtown Butler Rd, Clones, Co.Monaghan, who died 25 Sept 1978, County Hospital, Monaghan town, age 86 yrs [GROI],
had issue:

William Bradshaw,
William Kickham Bradshaw, born 23 Apr 1913, Parkmore [GROI].

Harold Bradshaw,
born Joseph Harold Bradshaw, 11 May 1914, Parkmore [GROI].

Nancy Bradshaw,
born Anna Mary Bradshaw, 25 Sept 1915, Parkmore [GROI],
mar --- McKay,
died 10 Nov 1987, age 72 yrs [grave, Kilvemnon].

Frank Bradshaw.

might be same as:
Frank Bradshaw, born 1913,
mar Ellen O'Driscoll [born 1922],
she died 15 Nov 1989, age 67 yrs [grave, St.Michael's RC graveyard, Killaghy, W of Mullinahone, Co.Tipperary, see map],
he died 11 Jan 1999, age 86 yrs [grave, Killaghy],
had issue:

Patrick Bradshaw, of Ballydonnell, born 1958,
died 6 Mar 1988, age 30 yrs [grave, Killaghy].

Marie Bradshaw.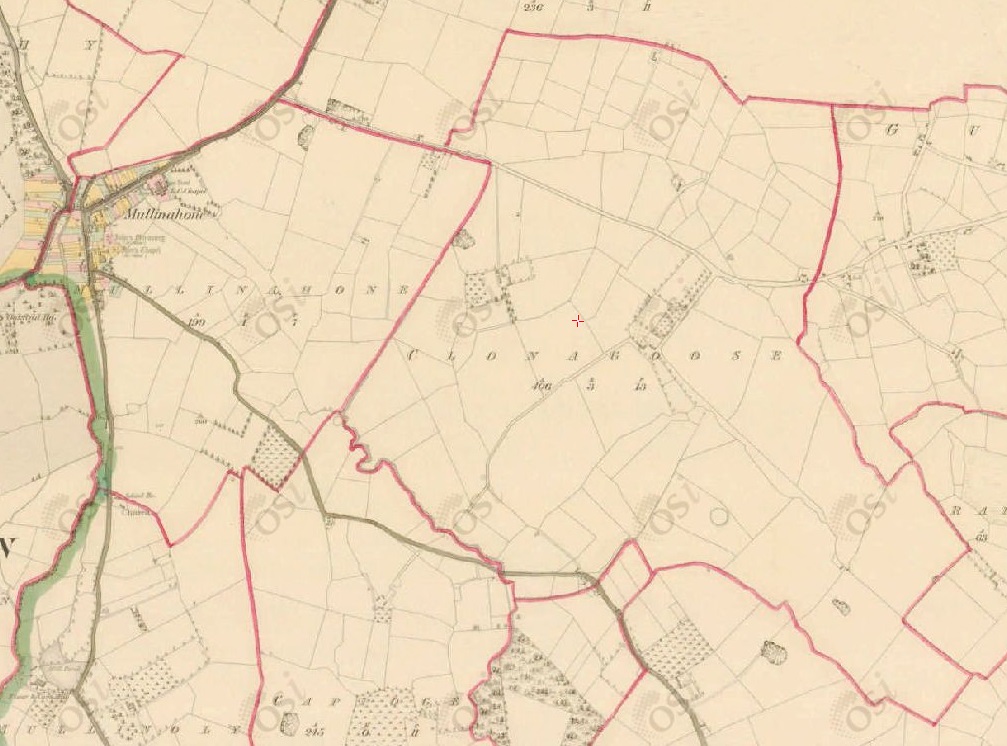 Clonagoose and Mullinahone on
1829 to 1842 map
.
---
Thomas Kickham property on Callan St, Mullinahone
This Thomas Kickham may be identical with:
Thomas Kickham, who held
plots 33 and 34, Callan St, Mullinahone
in 1846-50, and is listed as occupying plot 33 in 1850.
Thomas Kickham of Mullinahone, who wit
[Deed, 1855]
.
George Cashel (married to this Thomas Kickham's niece) lived at plot 34, Callan St in 1856-58.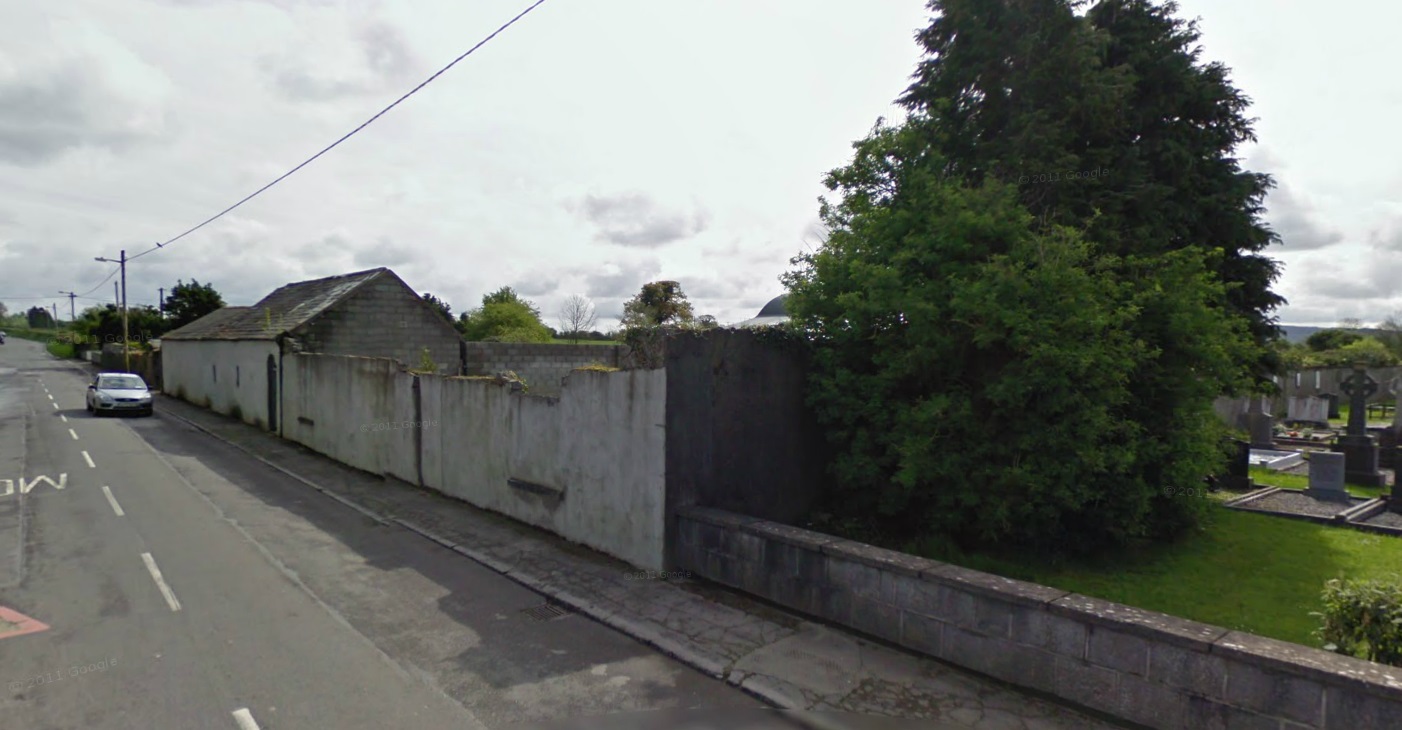 Plot 33 is the demolished house beside the church.
Plot 34 survives further up the road.
Screenshot from
Google street view
.