Richard Henry Rahilly (or O'Rahilly)
Sources yet to be consulted:

[P106/202] has letter from "R.H. Rahilly" to Anno, in 1899-1902 period.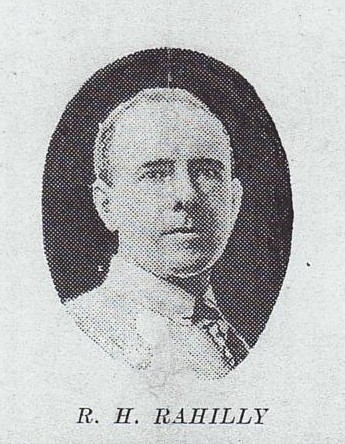 Richard Henry Rahilly.
From
[P106/314]
. See
full page
.
Richard Henry Rahilly (or O'Rahilly)
,
born Richard Henry Rahilly, 17th June 1877, Tarbert, Co.Kerry.
Clerk of the Petty Sessions, Listowel:
He was given his father's job of Clerk of the Petty Sessions, Listowel, Co.Kerry, after his father died 1899, to help support the family.
He was appointed immediately on his father's death in Feb 1899.
Listed as Clerk of Petty Sessions, Listowel, in [Thom's, 1901] to [Thom's, 1904].
He is listed in census of 31 March 1901 as living William Street, Listowel, unmarried, listed as Clerk of Petty Sessions, "Commissioner for taking affidavits" and "Insurance and Shipping agent".
Local historian Vincent Carmody says this William Street house is the blue house just past the 3-storey Griffin's butchers (going out of town), see street view and screenshot.
He mar 19 Nov 1901 to Frances Walker [Frances Mary Walker, born 3 Dec 1876, Co.Kerry].
She was dau of John Walker, of Castleisland, Co.Kerry, and Maria O'Meara.
She was bapt 10 Dec 1876 [Castleisland RC par records].
Her father John Walker was born Co.Limerick and was Clerk of the Petty Sessions at Castleisland. Maria O'Meara was born Co.Tipperary.
See Walker family in 1901 census.
They mar at Killarney RC cathedral, Co.Kerry [GROI].
[P102/39(6)] is letter from Richard, 5 Mar 1902, as Clerk of Petty Sessions, Listowel. See p.1 and p.2.
He was living Listowel at birth of dau 1904, listed as Clerk of the Petty Sessions.
[P102/172(1)] is letter of 1905 from his brother T.F. to The O'Rahilly, where T.F. says: "I am glad to hear you are trying to turn Dick into an Irishman, and I wish you success, though I am not very hopeful".
[P102/90] is letter of 1907 from him in Listowel to The O'Rahilly, writing about his attempts to get his sketches published.
Separates from wife, goes to America:
There was some "scandal". Richard went off to New York. Apparently Frances didn't want to go to US, and they separated.
He must have gone in 1907-08.
[P102/540] is letter of 1908 from him in New York to The O'Rahilly.
He was said to have lived with the Dowlings for a while.
In 1911 census, Frances is listed as living back with her aged and widowed father in Main St, Castleisland, Co.Kerry. She is without her husband, but has their child with her.
Richard was a journalist, cartoonist in New York.
He adopted the name "O'Rahilly" later in life (along with rest of family).
Listowel plaque describes him as journalist and artist.
He left the Catholic church for most of his life. Came back just before he died. His brother Alfred was involved in that, went over to US to see him.
Doreen's wedding invite in 1926 in Paris is issued just from "Madame O'Rahilly" (no father mentioned), and her address is apparently The Gables, Victoria Ave, Swanage, Dorset.
Richard died 1940s, prob. in US.
[Fitzelle, 1986] and Listowel plaque say he died c.1945.
Ronan O'Rahilly thought he died 29 Sept 1969.
Richard and Frances had issue:
Doreen O'Rahilly,
Dorothy, Dorothy Dolores, NOT "Delorase",
born Dorothy Dolores Rahilly, 18 Sept 1904, The Square, Listowel [GROI].
She was educ in France, think Paris.
She mar 20 Mar 1926 [him age 31 or 32, her age 21] to Vaughan Dempsey [born 1895 or 1894].
They mar at L'eglise de la Madeleine, Paris.
Wedding invite in [P106/178].

Letterhead of letter from Richard, 1902.
[P102/39(6)]
.
---
Booklet of sketches by Richard Henry Rahilly
This booklet is
[P106/314]
.
It contains a 1925 sketch so perhaps the booklet dates from c.1930.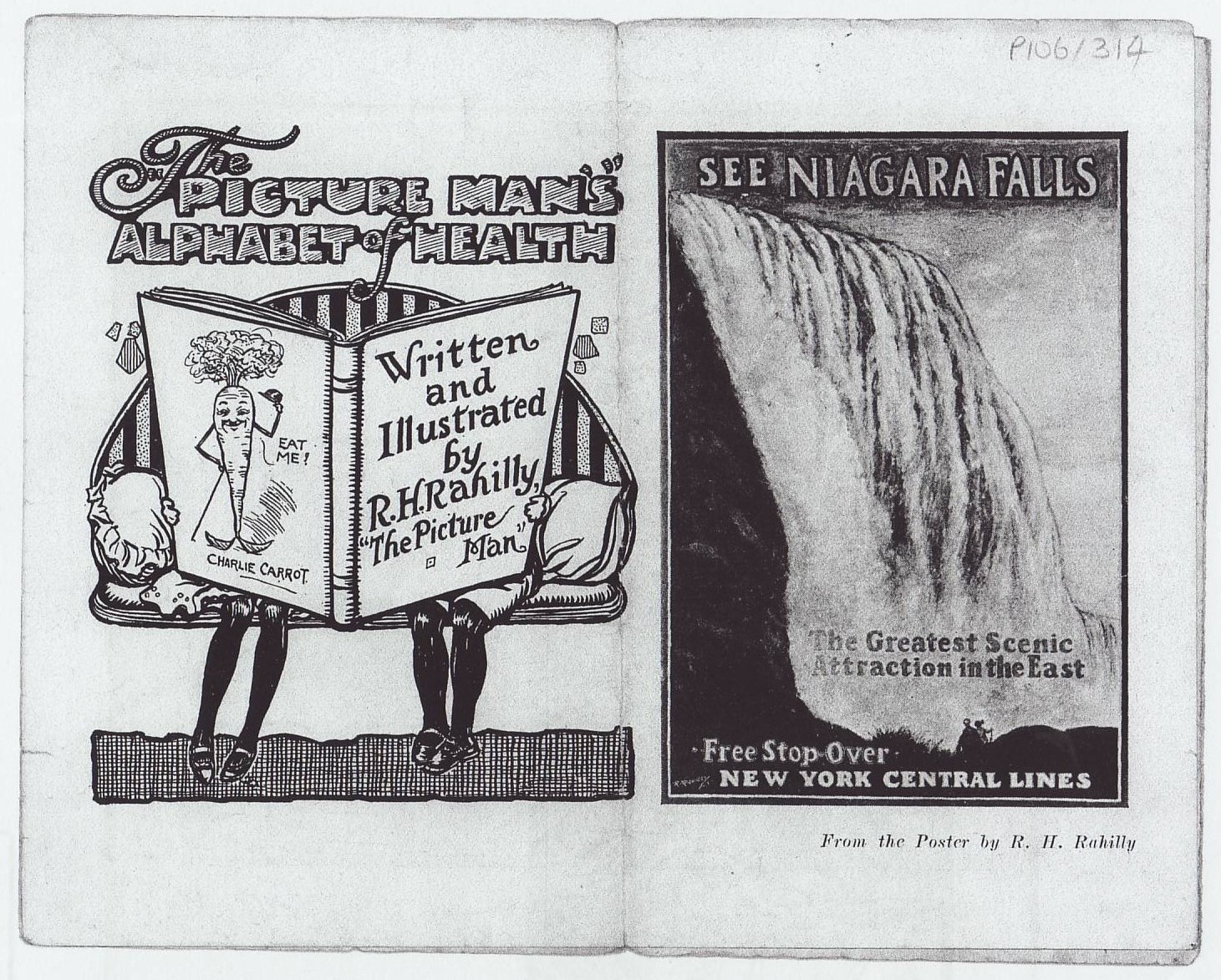 Page 1 of the booklet.
See
larger
.
See
p.2
.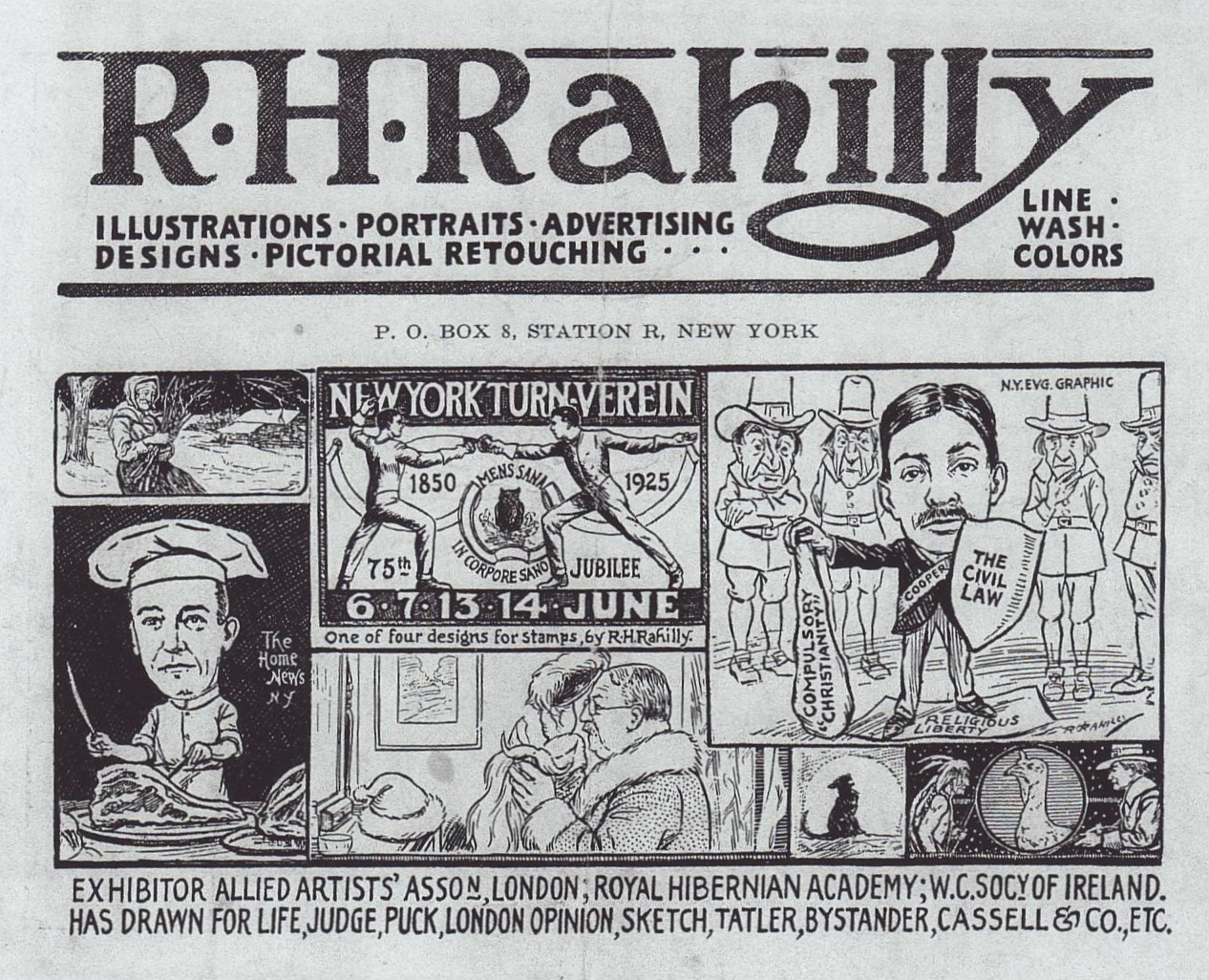 Page 4 of the booklet.
See larger.
Note his New York address.
One picture is for the New York "Turnverein" (gymnastics club) in 1925.
See p.5 and p.6.