Carrignafeela Castle, Co.Kerry
References:

Sources yet to be consulted:

"John McElligott's Prison" in O. S. Name Books, Kerry, I, p. 251.
Carrignafeela Castle
, Carrignafeela, O'Brennan par, E of Tralee, Co.Kerry.
Also called
"McElligott's Castle"
.
One of the castles of the McElligotts.
Seat of Denny when they first arrived in Co.Kerry.
Sir Edward Denny, Governor of Kerry and Desmond was granted Tralee in 1586, but Tralee Castle was in ruins.
Sir Edward Denny probably lived at Carrignafeela Castle when in Ireland after 1586.
He returned to England before his death in 1600.
His son Sir Arthur Denny lived at Carrignafeela Castle some time after 1605.
He died here in 1619.
It is referred to as "Carrignafeely House" at his death. See extract of 1619 document in [Hickson, 14 Apr 1897].
His son Sir Edward Denny restored Tralee Castle and moved there in 1627.
Col. James Ryeves acquired Carrignafeela Castle from Sir Edward Denny by Deed of 1627.
Ryeves lived at Carrignafeela Castle.
It was later sold by Ryeves to Crosbie.
It was occupied by Verdon in 1756.
It later became a ruin.
From entry of 25 Aug 1788 in [Rev. Daniel A. Beaufort's Tour of Kerry, 1788]: "I consented, mounted my horse & rode with them to see several dippings of the River Leigh, and farther on a great Cavern under a ledge of huge rocks, with an open, or window as they call it, upon a perilous abyss. This is called McElligott's prison."
There is another, neighbouring Carrignafeela townland across the parish boundary to the W, in Ballymacelligott par.
There is another "McElligott's Castle" in Arabela townland, Ballymacelligott par.

Carrignafeela Castle is mentioned as still occupied in 1756.
From
p.164
of
[Smith, 1756]
.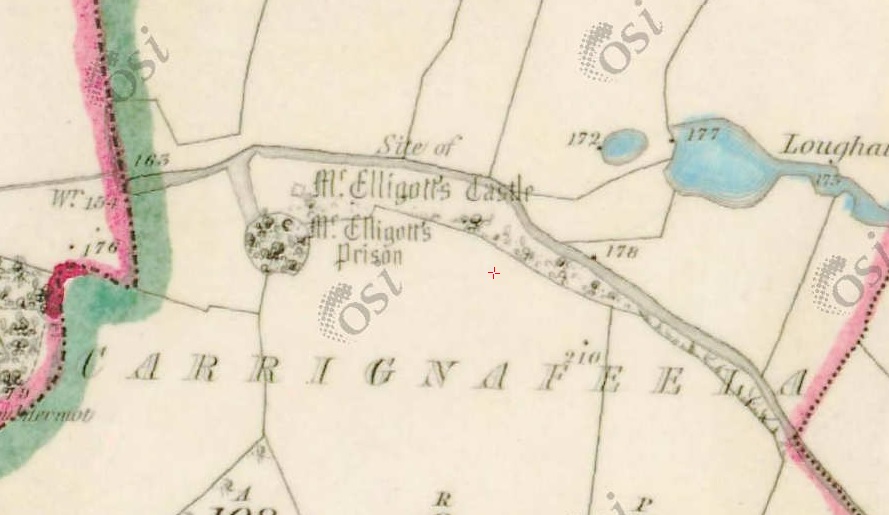 Carrignafeela Castle ("McElligott's Castle") on 1829 to 1842 map.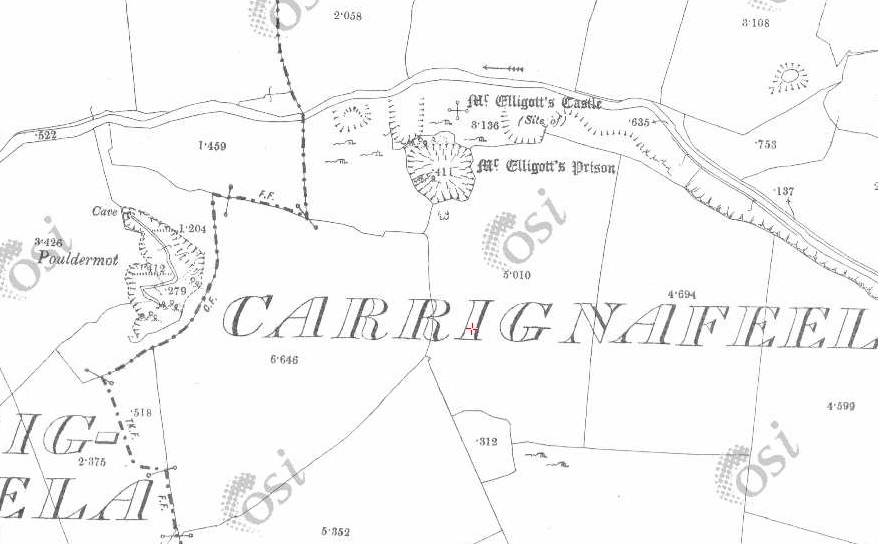 Carrignafeela Castle on 1887 to 1913 map.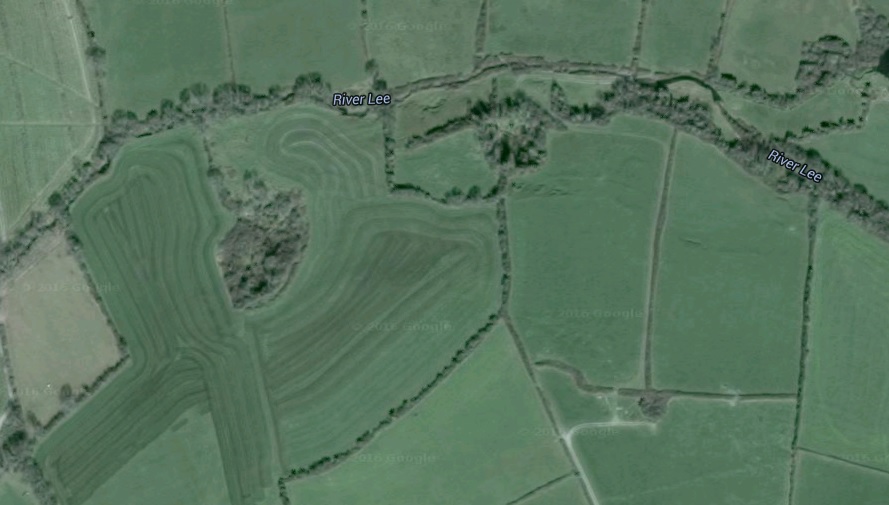 The location on modern satellite view.