Sir Marmaduke Blennerhassett, 6th Baronet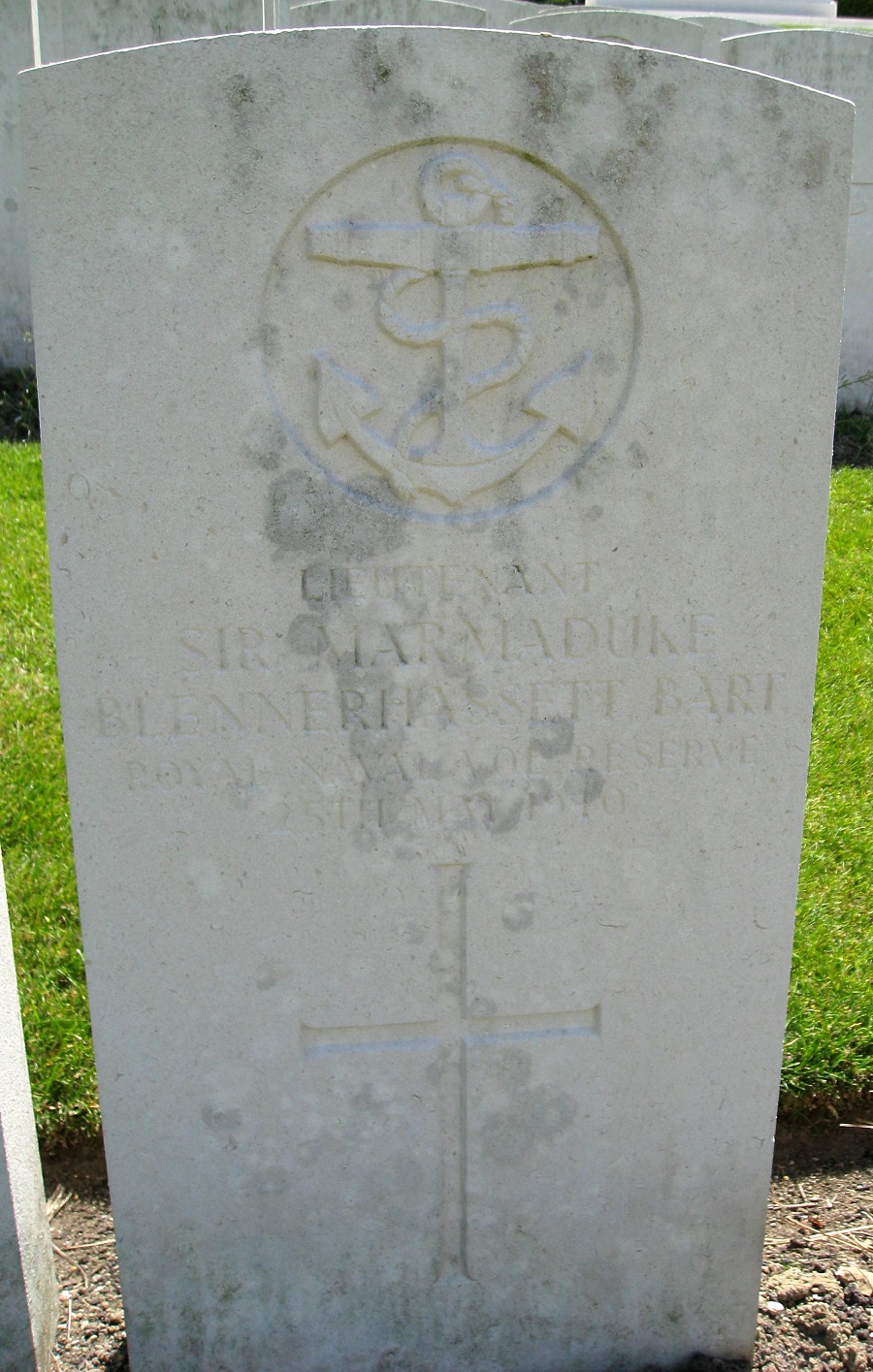 Grave of 6th Baronet (KIA 1940).
St James Cemetery, Dover.
See
full size
. From
findagrave
.
See
street view
of gate.
Sir Marmaduke Blennerhassett, 6th Baronet
,
born 20 Nov 1902.
Went as "Marmaduke" or "Charles".
See
Wikitree
and
thepeerage
.
He succ 1915.
He mar 1stly, 1926, to
Winifred McFarlane
[born 25 Oct 1897, Australia]. No issue.
It is an amazing story. She had left her husband and children in Australia.
She had not divorced her husband, so her marriage to Blennerhassett was bigamous.
Incredibly, she used a fake name,
"Wynne M. Seaton-Roberts"
, at her marriage to Blennerhassett in the
[GRO.UK]
.
It is unclear what exactly Blennerhassett knew about her when he married her.
Her real name and the bigamy were soon discovered. Marriage annulled 1927.
6th Baronet was Lieutenant in Royal Naval Volunteer Reserve in WW2.
Killed in action on 25 May 1940, age 37 yrs, in the Siege of Calais (22-26 May). The Siege of Calais ended in defeat and the Dunkirk evacuation (26 May to 4 June). 6th Baronet was on H.M.S. Greyhound, which took damage but was not sunk. (It was sunk later in the war.)
See his record at [CWGC].
He was bur St James Cemetery, Dover. See findagrave.
Gwenfra died 1956. Adrian was orphaned.
6th Baronet had issue by 2nd wife:
Sir Adrian Blennerhassett, 7th Baronet.
DNA match to (Mahony family): Teresa Le Jeune.
DNA match to (Cashel family): Nuala Duggan and Kathrin Riordan.
Marmaduke Adrian Francis William Blennerhassett, born 25 May 1940.
Went as "Adrian".
See thepeerage.
Adrian's father was killed on day he was born, 25 May 1940. He became Baronet from birth.
Only child of an only child. Never had a father.
Mother took him to USA for a time.
Came back to the British Isles. His mother became friends with Hilda Blennerhassett of Ballyseedy. Though she would not be a close relation of this Blennerhassett branch at all. He and his mother used stay at Ballyseedy.
His mother died 1956. He was orphaned completely at age 16.
In 1965, Hilda Blennerhassett died and she left Ballyseedy to the 7th Baronet, even though they were not closely related. He was only age 25.
He sold Ballyseedy out of the family in 1967.
He mar 1972 to Carolyn Brown.
He died 2022.
They had issue:




Sir Charles Blennerhassett, 8th Baronet.
He succ 2022.
---
Unknown portraits inherited by the Blennerhassett Baronets
Two portraits (dated 1857 and 1861) by
James Butler Brenan
(1825-1889). Also
here
.
Brenan lived and painted in Cork.
In both portraits, it looks like tartan draped over the army uniform. Looks like Scottish officer.
Note that Gwenfra Morgan had Scottish ancestors, Hunter-Blair.
But this does not look like Hunter-Blair. The Blennerhassett arms are on the 1861 portrait.
Also Brenan painted in Cork.
These clues say the portraits are probably Blennerhassett of Ireland.

But who? Hard to see who it could be in the Baronets branch at this time period.
Could it be Capt. Robert Rowland Conyers (born 1826)? He married in 1861, which would fit the date of the second portrait. Except that portrait has Blennerhassett arms.
Could it be the Ballyseedy Blennerhassett branch? (7th Baronet inherited their portraits.)
Perhaps the best candidate is Francis Barry Blennerhassett of the Ballyseedy branch (born 1815). He served in a Highland regiment, the 71st (Highland) Regiment of Foot. He became a Major in 1857, which would fit the date of the first portrait.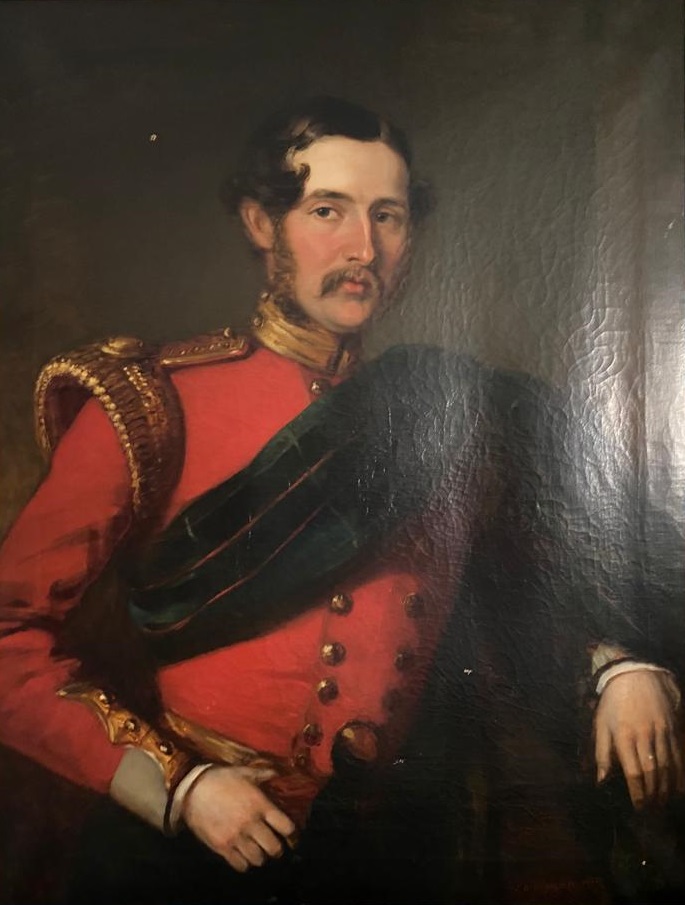 Unknown portrait dated 1857.
See
signature
which reads:
"J.B. Brenan. 1857."
See
full size
. See
other shot
.
As discussed above, this might be
Francis Barry Blennerhassett
of the Ballyseedy branch (born 1815), who became a Major in 1857.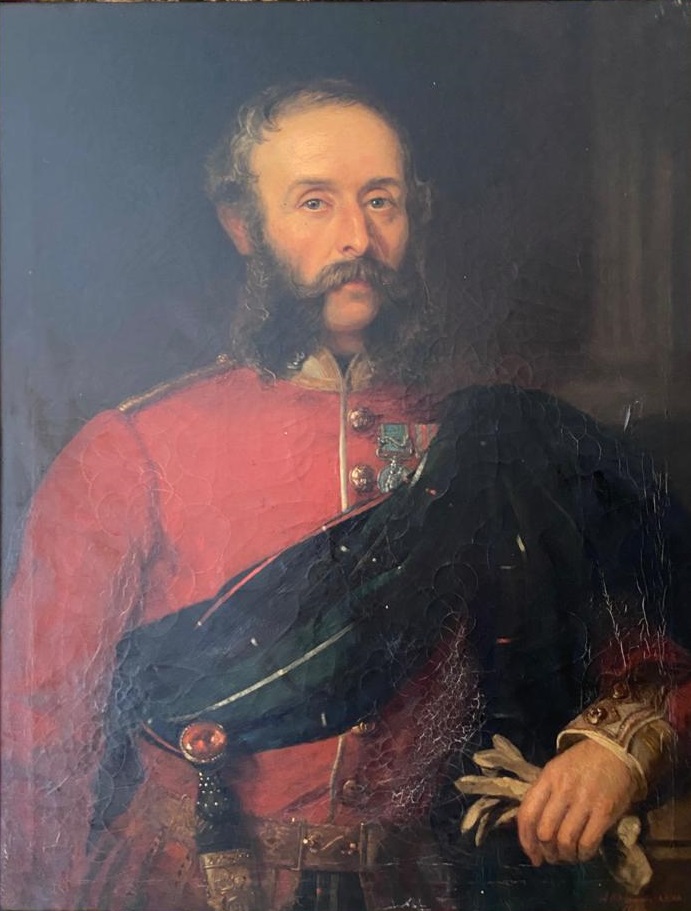 Unknown portrait dated 1861.
See signature which reads: "J.B. Brenan. A.R.H.A. 1861." (Associate of the Royal Hibernian Academy)
See full size. See other shot.
Could this also be Francis Barry Blennerhassett?
Blennerhassett arms on the frame says this must be a Blennerhassett.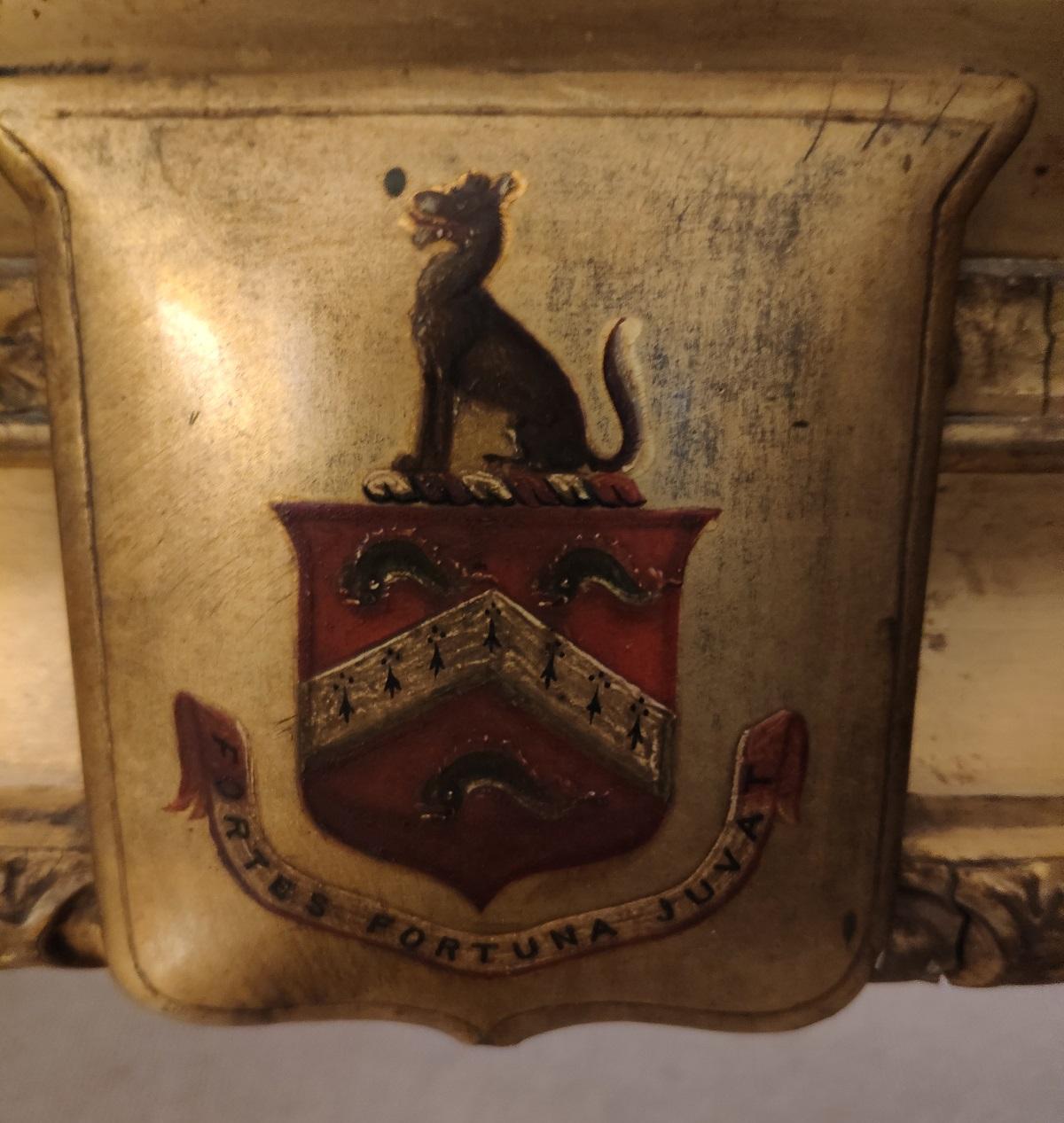 Blennerhassett coat of arms on the frame of the 1861 portrait.
See larger and full size.
See wider shot.