Arthur Blennerhassett, of Ballyseedy
Sources yet to be consulted: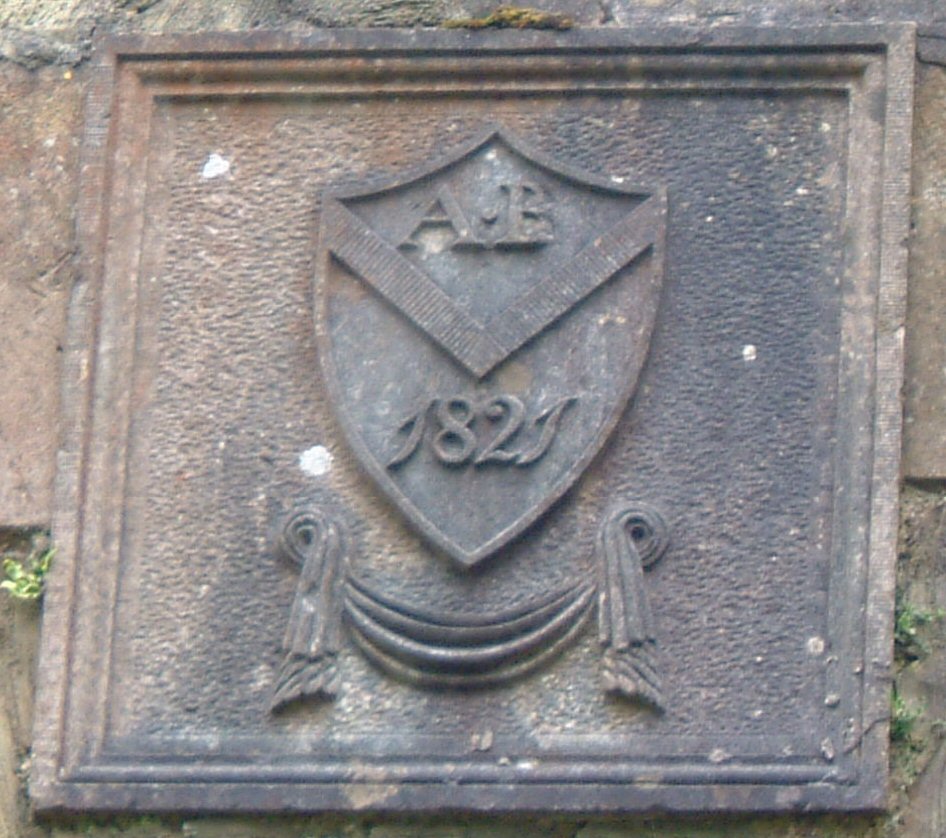 The date "1821" above the gate at the far
N end
of
Ballyseedy
.
See
full size
and
wider shot
. Photos 2004 by
Bill Jehan
.
Note this is the date of Arthur Blennerhassett's marriage. It is also the
100th year of the house
.
It says "A B" (Arthur Blennerhassett), NOT "A F" [Arthur and Frances].
See also
2000 photo
. Light adjusted. See
original
.
See
2014 shot
from
Bob Frewen
.
See
2016 shot
.
Arthur Blennerhassett
, of Ballyseedy (see
here
),
born 1st Jan 1799 (NOT 1800).
He inherited
Ballyseedy
1815 (age 16) when his
father
died.
Ballyseedy was remodelled in 1816-21. The lower N wing was built.
Arthur was just age 17 at start of this period. Perhaps his father had already drawn up plans before he died in 1815. Note Arthur's mother was still alive (until 1822 or 1823).
Arthur was educ
TCD
(BA 1820).
High Sheriff of Co.Kerry
1821-22 [after
Sir Arthur Blennerhassett, 3rd Baronet
].
Captain
, Kerry Yeomanry (Elmgrove and Blennerville Unit).
He mar Wed 31 Jan 1821, Merrion Square, Dublin, to Frances Grady.
See Cork Morning Intelligence Sat 3 Feb 1821.
(todo) See Limerick Chronicle 3 Feb 1821.
He might be "A. Blennerhasset, J.P." who approved George Cashel joining the County Constabulary 1828.
Duel in 1832:
He fought a duel 1832 with Maurice O'Connell, MP (him age 33, O'Connell age 29).
This was during the general election of 1832. The Liberal / Repeal O'Connell was running for MP for Tralee against the Conservative candidate Sir Edward Denny, 4th Baronet.
The dispute was over Arthur canvassing voters for Denny who had promised O'Connell their support (there were only 180 voters in the constituency).
O'Connell called to Ballyseedy, evening of Thur 29 Nov 1832, left a letter with Frances.
Arthur challenged him for involving his wife. They met 5 am, Fri 30 Nov 1832, at "Manor" [Mc Morran, 1991]. The duel was with pistols, no one hurt.
See The Times, 6 Dec 1832.
(todo) See Dublin Evening Mail.
O'Connell went on to win the seat 14 Dec 1832, and was MP for Tralee 1832-53.
Arthur is listed in Free Burgesses of Tralee 1833.
[Kerry Evening Post, Sat 8 Mar 1834, [KCL] RR microfilm] shows a Grand Jury sworn, including Foreman: Arthur Blennerhassett, of Ballyseedy (note his wife died 2 days later) and one of the members: Arthur Blennerhassett, of Blennerville.
Frances dies, 1834:
Frances died at Ballyseedy, night of Mon 10 Mar 1834, after giving birth to 9th child (Frances, who lived).
[Kerry Evening Post, Wed 12 [NOT 8] Mar 1834, [KCL] RR microfilm] refers to the baby as: "The little stranger doomed never to behold a mother's smiles, or feel the warm caresses of a mother's care and tender solicitude".
MP for Co.Kerry 1837-41:
Arthur is listed as one of the Deputy Lieutenants of Co.Kerry, and also one of the Magistrates of Co.Kerry, in [Pettigrew & Oulton, 1835].
He was Conservative MP for Co.Kerry 1837-41. Co.Kerry had 2 MPs.
He was elected in general election, 17 Aug 1837, unseating Frederick William Mullins.
He stood but lost in general election, 13 July 1841.
Arthur dies, 1843:
He died 9.30 on 23rd Jan 1843, Nantes, France, age 44 yrs, "of brain fever, after a short illness of 3 days".
He had been staying at Nantes for some time [Kerry Evening Post, Wed 1 Feb 1843, [KCL] RR microfilm].
See notice in The Times, 8 Feb 1843.
See notice in Tuam Herald, February 11, 1843.
Arthur and Frances had issue:
Dorcas Blennerhassett, born c.1822,
mar 1845 to Robert Conway Hurly.

Catherine Blennerhassett, born 1823.
Arthur Blennerhassett, born 1825, died in infancy 1826.
Georgina Blennerhassett, born 1826.

Amelia Blennerhassett, born 1827,
mar 1845 to Hon Chichester Thomas Skeffington [born 1813] and had issue.

Henry Deane Grady Blennerhassett, born 1828,
succ to Ballyseedy 1843 (age 15),
died 1850, age 22 yrs.

Charles Blennerhassett, born 1830,
succ to Ballyseedy 1850 (age 20),
died 1859, age 29 yrs, see Irish Times, December 16, 1859,
had issue:

Major Arthur Blennerhassett, of Ballyseedy,
born 26th June 1856.

Adelaide Blennerhassett [Ada], born c.1831-32,
mar 1853 to Standish O'Grady, 3rd Viscount Guillamore [born 8 July 1832] and had issue.

Frances Annabella Blennerhassett, born 10th Mar 1834,
her mother died giving birth to her, she lived.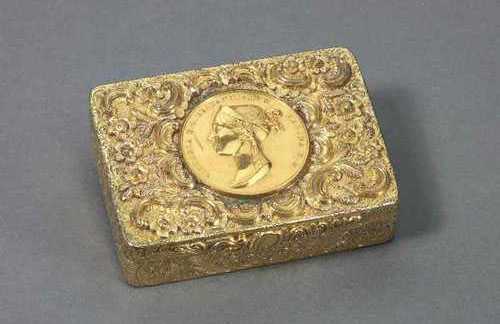 A gold
snuff
box belonging to Arthur Blennerhassett of Ballyseedy (died 1843).
Was for sale by auction by
Hamilton Osborne King
at the RDS, Dublin, May 2001, Lot 285.
It is inscribed:
"Arthur Blennerhassett of Ballyseedy, MP., County of Kerry"
, with a
Queen Victoria
coronation medallion 1838.
---