Denny of Tralee Castle, Co.Kerry
Sir Edmund Denny,
of
Cheshunt
, Hertfordshire.
See
wikipedia
and
genealogics
and
tudorplace
.
He mar 2ndly to
Mary Troutbeck
.
She is
descendant
of
Edward I
.
He died 1520.
He had issue by 2nd wife:
Sir Anthony Denny,
of Cheshunt, Hertfordshire,
born 16 January 1501 (new style year).
See wikipedia and genealogics and tudorplace.
He mar 1525 to Joan Champernowne [descendant of Edward I].
He was a favourite of Henry VIII.
He appears in the play Henry VIII by Shakespeare.
In 1541 he leased the confiscated manor of Waltham Abbey, Essex.
He died 10 September 1549, age 48 yrs,
bur Cheshunt.
Joan bought the manor of Waltham Abbey outright in 1553.
She died 10 Sept 1553.
See her portrait at Victoria and Albert Museum.
Sir Anthony and Joan had issue:




Sir Edward Denny,
youngest son, born 1548,
of Bishop's Stortford, Hertfordshire,
Governor of Kerry and Desmond.




Joice Denny,
mar William Walsingham
and had issue:

Sir Francis Walsingham, born c.1532,
Elizabeth's spymaster,
had issue:

Frances Walsingham,
mar 1stly, 1583, to Sir Philip Sidney and had issue,
Sidney died 1586,
mar 2ndly, 1590, to Robert Devereux, 2nd Earl of Essex and had issue.
---
Sir Anthony Denny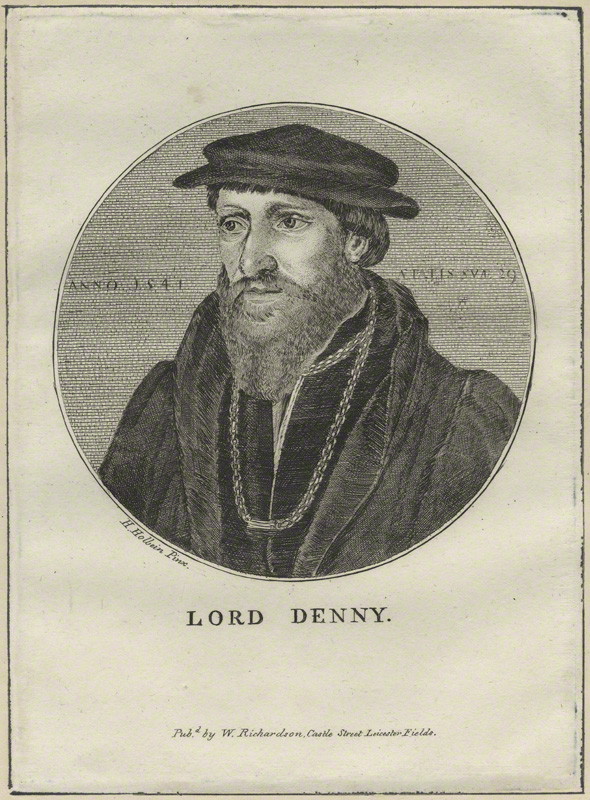 Sir Anthony Denny.
Engraving, possibly early 19th century, after 1541 portrait by
Hans Holbein the Younger
.
From
NPG
.
See
other pictures
.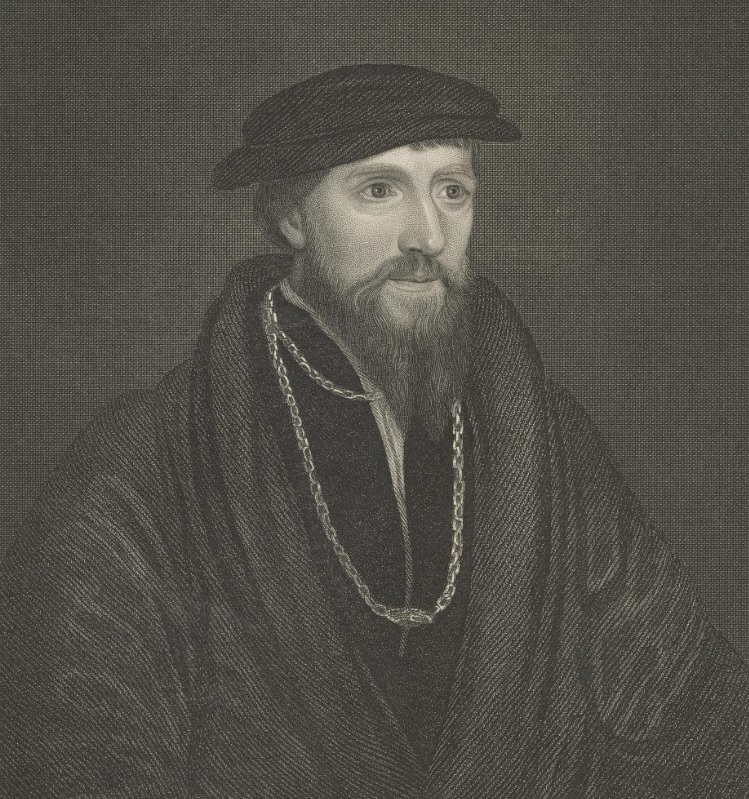 Sir Anthony Denny.
Engraving, mid 19th century, after 16th century portrait by Hans Holbein the Younger.
From Scottish National Portrait Gallery.
See other picture (here on wall at Beaulieu House, Co.Louth).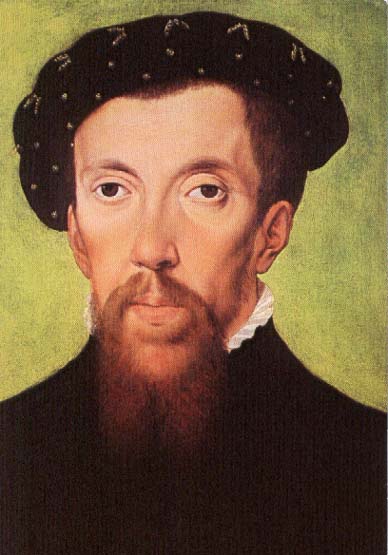 Claimed to be Sir Anthony Denny.
Though some say it is Henry Howard, Earl of Surrey.
From Tudor Place.
---
References
---
Sources yet to be consulted
Papers and portraits donated to Victoria and Albert Museum by 4th Baronet in 1882-1889.

Nominal File: Denny, Edward Sir, MA/1/D/907.
Pressmark: 86.FF.53.
See description.

DENNY on p.49 of [Smith, 1756].
Denny family tree in [Ms 20621]
"The Dennys". [MGH] 2nd series, vol.3 (1881), pp.74-76 and pp.113-116 and pp.158-160 and pp.197-199. Says "to be continued" but cannot find continuation.
A Brief Account of the Denny family, A. Denny, 1883.

Jeremiah King

Sir Henry Denny, 7th Baronet

History of the Denny Family of Tralee, 1911.
"Dennys of Cork", [JCHAS], 28:45-46, 1922.
"A Problem Pedigree", brochure, pre-1947.

Denny Genealogy, Margaret C. Denny Dixon and Elizabeth C. Denny Vann (NOT Hann), New York, 1944.
Sir Anthony Denny in [DNB]
---