Denny papers
Papers of the
Denny Baronets
family.
In private possession.
I have moved this under Blennerhassett since discovering that Denny are not my ancestors.
From my view, these are now (crucial) sources being used to research the history of the Blennerhassett family.
---
Book of transcripts of deeds.
See cover.
All 16th-17th centuries.
---
Letter from Elizabeth (1588-1600)
Letter from Queen
Elizabeth I
(died 1603).
Confirming grant of lands to
Edward Denny, Knight
(knighted 1588, died 1600).

The letter confirms grant of lands to "Edward Denny, knight".
See
full size
.


Date of above letter.
(Illegible) year of reign of the Queen.
See full size.
I had a note that this says the 33rd year of her reign (i.e. Nov 1590 to Nov 1591). But I am not sure now why I thought that. I cannot see "xxxiii".
---
A petition to
Elizabeth I
from the first English settlers of Co.Kerry.
This petition is after the Irish insurrection of 1598, in which Tralee was burnt. The English settlers of Kerry have withdrawn probably to Cork.
This petition was apparently presented to the Queen in Nov 1598.
It mentions
Sir Thomas Norris
(died 1599) and
Sir Edward Denny
(died 1600).

Start of petition to Elizabeth from the English settlers of Co.Kerry.
See
full size
.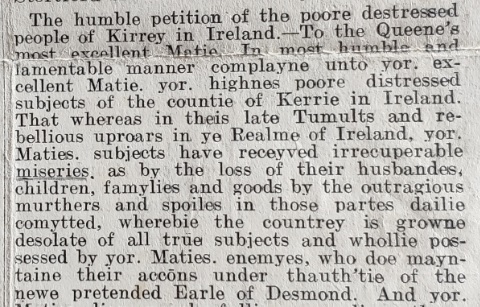 Start of transcript of petition.
The English settlers say their lives and properties have been lost to Irish rebels.
See full size.


This letter dates the petition.
Extract from p.430 of vol.3 of The progresses and public processions of Queen Elizabeth by John Nichols, 1823.
This is a letter of 3 Nov 1598 from Sir John Stanhope (later 1st Baron Stanhope) to Sir Robert Cecil (later 1st Earl of Salisbury).
It says that a petition from Kerry has been presented by Sir Edward Denny to the Queen.
The 7th Baronet in his notes above says this must be this petition.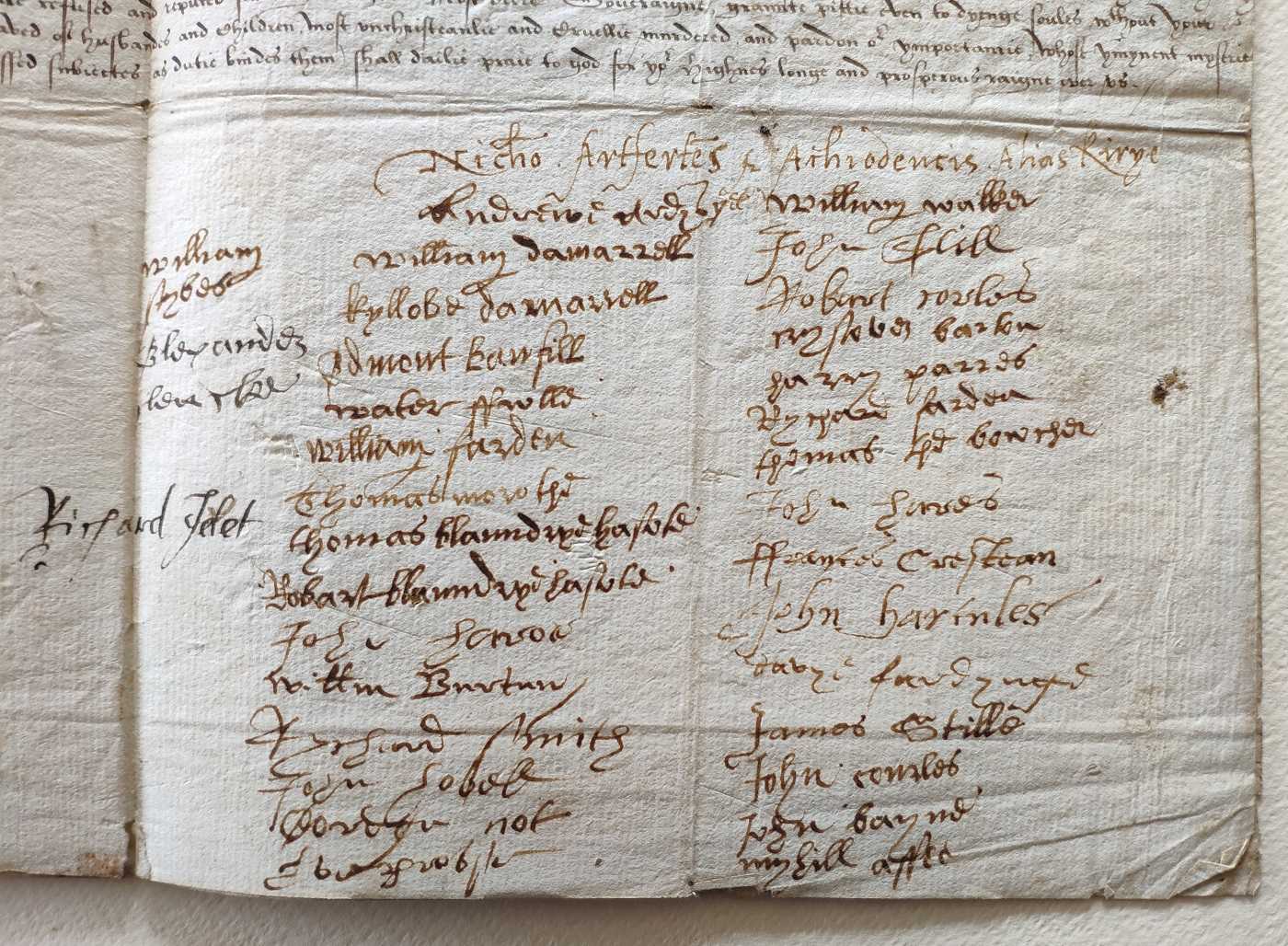 The signatures of the settlers.
See larger and full size.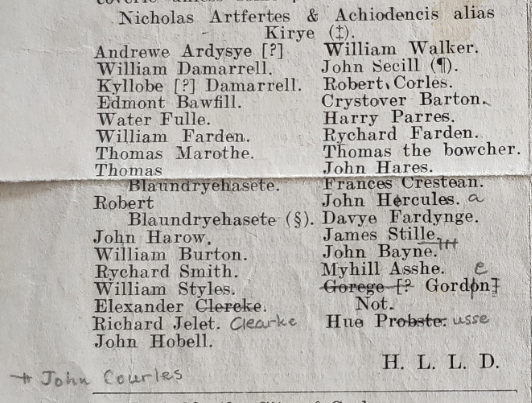 A reading of the signatures by the 7th Baronet.
Note Thomas and Robert Blennerhassett.
Most of the other names are not found in later Kerry history. It seems most of these early settlers never went back to Kerry.
See full size.
---
Selected letters
---
---
Blennerhassett papers, 1773-1819
These are thought to be probably acquired by
Sir Henry Denny, 7th Baronet
from
Fenit House
.
---
Map of the Denny estate at Tralee. Tralee Castle and surrounding lands. Dated 30 March 1795.
---
Miscellaneous