Garret Mor Fitzgerald, 8th Earl of Kildare
Sources yet to be consulted:

Lost tomb of the 8th Earl:

Page 22 of [Finlayson, 1878] says there is a drawing of the lost tomb in "Monumenta Eblanae", a 17th century Ms.
This must be the drawing of St.Mary's Chapel on p.43 of "Monumenta Eblanae" listed in the survey in [Loeber, 1981].
"Incidents in the life of Garrett More, eighth earl of Kildare", Walter Fitzgerald, Kildare Arch. Soc. Jn., ii, no. 2 (1896), 117-132. Apparently publishes the drawing of the tomb.
See pp.104-105 and drawing in Fig 19(a) in [Milne, 2000].
Garret Mor Fitzgerald, 8th Earl of Kildare
,
The Great Earl, born 1456.
See
wikipedia
and
wikitree
and
thepeerage
.
He was freed 1496.
He was Lord-Lieutenant of Ireland from 1496 to think 1513.
He fought with 3rd Baron Howth against the Irish at the Battle of Knockdoe, Co.Galway, 1504.
K.G. 1505 (first Irish one).
In 1510 he built a chapel, St.Mary's Chapel (now gone) in the NE end of Christ Church Cathedral, Dublin. This was on the N side of the high altar, in the Choir at the E end. See map on p.110 of [Milne, 2000]. There was in fact an older St.Mary's Chapel in the cathedral, so this one was also called the Earl of Kildare's chapel.
He died Kildare town, 3 September 1513, age 57 yrs.
He was bur 16 Oct 1513 in the chapel he had built, St.Mary's Chapel, Christ Church cathedral, Dublin.
Both monument and chapel have since vanished.
He had issue by 1st wife:
Margaret Fitzgerald,
mar 1485 to Piers Butler, 8th Earl of Ormond [born c.1467] and had issue.
At her marriage her father was only age 29. She must have been only age c.14.




Elizabeth Fitzgerald.
DELVIN in [Complete Peerage] has her as Isabel, dau of Thomas Fitzgerald, son of Gerald, Earl of Kildare.
But WESTMEATH in [Burkes Peerage] has her as dau of 8th Earl (for which the dates fit better).
She mar Richard Nugent, 3rd Baron Delvin and had issue.




Garret Og Fitzgerald, 9th Earl of Kildare, born 1487.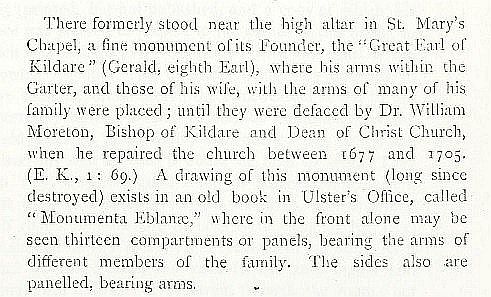 Discussion of the lost tomb of Garret Mor Fitzgerald, 8th Earl of Kildare (died 1513).
The tomb was in St.Mary's Chapel, Christ Church cathedral, Dublin.
From
Page 22
of
[Finlayson, 1878]
.
Contrary to what is said here,
[Milne, 2000, p.105]
says the dates of destruction of the monument and the chapel are uncertain.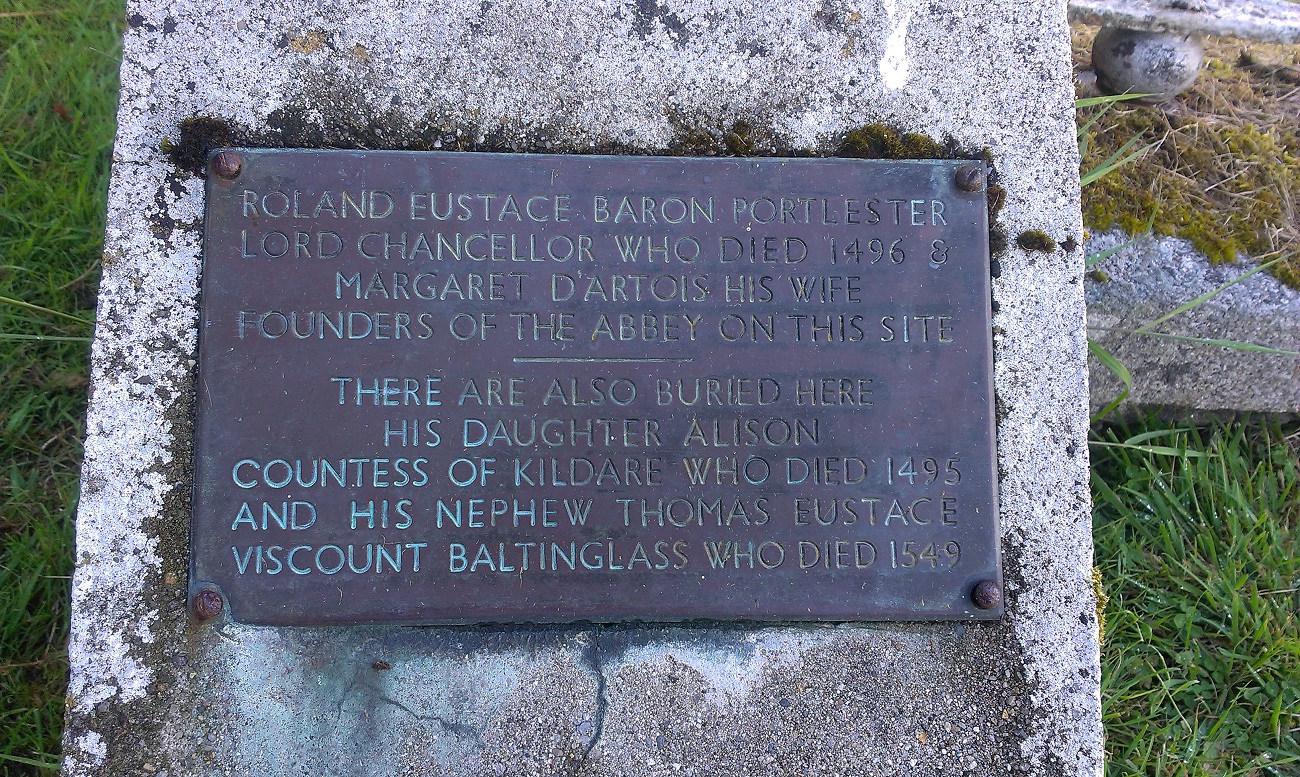 Plaque at burial site of Alison FitzEustace at New Abbey, Kilcullen, Co.Kildare.
Photo 2015. See full size.
---
Butler - FitzGerald dispute
of 1492:
Despite the fact that his daughter was married to one of them (the future
8th Earl of Ormond
) there was intense Fitzgerald rivalry with the
Butlers
. This came to a head in 1492 with a skirmish in Dublin between the 8th Earl of Kildare and
James Butler, "Black James"
. Black James took refuge in the (now vanished) chapter house of
St.Patrick's Cathedral
, Dublin. The standoff ended when Kildare cut a hole in the door and stuck his hand through to offer a truce.
This is said to be the origin of the expression "to chance your arm", but there is no evidence for this.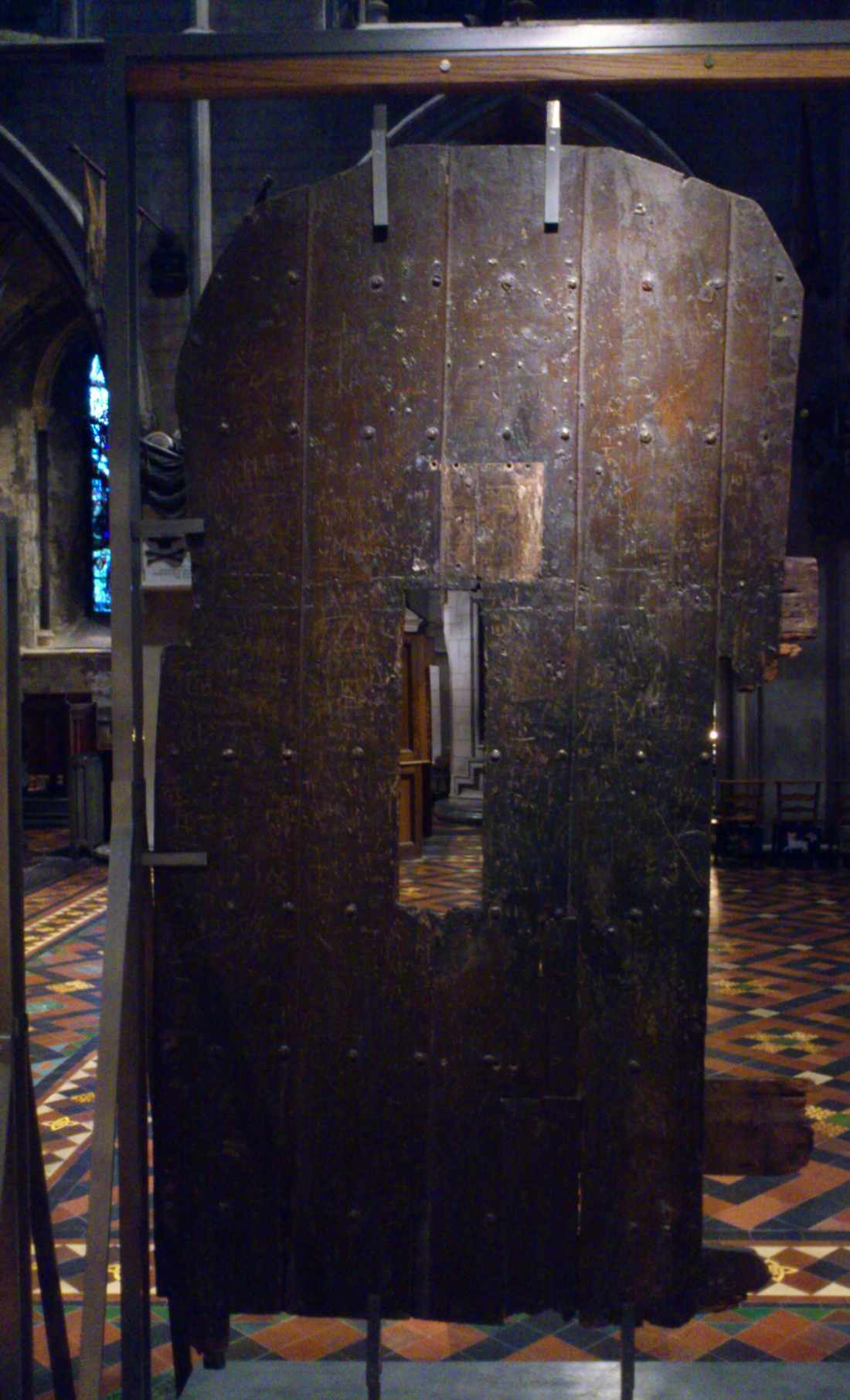 The famous "Door of Reconciliation" preserved in St. Patrick's Cathedral, through which the 8th Earl stuck his arm in 1492.
Photo 2013. See
larger
and
full size
.
See
rear side
.