Frank Flanagan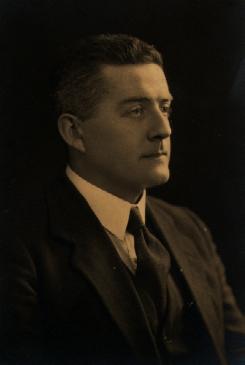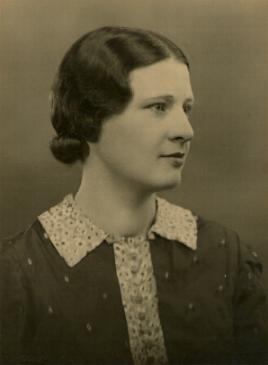 (Left) Frank Flanagan.
(Right) Nora Stack. See
full size
.
Frank Flanagan
,
"The Pope Flanagan", born 11 Dec 1886.
He was educ with nuns at
Banagher
, Co.Offaly.
He then went to
Clongowes
boarding school (Jesuits), Co.Kildare.
He was at school with
Fonso Carton
.
He got the name "The Pope" at Clongowes because he was so religious.
He is
listed
in 1901 census at boarding school in Clongowes.
Must have left Clongowes summer 1904.
He is listed on
p.36
of
The Clongownian
, 1917. Says he left Clongowes in 1904.
Went for priesthood:
He initially went for the priesthood. He joined the Jesuits 7 Sept 1904 (age 17). He was planning to become a priest on the missions.
He stayed for 3 years. Eventually decided wasn't suited, left apparently 1907.
His parents gave an inscribed monstrance to the Jesuits.
He didn't go to university.
He recalled: "I had no incentive to work. Father told me I need not take up a profession, as he had sufficient land and property to ensure my future."
He hunted with his brother The Bird around SW Co.Dublin (then open country, now all built over). Founder member of South County Dublin Harriers 1906. Also hunted with the Ward Hounds, and generally lived the high life on his father's money: "riding around his many farms on horseback to supervise his workers and hunting twice a week did not help me to realise that life meant more than idling my life away".
Friend of Gogarty:
He was a friend of the writer, conversationalist and Dublin character Oliver St.John Gogarty. Gogarty was said to be a cousin of Frank's friend Fonso Carton, but apparently this is not true.
When Frank left the Jesuits in apparently 1907, Gogarty is said to have put a notice in the social column of the Irish Times saying: "The Pope has gone to Avignon" (i.e. "The Pope" has left Rome and is pursuing a new path).
Through Gogarty, Frank met Joyce, but he was not a fan of Joyce or his writings. Note that Joyce's father was at Frank's mother's funeral 1910.
Frank stayed friends with Gogarty all his life. He would have stayed with Gogarty - not at the Martello Tower, where Gogarty lived only for a brief time in 1904 - but rather at Renvyle in Connemara.
After leaving the Jesuits he went to America. He was in the US around 1907-08.
There is a picture of Thomas Addis Emmet, "regards to F.C. Flanagan", 24th Dec 1907.
He met US President Theodore Roosevelt, "who kindly gave me a signed photo", dated 20th Jan 1908.
He stayed friends with his son Kermit Roosevelt.
A postcard May 1908 shows him living at Portmahon House.
His mother died 1910.
He worked as an insurance broker for a while, listed as such in Census 1911.
In [Census, 2 April 1911] he seems to be listed twice:
Nationalism:
Like his father, he was in Irish Parliamentary Party / Nationalist Party.
He was a Captain in the Redmond wing of the Irish Volunteers.
He helped create a brief diversion to distract British troops during the Howth gun-running, 26 July 1914.
Bulmer Hobson recalled: "They went off in all directions and a scene of great activity ensued, which was further enlivened by the arrival of a gentleman, locally known as 'The Pope Flanagan', on horseback. Mr.Flanagan, at my request, galloped his horse off at a furious pace and added to the noise." [Hobson, 1964].
Frank was good friends with T.P. O'Connor (Nationalist MP).
Also a friend of the nationalist politician Tom Kettle (their fathers were friends). [Frank's memoirs] recall that "Life was pleasant in Dublin before 1914 and if one had a bit of money there was not much need to work. Tom and I played billiards very often in the mornings", and would then go for a few early drinks in a hotel bar, or in the pubs on the Dublin docks.
Fought in British Army in WWI:
He followed the John Redmond volunteers to fight in WWI.
He was officer in British Army, Nov 1914 to Nov 1919.
See Frank Flanagan's WWI service.
Bachelor life:
Frank was living Portmahon House in 1920s, with his father and brother Michael. Liam Cosgrave recalled the three of them there.
Like all his family, he was pro-Treaty and against De Valera. His memoirs blame De Valera for the Civil War, and admire W.T. Cosgrave for successfully founding the Free State.
He was friends with the opera singer Margaret Burke Sheridan around 1923. He may have been interested in her but it seems it didn't go anywhere.
The Flanagan estate was 489 acres in 1924 [Hannan].
"Frank Flanagan" was at George Dempsey's funeral 1924.
He was a very sociable person, and his memoirs are full of a list of interesting friends that he visited, dined with, and drank with.
Apart from those mentioned above, he was also friends with the writers Brinsley MacNamara and Liam O'Flaherty, and the journalist Thomas Kenny of Galway.
He also lists as friends the British journalist Hannen Swaffer, and the US Democratic politician Jim Farley.
He was the only son left alive when his father died at Portmahon House in Oct 1931. Frank was age 44, a bachelor. Soon after he moved out of Portmahon House and got married.
He inherited Portmahon House and all the Flanagan lands [Alderman's will] and eventually sold them off.
The Flanagan estate was 344 acres in 1931 [Hannan].
He set up his married home in the old Flanagan family property Walkinstown House.
He is listed at Walkinstown House in [Thom's] from 1933 to 1960 (indicates he moved in there before marriage).
Note that his sister Lizzie O'Farrell was living in Portmahon House as at Dec 1933. She moved in around or after the Alderman's death, so Frank set up home in one of the other Flanagan properties.
He enjoyed drinking a lot when a bachelor, but eventually stopped and became a Pioneer before he even met his wife, and for the rest of his life never drank. He more or less stopped hunting when he married.
He met his future wife Nora think July-Oct 1932, when she was working in Co.Wicklow. Frank was out for a drive round Co.Wicklow with a friend. His friend said let's call in to a young doctor friend of mine where we'll get afternoon tea.
He is listed as "farmer" at marriage.
Frank mar 31 July 1933 to
Dr. Nora Stack
[born 29th June 1903].
Honeymoon in
Lourdes
and France.
They nearly went to live in
Drimnagh Castle
(near Walkinstown House).
Deirdre Flanagan
thought this was at time of their marriage 1933, although the castle did not apparently become vacant until 1954.
Frank is listed as "farmer", living Walkinstown House, at dau's birth 1934.
He was a friend of Frank Duff (founder of Legion of Mary).
He was a friend of the painter Jack B. Yeats. Frank bought some of his paintings very cheap when he was unknown, but unfortunately Nora didn't like them and they were sent back.
Deirdre Flanagan said her parents still sometimes rode horses to church in Crumlin in the 1940s. By this time no one rode horses in Dublin centre, but some still rode in the suburbs.
The Flanagan lands of SW Co.Dublin were disposed of in Frank's lifetime as the suburbs expanded into what was countryside. It is not the best area of Dublin, but still worth a lot more than the lands were let go for.
The Flanagan estate was 207 acres in 1939 [Hannan].
The Flanagan estate was 97 acres in 1949 [Hannan].
Drimnagh Castle became vacant 1954. The school was apparently built on Frank's land, though he didn't own the castle itself.
Nora dies, 1957:
Nora died of cancer. She died at St.Vincent's private nursing home, 96 Lr Leeson St, Dublin, 3 Dec 1957, age 54 yrs.
See death cert from [GROI].
See death notice, Irish Times, December 5, 1957.
See two obituaries, unknown newspapers. Abstracted in [Norton, 1991].
Funeral 5 Dec 1957, bur Glasnevin Cemetery.
Frank sold Walkinstown House 1959 or 1960.
He moved to "Glenade", 65 Mount Merrion Ave, Mount Merrion / Blackrock, Co.Dublin.
He is listed at Walkinstown House in [Thom's, 1960].
Listed at Glenade in [Thom's, 1962-63].
Frank dies, 1970:
He died Fri 23 Oct 1970, "Glenade", age 83 yrs.
See death cert from [GROI]. He is "retired farmer".
See death notice, Irish Times, October 26, 1970.
Funeral Mon 26 Oct 1970, Booterstown church. He was bur Glasnevin Cemetery.
Frank and Nora had issue:
Margaret Flanagan,
"Peggy", born 23 Aug 1934.
Peggy's christening present is part of a story about the lost Caravaggio.




Finola Flanagan.
She mar Kieran Kennedy and had issue.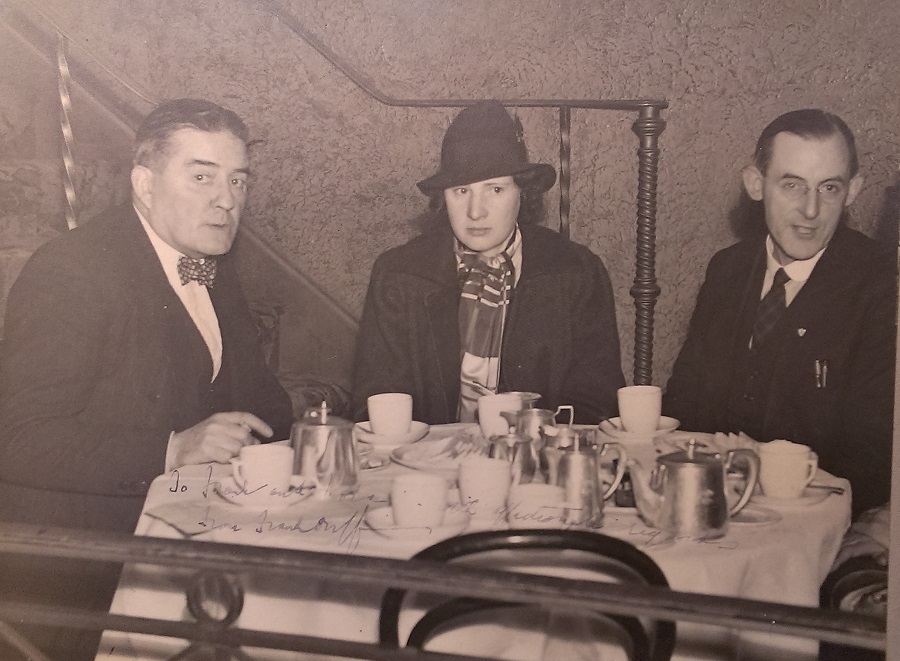 Frank Flanagan and Nora Stack and
Frank Duff
.
See
larger
and
full size
.
See
other photo
clearly at same event.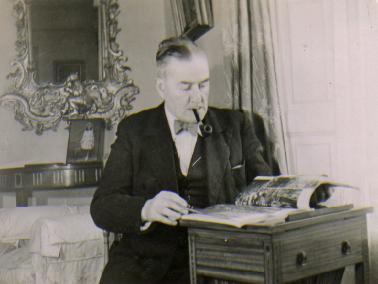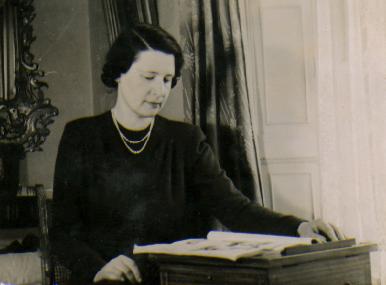 Frank Flanagan and Nora Stack, in the drawing room, Walkinstown House, both pictures 14th Mar 1948.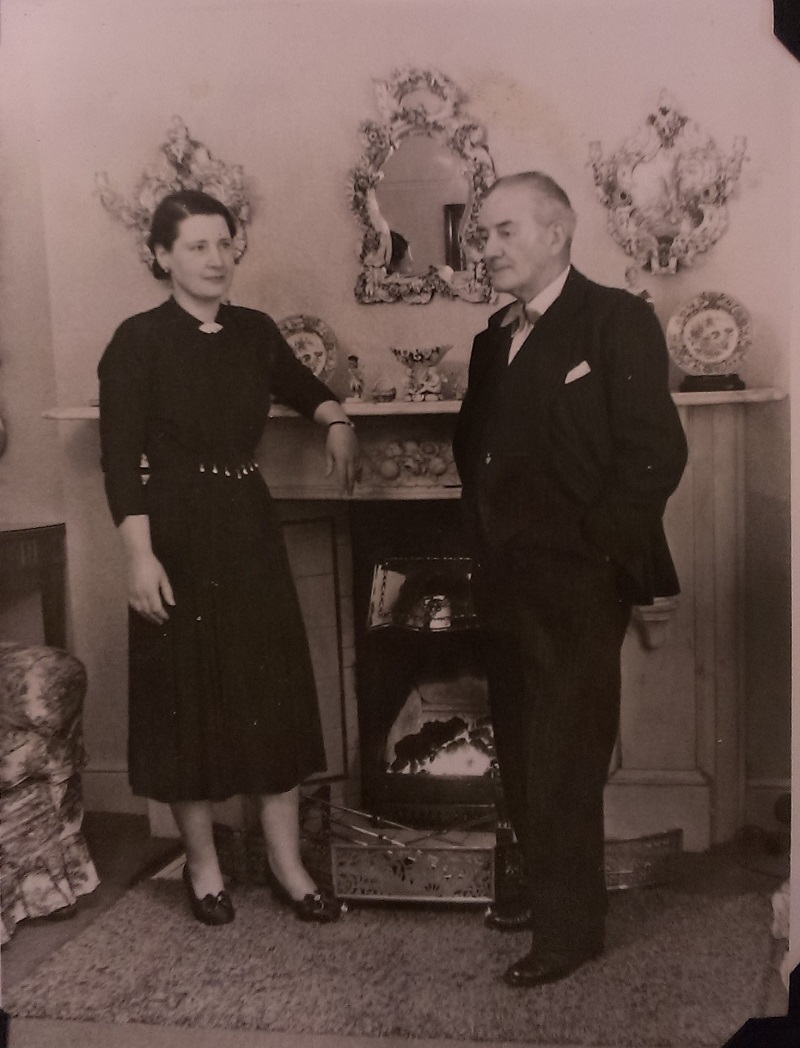 Nora and Frank, Walkinstown House.
See larger and full size.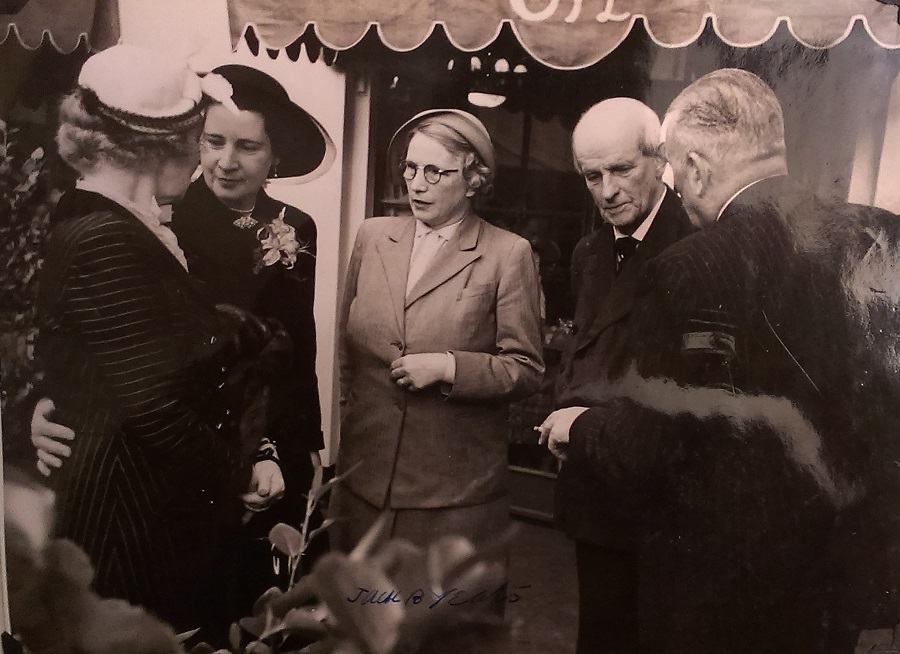 Left to Right: Nancy Doyle, Nora Stack, Alice Mac Eoin, Jack B. Yeats, Frank Flanagan.
See larger and full size.
---
Photo of Frank Flanagan with his brother-in-law
W.T. Cosgrave
.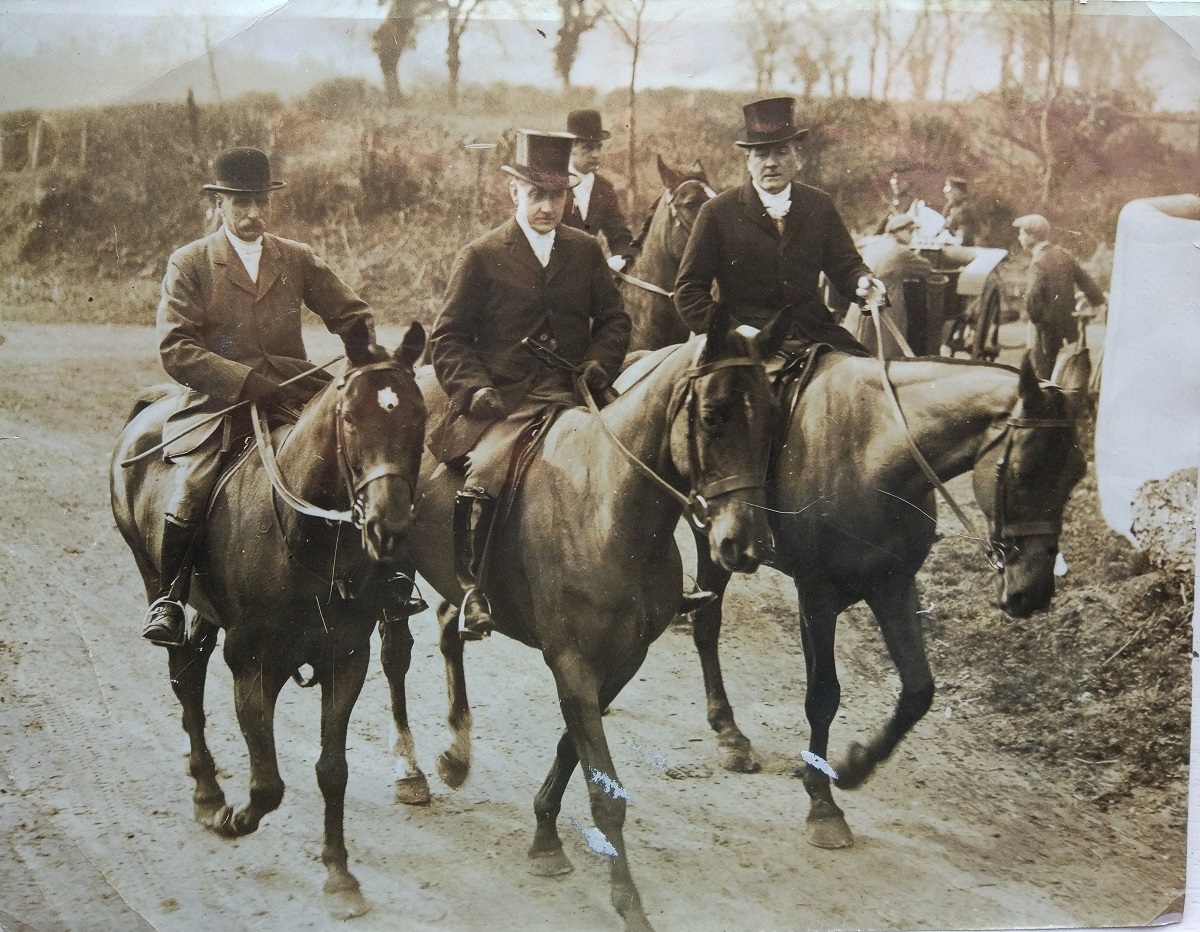 Riding out to the hunt, c.1929-30.
Centre: W.T. Cosgrave (then Prime Minister of Ireland).
Right: Frank Flanagan.
See
full size
. See
other scan
.
See
close-up
.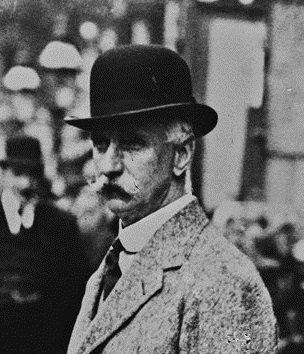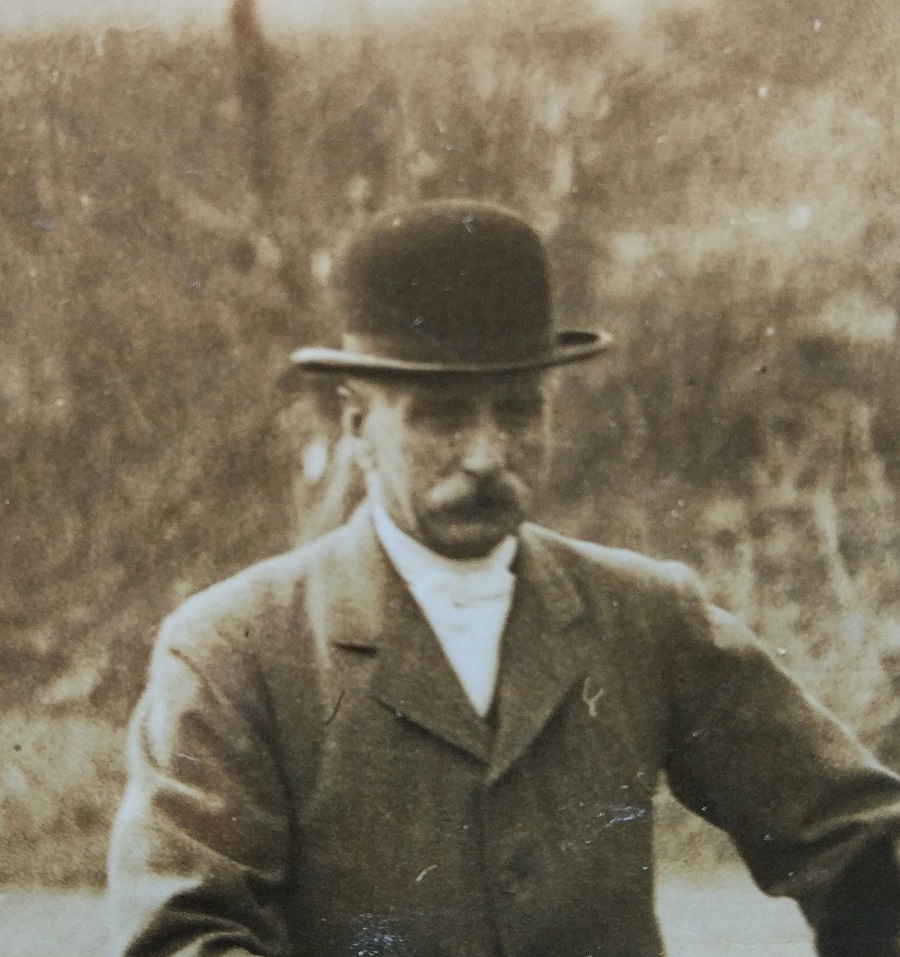 (Left) 1920 photo of Dayrell Talbot Hammond. See
full size
. From
National Library of France
. See
details
.
(Right) Close-up of above hunting photo. See
full size
.
It seems clear it is Dayrell Talbot Hammond.
---
Mooney's pub, Crumlin
[French, 1997, p.81-82]
tells a story of "The Pope" Flanagan riding into Crumlin with some friends to go to
Mooney's pub
(The Shaw Arms).
A local character called "Whack" minded his horse, and after a few hours drinking he tipped him a
half-crown
.
Mooney's pub was at the corner of St.Agnes Rd and Windmill Rd.
See 1911 census.
The pub is now modernised and called "The Hub" (The Shaw Arms).
See street view. See 2012 photo and other shot.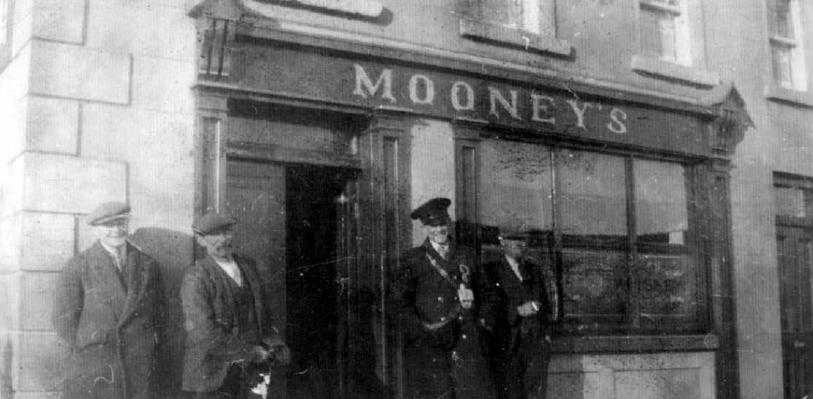 Mooney's pub, Crumlin. Photo 1926.
From Crumlin Village Business Newsletter, Issue 2, Summer 2009. Formerly
here
.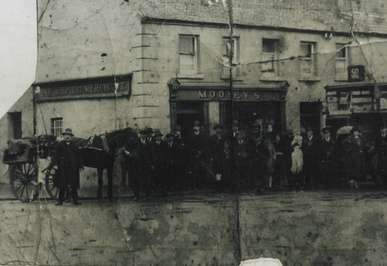 Mooney's pub, Crumlin. Photo 1920s.
From p.39 of Crumlin Heritage Audit Report.
---
Frank Flanagan grave,
Glasnevin Cemetery
, Dublin.
Location
: oC 102. Go in gate, go to RHS, right beside wall.
See
street view
.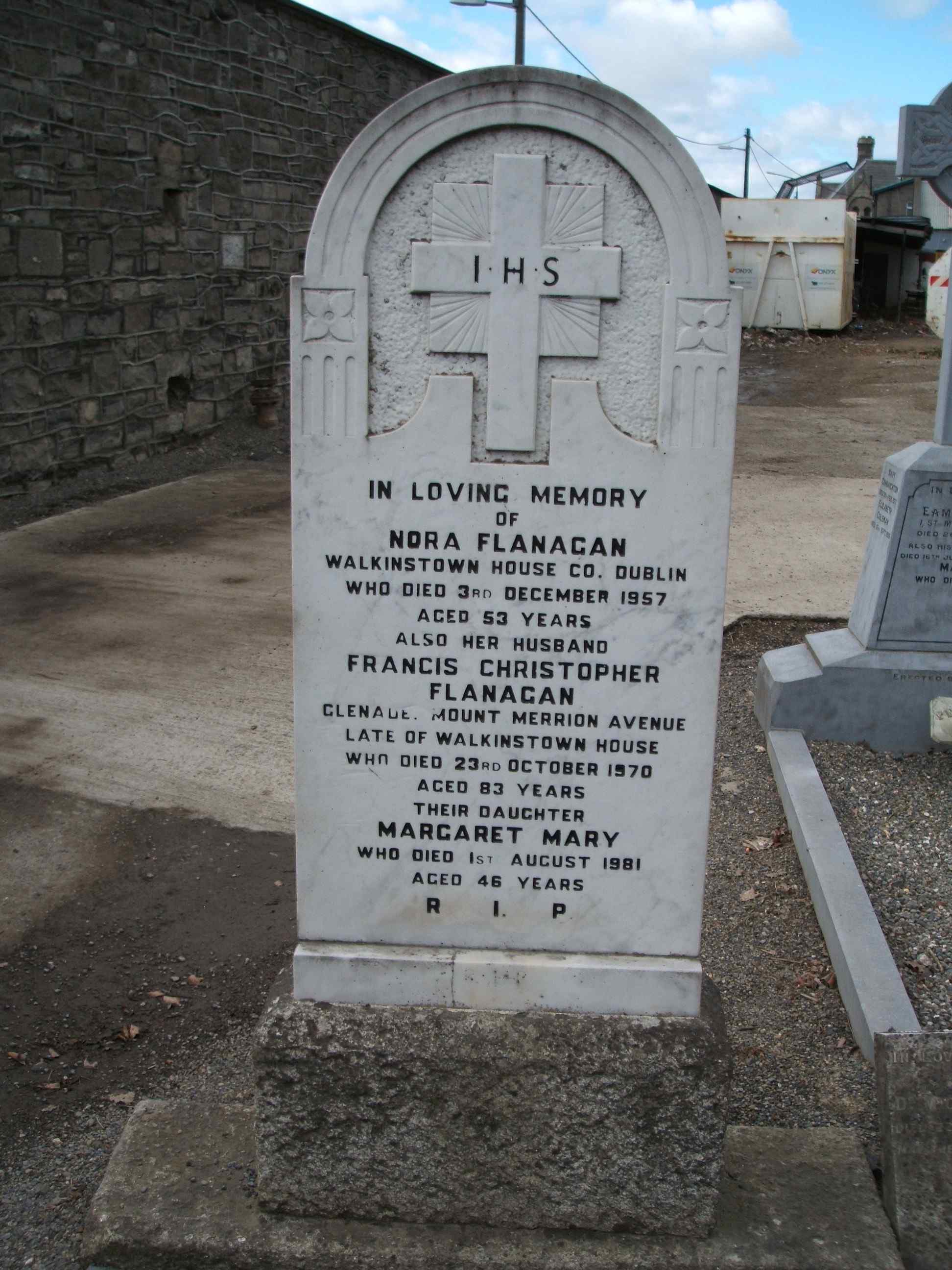 Frank Flanagan's grave, Glasnevin. Photo 2006. See
full size
.
Photo courtesy of Richard Humphreys.
---
AI animations
AI animations of old photos and portraits.
Made using
Deep Nostalgia
at MyHeritage.
AI animation of
portrait of Frank Flanagan
.

AI animation of 1930 photo of Nora Stack.

AI animation of photo of Nora Stack.
---
---
---
References
---
Sources yet to be consulted
---
"Davy Byrne's in Duke Street, the Bailey Restaurant nearly opposite, and the underground Bodega in Dame Street are licensed tabernacles sanctified by the past attendances of people with names like ... the Bird Flanagan and his relative, the Pope. (Who will pretend that these are not ordinary surnames that can be borne by anybody?) All three still open their doors at ten o'clock and possibly shelter to-day the makings of a second fame ... The premises bear openly the marks of their departed guests, like traces of fresh stout found in a glass by a policeman after hours"
- "The trade in Dublin", by Flann O'Brien, The Bell, vol.1, no.2, Nov 1940, pp.6-15, [DCU] PER 941.5.
The legendary drinkers referred to are my grandfather The Pope Flanagan and his brother The Bird Flanagan.
"Any mention of Bird Flanagan makes me uneasy. He is one of three brothers who would be better had they remained in Turgenev. Characters such as these are to be found both in the Russian author and in Dublin's fair city."
- Oliver St.John Gogarty in [Gogarty, 1954, Ch.10].
The three brothers would probably be The Bird, Larry and Frank.
"To-day, I modestly invite knowledgeable readers to share with me the plan of producing an extended memoir of one who was comparable with Trojan Hector or Finn MacCool himself. I mean the Bird Flanagan with, perhaps, a supplement on his brother, the Pope Flanagan."
- [Myles na gCopaleen, 1962].
---