Miscellaneous Flanagans
---
John Flanagan of Kilnamanagh, Co.Dublin, seems to be related:
John Flanagan,
listed in [Griffiths Valuation, 1847-50] as occupying plot 5, Greenhills road, Kilnamanagh, Tallaght parish (near William Flanagan's farm),
this is too early for him to be William's son John (who was bapt 1836),
must be a different relative,
"John Flanagan, farmer" is listed at Greenhills under Tallaght in [Thom's] 1850 to 1873,
it is noteworthy that as soon as his entries end, "William Flanagan" appears in the listing for Green-hills, in [Thom's] 1874 onwards, this would be William Flanagan junior,
they must be related, and John probably died around 1873.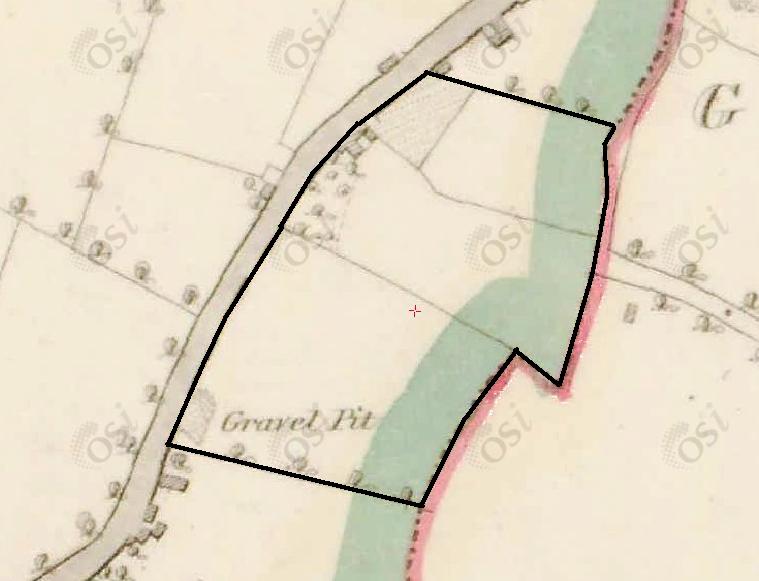 The John Flanagan farm highlighted on
1829 to 1842 map
.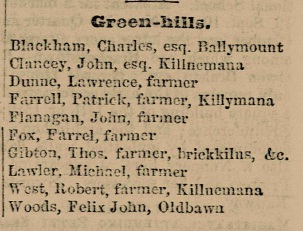 John Flanagan listed at Greenhills, Tallaght, in [Thom's, 1854].
---
Flanagan of SW Co.Dublin
William Flanagan,
mar Mary Eagan [or possibly Eagar]
and had issue:




John Flanagan,
mar Jane Ferly and had issue:

William Flanagan, bapt 8 Sept 1786 [Clondalkin RC par records].




William Flanagan, born 1775,
of Thomas St, Dublin,
mar Ann ----,
died 12 Apr 1803, age 28 yrs,
she erected grave [St. Maelruain's graveyard, Tallaght].




John Flanigan,
listed in [Tithe Survey, 1826] as holding 110 acres of "Meadow, Pasture and Tillage" at Templeogue, Tallaght parish.




Michael (poss.Flanagan),
mar Elizabeth --- and had issue:

Catherine (poss.Flanagan), bapt 1st Jan 1831 [Rathfarnham parish records],
sp (poss.Rourke) and Margaret Doyle.



---
Stubbs connection
These could be related because there is a later Flanagan - Stubbs marriage in 1866:
David Flanagan [or poss. Flanigan],
mar Ann Stubbs [or Anne],
had issue:
---
Vicars' index of wills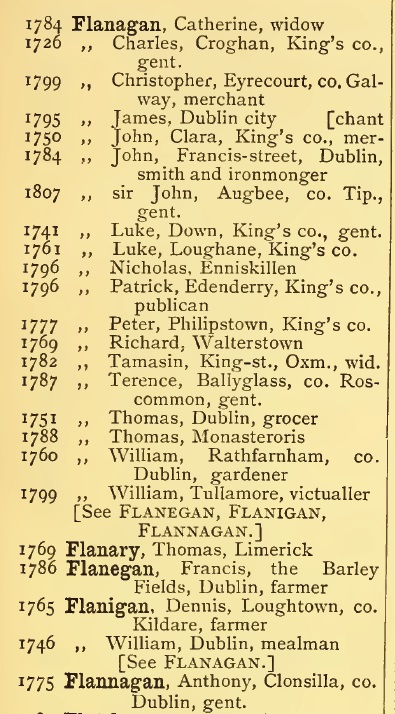 All entries for Flanagan (and variants) in [Vicars' index of wills 1536-1810].
Note William Flanagan, "gardener", Rathfarnham, Co.Dublin, will pr 1760. (Similar profile to our family.)
All of these wills were burnt in 1922.
---
Eoin O'Mahony
, the scholar, traveller and amateur genealogist, and friend of
Frank Flanagan
, claimed that Eamon de Valera's wife was a relation of these Flanagans.
Liam Cosgrave
says this is not true:
"As far as I am aware the views of Eoin O'Mahoney are based on his vivid imagination which had great flights of fancy"
.
Think
W.T. Cosgrave
said
"That was the only thing that Dev and I ever had in common, was that we both married Flanagans."
.
John Flanagan
remembered hearing as a child that De Valera was somewhere in the family tree.
Laurence Flanagan,
of Carbery, Co.Kildare, had issue:
Sinéad Flanagan,
born 1st June 1878 [grave],
born Jane or Janice Flanagan, Balbriggan, Co.Dublin,
mar Eamon de Valera and had issue.
See DE VALERA in [Burkes Irish, 1976].
See their grave, Glasnevin (and here and here and here).
The singer Sinead O'Connor was named after her.